This year in the Worldwide Developer Congress the launch of iOS 13 has been big news as it is loaded with features to transform the iOS experience altogether. The update was available from 19th September and is unleashed for all iPhones starting from iPhone 6S. In many ways, the update is going to make your old iPhone more productive, secure and fun to use for smart interactions.
Let's have a look at the most important iOS 13 features and enhancements that any iPhone app developer will feel delighted with.
Optimum Security and Privacy
When it comes to the security and privacy of your iPhone device, iOS 13 has several enhancements in store. The developers from now on can sign in to the apps using integrated Apple option just like what services such as Google or Facebook already offers. In case you are using the service for the first time, you can just confirm your ID by using Face ID or Touch ID or else, you can also choose to sign in with a new account.
The best thing about the enhancement is that you can opt-out of sharing your email ID with the app. In case you decided not to share your email ID with the app, Apple will create a fresh new random email address. This will ensure greater privacy while not undermining the practical side. Another great iOS 13 feature to secure app data will be the new restriction on background VoIP calls from Facebook and WhatsApp to prevent collecting user data without permission.
Dark Mode Comes True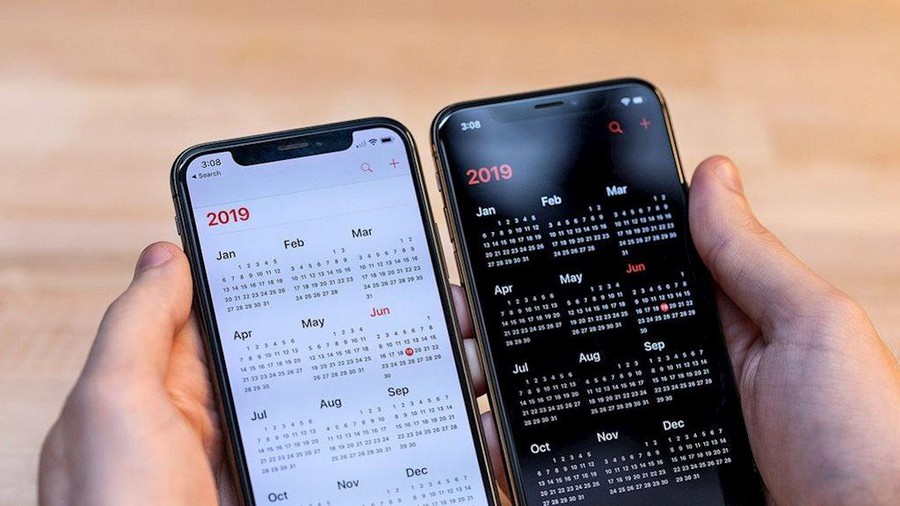 This is one of the most talked-of features of the new iOS 13 and the most significant visual change incorporated into any iOS version since iOS 7. This wholesome system-wide dark mode showing all apps and contents with a black background is not only visually appealing but also highly productive and efficient in terms of user experience and battery life.
The dark mode supports all Apple apps including the notifications and the dock. You can also make the wallpaper work in dark mode and can reschedule activating dark mode right from the settings. Besides the Apple apps, an iOS app development company can build apps with the option of turning the background to dark mode.
"Find My" For finding Both Friends and iPhone
With iOS 13, finally, Apple has put together its popular Find My Friends and Find My iPhone apps into a robust single app referred as Find My. You have access to all the tracking tools of Apple just in a single place to help you track your friends and devices through the same app interface.
Putting together two separate apps into one didn't make it complicated at all. The UI of the new app interface looks pretty simple and you can switch between features fir finding people and devices by simply tapping on the icon placed at the bottom of the app screen.
Swiping Keyboard For Productive Typing
Another key update that is likely to be loved by the Apple users is the new swiping keyboard that probably took inspiration from innovative keyboards such as Gboard, SwiftKey, and several others. Known as "Quick Path" keyboard will make typing experience more fun and productive than ever before. This will boost typing speed to a great extent.
Photos With Instant Editing Features
Almost iOS update unmistakably comes with some sleazy new features and enhancements to bring delight to the iPhone camera loyalists. The new iOS 13 hasn't been any different in this respect. The new Photo app will allow editing snap easily within the app involving saturation level, brightness, and contrast. Thanks to the new Apple Photo you will have fewer reasons to use third-party photo editing apps.
Apart from the robust range of editing tools with still images, Apple Photo will also allow rotating video that you had great difficulty to execute. The new Photo app will also allow you a variety of filters and effects to your new videos.
Location Services With Granular Details
From now on, the Locations services will encompass more granular details as we experience with the Android. You can now choose to share your location only once so that apps will need to ask you for location every time. Besides, there will be alerts for silent background tracking of locations. This is another way to give user privacy a priority that iOS 13 offers.
AirPods Getting More Feature-Rich
When you upgrade to iOS 13, your old AirPod will also bring you an enhanced experience with new features. Incoming messages will be announced and read out by Siri. With AirPods hugging your ears, you can also reply to the messages hands-free. With a single tap, you will also be able to share audio with other iPhone and iPad devices running iOS 13.
Revamped Reminders
Among the several apps that have been revamped by Apple through new iOS 13, the new look and feel of the Reminders app deserve some focus. The Reminders app looks quite consistent and organic in comparison to all the latest Apple apps. The skeuomorphic design and the paper-like countenance have been completely changed. The reminder app now also allows you tagging your friends and contacts. If other family members are using iOS 13 devices, you can also set reminders for the entire family.
Apple Maps Getting Better
With the new iOS 13, Apple has totally revamped its Apple Map app. The new map app from Apple will look more like Google Street View with a 3D-like countenance. Initially, Apple Map will be launched for the users in 2019 and later on for the users worldwide.
also totally revamping Apple Maps. It looks more 3D-like and is loaded with detailed map data that'll make the service comparable to Google Street View. Apple said it used thousands of LIDAR-equipped cars to gather this data. The new maps will be available in select locations at launch, but it should roll out in the US in 2019 and globally in 2020. The new app will also be loaded with valuable features such as the ability to share your Estimated Time of Arrival (ETA).
Conclusion
Apart from the above-mentioned features and value additions iOS 13 will have several additional capabilities including a slightly revamped health app that will help women keep track of period cycles.