In today's fast-paced world, more and more people are looking for ways to better their lifestyles and habits. Moreover, with people staying glued to their mobile screens, the health and wellness industry is in dire need of tech adoption. Including mobility solutions like wellness apps can help people better achieve their health and fitness objectives. This is why more and more businesses are looking to invest in wellness app development.
The mobile market includes a wide range of wellness apps that cater to several health objectives. Moreover, the current business scenario along with the increased adoption of technological services is offering a promising outlook. Interested to know more about wellness app development and whether it is the correct time to build a wellness app or not? Keep reading for our comprehensive guide on wellness app development before investing in custom healthcare app development services.
So, what are you waiting for? Buckle up and jump right into it to take a step closer to leveraging the huge market potential for wellness applications!
An Overview And Market Analysis Of Wellness App Development
Before we jump right into discussing how to build a wellness application, we must look at the different business aspects. Obviously, as a business, investing in something without market potential means a huge waste of time, money, and effort. To help you determine whether wellness app development can be beneficial to you or not, we have performed an extensive market analysis and provided you with a summary below.
According to Market Research Future, the wellness app market is predicted to grow to a whopping USD 157.9 billion in 2030, which is a huge contrast to its valuation of USD 28.3 billion in 2022. So, it is clear that the market showcases a compound annual growth rate (CAGR) of 27.8% which can be attributed to the increasing focus on health and wellness.
So, it is clear that health and wellness apps are here to stay and have huge growth potential. This is why it is a good idea to invest in fitness app development and more and more businesses are doing so without hesitation. So, what are you waiting for? Get in touch with our expert developers for professional wellness app development services and never look back again!
What Are The Different Types Of Wellness Apps Available In The Market?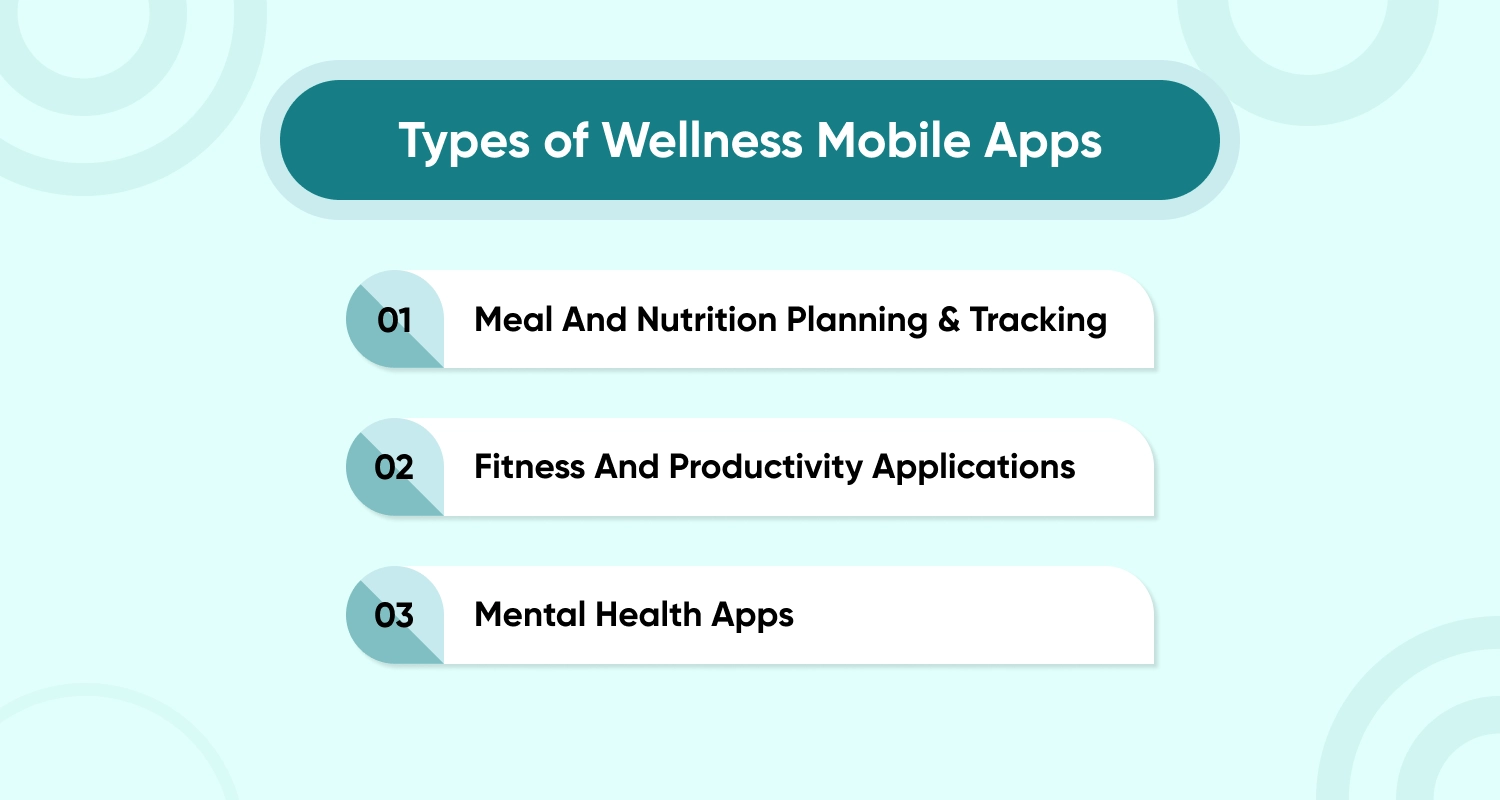 Before you jump into the development of a health and wellness app, it is necessary to explore the different types and options available. Discover the different apps available along with their significant features before investing in wellness app development to have a clear idea of your business goals. Read on to learn more about the different apps that our wellness app developers can build for you.
1. Meal And Nutrition Planning And Tracking
One of the most popular types of health and wellness applications in today's industry is meal planning and nutrition tracking. The app offers users a simple interface that allows them to plan and track their overall diet and nutrition. These apps also come with standard meal plans and templates that users can utilize to better plan their daily diet. Some common features meal planning apps include are:-
Huge database of foods across different cuisines along with their calorific and nutritional breakdown
Allows users to set meal reminders and nutrition goals
Tracks users' water consumption information along with hydration reminders
Allows users to track meal timings to keep track of their daily diet and offer actionable insights for a healthier future
Interested in getting a meal and nutrition planning and tracking app developed? Get in touch with our experts to get access to our professional diet and nutrition app development services.
2. Fitness And Productivity Applications
Often, people cannot afford to invest in gyms and personal trainers which can set them off their fitness journey. Moreover, due to their hectic work life, they might not be able to work at a fixed time regularly. In these cases, users often download fitness and productivity applications. These apps provide users with resources that aim to boost user fitness and wellness. Some common features included in these types of wellness apps include:-
Daily workout reminders at fixed times
Tracking activities throughout the day along with a detailed report and habit analysis
Tailor-made workout and meal plans available at premium rates
Want to invest in wellness app development to launch the industry's best fitness and productivity app? Schedule a call with our developers and get started with healthcare web development in no time!
3. Mental Health Apps
Other than focusing on boosting physical health, people also look for resources and applications that can help ensure better mental health. The two most common types of fitness applications businesses look to build with mental health app development services are:-
In today's hectic lifestyle, meditation can help people refocus and invest their time into gaining mental clarity. These apps include a wide range of features like expert-guided meditations, white sounds, and much more. Including breathing exercises is also a good idea as it can help boost end-user calmness and well-being.
Since most of our time now is spent in the digital world, well-being applications are important to support our mental health. These apps provide resources and solutions to tackle problems and reduce stress.

What Core Features Must Your Wellness App Include?
Now that you know about the different types of apps that you can get built by investing in wellness app development, let us look at some core features that our digital solutions include. We focus on incorporating the finest market features to ensure better user satisfaction while helping you gain popularity in the health and wellness app niche. These are:-
Health risk assessment and analysis
Tracking of daily progress and goals
App and service personalization
Gamified elements for better user engagement
Online health consultations and suggestions
Availability of a huge database of learning resources
Incentives and reward systems in place
Customized push notifications
Greater social media support and sharing
Synchronization across multiple devices and wearables
What Advanced Technologies Can Help Revolutionize Your Wellness App?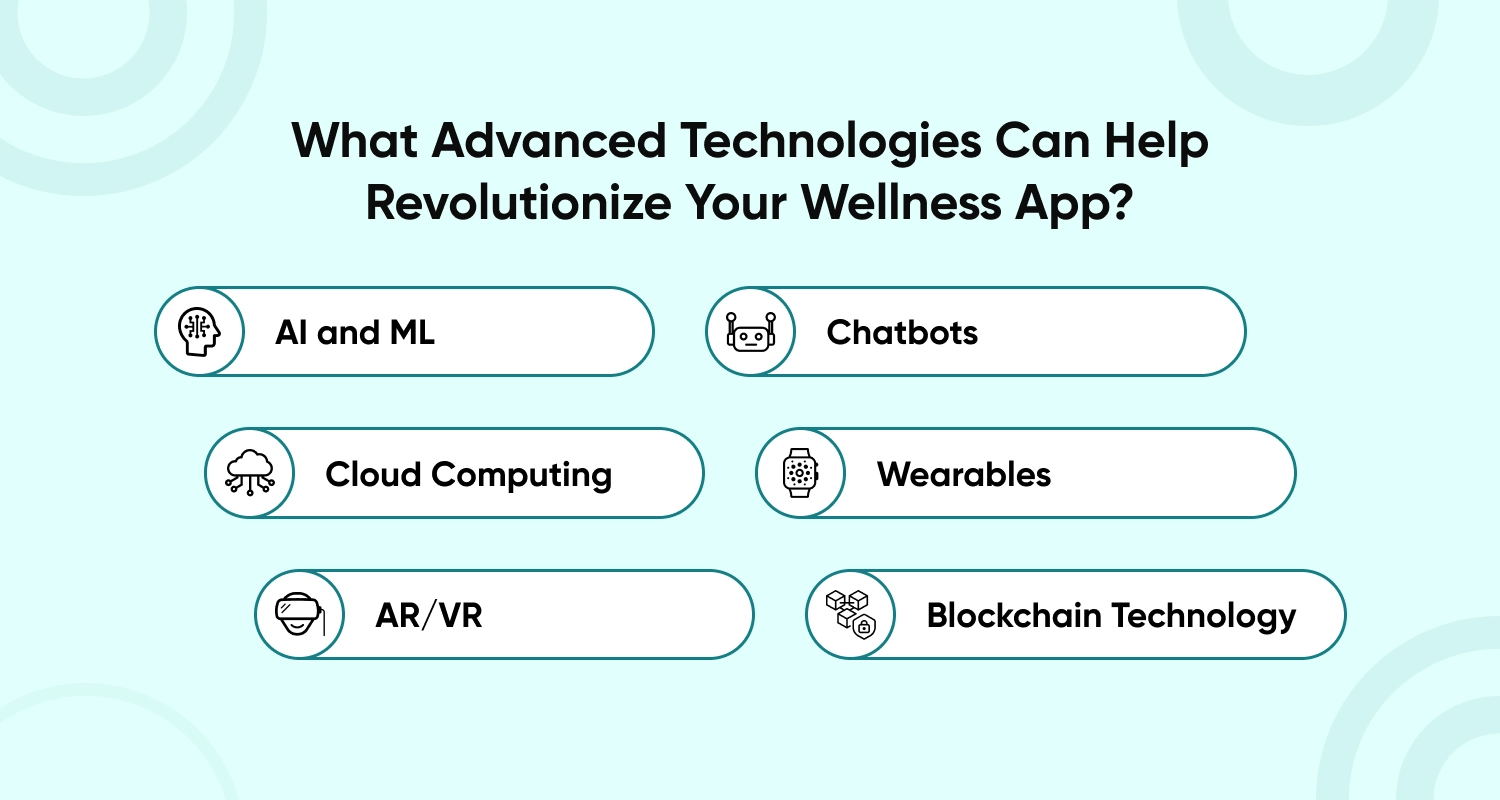 Simply investing in wellness app development might not help you grow like you want to. Instead, you must ensure that your wellness app includes the latest technologies and trends for better efficiency and productivity. These include:-
1. Artificial Intelligence And Machine Learning
With Artificial Intelligence and Machine Learning, your apps can better analyze user behavior and offer personalized recommendations. This means that customers can easily find what they've been looking for, which helps boost end-user satisfaction.
2. Chatbots
Nowadays, functional chatbots are essential for better user engagement and can easily help boost customer satisfaction. Moreover, these replicate human conversation which can better engage users while reducing the need for manual support. Hire mobile app developers adept at building intuitive chatbots for better communication with your customers.
3. Cloud Computing
With the global population on a continuous rise, it is important to build systems that can not only handle a huge amount of data but also have faster processing than traditional systems. This is why much of wellness app development, or any other app development for that matter, is done using cloud-based technologies. Utilizing cloud computing can also help ensure that your app or website can be maintained by developers anywhere across the globe.
4. Available On Wearables
When you invest in wellness app development, you must ensure that the company is adept at building solutions for wearables. After all, this is an added feature that can further help users upgrade their lifestyle leading to better engagement and user satisfaction.
5. Blockchain Technology
With our blockchain-based solutions, you can ensure better security of customer information and proper app monetization opportunities.
6. AR/VR
Nowadays, a lot of people are indulging in virtual experiences enhanced by gamification. Utilizing the technology to implement a virtual world offering reward-based programs can help you better engage with customers.
How To Create A Wellness App Step-By-Step?
By now, we are pretty sure that you have realized that investing in wellness app development can be a wise decision. But, how do you create a wellness app? Well, we have broken down the complete process into a few steps to help you get started with Build a app as soon as possible. These are:-
1. Discussion On Wellness App Type And Platform
As discussed, there are several types of wellness and health applications available in the market. It is impossible to dip your toes into all which is why you must choose a niche. Once you have decided on the type of wellness app development you want to invest in, you must decide on the application platform. For example, you can choose to develop both Android and iOS versions while deciding to launch any one first. This is an important step because the formation of your development team depends on it.
2. App Inception
Once you're past the first step, you must start your product development process with the inception stage. Here, you must decide the scope of your app, build a roadmap to be followed, examine the resources available, and set the investment needed to get started with wellness app development.
3. Research And Discovery
In the next phase, you must research the different apps available in your chosen niche to examine the approach taken. You must be able to answer why your app is needed in the market and set some USPs that will set your app apart from the other available ones. In this stage, the UI/UX of the app must also be designed by a professional team, following which the development of the MVP is to be started. At the end of this phase, you will have an MVP in hand along with an idea of what the end product will look like!
4. Technical Documentation
Every industry keeps evolving with time, which is why you must maintain proper documentation. This must detail use cases, test cases, and other technical information you might need to modify your app in the future.
5. Testing And Quality Assurance
You cannot launch a product that is filled with errors and bugs as it will create a very poor brand identity. This is why testing and quality assurance must be performed to ensure that the app works as intended.
6. Release And Maintenance
Now, your health and wellness app is ready to be launch into the market. You can release the application on Google Play Store, Apple App Store, or both to reach your target audience. At the same time, your development team must continuously keep an eye on the app to ensure that it does not run into issues and fix them in case of any problems.
What Is The Total Wellness App Development Cost?
Since you're still here, we suppose that you are interested in investing in wellness app development and are looking for an estimate.
Well, it is a bit difficult to accurately estimate the Make a wellness app cost. This is because it depends on a wide range of factors like – features included, location of the developers, app complexity, and much more. Our research suggests that the total wellness app development cost can range anywhere between $25,000 and $40,000 USD for an MVP. In the case of the development of a full-fledged functional app, you might be required to invest anywhere between $60,000 and $90,000 USD . We recommend getting in touch with a app development company for a price estimate before investing in their services.
CMARIX – Your Perfect Fitness App Development Partner
It is obvious that it is a good time to invest in wellness app development, but you must find the perfect partner to help you grow in the industry in no time. At CMARIX, we are committed to offering customers cutting-edge health and wellness apps develop by leveraging advanced technologies.
With over 14+ years of industry experience, we stay updated on various industry trends to ensure the design, development, and delivery of fully functional apps with huge growth potential. We have helped several businesses get the mobile app their business deserves and have made a name for ourselves as the best mobile app development companyin the industry.
So, what are you waiting for? Get in touch with us and take the initiative required to build a health and wellness app with enormous market potential.
Frequently Asked Questions
Wellness mobile applications allow individuals to monitor their daily habits and routines to make modifications required to lead a healthy lifestyle. These apps offer a wide range of features added to achieve the ultimate goal of allowing users to achieve a healthier life.

The process to create a wellness app can be a bit complicated; but, to help you out, we have listed the steps in the above article. If you have little to no technical knowledge, you can hire a professional app development company to get a wellness app developed.

The cost of your wellness app will depend on a lot of factors like the functionalities included and the app complexity. We recommend getting in touch with a development company for a price estimate before hiring their wellness app development services.

Although your wellness app can include a wide range of features, there are a few essential ones it must implement. However, this differs from niche to niche which is why you must discuss them with an expert before investing in wellness app development.

With over 14+ years of experience, we, at CMARIX have helped numerous companies enter the health and wellness market and get to the top in no time. Schedule a call with us and learn more about our professional wellness app development services to get started!