Leading eCommerce CMS platform Magento 2 now is allowing the online stores to get the power of another leading ERP system Microsoft Dynamics 365. The Magento 2 websites can easily integrate this powerful suite of ERP tools that comes loaded with a whole array of features and capabilities that every modern eCommerce will love to utilize.
Microsoft Dynamics basically offer a powerful pack of both ERP and CRP tools to take the eCommerce store business to a whole new level. Naturally, this comes as a robust opportunity for the Magento 2 developers. The integration just works in a simple manner with your Magento 2 storefront and Microsoft Dynamics 365 connector.
But before going into the technical details of this integration, let us figure out how this can actually benefit the Magento 2 eCommerce stores.
Key Benefits of Magento 2 and Microsoft Dynamics Integration
By bringing together the CRM and ERP features within one rich system of tools, Microsoft Dynamics 365 benefits offers a lot of value to the management and operation of Magento eCommerce stores. This powerful suite of tools that comes loaded with an array of cloud applications helps improve the default management features of the Magento 2. All the apps of this powerful package are comprehensive and are capable to stand on their own as unique apps for separate functioning. For any Magento development company, this scope of integration comes with a lot of values.
Let us briefly point out the key advantages of integrating Microsoft Dynamics 365 with Magento 2.
Microsoft Dynamics 365 for Magento 2 stores delivers a comprehensive and in-depth understanding of the customer relationships with relevant insights for predictable customer requirements.
Microsoft Dynamics 365 for Magento 2 retail web stores offer a seamless Omnichannel shopping experience leveraged across the physical store, online store and mobile eCommerce app.
Microsoft Dynamics 365 offers a robust Customer Service toolset to make life easier for Magento 2 store management when it comes to handling a lot of incoming customers with ease.
Microsoft Dynamics tool also comes loaded with all the required tools for field service professionals to allow them with predictive scheduling, quick and first time fixes and continuous maintenance.
The toolset also offers a great range of features to ensure project service automation and consequently delivering project output in time.
The Microsoft Dynamics 365 comes equipped with a whole array of financial management tools to help you interact with multiple operations teams across businesses and drive growth through rich user experience across various industries.
The tool also offers a robust talent acquisition mechanism for attracting promising and expertise-driven Human Resource.
With this toolset, you also have an exhaustive range of marketing tools and modern marketing g solutions.
Magento 2 Microsoft Dynamics Connector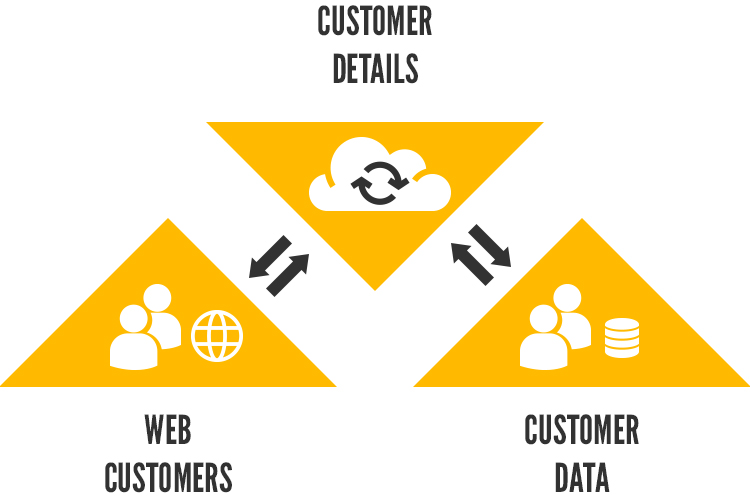 Microsoft Dynamics ERP for more efficient utilisation across eCommerce stores requires access to a lot of customer data. This is ensured by the Magento 2 Microsoft Dynamics connector. The connector works like an extension connecting both Magento 2 and Microsoft Dynamics in both ways. The module of the connector by making use of export profiles that can be configured for various third-party platforms. The connector also helps integration to be fully automated.
Before you hire Magento developers for this integration task, we need to spare a few words describing how this connector actually works to bring together the Magento 2 and the Microsoft Dynamics 365.
You already have multiple connection standards with Magento 2 import and export attraction.
The module of the app allows every integration using available data files.
It also supports all kinds of file formats including SV, XML, and TXT.
Apart from this, an array of third-party extensions provide support to them.
A fully operative module allows east synchronisation of the Dynamics 365 using native Microsoft Excel file.
As for connection standard, data remains always in sync with the physical store, online store, social media ads, and mobile eCommerce apps.
Apart from the enhanced Import & Export Magento 2 extension allowing the API connection, the same module is capable of different other types of integrations.
A connector plugin can also offer full support for a variety of file sources.
What the Stores Can do with this Integration?
The online store owners are now capable to synchronize and deal with the below mentioned Magento 2 elements in the Microsoft Dynamics ERP.
Complete inventory sync along with products and lists of products.
All product specifications like the product pricing, tier pricing, price adjustments, etc are synced.
All the crucial data including that of customer accounts, billing and shipping addresses, credit limit data, customer groups, guest accounts, account updates, are synced across the storefronts and channels.
The data pertaining to the orders and sales including the details of the tax component, payment modes, and other information, shipping, and tracking data are fully synced.
Do you need the service of a robust eCommerce development company to carry out this integration for your eCommerce store? Well, having an expert team of eCommerce developers with experience in both Magento 2 and Dynamics 365 toolset we can handle all types of challenging integration tasks.