Automation has made an impact on every type of business and industry niches. Intelligent tools based on artificial intelligence and Machine Learning are increasingly making our work tasks easier. This is increasingly becoming an everyday reality than just an upcoming trend on the horizon.
For eCommerce businesses finally, Microsoft has arrived with a new software suite and a bunch of solutions that can throw tough competition to existing ecommerce CMS platforms like Magento and Shopify. No wonder, eCommerce development services are already abuzz about the impact of this latest suit called Microsoft Dynamics 365.
Microsoft Dynamics 365 comes as a complete suite of solutions comprising both CRM and ERP suits. While the CRM suit offers all the modules to take care of marketing, sales, social media presence and customer service. The ERP suite will provide all tools to take care of business operation, planning, lead generation, forecasting, analytics, and engagement. This is a comprehensively equipped suit that can also be accessed via cloud or through an on-premise solution or through a mix of both.
Naturally, so much of offerings and flexibility deserves some serious attention and this is why we are going to explain how it can literally tumble the ground beneath of many ecommerce solutions.
How It Can Benefit The Business
Let's start with the key business benefits of Microsoft Dynamics 365 suite. Let's have a look.
Consolidated Store Management: Remotely administering daily operations and sales tracking across all stores.
Inventory Management: Real-time tracking of available merchandise across warehouses and stores.
Intelligent and Connected Systems: The suite will help access to real-time access to information across multiple systems spread over various locations.
Cloud Platform: The suite comes with the powerful and trusted cloud platform support of Microsoft.
Continuously Updated: Staying updated on evolving trends and buying habits become easier through updates powered by Machine Learning.
Omni-Channel Operation: Both in-store and virtual store operation and sales process are tackled and tracked through the same interface.
Boosting Workforce Productivity: With the latest tools and scheduling module, employee dashboards, attendance manager, task manager, and such tools productivity will get an unprecedented boost.
Special Features Of Dynamic 365 For Retail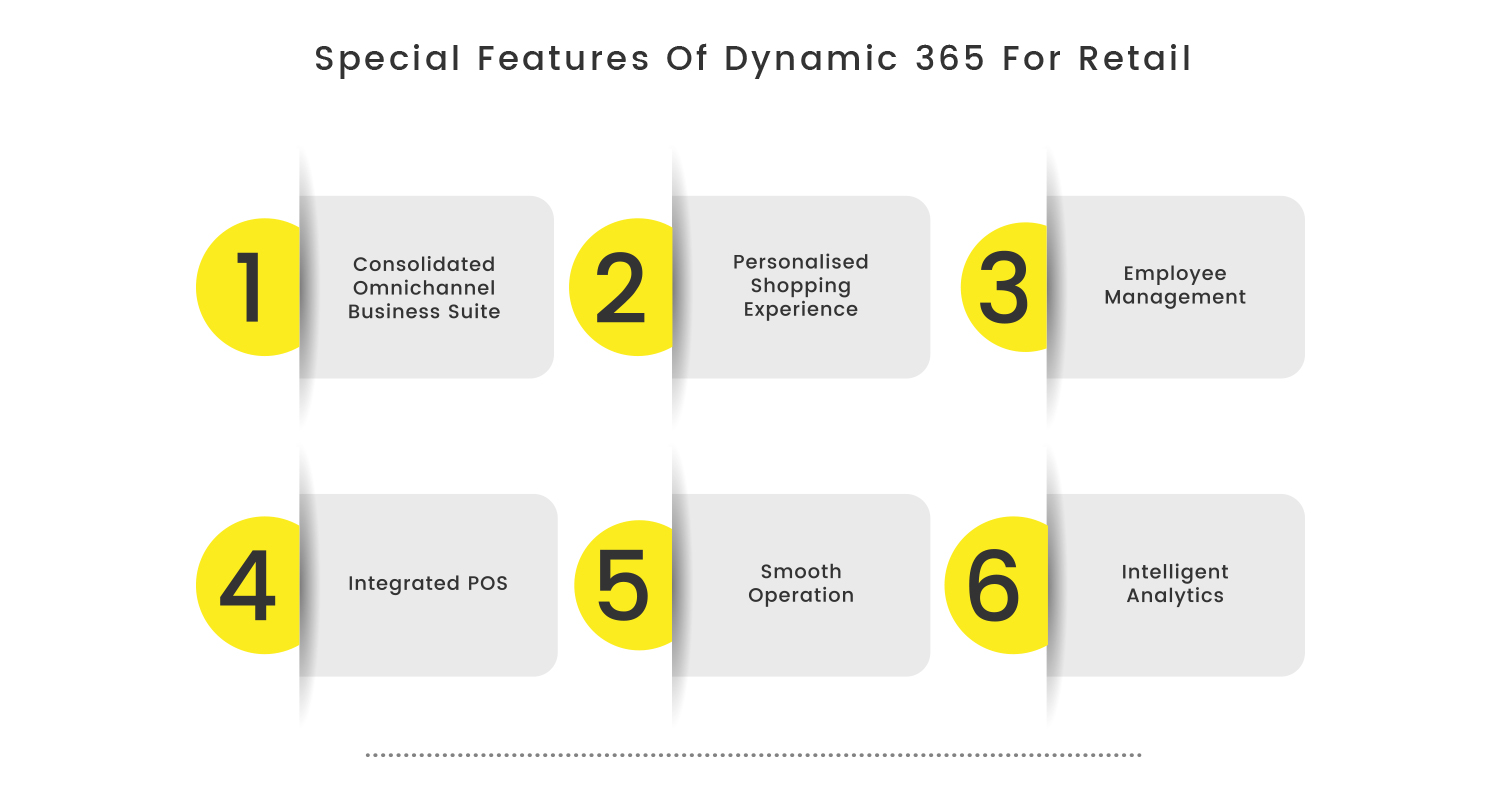 Can Dynamic 365 really catch the so-called ecommerce ventures and development companies of the guard? Will a Shopify or Magento Development Company will find the offerings of Dynamic 365 extremely out of proportion when comparing the benefits? Well, as far as the features go, Dynamic 365 really looks like a promising contender for every retailer of the future.
Let's have a look at some of the key features of this suite for retailers.
Consolidated Omnichannel Business Suite
Dynamic 365 can accommodate both the ecommerce and physical storefronts within the same dashboard and control mechanism to give the retailer a consolidated omnichannel business experience. Most companies having footprints on retail stores cannot make a big success on the ecommerce platform simply because of the lack of this omnichannel experience.
With Dynamic 365, all facets of your business across physical and online stores will offer a unified store experience while offering location-specific payment methods, currency, shipping methods and promotions.
Personalized Shopping Experience
Customers of online and offline stores these days are extremely fond of being addressed with product suggestions and offers that suit their demands and buying behavior. Dynamics 365 apart from offering a unified shopping experience comes with personalized recommendations based on previous purchases, customer profile, trends and insights pulled from customer data by an intelligent Machine Learning based algorithm.
Employee Management
Dynamics 365 for retail outlets and ecommerce backend offices also come with highly customized employee management solutions. From all tools for tracking employee activities to managing operation and tasks, the suite offers everything for workforce management.
Integrated POS
Microsoft Dynamics 365 apart from offering all tools and mechanisms for the online store also provides a very useful POS module for physical stores. The integrated Point of Sale (POS) system of this suite allows operating both on cloud and physical store premise.
Smooth Operation
Dynamics 365 has been applauded by the retailers across the niches especially because of the tremendous impact it is likely to create for the retail business operation. From centralised control over retail stores spread across locations to inventory management to supply chain management to track delivery of products for ecommerce stores, the suite offers everything you need for retail business management.
Intelligent Analytics
Dynamics 365 also comes well equipped with intelligent analytics powered by machine learning techniques to learn from the user inputs and customer data and process actionable insights for specific business results. The suite over time can learn from a multitude of user interactions and inputs and based upon this diverse data and insights can predict better business decisions.
Can We Use Dynamics 365 Instead of Shopify?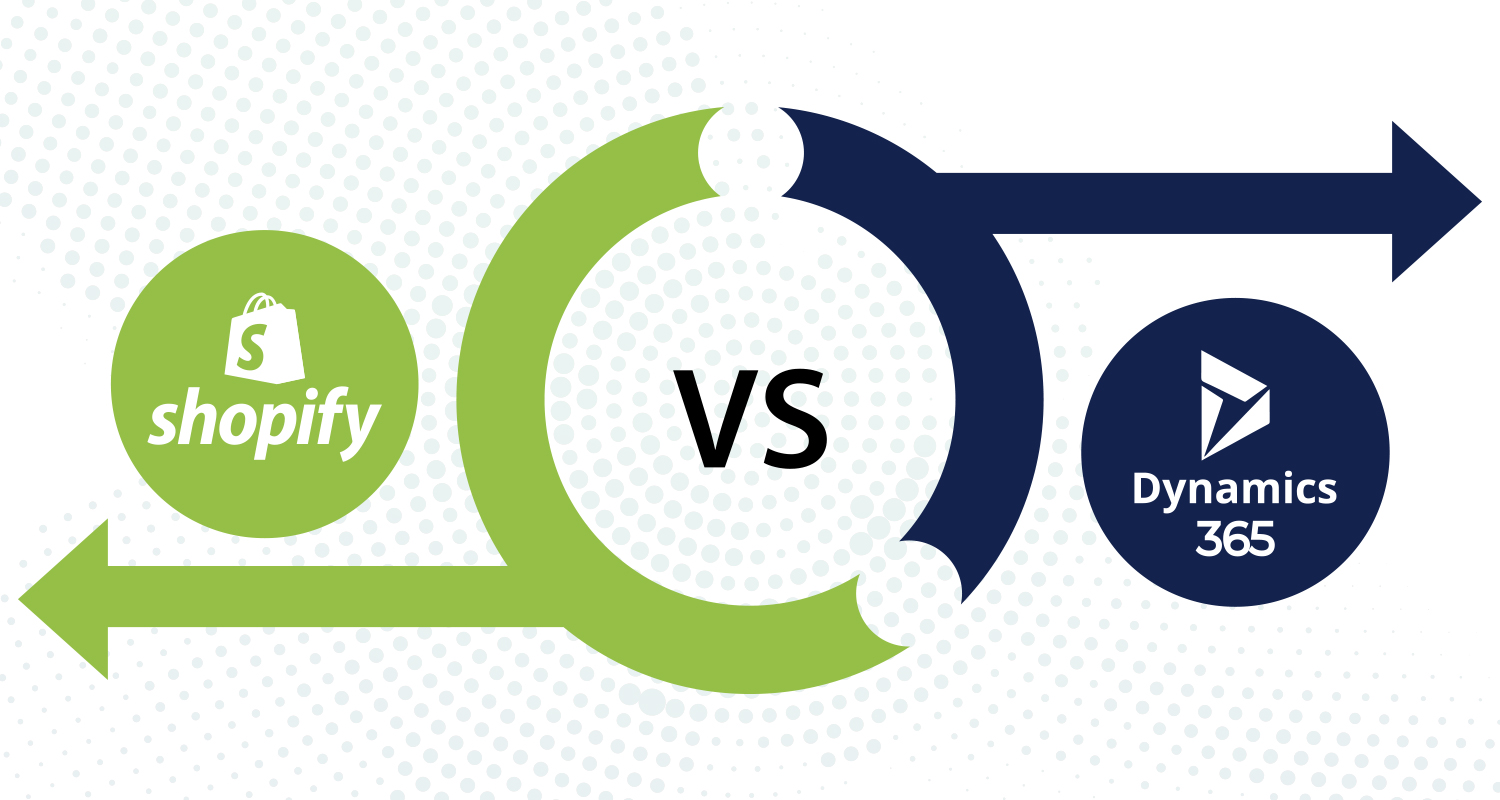 Win so many offerings for the retail sector, the ecommerce platforms are likely to feel intimidated by this latest Microsoft business suite. Shopify for eCommerce development comes with all built-in solutions starting from the hosting platform and the cloud platform. In that regard, Dynamic 365 comes as a powerful suite of solutions that takes care of each and every aspect of online and offline store management and business operation.
Microsoft Dynamic 365 can really through the big competition to the Shopify platform. First of all, Shopify as a fully managed platform is preferred by small and medium retailers as well as ecommerce startups as an easy platform to kick start their retail business. While large brands can build their own ecommerce platform, Shopify appeals to the businesses lacking resources to start or online store. For this business and retailer segment Dynamic, 365 can come as a credible solution.
As of now, Microsoft isn't committed to provide hosting service with its business suite. If in the future, Microsoft decides to offer cloud hosting service through its Azure platform, Shopify can further feel the heat of competition. By integrating Azure cloud platform with Dynamic 365 Microsoft can further emerge as a completely hosting-ready ecommerce suite of solutions.
Conclusion
Microsoft Dynamic 365 really looks formidable when we consider the comprehensive nature of this business suite comprising everything that a business with multiple storefronts across the web and offline locations require. With the integration of Azure Cloud platform for integrated hosting service, the suite can really emerge as the ultimate package for retail business.