Flowers are the best and most preferred gift for any occasion and are used in many ways to express admiration, love, and congratulations. The varying applications of flowers demonstrate their versatility and show how they have come to represent many different aspects of life.
On the other hand, with the advent of new technology, flower delivery app development
has taken centre stage. This is because it offers several advantages over traditional app development methods. These advantages include the ability to update the app quickly and easily and tailor it to the user's specific needs.
A business needs a mobile app solution to increase its sales. It is crucial to have a mobile app development plan that outlines how the app will be designed, what features it will have, and how it will be marketed to potential customers. A well-designed and well-executed mobile app can help businesses reach new customers, increase sales, and improve customer loyalty.
In this sprint, On-demand flower delivery apps are one of the most profitable online businesses, as they provide a convenient and affordable way for people to get flowers delivered to their homes.
The flower delivery business is booming and is growing at an exponential rate. This can be attributed to the fact that people are increasingly becoming busier and have less time to shop for flowers. In addition, the convenience of having flowers delivered to one's doorstep has made this option more appealing to consumers. As a result of this growth, there has been an influx of new flower delivery businesses in the market.
The on-demand economy has given customers the convenience of ordering almost anything they could want with a few taps on their phones. This includes groceries, dinner, a taxi – and even flowers. Online flower delivery services are becoming increasingly popular as users take advantage of the ease and affordability of these apps. This is a newer model which has become popular in the last decade. It is a convenient solution for both businesses and customers.
These apps allow people to order flowers from local flower shops, florists, and even supermarkets and then deliver them directly to their homes. This is an excellent option for people who don't want to go out and buy flowers or for people who wish to order flowers but don't have time to go to a flower shop.
The online floral gifting market is booming. According to a report by Arizton, the U.S. floral gifting market is expected to reach $17.02 billion by 2027 at a CAGR of 6.13%.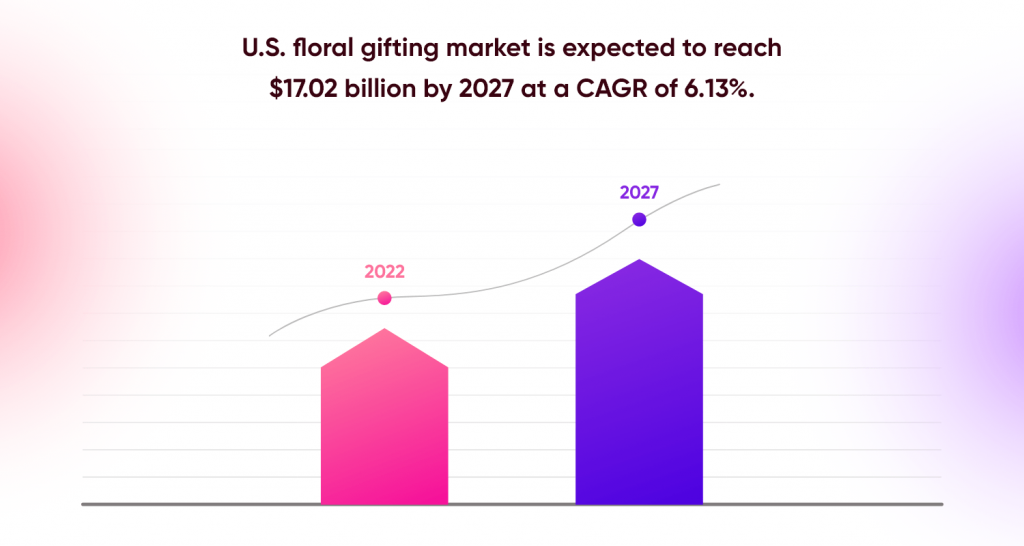 Source: Arizton
To begin with, the on-demand flower delivery app is revolutionizing the market and providing an effective service accessible to their clients by bringing joy to their life. This service has made it possible for people worldwide to send flowers, regardless of where they are, at any time of the day or night. This very convenient service has made life a lot easier for many people, and it will continue to do so in the future.
Let's learn how to book an on-demand flower delivery service from your mobile app or website.
How does a flower delivery application work?
Delivery apps are an excellent way for the florist to keep up with demand and provide their customers with the necessary convenience. They can be ordered through various apps, such as flower delivery app development, and the customer can choose the flower they would like delivered to their home. The apps are convenient because the florist doesn't have to leave their shop, and there is less chance for the flowers to turn nasty.
The following are the steps involved in the workflow of an excellent online flower delivery software:
Selection of an order
Customers can download the on-demand flower delivery app, log in, or register with credentials or social media. The app would allow the customer to view the florist's inventory and make a purchase. The customer can also choose to have the flowers delivered to their home.
Delivery apps offer an incredible way for the florist to keep up with demand and meet the needs of their customers. They can be ordered through various delivery apps, such as flower delivery app development, and the customer can choose the flower they would like delivered to their home. The florist can also add customization requests per the demand and decide on the flower's particular color or design.
Order received by florist app owner
When an order is placed through the delivery app, the store owner receives the request and takes the necessary actions to fulfil it. This may involve choosing the flowers, plants, and bouquets as instructed by the customer. If there are any customization requests, the store owner will note them. Once the order is ready, the store owner will send it on its way. The customer is then notified of the delivery date and time.
Payment method
To make the payment, the client can then select the mode of payment, either offline as COD or online, such as cards/debit card payment, mobile wallets, internet banking, and digital payment apps.
Order Dispatch & Delivery
The customer may also choose to deliver the order to their doorstep. The florist can then dispatch the order to the customer's mentioned address. The customer may even specify the delivery date and time. The flowers will be delivered to the customer's doorsteps on the selected date and time.
When the order is placed, the delivery driver will get a notification. The driver can then use the flower delivery route optimization system to smoothen the delivery process. This system will help the driver plan the most efficient route possible, considering traffic conditions and the number of deliveries. The driver will then be able to deliver the flowers on time and without any delays.
You May Also Like: Mobile App Development Strategies for On-demand App
How will an on-demand flower delivery app be beneficial for your business?
With the advent of technology, eCommerce has emerged as one of the most vital components for businesses, including for florists. Florists need to have an online presence to ensure their business' success. An online store allows customers to browse and purchase items conveniently. Additionally, it provides florists with a platform to showcase their products and services.
Online florists have many advantages over traditional florists. Some of these advantages include the following:
-Increased customer satisfaction
-Easier and faster transactions
-Increased visibility
-Ability to provide better customer service
-Higher margin
-Build a loyal customer base that traditional florists may find difficult to attain.

Business Models Involved in Flower Delivery Apps
Dedicated app model
A dedicated app has been developed for a particular flower company brand for better expansion of their business. Their dedicated app allows customers to order flowers, track the order, and receive notifications when the flowers arrive. The app is available on both Android and iOS devices.
Aggregator model
In the aggregator business model, the app owner doesn't own any services and brings all the florists under one page. This gives the app owner complete control over the florists and their benefits. This business model is growing in popularity as it provides the app owner with a more centralised business model.
How to build your flower delivery app?
When you are planning for the on-demand flower delivery app development for your business, you should follow the below-mentioned simple yet practical steps for smoother operations of flower delivery services:
Planning and research
The planning stage is the first and most crucial stage of developing your app. In this stage, you will define the core features of your app. This is a critical stage, as it will determine the success of your app.
The first step in planning your app development is to understand your audience. What are their needs and wants? What problem does your app solve for them? Once you know your audience, you can start to determine the core features of your app.
You also need to decide what platform you want to develop your app for, as this will determine the development environment you use. Finally, you need to build a budget for your app development.
App development is an exciting and growing industry with a lot of potential. There's no telling where your app could go with the right plan and execution. Researching the concept, targeted audience, and feasibility, and identifying features of similar apps is crucial to success.
Your app is a new concept, targeting a new audience. Many apps are similar to yours, but how do you plan to differentiate yourself? Technical feasibility is essential when developing new apps; you should address this before starting any work. Identifying features of similar apps can help you to better understand what people want from your app.
Competitor analysis and market trends
After understanding your competitor's strategies and marketing plans, creating a unique and differentiated product is important. To do this, you must conduct market research and identify your target audience. Once you understand what these people want, you can start developing features that match their needs.
Competitors can weaken your business if you're unaware of their strengths and weaknesses. By doing competitor research, you can identify these points of comparison and make the necessary adjustments to stay ahead of the competition.
Study your target audience
Many businesses struggle to identify their target audience. This is an important task for any business, but especially for startups. By narrowing down your target, you can focus your limited resources on the right people at the right time. Additionally, targeted marketing can better understand your customer's needs and how your product or service can fill them.
Deep research and analysis filter your targeted audience to imply better marketing planning and strategies. Doing so will help you focus your limited resources on the right people at the right time. You can better understand their needs and how your product or service fulfils them by targeting a specific group of consumers.
Designing UI and UX
Designing an app for the masses can be daunting, but it's important to remember that not everyone is the same. To make your app as user-friendly as possible, it's important to consider your fit ratio when delivering flowers. For instance, if you have a lot of elderly or disabled customers, you may want to deliver flowers on a regular schedule so that they don't have to wait too long.
Key features of the on-demand flower delivery app
For customer portal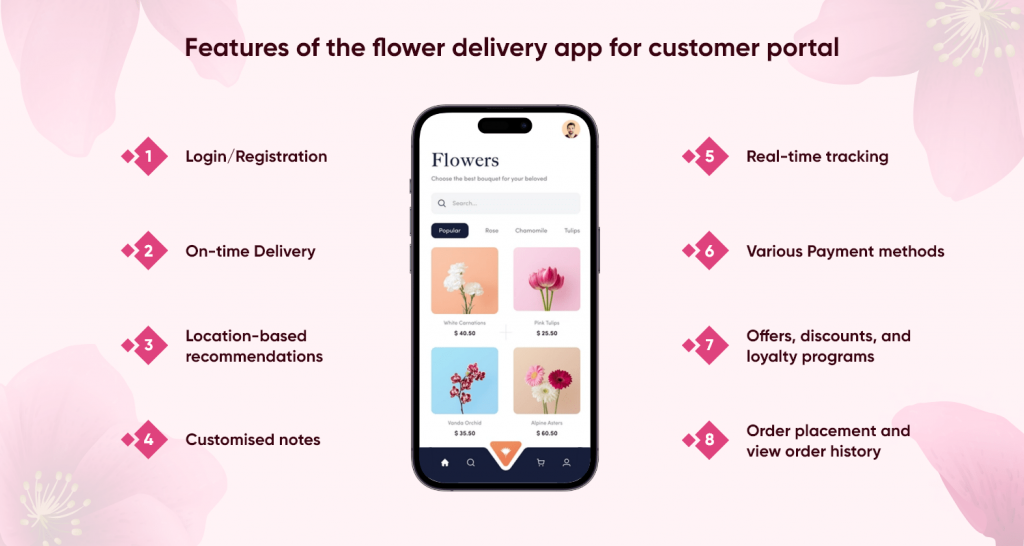 Login/Registration
It is an essential feature for any website, app, or web service. This allows users to set up their profiles and maintain a record of all the information, such as their location. Login and registration can be done in many ways, but the most common way is to use a form that collects the necessary information from the user. The form will then send the information to the server, where it will be stored in a database.
On-Time Delivery
When it comes to fresh flowers, it is essential to ensure they are delivered on time. The last thing you want is for your flowers to arrive late. Flowers are a perishable product and need to be handled with care.
Flowers are a perishable product and need to be handled with care. When sending fresh flowers or plants, on-time delivery is the primary concern. Making sure the flowers are delivered on time is the number one priority. If you have any questions, please do not hesitate to contact us.
If customers don't receive their order within a specific timeframe, they may assume the worst and cancel future orders. However, giving the customer the ability to schedule their order delivery and gifting time can be a game-changer feature of your floral business. This way, you can ensure that all your customers are happy and that there are no missed orders.
Location-based recommendations
With the advent of technology, consumer behavior has changed, and customers now demand convenience and fast service. To address this, on-demand flower delivery software should provide features to filter and search the flower shops' options based on selected geo-locations. This would allow customers to find the nearest flower shop to their location and have the flowers delivered in the shortest time possible.
Customized notes
On-demand flower delivery apps must allow customers to write customized notes and order flowers. Placing them with gifted flowers or bouquets will be an innovative feature that the receiver will love and feel good about. It is important to remember that the customer experience does not end when the purchase is made; in fact, it is only just beginning. Creating a seamless and memorable customer experience should be the goal of any on-demand flower delivery app. Allowing customers to write customized notes is one way to help achieve that goal.
Real-time tracking
The real-time tracking feature is helpful for your customers to offer an accurate picture of the order's delivery location. This information can be beneficial for them in making informed decisions about where to place their orders.
Various Payment methods
Payment options are a vital part of any e-commerce business, and integrating them into your flower delivery software can make life a lot easier for your customers. You can ensure they have the best possible experience when ordering flowers by allowing them to choose between several payment methods. Multi-payment options for flower delivery can improve customer satisfaction and enable you to make fast, secure, and hassle-free payments.
Offers, discounts, and loyalty programs
To increase your online flower delivery sales, you can always use various offers and discounts available on specific days like valentine's day, friendship day, thanksgiving, etc. Notifying your customers about these offers beforehand can also increase your sales.
Order placement and view order history
In today's world, customers want everything instantaneously. This is especially true for those who are busy and don't have time to wait around for traditional methods of shipping flowers like regular mail. With the on-demand flower delivery app, your customer can easily select orders from various categories. There should be an option to add to the cart and place their orders conveniently.
For vendor portal
Product details and description
A detailed description of your flowers and plant-based product will make your customers easily select and shop. You can describe the product, the materials it is made of, or the story behind it. By providing this information, you will make the shopping process easier for your customer, and they will be more likely to buy from you.
Multi-drop deliveries
The flower delivery route optimization system allows you to create, manage and drive the optimised routes to save time and effort. By using the routes that have been optimised, you can avoid long trips and save money. This system makes it easy for drivers to deliver flowers to customers without hassle.
Dynamic delivery partnership
The on-demand flower delivery app should enable vendors to take partnerships with other flower shop owners to the next level by charging dynamic delivery rates based on the value and location of the order. This would allow vendors to charge more for orders placed further away from the delivery location or for orders of a higher value. This would also allow vendors to offer discounts for orders closer to the delivery location.
Delivery notification
To ensure that customers' registered vendors are kept in the loop about their pending orders, the on-demand flower delivery app should send notifications or alerts to customers as per their scheduled delivery.
For the driver's portal
Multiple order acceptance
The drivers should have the option to accept multiple orders based on location. It will enable them to make more efficient use of their time and energy while ensuring that customers receive their delivery on time. This would be a good option for both the driver and the customer.
List of all deliveries and order confirmation
The customer's order should be included in the driver's app so that they know the estimated delivery time and the order's value.
Online communication
Drivers should be able to communicate with customers to understand the geo-location requirements for deliveries, if necessary, through chat or calling options to ensure that the delivery arrives on time and at the exact location.
For admin portal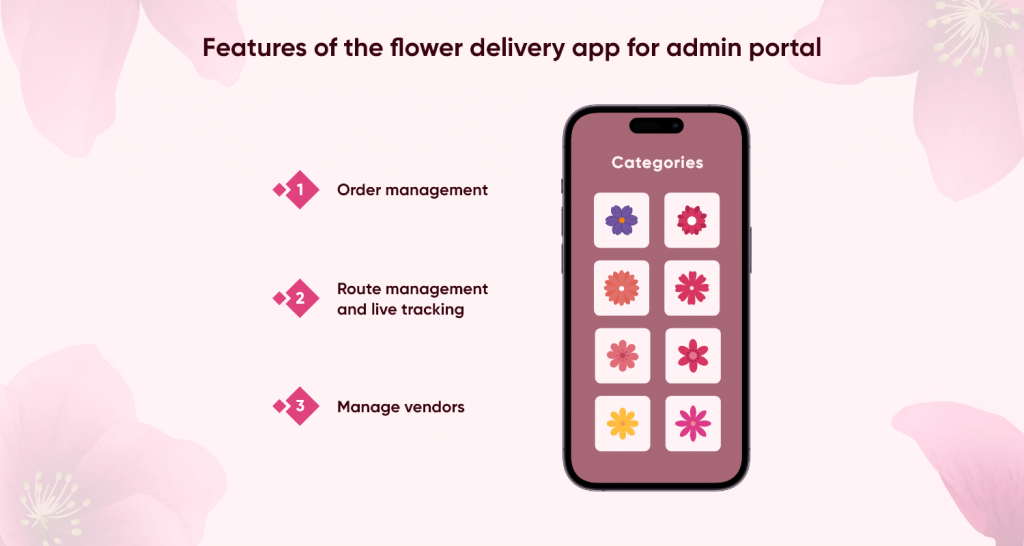 Order management
The admin should keep track of delivery orders and manage the flower delivery by checking drivers' exact status and idle hours to make the process smoother. This can be done through an administrative interface separate from the driver app. The admin interface should allow tracking of driver location, order status, and idle time. It should also allow for easy management of drivers, including the ability to add and remove drivers from the system.
Route management and live tracking
By managing the routes of the delivery staff at any point in time, the admin can ensure that the flowers are delivered on time without any hitches. This can be done by tracking the staff's routes and analyzing any deviations from the planned route.
Manage vendors
Admin can manage their vendors, add new vendors and supervise them to resolve any issues drivers face or at customers' end. This gives the admin a good grip on the entire process, ensuring that the food is delivered on time and without complications.
How much does it cost to build a flower delivery app?
The cost of On-Demand App Development Services is a much-debated question, as it depends on various factors, such as features, functionalities, technology, and, most importantly, the country of selected app developers. Hence, you must discuss your app requirements with your developer and receive a ballpark figure.
Final thoughts
With so much potential, the on-demand flower delivery industry is booming, and many startups are trying to get a piece of the pie. Online flower delivery software makes it easy for businesses of all sizes to reach a wider audience and increase sales. With an easy-to-use platform, there is no excuse not to offer your customers the convenience of on-demand flower delivery. When you use online flower delivery software, you can focus on your business and not have to worry about the logistics of flower delivery.
If you have an idea to turn into a NEXT BIG in the flower delivery business, then CMARIX is here to help you.
With a few clicks, businesses can create an online flower delivery app that can be tailored to their specific needs.
We are here to turn your idea into a reality, just give us a call and make a difference in your business growth.
Take a look at
Frequently Asked Questions
The cost of a flower delivery app is not based on one single factor, there are multiple aspects. You must check the features, functionalities, developer location, and technology. It can be anything between $30,000 to $70,000 or beyond. You need to discuss your app's requirements with the developer to see a ballpark figure.

A skilled team from a leading app development company like CMARIX can help you in multiple ways. They have required technical expertise and exposure that can be an added advantage to build a solution to give your business an edge over existing competition.