You may have stumbled onto this site because you're looking for information on how to find a developer for an app. You've come to the correct spot, as we cover every possible inquiry that might come up. Come with me as we go through this.
Here's what you need to know before locating an app developer
There are a few things to bear in mind before beginning your quest to find and hire dedicated Developers. Your ability to convey your vision to the mobile app developers will be greatly aided by your preparation of the aforementioned elements. So, have a pen and paper ready, because we're about to start working!
1. Creating a paper outlining what the app needs
A product specification document or mobile application requirement brief may be invaluable in organizing the needs of your business. It provides the developer with a framework, a set of requirements, and a reference. The advantages of putting your needs on paper are twofold:
It may be used as a benchmark to ensure that all requested deliverables were met.
It would be easier for mobile app developers to get behind your idea.
The Process
Construct an idea synopsis
Keep it as brief and to the point as you can. This is the first time the mobile app developer is hearing about your company and interacting with you directly. The developer should immediately understand your idea after reading this brief description and be able to create an app that fulfills your needs.
Visualize the correct order of events.
You may describe the order in which you want people to explore your app based on their feedback and suggestions for the navigation flow. Feel free to provide suggestions for the onboarding screen, the user registration screen, and so on. Indeed, that would be useful.
Research the currently available software
There will always be a few applications on the play store and the app store that are similar to or overlap with your concept, no matter how novel you think it is. Researching competing apps might provide you with inspiration for your own design. Developers of mobile apps may do a better job meeting your business's needs if you provide them with the aforementioned information.
Consider what qualities are most important to you.
One must have a firm grasp on what functions are most crucial to the success of their software. Mark as secondary or tertiary any features you believe would be nice to have but aren't absolutely necessary; this will ensure that developers don't overlook the essentials and can decide whether or not to include optional auxiliary features.
Describe how something works
You don't need to specify the button colors or other graphical details when writing the requirements for a mobile app. Currently, you should be assisting your mobile app developer in creating a working app that addresses the issue it was designed to address. As a result, you should only implement technical aspects that directly contribute to your mobile app's performance.
Make a wireframe.
You and your app developer may achieve new heights of efficiency in your communication with the aid of wireframes. Support the mobile app developers in visualizing the language of your requirements document by drawing screen maps.
You may like this: Best On-Demand Super App Development
2. When it comes to mobile platforms, which one do you prefer?
Choosing this path is crucial to the success of your software. You need to give some thought to which mobile platform would be ideal for your mobile app. The major markets we are already familiar with, such as Android, Apple, Windows, and other third-party app stores, should be included. To aid you in making a decision, please consider the following:
Understand your Target Audience
A mobile app's target audience is a key consideration when deciding on a platform. You may figure this out by doing some research and making a profile of your ideal client. When comparing platform popularity across regions, it's clear that there are significant regional differences.
Observe their User-Behavior
When deciding on a platform for your app, it's crucial to keep user behavior in mind. You probably don't give a hoot whether consumers are likely to make in-app purchases or buy applications if you're making a free app with no monetization channels. When comparing the underlying philosophies and user behaviors of the various platforms, it becomes clear that Apple customers are more willing to shell out cash for app purchases.
Thinking About Your Strategy
Functionality and reach are two key considerations when selecting an app platform. Look for native app developers who can create native applications since they perform the best. But let's say you're interested in expanding your audience outside a single channel. If that's the case, your business should look into hiring a cross-platform or hybrid app developer to create a hybrid app solution.
Pay attention to UI/UX
The quality of your app's user interface and user experience is a major factor in whether or not users will stick with it. Even if you've taken care of every detail, your app will fail if consumers don't like its look and feel of it. It's just as important to have a well-done presentation as it is to have excellent information. This is why even the fastest app development firms take their time making this choice. You should choose an app developer that recognizes this as a priority.
3. How much does it cost to create an app?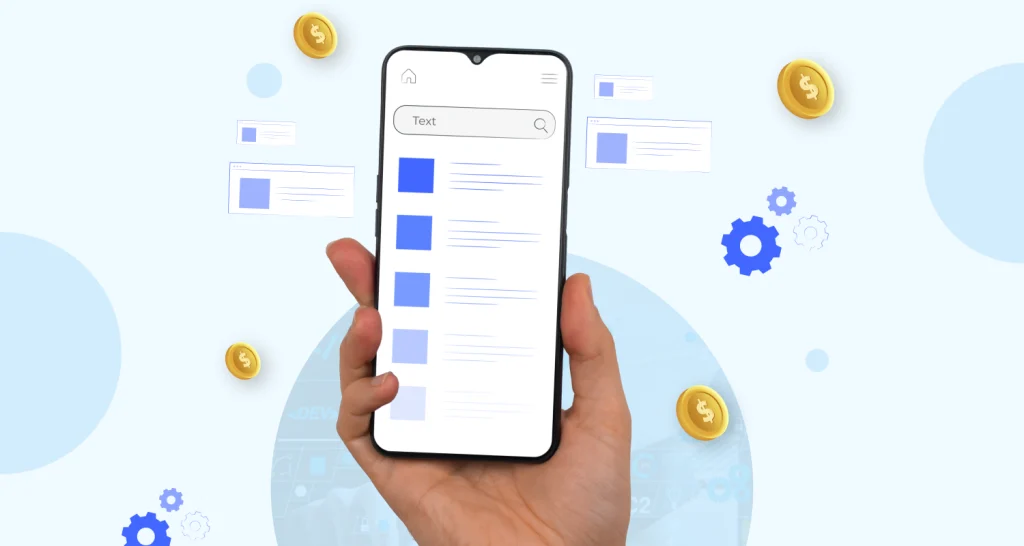 The process of creating a mobile application involves much more than simply code and design. It has been estimated that the average cost to create an app is between $200,000 and $600,000. Depending on a number of circumstances, the total price of submitting an application may be either lower or much greater. If you want to know how much it costs to make an app, you should read our in-depth blog post about it.
So, why do you need to hire an app developer?
For your mobile app development project, you can go about finding the best app developer in a few different ways. The cost of hiring a developer for an app might vary greatly depending on the current stage of development. Which strategy is appropriate for your company goals and app vision will depend on your specific circumstances and the level of technical support you have available. Some of the methods you may use are outlined below.
– Hiring in-house
Building your own in-house mobile app development team is a great investment if you have the means to do so. However, establishing an in-house app development team is only a good idea if your business is in the IT industry or if you often need to create applications as part of the goods or services you provide. Creating an in-house app development team might be expensive and counterproductive if the app is being developed just to increase brand awareness. If you decide to build your own app, you'll need to factor in a number of office costs like rent, appraisals, salaries, and general running costs.
Pros
Total command over all processes and scheduling.
Clearly and concisely conveying ideas.
Cons
Lengthy application procedure.
All costs, both direct and indirect, are associated with keeping the team together.
Management abilities for teams are required.
– Hiring a freelancer
It is more cost-effective to hire a freelancer to handle your mobile app development needs than to hire an in-house staff. If you need help developing an app, you may find freelancers to do the job for you from all around the globe.
Pros
Minimize the expense of getting something.
Buy just what you really need.
Collaborate with a diverse group of developers.
Innumerable job-hunting websites.
Cons
There is difficulty communicating due to a language barrier.
Challenges in administration and maintenance.
Abandonment threat to a project.
In certain situations, it may be challenging to establish trust.
– Hiring an outsourced team
This is a second potential outcome. If you are reading this, chances are that you are a startup or a small to medium-sized business. You have successfully built an in-house app development team of technical specialists. You might, however, really benefit from receiving external assistance in order to expand your capabilities and productivity. It is recommended to engage offshore app developers from talent services in such a case.
Pros:
This option is cheap and efficient.
You may choose from a broad pool of qualified individuals.
The time-consuming task of finding suitable experts won't be required.
Allows you to put your attention where it belongs-on your company's actual aims and ambitions.
Puts an end to micromanagement.
Cons:
Finding a reliable talent service provider may be a time-consuming process.
There may be time zone discrepancies.
Possible difficulties communicating due to linguistic issues exist.
Failure to thoroughly screen potential employees might jeopardize the security of your intellectual property.
– Outsourcing Companies and Agencies
If you need a quick repair or help with a single project, hiring freelancers is a fantastic alternative. Turning to freelancers, again and again, maybe a costly affair if you don't have a good in-house team in place and want advanced full-stack app solution providers. Even if you intend to employ a number of freelancers, each of whom would be responsible for a certain aspect of your app's development, the process would be time-consuming, costly, and difficult to manage. The end consequence would be an app that doesn't work properly or is inefficient.
Pros
Minimize the expense of getting something.
Improves the standard of output.
Experts work for them as a team.
There is an incentive for government agencies to increase their productivity.
That way, you may direct your attention to other matters of business.
Cons
It may be difficult and time-consuming to communicate.
Privacy compromise is possible.
Some of your company's control is transferred to another party.
You may like this: How Much Does It Cost to Make an App?
Where to Find App Developers
Experts in your field may be located in a number of ways. One study found that 35% of startups depend on word-of-mouth from current employees, while 30% of IT businesses leverage external professional networks. To ensure that the finest people for your project are chosen, we will analyze all of your employment possibilities in depth.
Ask for References
If you need to discover app developers fast but just have a little budget, asking your network for recommendations is your best bet. This is an effective strategy since a third party can vouch for the applicant's qualifications and expertise while also promoting your organization as a great place to work. However, having a sizable network of industry insiders is essential for locating top employees.
Use Hiring Platforms
Finding potential employees with this method is straightforward. It's very probable that you'll locate affordable app developers via employment sites. They compile data about IT firms and independent contractors from across the globe, equipping you to make informed hiring decisions. According to the three collaboration models we discussed, there are three distinct categories of technological platforms.
How to Find an App Developer: 7 Main Steps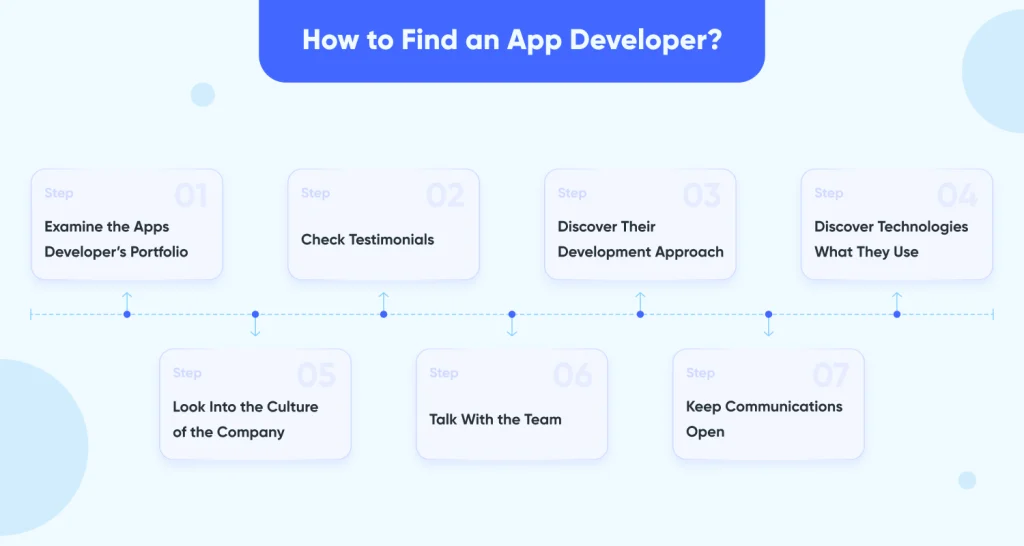 Step 1: Examine the apps developer's portfolio
Of course, everyone has to get their feet wet somewhere, but if you hire mobile app developers straight out of college isn't the best idea. Because let's face it, app creation doesn't come cheap. A competent offshore app developer or firm is an obvious choice. Don't be hesitant about requesting to see a portfolio, examples of their prior work, or anything else that can assist you to evaluate their ability. If they are sure of their abilities, they won't be bashful in passing along relevant details.
Step 2: Check testimonials
You should check references before hiring someone to design your app. Contacting the business and requesting names and numbers of their existing customers is perfectly acceptable. You may learn a lot about the quality of their job by looking at the location and the number of repeat transactions. A one-time purchase is an option for consumers. But until the apps really perform as advertised, customers won't be returning to pay for the creators' services again. You can learn a lot about the sectors a firm works in and the kind of work they're most proud of by taking a look at their portfolio.
Step 3: Discover their development approach
Finding the right app developer for your project means making sure your development styles align. In order to ensure a seamless app development process, developers split and arrange the work according to the software app development life cycle. The strategies and procedures of various groups vary.
Step 4: Discover technologies that they use
You should check the app developer's credentials to ensure they have the necessary expertise, just as you would with a doctor. Do you have a web-based version of your app? In what language do you need to write code? Which of these two types of user interfaces-the simple or the fancy-do you prefer? These questions are intended to help you find the best candidates for your open position by eliminating those who don't meet your criteria. Keep in mind that it's not enough to get a decent app developer – you need one who is well-versed in the tools you'll be using.
Step 5: Look into the culture of the company
Many co-founders overlook this consideration when choosing an app developer, despite its importance. The office culture of an app developer might vary greatly. Some organizations, for instance, use a more conventional management model in which higher-ups issue directives to lower-level staff. In other organizations, everyone is treated as an equal member of the team, and everyone is free to share their ideas and opinions regardless of their position. Some companies also provide employees with extensive opportunities for independent thought and action under little management.
Step 6: Talk with the team
If you're looking to build a remote app development team, you still need to conduct interviews. If the app developer is unpleasant to work with, no amount of positive reviews or examples from their portfolio will sway you. It's important to keep in mind that misunderstandings might arise out of nowhere if one of you happens to have certain character faults or other challenges.
Step 7: Keep communications open
The challenge of working with freelancers or remote employees in the app development industry is that they are often inaccessible except through email or video chat. If they also happen to be located in separate time zones, the problem becomes much more challenging. Make sure these factors won't go in the way of your contact with the app developer before you hire them. If possible, find someone on your side of the globe and schedule regular update times with them. As a last point, remember to keep things open and honest while talking to one another. Agencies should be transparent about their services, fees, and limits. Don't trust someone who acts suspiciously.

Why Hire App Developers at CMARIX
The mobile app developers at CMARIX use cutting-edge methods to create innovative products.
To bring your app concept to life and stay ahead of the curve in the face of intense competition, you'll need to draw from the best combination of enduring user experiences and cutting-edge development talents.
Get an edge over the competition by learning how to use Native and Cross-platform mobile app development technologies to their full potential, all while adhering to industry best practices and producing high-quality results.
Hire Dedicated Mobile App Developers for Your Projects
Take advantage of mobile app development solutions designed by specialists who are up-to-date on the industry's newest trends and best practices. For both local and international clients, our team of expert app developers has created a broad variety of scalable and secure mobile app solutions.
With over 22 years of combined expertise, our in-house staff is well-versed in all aspects of mobile app development and can provide a high-quality product.
Hire the top one percent of the industry's mobile app developers, who are fluent in the latest versions of Android, iOS, Xamarin, React Native, and many others, and who are widely recognized for their skill at incorporating cutting-edge technologies like artificial intelligence, machine learning, virtual reality, and the internet of things.
Create a Mobile App That Turbocharge Your Business Presence
Get in touch with a mobile app developer if you need to switch to a newer operating system, add features, redesign your current app, or move your business app to a different platform.
Conclusion
When it comes to keeping your company afloat, mobile applications are a must-have. You'll be relieved to know that you don't have to reinvent the wheel in order to create an app; instead, you can just hire an app developer, explain your needs, and wait for them to deliver the final result. Given the constraints of your resources, it's imperative that you get your app developer search off to a good start by following the advice provided above.
Take a look at
Frequently Asked Questions
Specialists in the Middle Technology field may make anything from $25 to $70 per hour.

You might find reliable mobile app developers on sites like Linkedin, Fiverr, Upwork, and Clutch, or seek for recommendation from friends and coworkers.

Examine their professional social media pages, as well as their portfolio, the sectors they service, customer testimonials, and the kind of work they have completed in the past.