The next generation in enterprise mobility will be tied in with driving a consistent, integrated mobile experience – giving users the ability to pick up any device and have instant access to all of the data, tools, interfaces, and controls they want. But they need to be able to do this without compromising data security and integrity. How much time do you spend every day, struggling with multiple applications to complete your work? It's a great opportunity to streamline your schedule. Dynamics 365 has all the features you need to cover almost every aspect of your business. From Sales (CRM) to Financials, to Operations (ERP) to Customer Service. Start with one app and then add more as your business evolves.
Microsoft Dynamics 365 is a cloud-based ERP and CRM enterprise system. It was built by Microsoft for flexibility and extensibility. Building applications with PowerApps help everyone from business analysts to proficient developers work all the more effectively together. Solve business issues with intuitive visual tools that work faster with a platform that enables data integration and distribution, and extend the platform with building blocks for proficient developers. Dynamics 365 represents Microsoft's recognition that the cloud is the place to be for business.
Microsoft PowerApps enable you to accomplish more with your current data as it uses the Common Data Services, a secure platform for business data. This platform includes hundreds of predefined standard business entities giving a similar definition in all your applications. By integrating PowerApps into Dynamics 365, you can get apps that enable to get the most out of these business tools – wherever they are, whenever they want.
To Create App in PowerApps, Login with your Microsoft account from here https://powerapps.microsoft.com/en-us/
After logged into PowerApps select "Connections" for Creating the Dynamics 365.
Once you click on "Connections" You will have this screen, by clicking on "New Connection" You can connect to different third-party connections like Dynamics 365, Dynamics NAV, SQL Server.
Here we are going to connect on Dynamics 365. Once you click on "Dynamics 365" it will pop up the dialog for creating Dynamics 365 connection.
For creating Dynamics 365 connection you need to log in using Microsoft account.
Once your connection established properly, you will have your credentials on a list of connections.
Once your connection is configured properly than create an App, for that you need to choose PowerApps studio then Open the application, click on New and choose the Phone Layout under Start with blank canvas or template.
On the right-hand side, under Connections tab, select the Dynamics 365 connection created in the previous step, once you select Dynamics 365 you will have a list of connections on PowerApps you configured. Select your configured connection and then choose the Contacts table from database tables which we are creating for demo and click on "Connect".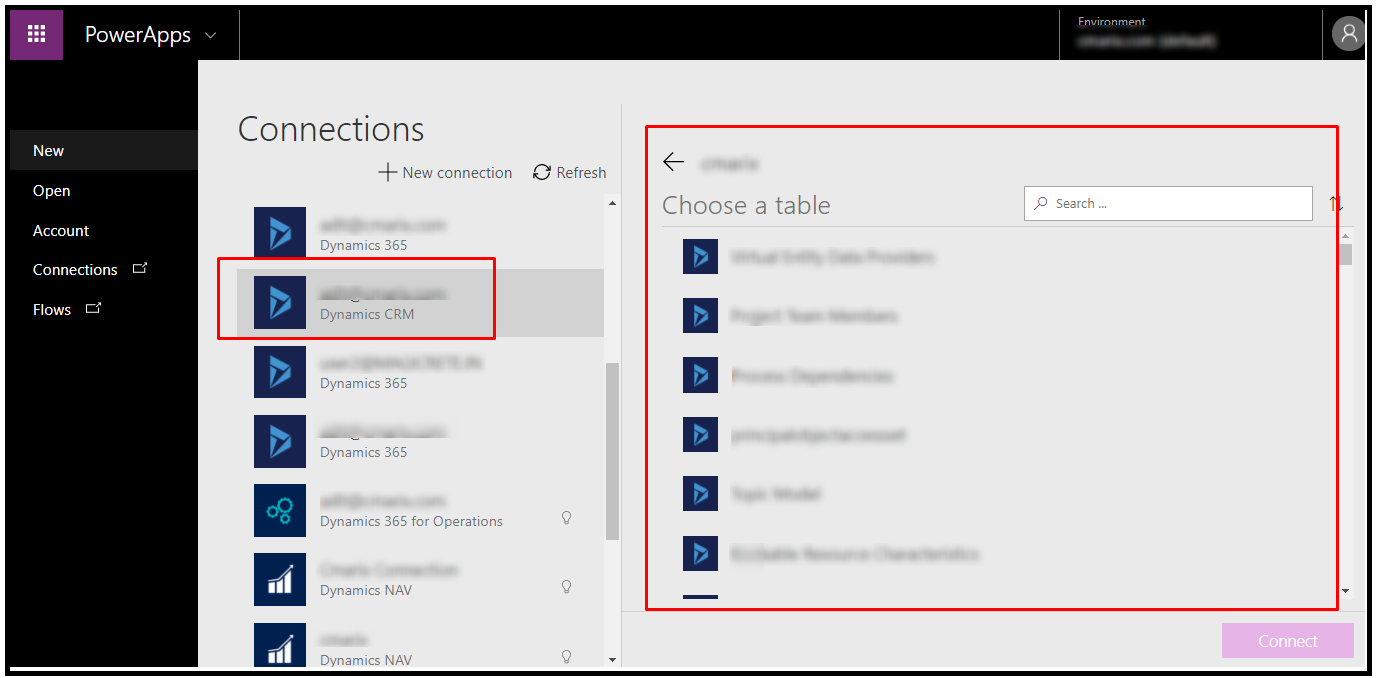 After the connection, you will get sample structure based on the selected database table and that will create App with Listing, searching, Add, Details, Edit and Delete functionality.
To run this app click on "Play" button, you will have all Contacts data with different functionality.
Dynamics 365 ensures consistency and interoperability by using a typical information model and reliable application platform. PowerApps enables a wide range of Custom business applications scenarios to be created that infuse digital transformation into manual and outdated procedures. Use model-driven applications to build PowerApps that solve business problems for a task and role-specific scenarios such as inspections, field sales enablement, and integrated marketing views. With Microsoft Dynamics 365, you'll get complete platform promoting productivity, intelligence and security that are the fundamental elements of their Digital Transformation strategy.