In an era of instant gratification, time is the most valuable commodity. Mobility is making it possible that you can do a wide array of things on the move whether it's in your personal life or professional.
As per recent research, the demand for mobile app development services will increase five times faster than the IT organization's capacity to deliver them. Furthermore, mobile app-based start-ups are leading the technology disruption across diverse business domains.
Microsoft has made some interesting contribution in fast-moving mobility technology ecosystem by introducing a new way of developing mobile applications that are by using PowerApps. Unveiled on 30th November at Convergence EMEA in Barcelona, PowerApps is a software-as-a-service (SaaS) for building business applications. It is an innovative and compelling new service for building mobile-first business applications.
How PowerApps help Organisation
Microsoft has provided a development environment for the corporations to build and deliver specific functionality faster to their users and basically, it is meant to create "Business apps". PowerApps is simple to use and doesn't require any technical knowledge or programming skills. It is an enterprise service for innovators everywhere to connect, create and share the business apps with the team in a secure way on any device in minutes. PowerApps helps everyone in the organization to unlock new business agility. It dramatically accelerates on how the business apps are built, reducing time to solution from days or months to minutes and empowering a new category of app creators. It balances power between IT and business users.
PowerApps provides benefits across the entire organization:
For Business Users – You can create, connect, and share apps quickly with anyone in the team.
For Developers – They can expose data and services to empower everyone to innovate on their own and continue to create native web apps, mobile apps, and APIs with Azure App Service.
For IT Professionals – They can manage data and app sharing in a controlled and secure way.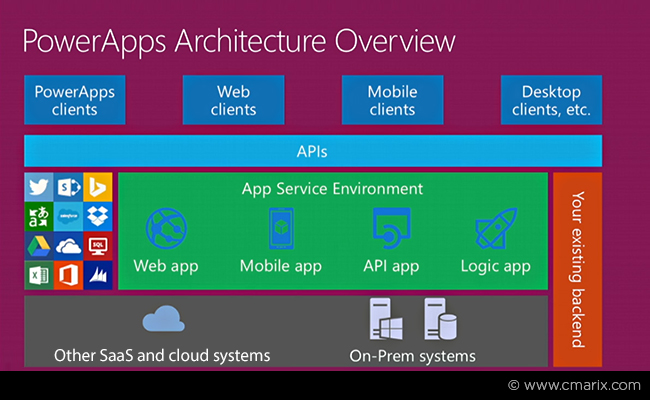 How PowerApps is Helpful?
You can connect it with an on-premise system like SQL Server, Oracle Database and so on. Also, it can be connected with cloud services like Salesforce, Dropbox and many more. You can integrate your company's connection in Powerapps through Cloud services.
With Power Apps, you can manage data access and maintain policies with data security and privacy controls features.
Creating an application is faster with Microsoft PowerApps that works on any device. Also, it avails Microsoft Office-like experience templates to start easily along with a visual designer.
You can also add other data connections and APIs to any existing system of your business. In this way, you can empower your organization and its employees with PowerApps that will actually help them in the need of the hour.

Benefits of PowerApps
Following are the benefits with PowerApps Enterprise:
You can get all the capabilities of App Service like the ability to build and host as many Web, Mobile, API and Logic apps as your business needs including a fully managed App Service Environment
You can get secure access and management of any existing corporate API's.
Ability to build employee web and mobile apps with single-sign access to corporate services.
Easy to use CRUD APIs for many popular services in the cloud and on-premises for rapid creation of apps.
You get a tool for business users to build business apps that connect to corporate APIs and share them with others in the organization.
Therefore, Power Apps are changing the face of business applications and how they work availing extreme convenience and high-quality output. It is also enforcing a new category of app creators with features that reduce solution development time to minutes. With the help of power, apps feature like Data security and privacy control, it is quite easy to maintain the data. The applications created on Power app platform are modern, cross-platform and responsive.
Having a custom mobile application development is vital to leverage the benefits of higher productivity, process optimization and overall branding.