There was a time when owning a car was a status symbol. Then cars becoming affordable for a great number of people and environmental pollution as well as fuel prices becoming deterrent factors, government agencies started encouraging people to avail public transport systems. But still, there were people who were always reluctant to leave the comfort of the car for travel. So, solutions like ridesharing solutions and apps like Uber were obvious to come. There is no doubt in the fact that thanks to Uber, Lyft, BlaBlaCar, and such ridesharing and carpooling services of all types, we finally got something that addressed several transportation concerns together.
Besides, offering a shared transport solution much in the fashion of public transport systems, these app-based ridesharing solutions also made it easier for the people to avail ride when and where they need it. Altogether, these app-based ridesharing services all over the world brought an altogether new force in the transport economy and became a generation-specific cultural phenomenon as well. When we use terms such as Uber-smart we actually refer to this new cultural construct.
According to the report of the International Energy Association, 1.8 billion cars are likely to hit the road by the year 2035. Here is users growth statistics around the globe.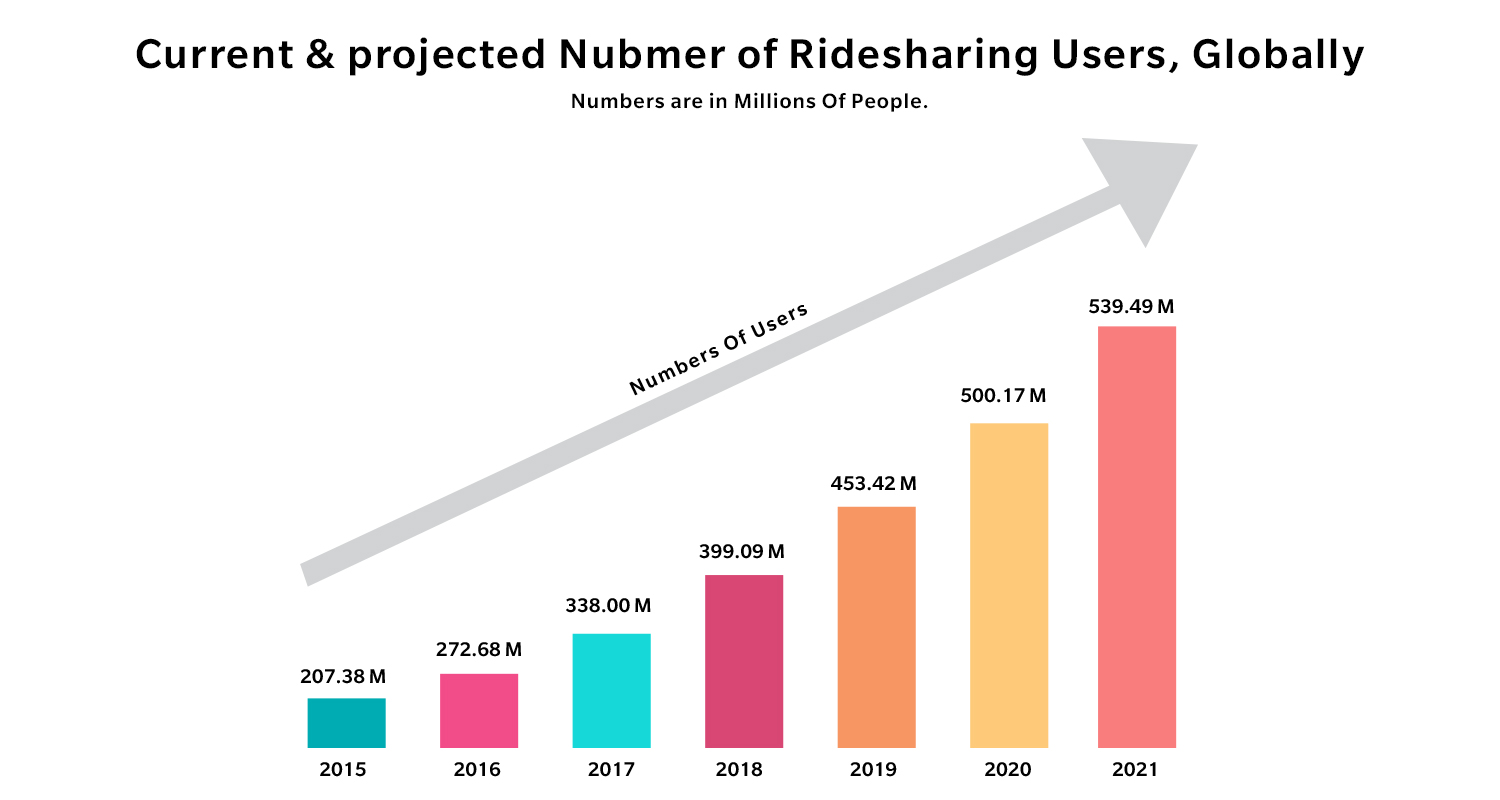 Apart from all other benefits that are often talked about, these solutions are likely to have a great positive environmental effect by actively reducing the impetus of owning a car. To save the world from the catastrophic environmental impact of this, these app-based solutions can play a great role.
Ride-Sharing Apps: A Boon for Travelers
The biggest impetus driving the popularity of the ridesharing apps and solutions all over the world is obviously the comfort, ease and promptness ensured by these solutions to the travellers. Any ridesharing App Development Company focuses on extending these common benefits with new features and unique ideas.
As for the overall impact, 3 gross benefits of these apps can be referred to. First of all, being fully GPS-guided solutions they reduce traffic congestion to a great extent. These apps also reduce the number of trips vehicles are needed to make to catch passengers and thereby reduce fuel consumption to a great extent.
On the part of customers of the ridesharing services, these apps allow ease of making a payment without cash, easy tracking of the drivers and the available vehicles, timely notifications about the vehicle location relative to your position and the ease of communicating with the driver as and when needed.
Let's now explain the key advantages of the ridesharing for the travelers.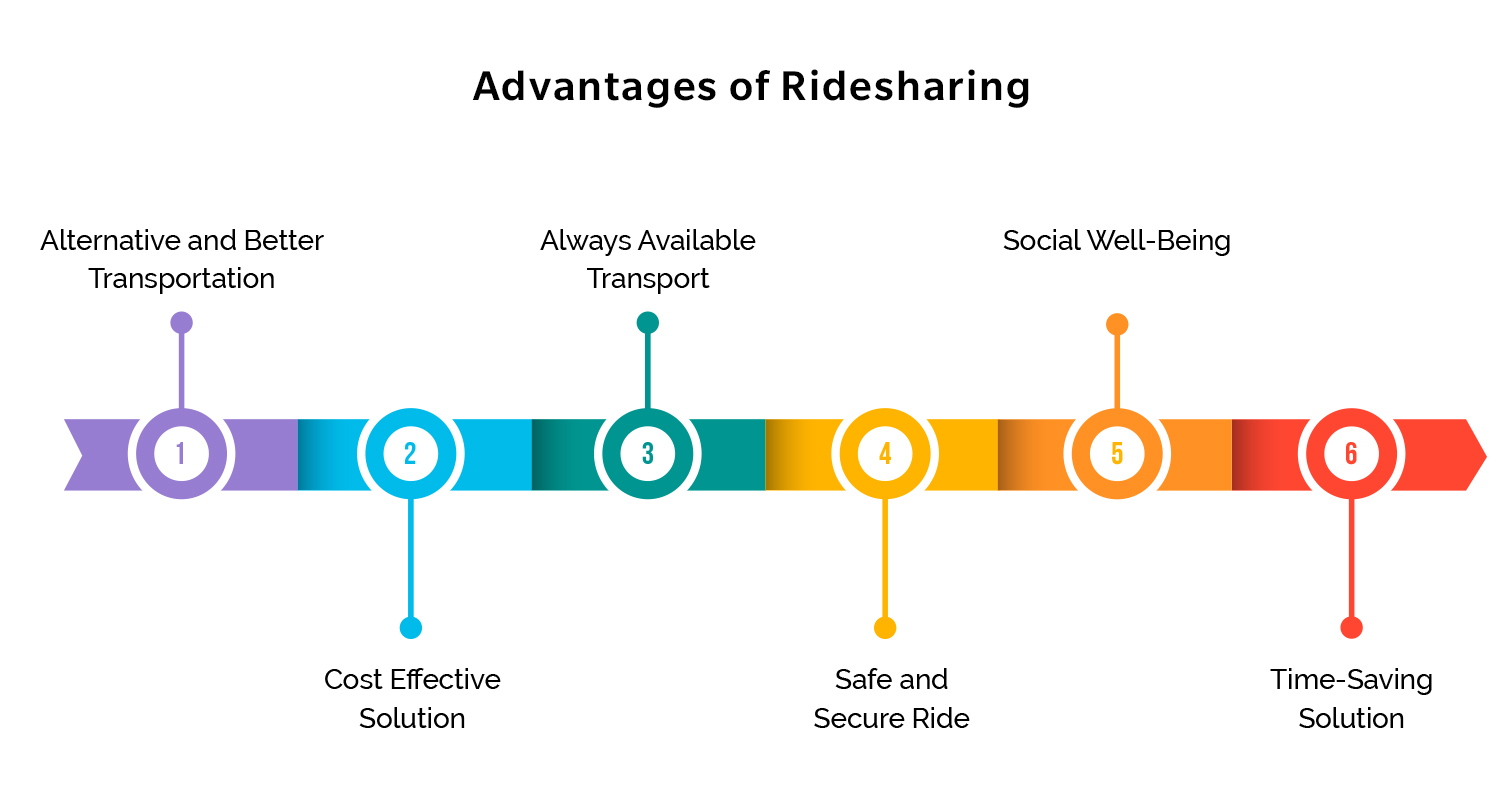 Alternative and Better Transportation:
These app-based Services Offered travelers with better alternative transportation. The travellers can avail rides in their own convenience as and when they need it. Without being hindered by constraints like cost and convenience associated with regular cab services and other public transports, they can actually avail a better transportation service.
Cost Effective Solution:
Getting stuck in the heavy rush-hour traffic while seeing the meter of your hired taxi is continuously ticking on, is a common experience shared by many of us. This is where ridesharing apps one as handy and effective solutions because you not only share the cost of travel with co-riders, you also get a clear price quote for the ride when booking the same.
Always Available Transport:
The ridesharing apps made it possible to avail a ride to any destination without waiting a long time. You are provided with a ride from the nearest available car at the drop of a hat. You can take a ride to anywhere from where you want it and when you want it.
Safe and Secure Ride:
Every ridesharing app strictly ensure engaging sufficiently skilled and licensed drivers after a thorough background check. Apart from this, you always can avail remote support for any en-route security issues. As far as safety and security are concerned, ridesharing apps offer sound support.
Social Well-Being:
Enhanced social well-being is one of the key advantageous outcomes of ridesharing apps. According to various studies and indexes, workers with longer travel time are seen to be less efficient and productive. The comfort and ease of travelling through the cabs of ridesharing services can ensure a marked difference in the social well-being of the people.
Time-Saving Solution:
For an ultra-busy and overactive generation of people who value time more than ever before, Uber and the likes came as the most appropriate solutions. From taking your children to the school to going to your workplace, just taking a Uber or Lyft cab can be the ideal solution to reach your place in time.
Ride-Sharing Apps Overtook Taxis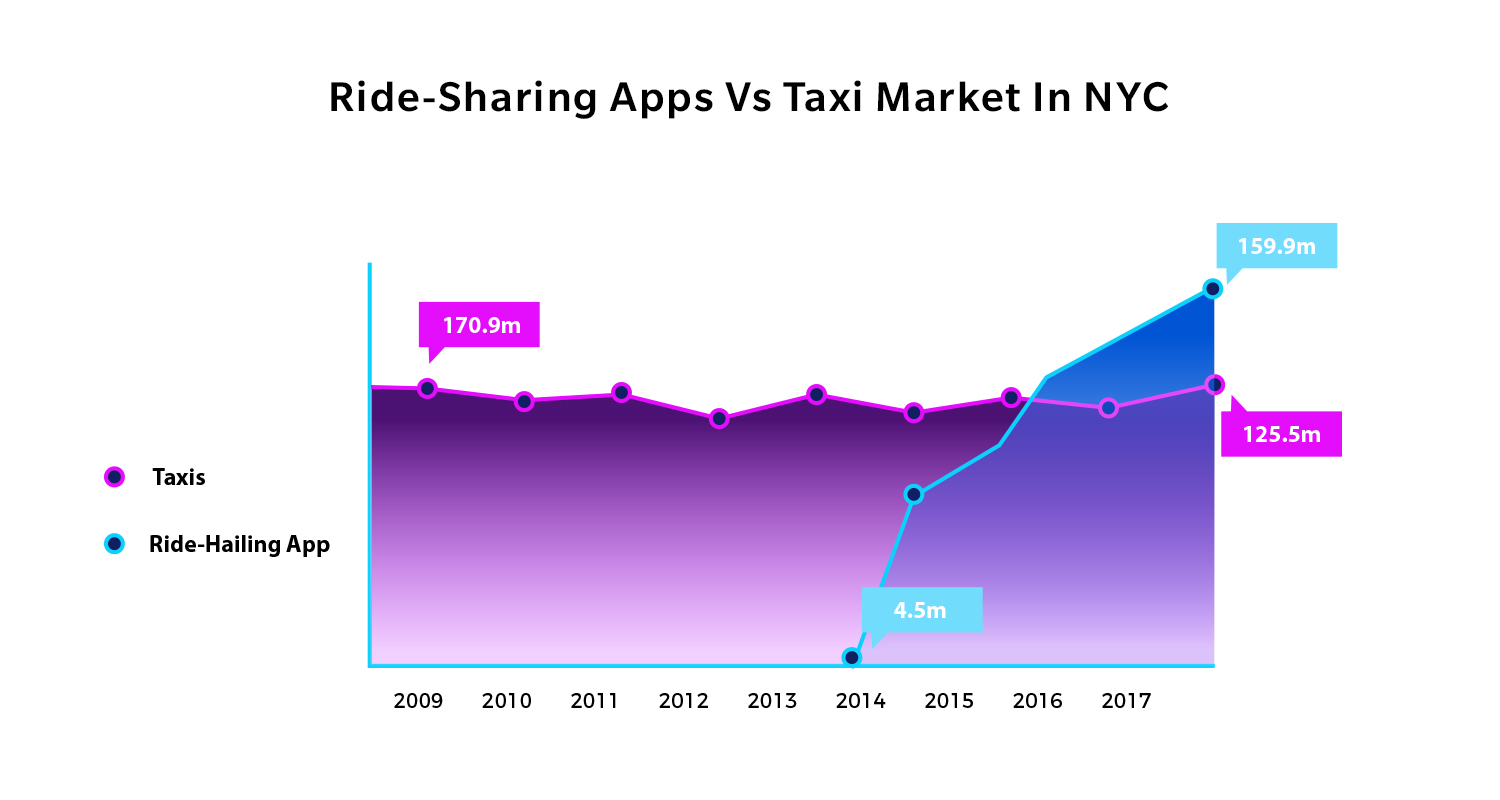 As we all know, NY at a time was the taxi capital of the world. The streets of NYC were always covered with yellow cabs. Today, if we look back ridesharing apps usage has surpassed the taxi cab market. Here are the stats that clear show the downfall of taxi market.
Making the Ridesharing Business Model Successful
Now, we need to spare a few words on the successful business model of these ridesharing apps that you can find in every part of the world. Not all apps are equally successful and some of them enjoy better traction and popularity in some specific countries.
The stats below convey how different countries around the globe are planning to increase the investment in ride-sharing business model.
The following figures below tell which major countries have used apps for mobility services.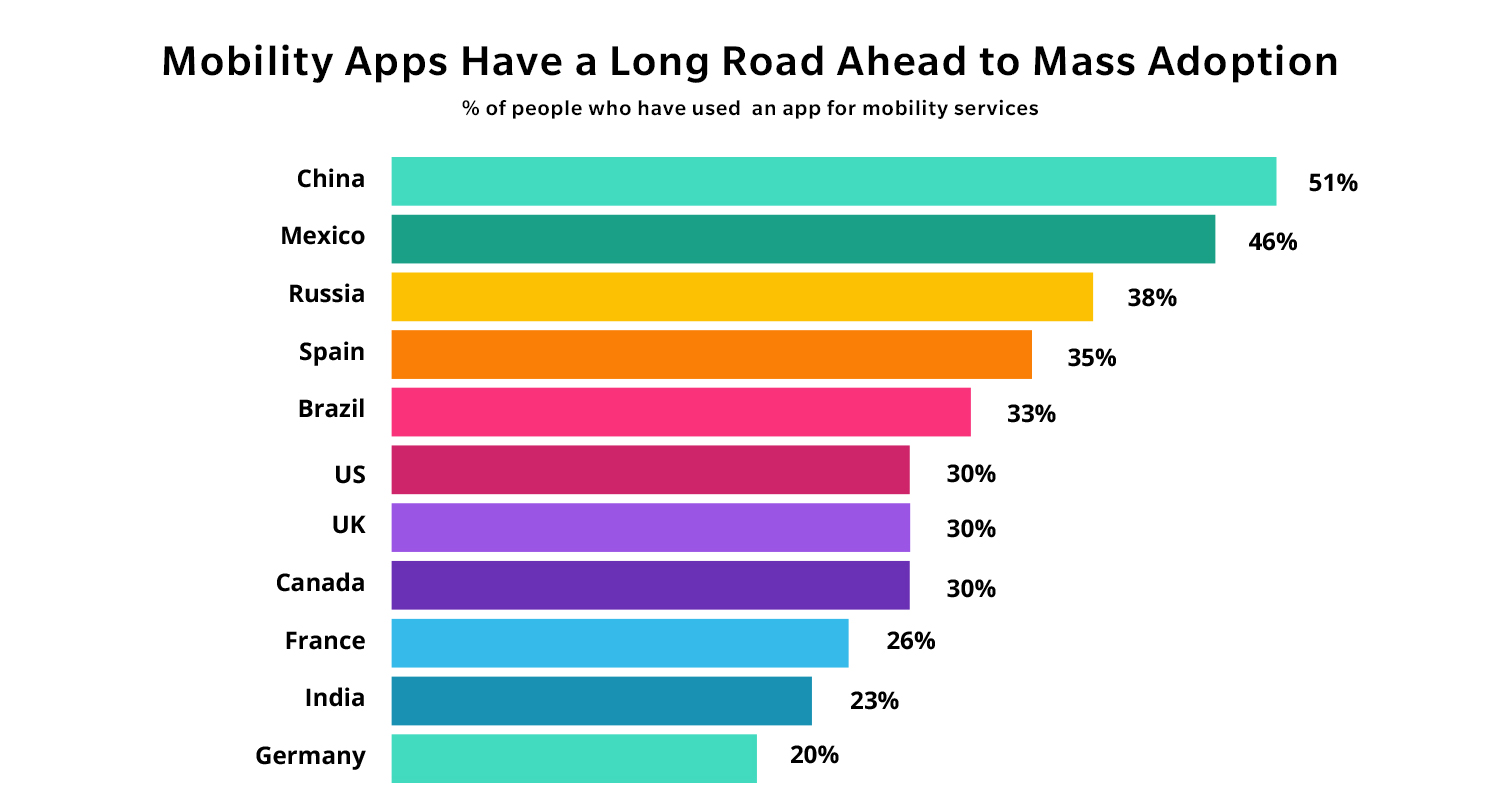 Considering all these differences in the business model and their revenues in different countries we are going to explain two specific ridesharing apps in two specific countries. We will explain the case history of Lyft in USA and BlaBlaCar in Europe.
Ride-Sharing Business Model Any Ridesharing App Needs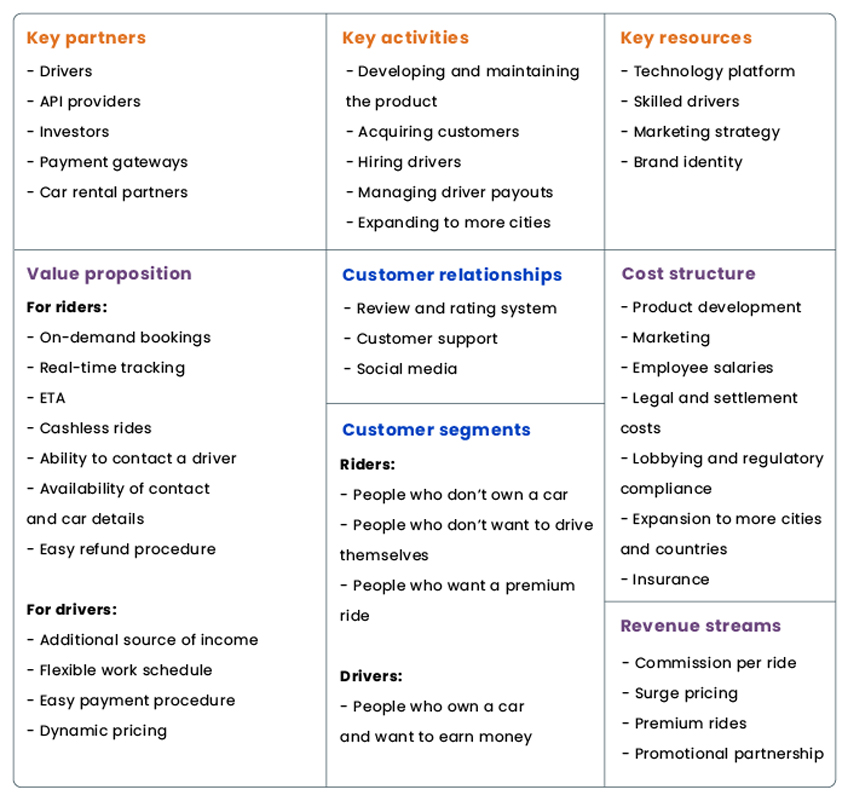 United States: Lyft
As per the volume of ridesharing customers, Lyft is at present the biggest ride service in the world after globally successful Uber. Lyft has a dominant presence across more than 300 US cities including all major cities and many smaller townships.
Lyft follows the demand-based pricing model in peak hours. The service also offers a carpooling service in the name of Lyft Line. The service also provides a variety of cars ranging from mid-sized Lyft autos to plush and spacious Lyft Plus cars. Apart from all these, Lyft also offers a dedicated service for self-driving cars as well.
You can download the app and just like Uber by sharing your location detail can book the available ride from the nearby car. It also allows you to contact the car driver and get updates about the arrival of the car. When it comes to the safety measures, Lyft ensures optimum security of the riders by facilitating a thorough background check of the drivers.
You may like this: Taxi Dispatch Software Development
The Business and Revenue Model of Lyft
Lyft works basically as a cab aggregator service to allow people use their car for generating revenue. Lyft as a service only takes a 20% margin from the amount paid by the commuter while the driver gets 80% of the paid fare for a ride.
Surge Pricing Based on Demand and Location
Much in the way of Uber, Lyft follows a surge pricing model. According to this model, high demand in particular locations can contribute to increased price for the ride and low demand does just the opposite. The surge in pricing also depends on the time of the day when the ride is being availed.
Lyft Plus
Besides the regular 5-seater cabs, Lyft also offers 7-seater cabs under the "Lyft Plus" tag. Because of bigger space and higher comfort, Lyft Plus charges 20% more for each ride.
Lyft Line
Lyft Line is the original car sharing service that enables budget commuters travel with other passengers in the road. This gives an alternative to the public transport with a great price advantage.
Europe: BlaBlaCar
BlaBlaCar as one of the leading and most popular ridesharing apps and carpooling solutions is a bit different from the Uber and Lyft. It is mainly popular for availing long-distance travel within Europe and is presently available across 22 countries. It has been named as such because of referring to the Bla…bla when trying to communicate with a stranger in a language not known by both.
After creating the account, you need to mention your departure point, date and the destination. You will be provided with a list of available cars along with the profiles of the drivers and the other travellers sharing the ride with you. You can decide after checking through their profiles and the car. From the cost of the ride, the car information to pick-up and drop-off points, all these are shared by the driver and accordingly you can decide to book the ride.
BlaBlaCar Business and Revenue Model
BlaBlaCar works in much different way than so-called ridesharing and carpooling apps in the market. It is basically an aggregator of cars to help facilitating cars to make money by giving rides and help people avail rides for cross-country travel. It is sort of a service that basically helps hitchhiking in a more organised manner.
Now, let us see how the BlaBlaCar as an app makes money through the service.
Any car registered with the service can give ride to the passengers with a price that suits him best. BlaBlaCar as the service just takes a 12-15% margin from the fare paid by the traveller when commuting from point A to point B. The driver calculates the fare at the end of a trip with the 12% payable charge for the BlaBlaCar service. The app doesn't allow more than 3 passengers to commute together in a trip.
Key Features for Ride-Sharing Apps
To ensure success with a business model like Uber, Lyft and several other leading ridesharing apps you need to equip the app with some important and user-optimized features. The growth of many of these apps is directly associated with the rich set of user-friendly and growth-driving features.
First of all, for creating a carpooling or ridesharing app you need to create two different apps for serving respectively the commuters and the drivers. It is needless to say that the Driver App and the Commuter App of the same service will have different set of features.
Some of the must-have features of a ridesharing app like Uber include the following.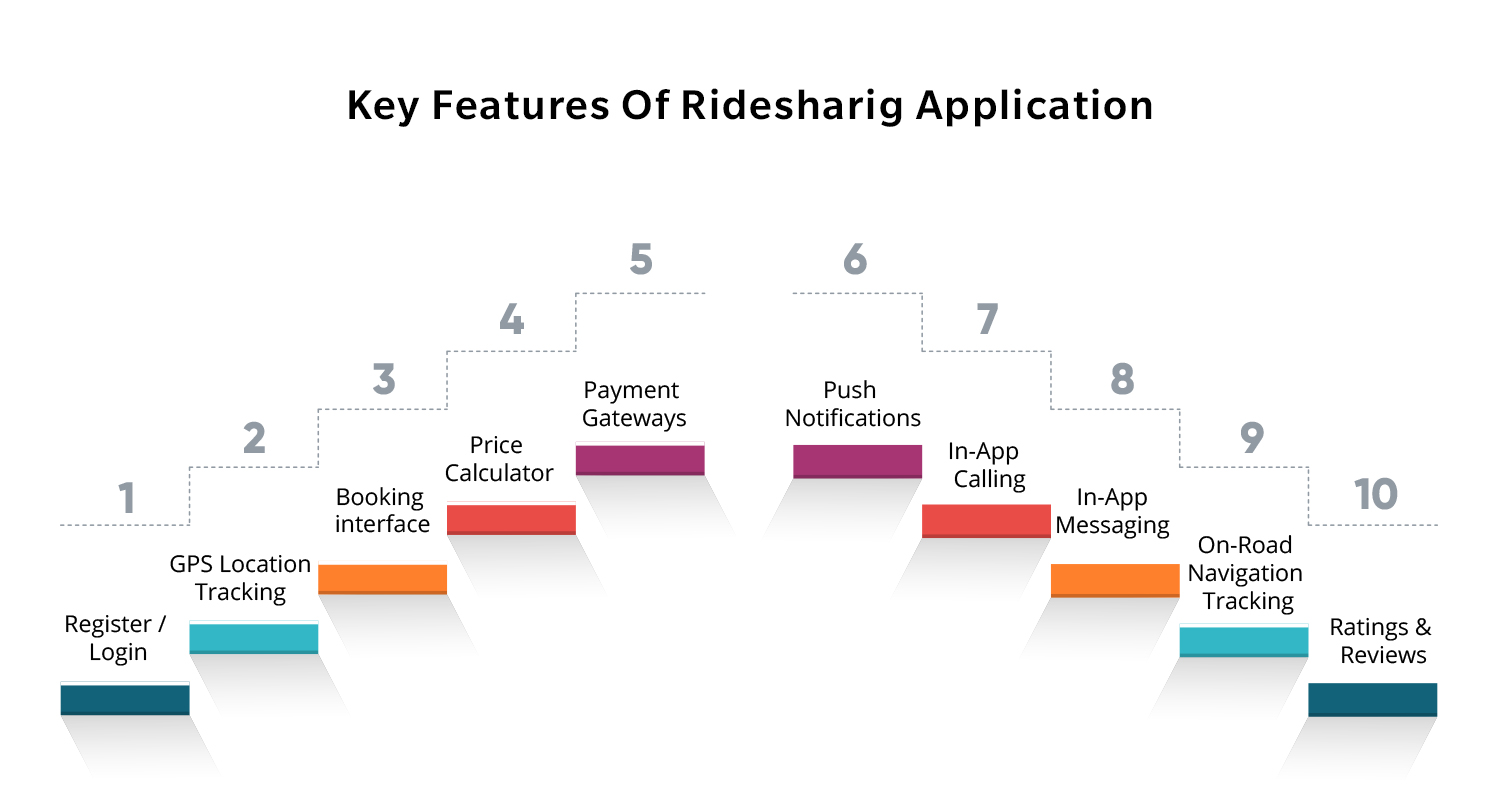 While providing these features to the drivers and the commuters is important to ensure a smooth travel experience, integrating them into an engaging user interface is what plays the most important role in business conversion.
Top New Features Ride-Hailing Apps Need To Implement
1. Schedule The Ride In Advance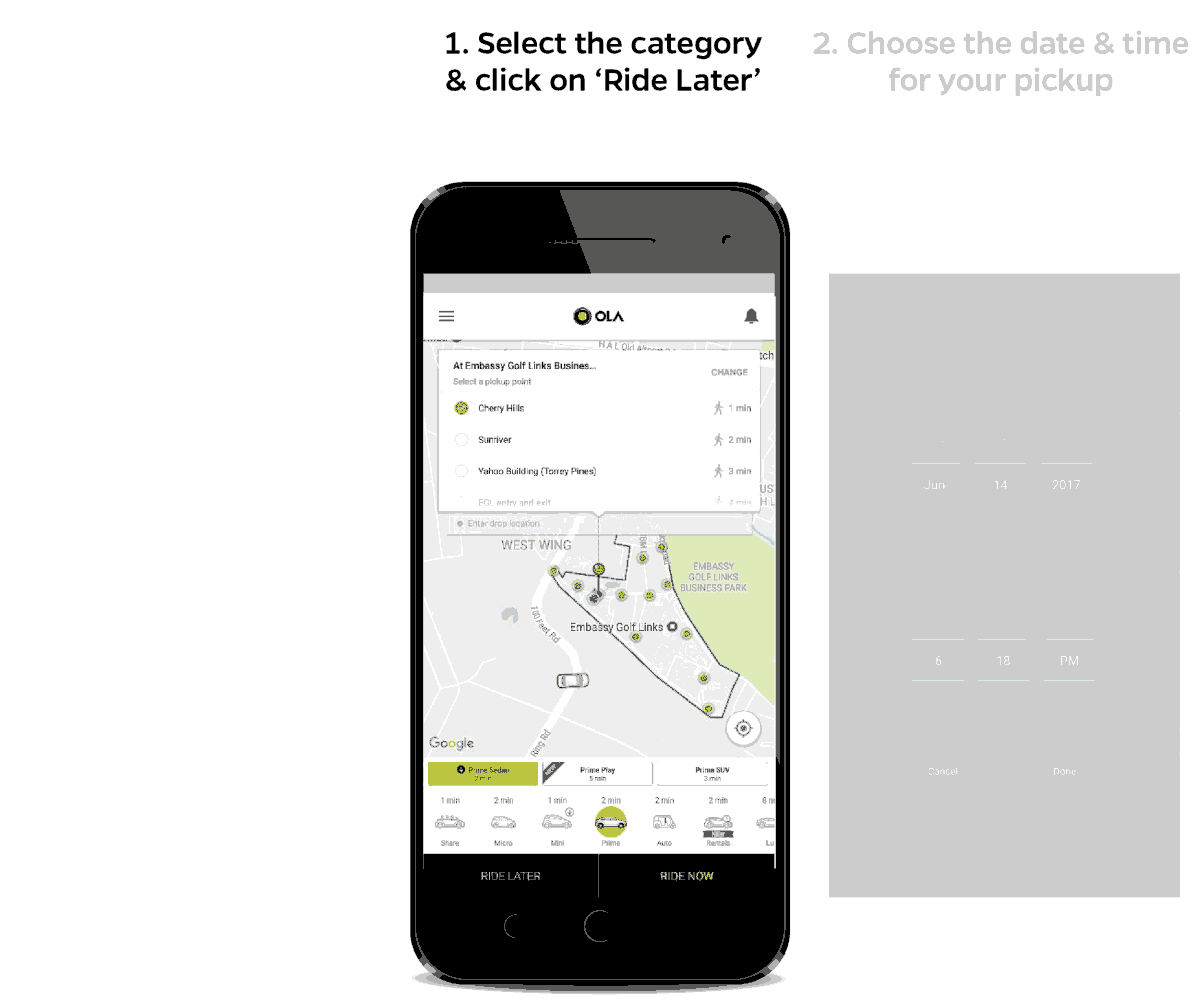 2. Book a Professional Driver based on Ratings
3. Pre Booking For Airports
4. Confirmation Through Mail
5. Chat System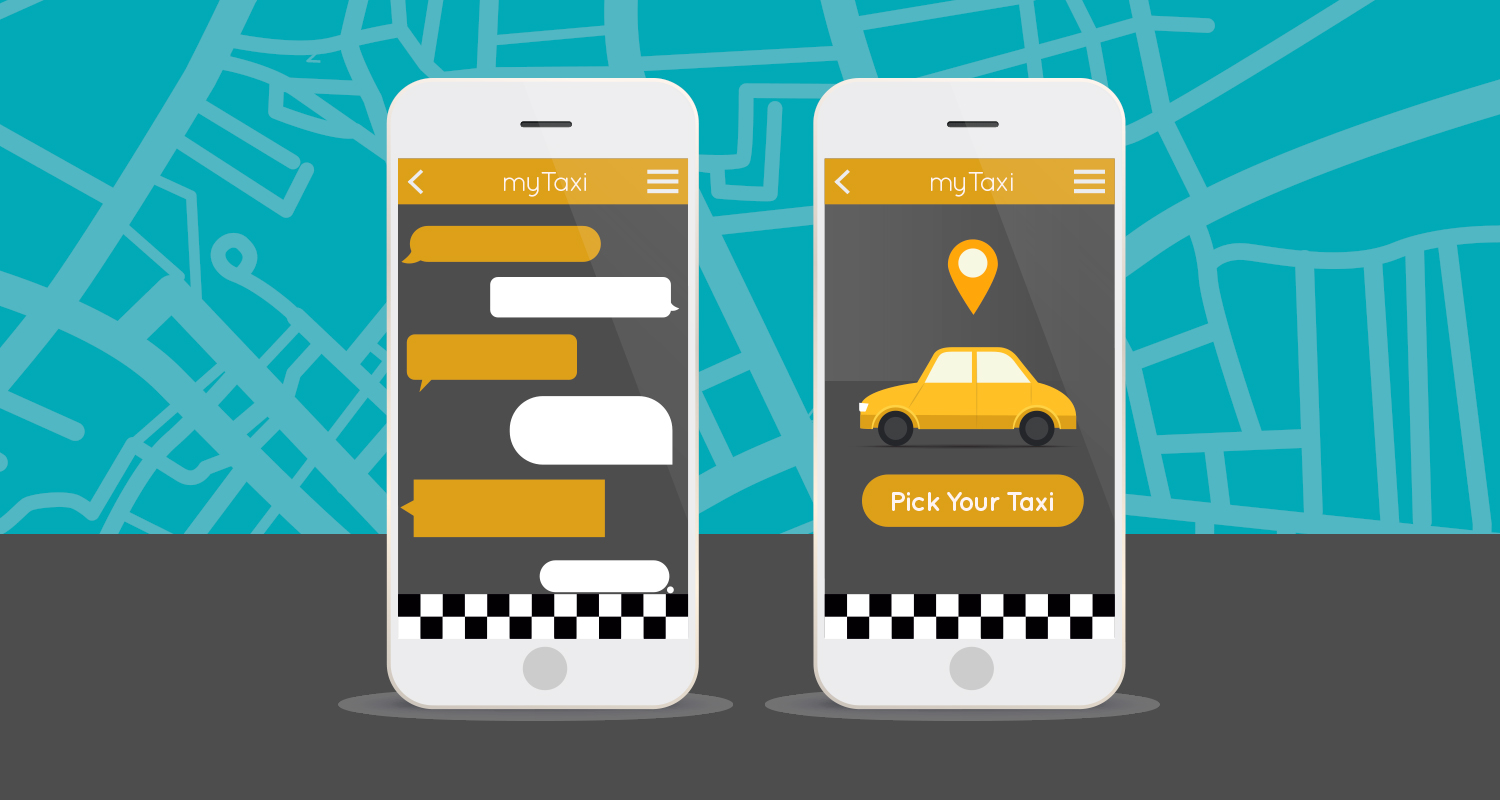 6. Panic Button
7. Identify Verification
8. Group Creation
9. Suggest Rides Based On User's History
New and Unique App Ideas for Ridesharing
Apart from the existing ridesharing apps and popular platforms, new and unique ideas continue to pour in. Throughout the recent months, several unique and new carpooling and ridesharing apps have come to capitalize on the opportunities that remained mostly untapped as of now. Whether you hire Android app developers or iOS developers for building your first ridesharing app, it should not be another clone of Uber or Lyft. Otherwise, the whole point of building a new app is lost. Let's have a look at some of these unique and new ridesharing app ideas.
Car Sharing Real-Time Mobile App
Have you heard about any such app that allows any car to pick passengers and waiting for passersby for short distance ride en route to the destination of the car owner? Well, as of now there is no such app in place and in this regard, it looks to be a completely unique app idea.
This app idea unveiled by a Czech person also boasts of the uniqueness of being the first real-time ridesharing app that can allow riders to grab a ride from an available car on the road in real time. The app is supposed to work on the basis of local search results of the drivers and ride-seekers shared in real time.
Uber is great but it is run and operated in a highly centralized manner leaving little room for the drivers and the riders to determine the fares based upon their affordability and cost. Well, this is where an app working much in the fashion of a decentralized Uber app can come to rescue.
This decentralized ridesharing app with all the standard features of the Uber can allow the riders and drivers to decide the ride fare in a mutually agreeable way without any centralized algorithm making any decision. This will actually give a better bargaining scope to the customers.
On-Demand Car Real-Time Sharing App For Household Deliveries
Do you still miss those good old days when your car driver used to buy groceries or any other household things en route to home? Obviously, this requires owning a car and a loyal driver who are instructed to do the shopping for the owners. Now, even as a ridesharing app user, you can avail the same facility. You can check one of our developed app CouchShopr, on one such similar concept that allows you to direct local drivers to shop products from local markets and deliver to your doorstep.
Conclusion
Ridesharing apps seem to have no dearth of opportunities to tap on the huge untapped market potential with a variety of ride and car services. The few app ideas explained above clearly shows the ever-expanding horizon of these unique app ideas and their underlying business models. In the years to come, we can expect more unique Uber-like success stories to appear and become a dominant lifestyle factor.