In today's highly competitive market, the taxi industry has undergone significant changes with the advent of technology, with mobile app development services playing a crucial role in driving innovation. One such innovation is taxi dispatch software, which has revolutionized the way taxi companies operate by streamlining their operations and improving customer experience.
Taxi dispatch software has become increasingly popular due to the benefits it offers to taxi companies and their customers. Additionally, taxi dispatch software enhances the customer experience by providing a seamless booking and riding experience, with features such as real-time tracking, instant ride booking, and driver communication. Mobile app development services play a crucial role in developing these features and ensuring that the software is user-friendly and intuitive. Overall, taxi dispatch software is a game-changer for the taxi industry, enabling companies to stay competitive and provide better services to their customers.
Taxi Dispatch Software Market
The global market for taxi dispatch software is expected to grow significantly in the coming years, driven by the increasing demand for on-demand transportation services, growing urbanization, and the rise of ride-hailing platforms like Uber and Lyft. As a result, many entrepreneurs and businesses are looking to build a ride-sharing app like Grab, or a taxi dispatch system to tap into this lucrative market.
According to a report by market research, the global taxi dispatch software market revenue is likely to hit a robust 533 billion by 2028 at a CAGR of 17% through the forecast era. This growth is due to the rising demand for ride-hailing services and the need for taxi companies to modernize their operations and improve customer experience. With such a vast and growing market, there is a significant opportunity for businesses and entrepreneurs to leverage mobile app development services and create innovative taxi dispatch software solutions that meet the needs of modern-day customers.
What is Taxi Dispatch Software?
Taxi dispatch software, also known as taxi cab dispatch software, is a system that enables taxi companies to manage their fleet efficiently by automating and streamlining various processes, including dispatching, tracking, and monitoring. The software allows taxi companies to hire mobile app developers to create a customized solution and manage their operations in real time, providing visibility into the location and status of their vehicles, drivers, and passengers. It also facilitates communication between drivers and passengers, allowing them to connect seamlessly through the app.
7 Benefits of Taxi Dispatch Software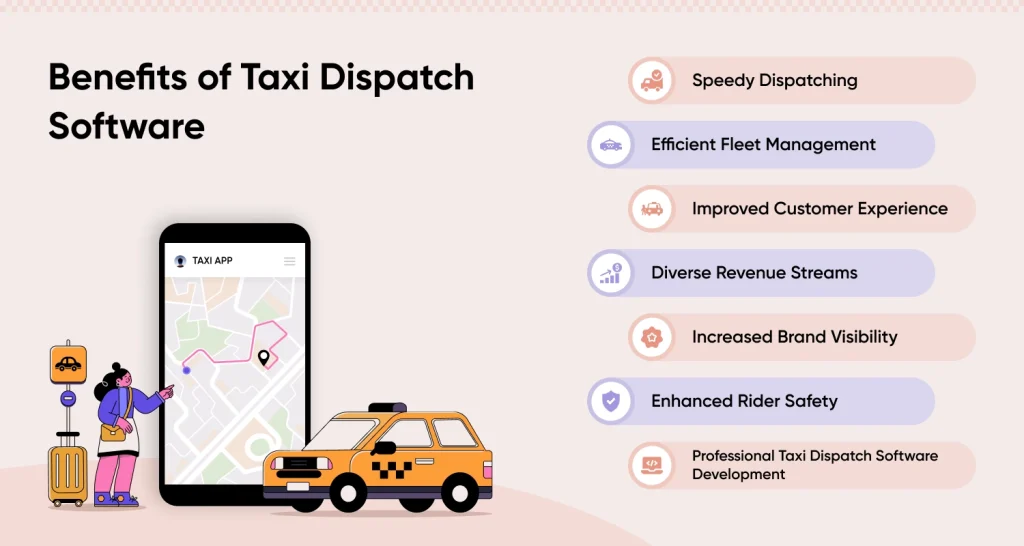 1. Speedy Dispatching
With a fully automated taxi dispatch software, the dispatching process becomes much faster, with no human intervention. This leads to a hassle-free and seamless ride experience for the customers. Moreover, it eliminates the risk of miscommunication of data, which is common in traditional taxi dispatch systems.
2. Efficient Fleet Management
With the help of a taxi dispatch software, you can manage your entire fleet of cabs from a single place. This makes it easy to get real-time analytics and updates, allowing you to make informed business decisions. It also enables you to identify the areas of high demand, enabling you to reroute your cabs and apply surge pricing to maximize your profits.
3. Improved Customer Experience
A taxi dispatch software comes with user-friendly features such as multilingual support, real-time navigation, favorite driver, and more. This improves the overall convenience and comfort of the customers, making them more likely to choose your taxi service over others.
4. Diverse Revenue Streams
Besides the traditional payments from the customers, a taxi dispatch software can generate revenue from various sources, including paid commissions, advertising, and surge pricing. This diversifies your income sources and increases your overall profitability.
5. Increased Brand Visibility
By using a white-label taxi dispatch software, you can expand your taxi business's visibility and reach a wider audience. This enhances your brand recognition and leads to more leads for your business. It also enables you to establish your brand presence in different regions and markets.
6. Enhanced Rider Safety
As a taxi business owner, it's your responsibility to ensure the safety of your riders. A taxi dispatch software can help you achieve this through features such as geo-fencing and real-time tracking. This enables you to have full control over your cabs, ensuring the safety of your riders.
7. Professional Taxi Dispatch Software Development
To reap the benefits of a taxi dispatch software, it's crucial to have it developed professionally. A professional software development company specializing in car app development can help you create a customized and scalable solution that caters to your business needs. This ensures that your taxi dispatch software is robust, reliable, and meets your business requirements.
You may like this: Develop A Car Mobile App
4 Components of Taxi Dispatch System
Admin Panel
An admin panel is the backbone of any taxi dispatch system. It allows you to manage bookings, assign drivers based on their ratings and previous ride comments, and track both drivers and customers in real-time. With SaaS app development, the admin panel becomes a dynamic platform that lets you handle operations seamlessly and provide your customers and drivers with a hassle-free ride. You can also provide ride status notifications to your customers and drivers through push notifications and messages, and manage surge pricing during peak hours.
Dispatcher Panel
The dispatcher panel helps ensure that your ride-hailing operations run smoothly. It provides you with a smart and unified dashboard to manage the operations and ride-related dispatches and monitor your vehicles and fleet in a single dashboard. The panel supports multiple functions, and you can address customers' requests within the expected timeline. With SaaS app development, you can get advanced reports and analytics through various reporting formats to give you complete insights into your transactions.
Customer App
The customer app is user-friendly and convenient for even first-time users. It eases the process of finding an on-demand ride-hailing taxi, and once the customer enters the travel destination, the app shows the estimated price and expected travel time. With SaaS app development, the customer app provides instant notifications, driver tracking, and seamless payments, making the booking process smooth and convenient for your customers.
Driver App
Keeping a driver app panel becomes easy to keep all the drivers under one platform and also helps them in navigation, and execution of the delivery process in the best possible shortest way. It allows drivers to receive ride requests and accept or reject them based on their availability. They can also switch off their availability when they are not on the job. The app keeps track of their daily earnings and serves as a single app to check and track their working record. With SaaS app development, the driver app provides real-time requests, turn-by-turn navigation, ride information, and earnings summary to your drivers.
Best Example for Taxi Dispatch Software
One example of a taxi dispatch system is Uber's driver app, which is used by drivers who provide rides for the Uber platform. The app includes features such as real-time ride requests, navigation, earnings tracking, and communication with passengers.
How Can CMARIX Help You With Taxi Dispatch Software Development?
Taxi dispatch software is a game-changing technology that is revolutionizing the transportation industry. With the increasing demand for reliable and efficient taxi services, it has become imperative for taxi companies to adopt this software to improve their operations, enhance customer experience, and increase profitability.
At CMARIX, we understand the importance of taxi dispatch system and have a team of expert developers who are well-versed in building custom solutions tailored to meet the unique needs of our clients. Our taxi dispatch app development services are designed to provide taxi companies with a comprehensive solution that streamlines their operations and improves their bottom line.
With our cutting-edge technology and expertise, we are confident in our ability to help taxi companies stay ahead of the competition and thrive in today's fast-paced digital landscape. Some of the salient features that make our taxi dispatch software stand out include:
Increase Ride Rate
Our taxi dispatch software is designed to increase ride rates and boost profitability for your business. By utilizing real-time tracking and automatic dispatching, you can ensure faster response times, which leads to increased customer satisfaction and loyalty.
Reduce Operational Cost
Our software helps in reducing operational costs by streamlining dispatch and managing vehicles more efficiently. This not only saves time and effort but also contributes to reducing operational costs.
No More Missed Pick-ups
With our taxi dispatch system, missed pick-ups become a thing of the past. Our software ensures that the nearest available cab is dispatched to the customer, ensuring maximum efficiency and minimizing wait times.
Identify High and Low Performers
Our software provides detailed analytics and reports, which help you identify high and low-performing drivers. This enables you to reward top-performing drivers and take corrective measures to improve the performance of low-performing drivers.
Get Analytical Insights
Our software provides regular analytical insights to help you make informed decisions and optimize your operations. You can track driver performance, analyze customer feedback, and monitor key performance indicators to make data-driven decisions and improve your bottom line.
Overall, our taxi dispatch software is designed to provide a comprehensive solution that enhances your business's efficiency, boosts profitability, and increases customer satisfaction. With our cutting-edge technology and expertise, we can help you stay ahead of the competition and thrive in today's digital landscape.

Conclusion
The modern taxi service industry has evolved digitally to make the entire workflow process go more easily for the operations. The local transportation service firms were then able to increase efficiency with high user value thanks to a digital update of the taxi dispatch system.
In which case using ready-made taxi dispatch software for business is advantageous with benefits like improved built-in options, less investment, quick development, and user-friendly software design.
Frequently Asked Questions
A taxi dispatch software can help grow your taxi business in many ways. It provides real-time tracking of vehicles and dispatches the nearest available cab to the customer, leading to faster response times and increased customer satisfaction. The software also optimizes routes, which reduces fuel consumption and increases driver efficiency. Additionally, it provides a centralized platform to manage all aspects of the taxi business, including booking, payments, and driver management.

Yes, there are many taxi management software solutions available in the market that are specifically designed for opening and managing a taxi business. These software solutions offer features like real-time tracking, automatic dispatching, online booking, payment processing, and driver management. Examples of such software include TaxiCaller, CabStartup, and TaxiMobility.

A taxi dispatch software can benefit taxi owners in many ways. It helps improve the efficiency of dispatching and managing vehicles, which leads to increased revenue and reduced operating costs. It also provides real-time data and analytics, allowing owners to make informed decisions and optimize their operations. The software also enhances customer experience by providing features like real-time tracking, online booking, and payment processing, which can lead to increased customer satisfaction and loyalty.

To digitize your cab business, you would need to invest in a taxi dispatch software solution that provides features like real-time tracking, automatic dispatching, online booking, payment processing, and driver management. You would also need to equip your vehicles with GPS-enabled devices to track their location and monitor driver behavior. Additionally, you would need to develop a mobile app for your customers to book rides and pay for them digitally. Finally, you would need to integrate your software with third-party services like payment gateways and mapping services.

The growth rate of the taxi dispatch software market is expected to be significant in the coming years, with a compound annual growth rate (CAGR) of around 13% from 2021 to 2028. This growth is being driven by increasing demand for ride-hailing services, rising urbanization, and advancements in technology. The market is also being influenced by factors like the growing popularity of electric vehicles, increasing adoption of cloud-based solutions, and the rise of autonomous vehicles.