Today's Customers are insightful, thrifty and incredibly well-informed. Customers no longer have to go around in the high street or in the Shopping mall in-person to find a deal; the advancement in technology has made the process of ordering products and services easy like never before. A quick swipe and tap and your product is at the doorstep. Recently it was found that 85% of eCommerce brands increase the value of the customer by offering discounts and other promotional offers. Also, 58% of shoppers make purchases from the companies who have well designed rewards programs for their customers. Offering discounts and complimenting with other promotional activities can fetch you loyal customer base, which is key to success for any eCommerce business.
In eCommerce, it's insufficient to simply have an online store. Your Store must be custom-made to fulfill your customer needs, keeping in mind the end goal to transform first-time visitors into repeat buyers. If you want to stand out from the crowd and want to become first choice for your target customer–you ought to provide Customer loyalty benefits. One of the most efficient and compelling approaches to benefit your loyal customer over your eCommerce is by integrating enhanced Reward System providing easy & swift maintenance. Sweet Tooth Rewards is one such popular platform for various ecommerce technologies like Magento, Big Commerce, Shopify and others.
Sweet Tooth is a customer loyalty and rewards extension which uses a points-based system, to reward customer behaviour over your ecommerce platform. Sweet Tooth lets you create loyalty programs with impressive features such as a fully customizable & configurable points' display, spending points online, rewards for sign-ups, purchases and referrals, email notifications, and earnings points and spending history.
Many Magento based eCommerce sites use Sweet Tooth based Loyalty program. This one of a kind reward and referral platform converting visitors into first time buyers, who then convert into profitable customers based upon the overall Customers experience of your eCommerce. Overall, Sweet Tooth allows reward scenarios for a wide variety of customer activities like:
Purchases (based on SKU, subtotal, items in their cart, customer group, the date, category & more)
Product type
Newsletter Subscriptions
Social Sharing
Spending on Rewards
Reviews or Customer referral
Sweet Tooth integration with Magento is facilitating by giving your customers the ability to share products and pages on social networks and earn loyalty points for this. Customers can also receive points by giving product reviews & ratings and also by subscribing to your newsletter. Sweet Tooth gives a functionality to create tiered loyalty programs containing limited rewards points available only for the frequent customers. Furthermore, Sweet Tooth comes with some "out of the box" customer activities that can be set to be rewarded.
How It Works?
In your Magento admin, navigate to Rewards > Configuration > Other Configuration and extend the Integrated Content bar: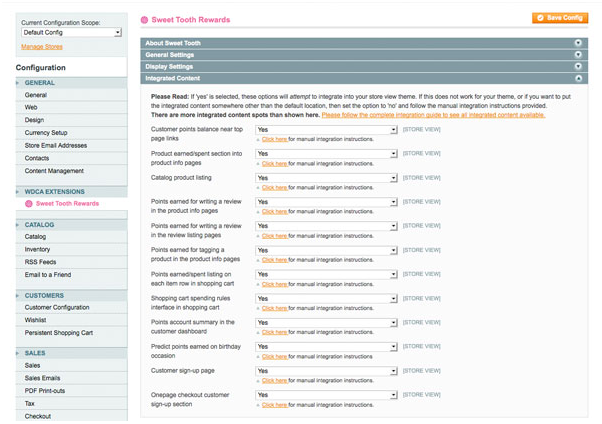 To set up your reward points in Magento you must Select Reward Points.

The first tab allows you to pick the functionality, the reward points balance, expiration dates, and different other configurations. You can even pick where you need the points showed on your site.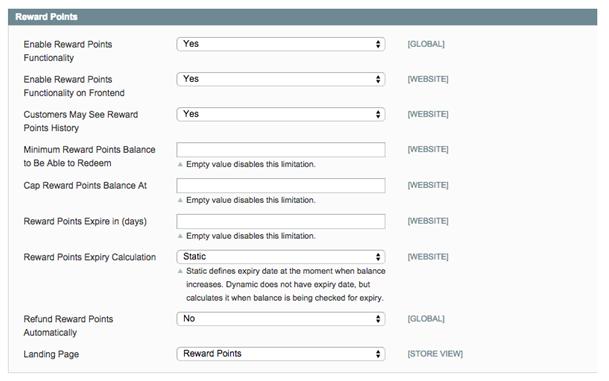 In Next tab you can set up the actions the customer makes. Here you are able to set up the invitation, review, and tag options. It even gives you a chance to pick what number of clients get points when they share referral connect on various Social Media platforms.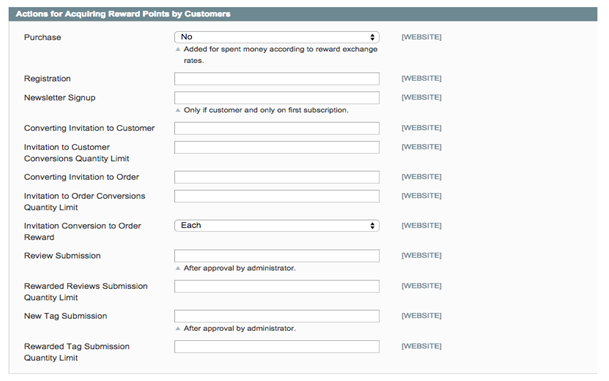 Set Up a Customer Behavior Earning Rule
These reward points awarding rules are based on a customer's activity. These standards are utilized to award points for things like voting in a survey, signing up for a newsletter, and other customer activities. If you want to give you customers, 20 points for creating a new customer account, you would use a customer behaviour rule.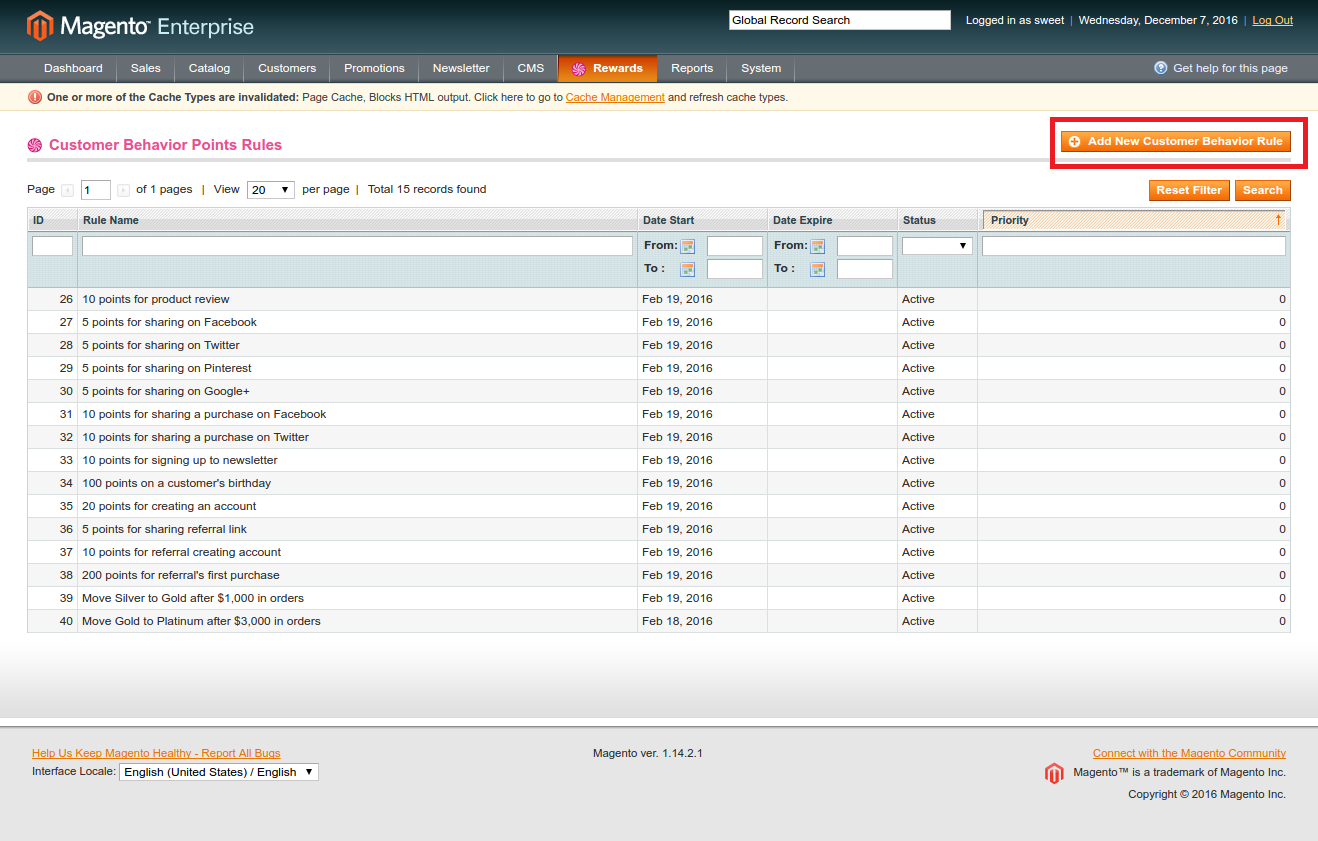 For adding a new Customer behaviour rule, you have to select Add new Customer Behaviour Rule Tab in Customer Behaviour Points Rules Screen and simply enter the required details.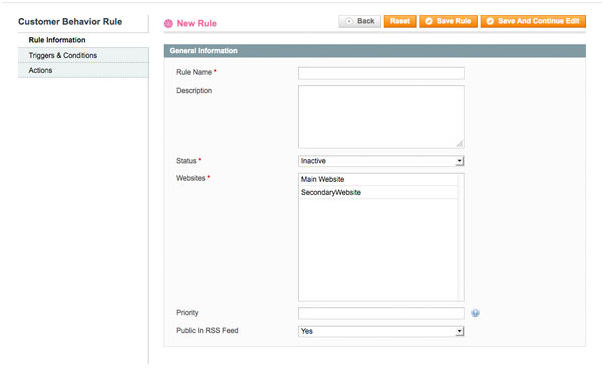 In Customer behaviour rule screen, conditions and triggers represent what needs to happen for the customer behaviour rule actions to occur.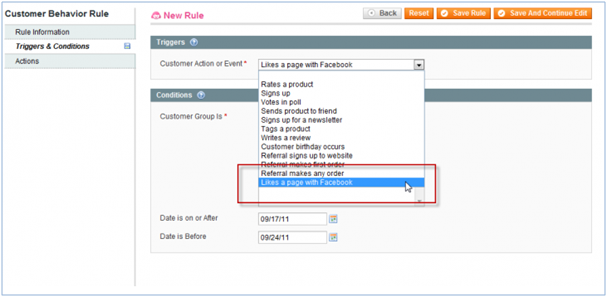 Here we can see a detailed list of customers along with their point balances. It calculates the balance of all the transfers made by the Customer.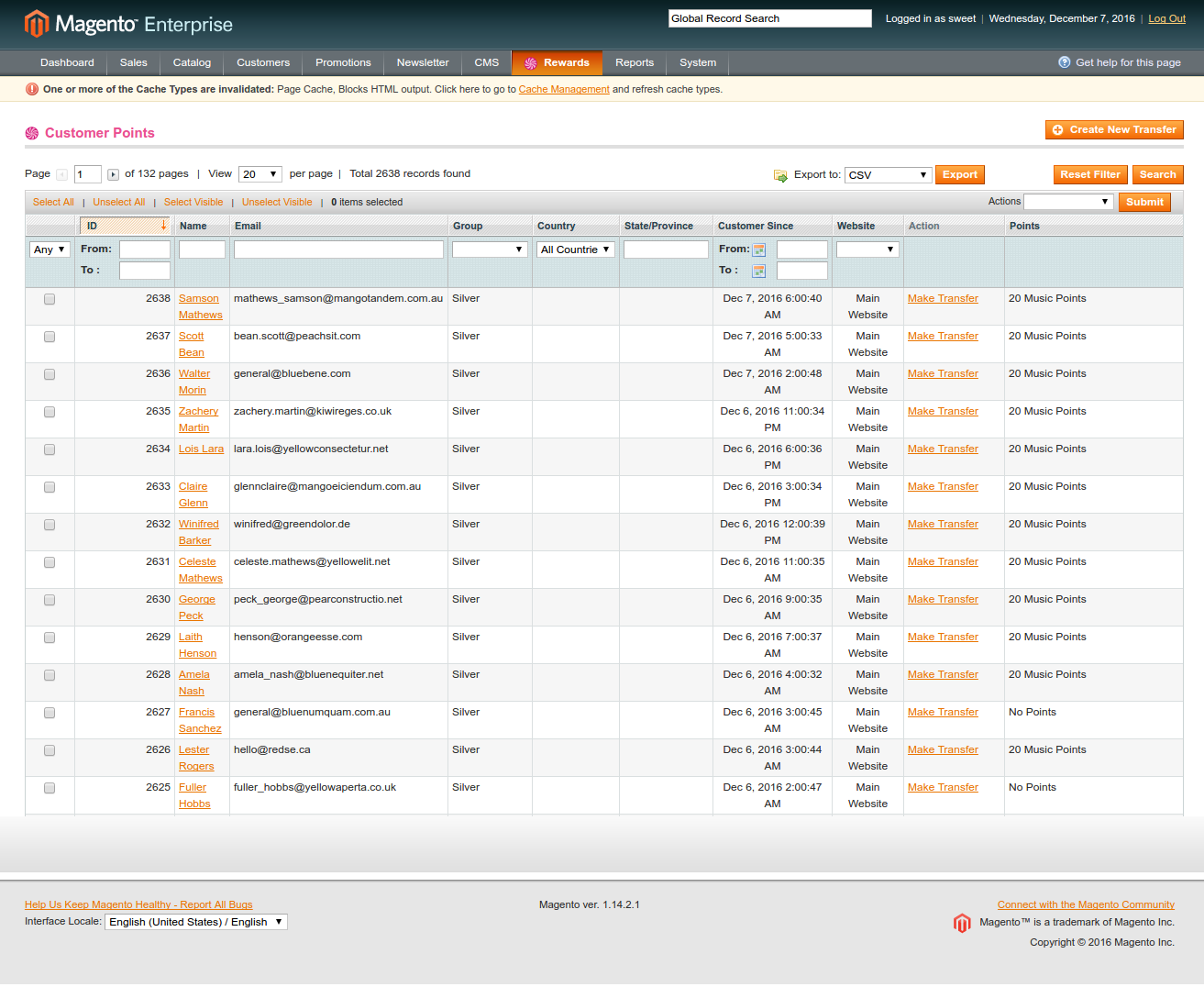 Merchants can specify a milestone target within a specific span of time for customers to fulfil to avail the rewards. Once the target has been reached the milestone action occurs. You can set this target by using Customer Behaviour Rule interface.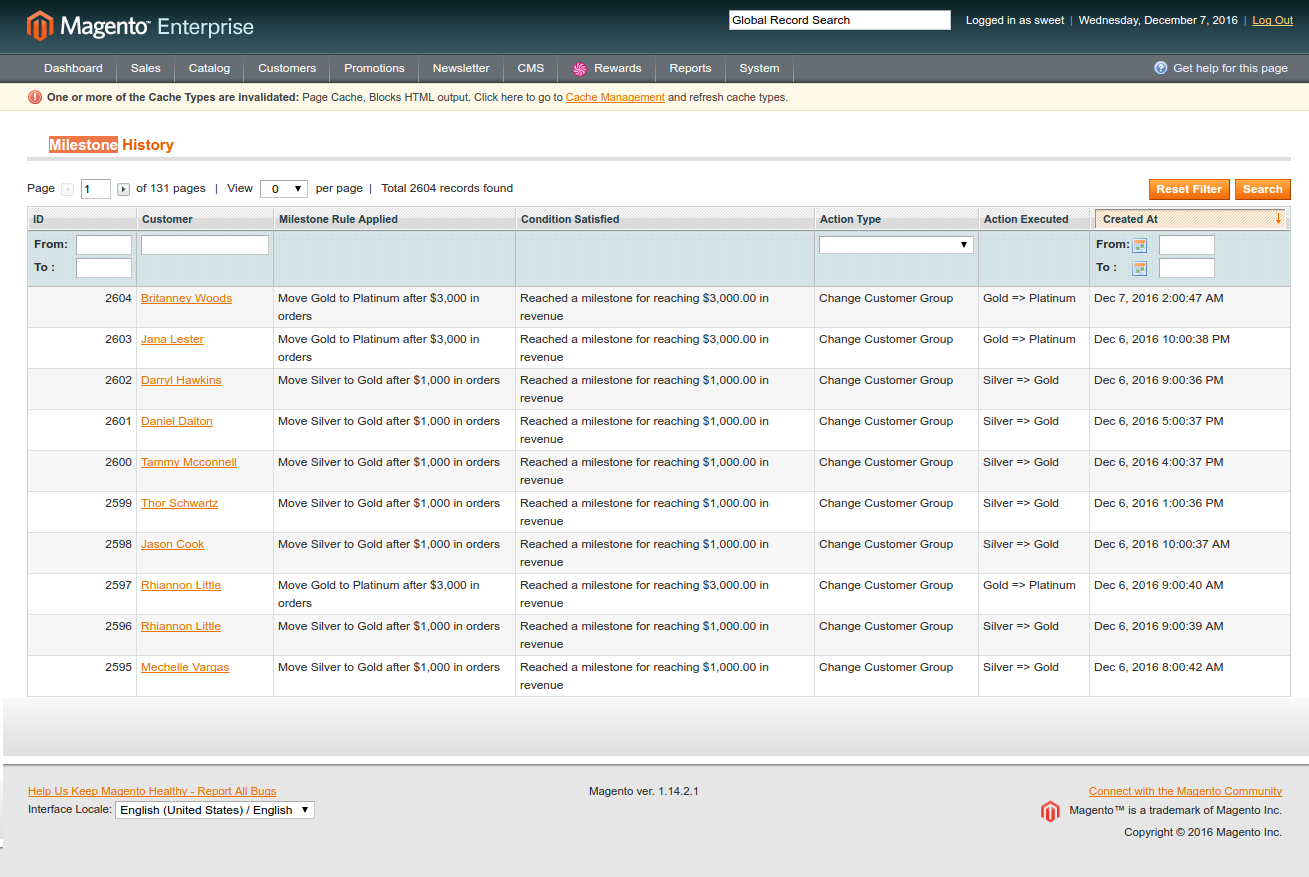 You can get the detailed report of each action's revenue from the Sweet tooth Dashboard. Here we can see the Revenue from the Loyalty members & Referral Members Activity.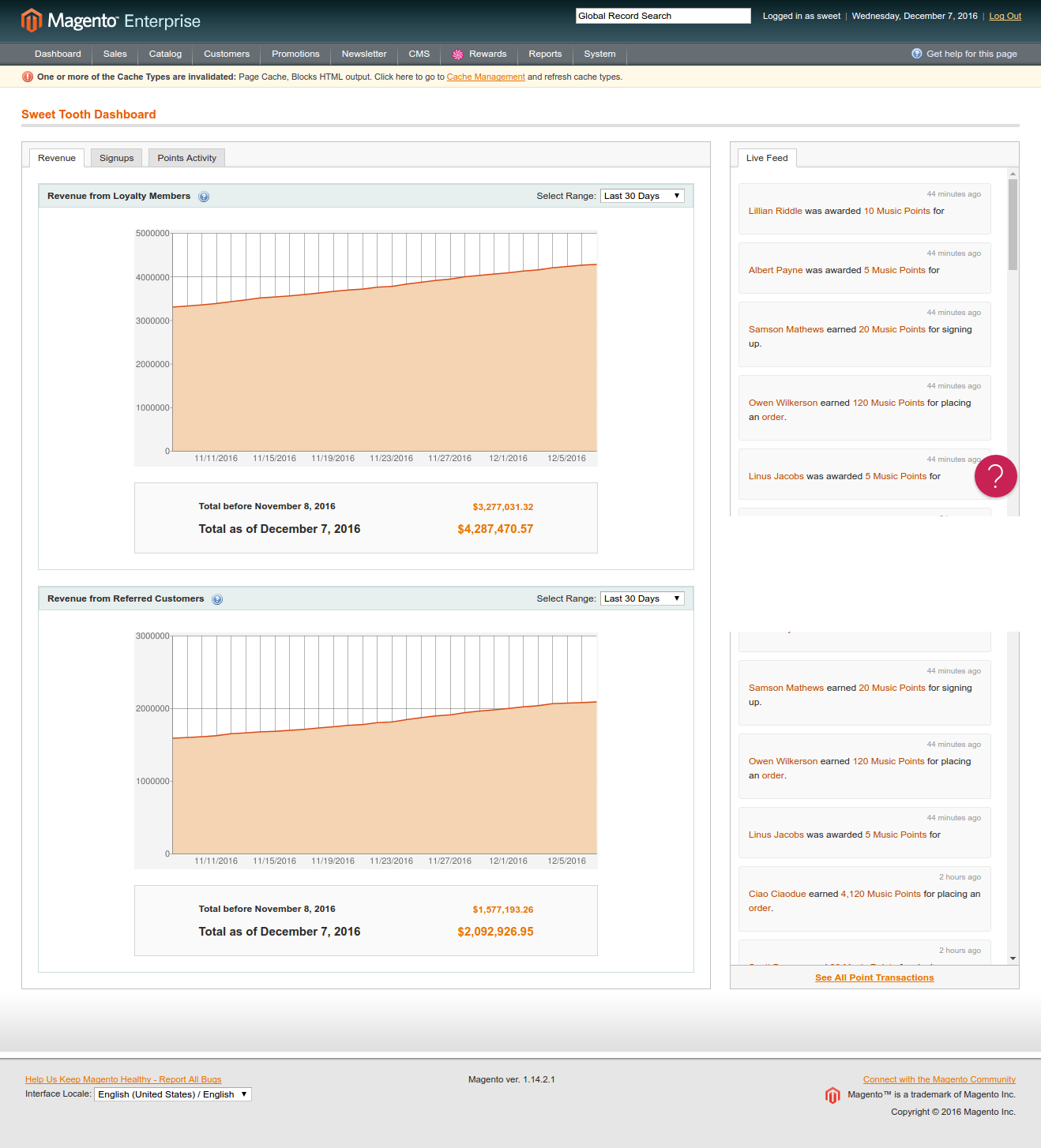 An eCommerce loyalty program is a highly facilitating approach to boost many areas of your business with one tool. You can increase the amount of income from existing customers, increase reviews, extend your reach and grow profitability. The SweetTooth extension takes a unique strategy in helping eCommerce Website. Hire Mangeto developers to implement SweetTooth based loyalty reward programs to create sustainable growth for your eCommerce business. The greatest benefit you will get by using the loyalty extension is a greater customer retention rate. A higher retention standard ensures your store is set up for long term success.