Your business needs to save users from remembering multiple passwords. Your team needs to use several SaaS platforms, tools, and apps to ensure the business runs smoothly. A lot of background activity needs to occur to make sure the business delivers high-quality products and services to the customers. For every tool, platform, or app you use, a password gets added to the credentials. With its growing number, it becomes necessary for the organization to ensure security at the corporate level.
To facilitate a hassle-free experience, several organizations are involving a single sign-on or SSO, so that their subscribers can reach their web apps with ease. Companies have used several services for SSO. However, due to some problems with those, they are now preferring Okta as an SSO tool. Okta is capable of working for SSO with extensive cloud-based service for handling the management. Thus, many organizations are shifting to Okta integration for their business. We will dive deep into the reasons why your business too must integrate Okta SSO.
What is Okta SSO?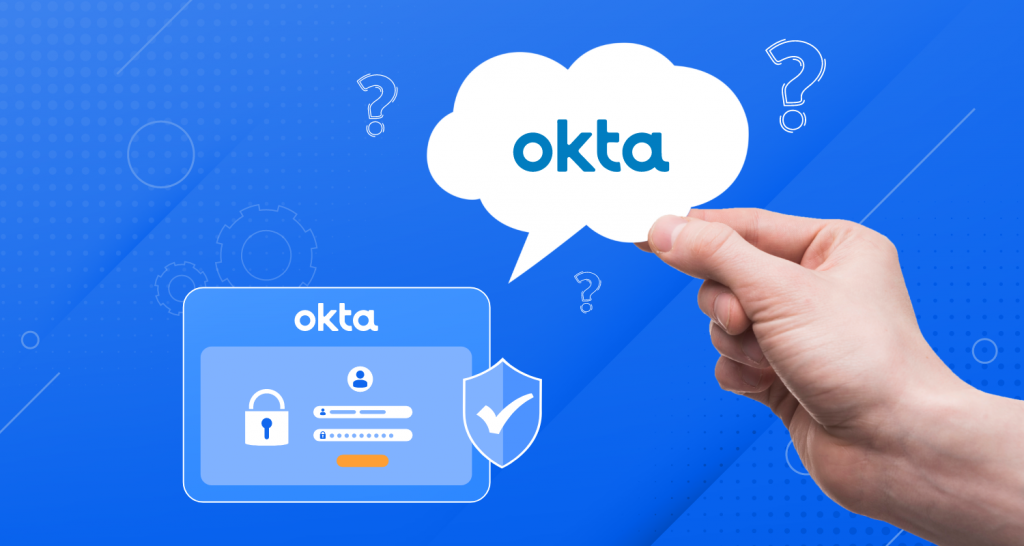 Okta facilitates organizations to provide single sign-on access to the cloud, on-premise, web, and mobile applications to the users requiring it. Everyone on your team can sign into Okta and ensure launching any of the web apps of your business without re-entering their credentials using this service. In addition, after establishing a secure connection with the user's browser or mobile device Okta uses one of two SSO integration methods to authenticate the user to Okta-managed apps:
Okta's Secure Web Authentication (SWA)
Federated that supports SAML, or other proprietary federated authentication protocols
Okta single sign-on integration
, you will see that it is bringing huge benefits to your online business.
What Are the Advantages of Okta SSO Integration?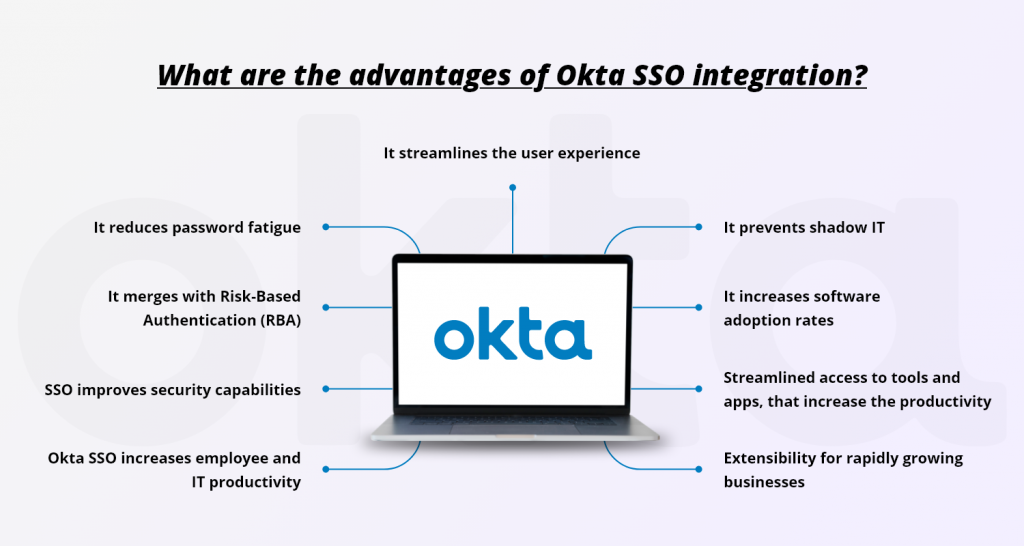 IT administrators and users alike face challenges in handling thousands of accounts and related data securely. So, organizations are using single sign-on as a strategy to enhance IT security, improve the experience of users, and reduce IT costs; all at once. How can the integration of Okta SSO be beneficial to your business?
1. Okta SSO Increases Employee and It Productivity
A single access point will help in cutting down the time wasted and resources. With single sign-on, you can do the following things:
Reduce support calls: Users won't need assistance as frequently if they only need one password to access all of their apps.
Improve the experience of users: Users save between 5 and 15 seconds per login because there is no need to switch between numerous login URLs or reset passwords.
Reduce risks related to security: Employees can safely use their SSO login credentials on any device and in any web browser.

As you can see, single sign-on helps in increasing the productivity of end-users. This is one of the greatest benefits of the feature.
2. SSO Improves Security Capabilities
One of the biggest misconceptions about single sign-on that makes its rounds in the market is that it weakens the security of the organizations. The argument regarding this is that all the related accounts and vital information will be compromised if the master password is somehow stolen. Even though this is true theoretically, if used correctly and sensibly, SSO can actually help in the reduction of password thefts. How is it made possible? Let's find out.
Since the users need one master password to sign in to every platform and multiple applications, they are most likely to create a stronger, harder-to-guess password. They are also less likely to write the password down. A single sign-on can also be combined with multi-factor authentication for added security purposes.
3. It Merges With Risk-Based Authentication (Rba)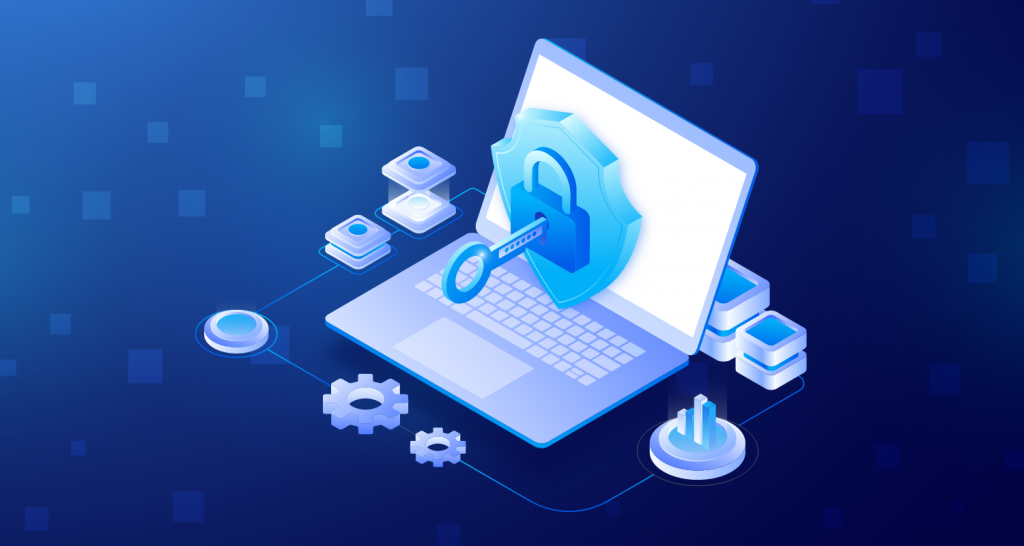 The combination of RBA with single sign-on provides an extra layer of security. As we mentioned earlier, SSO gives customers and end users a single "key" to sign in to multiple web properties, mobile apps, and third-party systems; all using one single identity.
You can combine SSO with risk-based authentication or RBA for extra security. You along with your team can monitor your user's habits with RBA. Any unusual behaviour such as wrong IP, multiple login failures, etc; you can demand an extra identification verification. If the user fails at this too, you can block them from accessing the application or cloud.
The combination of Risk-Based Authentication with single sign-on prevents cyber crimes to a great extent. Since this is considered to be a really powerful combination, it stops cybercriminals from stealing your sensitive data, which could otherwise damage your site or drain IT resources.
4. It Reduces Password Fatigue
Security professionals often ask for creating unique passwords for every single application. They do this to enhance cyber security. However, different unique passwords for different applications can prove to be confusing for the user, since they need to remember a huge number of them. This often leads to what is called "password fatigue."
Password fatigue hurt enterprises. To simplify, the more the number of passwords, the more the number of problems. If your customers face difficulty in signing in, they are most likely to quit your site. This leads to lower conversion rates and can affect your business. Thus, one password for all applications that customers can remember is a great way of converting them.
5. It Streamlines the User Experience
Any business must always focus on giving a great experience to the user. Single sign-on helps businesses gain that accolade. As customers escape the hassle of repeated logins, they can enjoy a modern digital experience. This in turn increases customer loyalty to the organization and higher conversion rates.

6. It Prevents Shadow IT
Shadow IT means unauthorized downloads in the workplace. This is not new to the cybersecurity world and organizations have been dealing with this for a long time. Shadow IT used to be limited to the employees buying software at supply stores of the office. As cloud-based downloads have the piece of cake now, the risk potential is also increasing.
If you are also facing this issue in your organization, you can prevent it by monitoring what apps your employees are using. You can do this using single sign-on or SSO. In addition, you can also reduce the risk of identity risks.
7. It Increases Software Adoption Rates
Technologies are meant to make our lives easier, and not cause frustration. Have you ever moved on from a new app just because the sign-in process was problematic? If you have, that technology is not meant to last. With SSO you can log in to applications much easier than before. If you implement this into your business, customers are likely to adopt and use your technology. They will also keep returning to your business from time to time.
8. Streamlined Access to Tools and Apps, That Increase the Productivity
Any organization has 10 to 20 different platforms and applications that are required to be used by the employees. Okta SSO reduces the time and frustration that is associated with re-entering credentials for every different platform. It centralizes and streamlines the entire process of signing in. If people start using this tool, they can focus more on productive activities. Thus, it will increase the productivity of your enterprise.
9. Extensibility for Rapidly Growing Businesses
Okta lets you access cloud apps, with the Okta Integration Network (OIN). It is a collection of thousands of applications that are supported. The OIN apps can make use of SWA, SAML, OpenID Connect (OIDC), or proprietary APIs. Okta maintains SSO protocols and provisioning APIs by using API integration services.
Conclusion
Single sign-on is a feature that enables your users to escape from the hassle of remembering multiple passwords for multiple different platforms. One master password would help them log in to any website or web application. This not only saves their time but also gives them a good experience. Therefore, helping on increasing the conversion rates of your business. In addition, they are most likely to come back to your site in the future and increase your profitability.
Okta is a tool that facilitates enterprises to provide single sign-on access to the cloud, on-premise, web, and mobile applications. Anyone on your team or the end users can sign in to Okta and ensure launching any of the web apps of your business without re-entering their credentials using this service. Ecommerce platforms like Shopify require this tool. Thus, Shopify integration development using Okta is the need for them.
Take a look at
Frequently Asked Questions
Okta enables enterprises to provide users with single sign-on access to the cloud, on-premise, online, and mobile apps. Using this service, everyone on your team may sign into Okta and assure the deployment of any of your company's online apps without having to re-enter their credentials.

Using Okta's pre-built sign-in components, you may allow your users to sign in using a username/password or with their social profiles, such as Google or Facebook. You can retrieve the user's user profile after they have logged in to adapt the UI based on their role and apply your authorization policies.

Okta was one of the first cloud-based IAM providers and continues to focus on that industry sector, constantly developing new applications. It has features like single sign-on that enable users to log in from any device without having to remember the password.

Okta does not provide a one-size-fits-all solution. Instead, its adaptable policy engine allows IT managers to define multiple authorization regulations based on job title, department, and other characteristics in order to safeguard assets and limit accessible actions. This is why a mobile app development company in India must use this tool.

It also has a multi-factor authentication feature that enhances the security of the platform. It protects the user's credentials. The response to a security question, a one-time password (OTP) given to a mobile device, push notifications, and biometrics such as fingerprint or facial recognition are all Okta MFA alternatives. Alternatively, Okta Verify, a free authentication tool for iOS and Android devices, can be used.

Azure also has a single sign-on feature that users can use to log in to different platforms using one password. In addition, it protects the user's data using a multi-factor authentication feature.

However, for a lot of other areas, Okta takes the cake over Azure. Okta and Azure AD are both strong identity management solutions that support SSO and MFA. Okta wins because of its narrow emphasis on IAM applications and cross-platform capabilities. However, if your large firm has a Windows network architecture, Azure AD may be the finest enterprise-level solution.

Enterprises prefer Okta for several reasons. Okta is often chosen by Microsoft clients to manage identification for their cloud applications. Okta offers a simplified single sign-on feature from Active Directory. Customers prefer Okta over any other tool because it does the job in much less time. Okta is a vendor-neutral cloud-based identity and access solution that does not demand any compromises between usability and complete functionality.

Okta streamlines the user experience. Any firm must always prioritize providing a positive user experience. Single sign-on assists enterprises in achieving this honor. Customers can enjoy a modern digital experience as they avoid the burden of several logins. This results in increased client loyalty and improved conversion rates.

Thus, if you hire dedicated developers, you can also give your users a great experience.