The pandemic that swept the globe in 2019 has forced businesses to change the way they operate. Historically, businesses have operated on a model of closed-door operations, keeping their employees and customers at a distance. The pandemic, however, has forced enterprises to change their approach, opening their doors so that their employees and customers can interact. This has allowed businesses to serve their customers better, who can now interact with their employees and receive the information they need. This led to a global digital transformation.
When it comes to communicating with their target audiences, traditional businesses have used several communication methods. Some businesses have used print advertisements, television commercials, and radio spots to communicate with their target audiences. The pandemic, however, has forced businesses to change the ways they communicate with their audiences. Now, companies use the digital platforms to communicate with their audiences.
Now businesses have a full-proof way to reach their target audiences with Chatbots!
Chatbots are social software programs that are designed to respond to user queries without human interaction. Chatbot Development Company in India utilizes this technology to provide a more personalized experience for its users. Bots can be used to engage in dialogue with consumers and provide answers to questions or even conduct marketing campaigns.
In this post, cum Chatbot Development Guide, we are going to discuss the top benefits chatbots offer to businesses.
Major Chatbot Benefits for Businesses: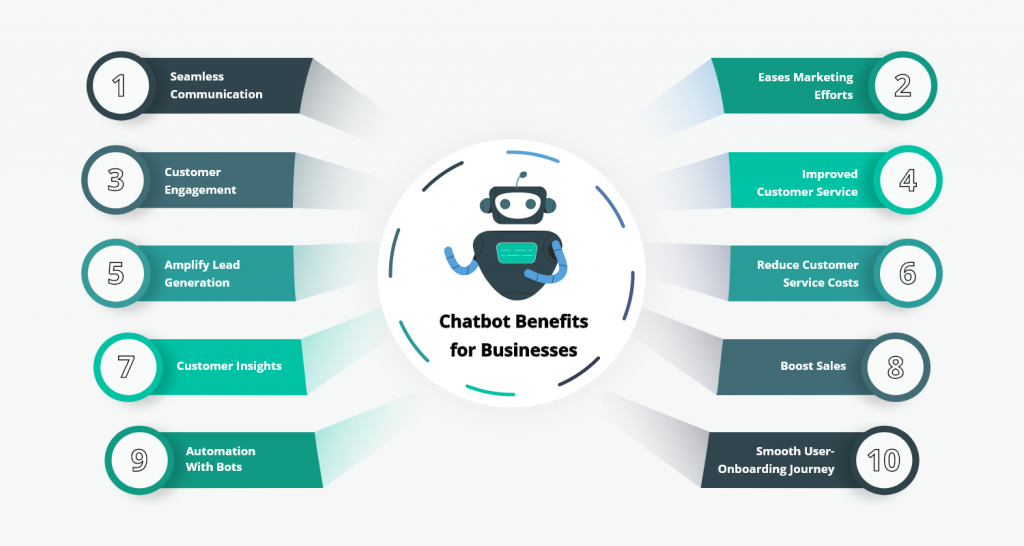 1. Seamless Communication
Chatbots can help businesses save time and money by streamlining communication channels and automating repetitive tasks. They're beneficial for human interaction tasks, such as sending out promotional messages or coupons. Chatbots can also be used to provide customers with assistance, such as offering questions to humans in a chat format and directing customers to a call center if necessary. This also saves time for customers who have to stay in a queue to get their queries answered, as they can hop onto the desired result in no time.
2. Eases Marketing Efforts
Chatbots automate marketing tasks, such as sending out promotional messages or coupons. They can also increase conversion rates by proactively assisting customers. If it turns out that chatbots aren't providing the desired results, customers can always opt to speak to a person instead.
3. Customer Engagement
Chatbots are a great way to increase customer engagement. They can help customers answer questions, offer personalized assistance, and provide information in ways that suit each customer. Text-based chatbots are a great way to interact with customers while leveraging AI to offer personalized assistance. You can chat with a customer and have them tell you their story, then assist directly.
As bots continue to improve, they will become increasingly capable of understanding natural language. They will be able to answer better customer service questions, which will enhance customer satisfaction.
4. Improved Customer Service
Chatbots are changing the way consumers connect, shop, and interact online. Chatbots can answer common customer questions and perform other interactive tasks. They're so conversational that humans can often mistake them for humans.
Chatbots are much more conversational, as they can carry on a natural conversation with customers. They can also handle more complex questions. For example, in their response to a sales inquiry, they might provide additional information on the product or include a link to the product website.
Must Read: Chatbot Development Guide: A Bot Loved By Travelers
5. Amplify Lead Generation
The ability of a chatbot to connect with users on a personal level has been a major benefit in business. By reaching out to customers more personally, companies can build brand loyalty and likely increase conversions. Through simple text-to-chat interactions, a chatbot can help generate sales, improve customer service, and retain customers. As a result, chatbots are increasingly used as lead-generation tool. This is an excellent opportunity for businesses, especially marketers, to generate more followers, produce more leads, and increase their customer base.
6. Reduce Customer Service Costs
One of the most compelling chatbot benefits is that it can help businesses reduce customer service costs. Because chatbots are often better at detecting verbal cues, such as emotions and sarcasm, they are better suited to providing customer service than human agents. This enables businesses to provide better customer service without the cost of hiring additional staff, which is often the case in today's labor-intensive economy. They are also better suited to answering complex questions, which further reduces the need for human customer service agents.
7. Customer Insights
Chatbots are a widespread phenomenon that companies of all sizes are increasingly using in the modern world. They are used for a diverse range of functions, such as offering basic information, answering questions, helping customers complete transactions, etc. They have been used in customer service, chat support, and other customer-facing applications to help boost customer satisfaction, for instance, by providing better customer service and up-selling opportunities or by reducing the likelihood of service errors.
8. Boost Sales
Chatbots can help businesses boost their sales, as they can provide information about products or services, recommend products, and upsell customers. They're also becoming increasingly useful for customer service-Chatbots can help respond to customers' questions, provide answers to complex questions, and even handle difficult conversations. This has enabled businesses to provide better service to their customers while saving time and money.
9. Automation With Bots
A chatbot can automate tasks, such as customer support or lead generation. It can even answer many questions simultaneously, such as, "What is the weather like today in New York?" Since chatbots are getting smarter, marketing emails and automated texts are becoming increasingly difficult to send without overwhelming users. Chatbots are also increasingly used across industries, in roles ranging from marketers to support persons to receptionists. In simpler words, chatbots can save money and time by automatically taking care of customers' problems.
10. Smooth User-Onboarding Journey
Chatbots can help businesses streamline their customer onboarding process. From customer service and support to sales and marketing, AI-powered chatbots today are a critical component in customer-facing B2B companies.
It may sound like a very futuristic concept, but chatbots are already used to help customers take care of all their tasks in one place. Chatbots can help customers sort through their inboxes or schedule meetings, and they can provide live customer service and guidance on a wide range of topics.
How Can CMARIX Help Your Business be Future-Ready?
At CMARIX, we Build A Chatbot to add a new dimension to different aspects of the industry, be it customer service, sales, marketing, or engagement. They can engage with humans more naturally by conversing, which is the ability to have human-like interactions with machines. This human-like interaction, in turn, has the potential to improve the customer experience, increase sales, and build brand loyalty. AI Chatbots are being used in various industries to provide additional value and services to customers, such as assisting with queries and solving problems, as opposed to simply responding to questions and helping as a sales tool.
We help businesses get the most out of bots in lead generation, customer insights, onboarding, and customer support scalability.
Conclusion
Chatbots have the potential to help businesses work more efficiently by providing support to customers in real time. However, it is essential to note that they are not a substitute for a human. Instead, chatbots just offer a different productivity tool to help increase efficiency.
The nascent stage of AI chatbots would soon be a well-balanced automation process helping businesses excel further.
Get in touch with CMARIX experts to get a powerful bot for your business and start delivering value to your customers.
Schedule a 'no-obligation quote' call today.