Content is king & it mainly comprises of images, video & text. Have you ever considered improving undistinguished product images on your Magento ecommerce website with a bright and attractive image gallery that has a Page Flip effect? Do you really want the customer to see your products to the best advantage with a bright and memorable product presentation? A picture is worth a thousand words. With high-quality reading experience and exquisite content design, you can get more attention from customers. There are various Digital publishing platforms available online. Flipbook is one of those platforms which help you to revolutionize the presentation of your content online. Many companies like Apple, H&M, Chanel, and Starbucks use Flipbook to design their new catalogs, brochures, and galleries with flipping effects.
Flipbook is digital publishing platform which offers a wide range of solutions to develop digital website content, online user manuals, flipping magazines and much more. With flipbook, you can convert PDF to the online flip book, also design the look and feel of e-edition, and have rich media like video, online YouTube video, and audio. This empowers companies to make interactive digital website content have a much better outreach for their prospective customers. Flipbook adds value in eCommerce industry as well by providing fully immersive online shopping experience. It improves product layout and enhances standard product images with smooth animation. Convenient navigation with a clear hierarchy, table of contents and thumbnails makes viewing of the flipbook quick and easy with page flipping effects and user-friendly controls. Flipbook can be used with different eCommerce platforms such as Magento, Shopify, Big commerce and others.
Flipbook integration with Magento allows your customer to browse your interactive range products online conveniently in the forms of magazines, brochures and many more. Store admin receives a powerful and easy-to-use backend interface, which gives full control over the content and appearance of your online catalog. With bulk file uploads feature and comprehensive set of customization options, it takes next to none effort to get a new book instance look exactly the way you need it to.
Following are steps to integrate flipbook on Magento website.
Customize Flipping Book as per your requirement and enhance the flipbook content, template, and themes with "custom settings" in order to make a captivating page flip book. After that, you can upload it to your website.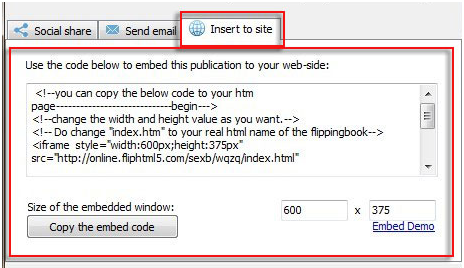 For that, you just have to copy that code to insert into your website. Select "Insert to site" to copy the code below to embed the flipbook publication in your website.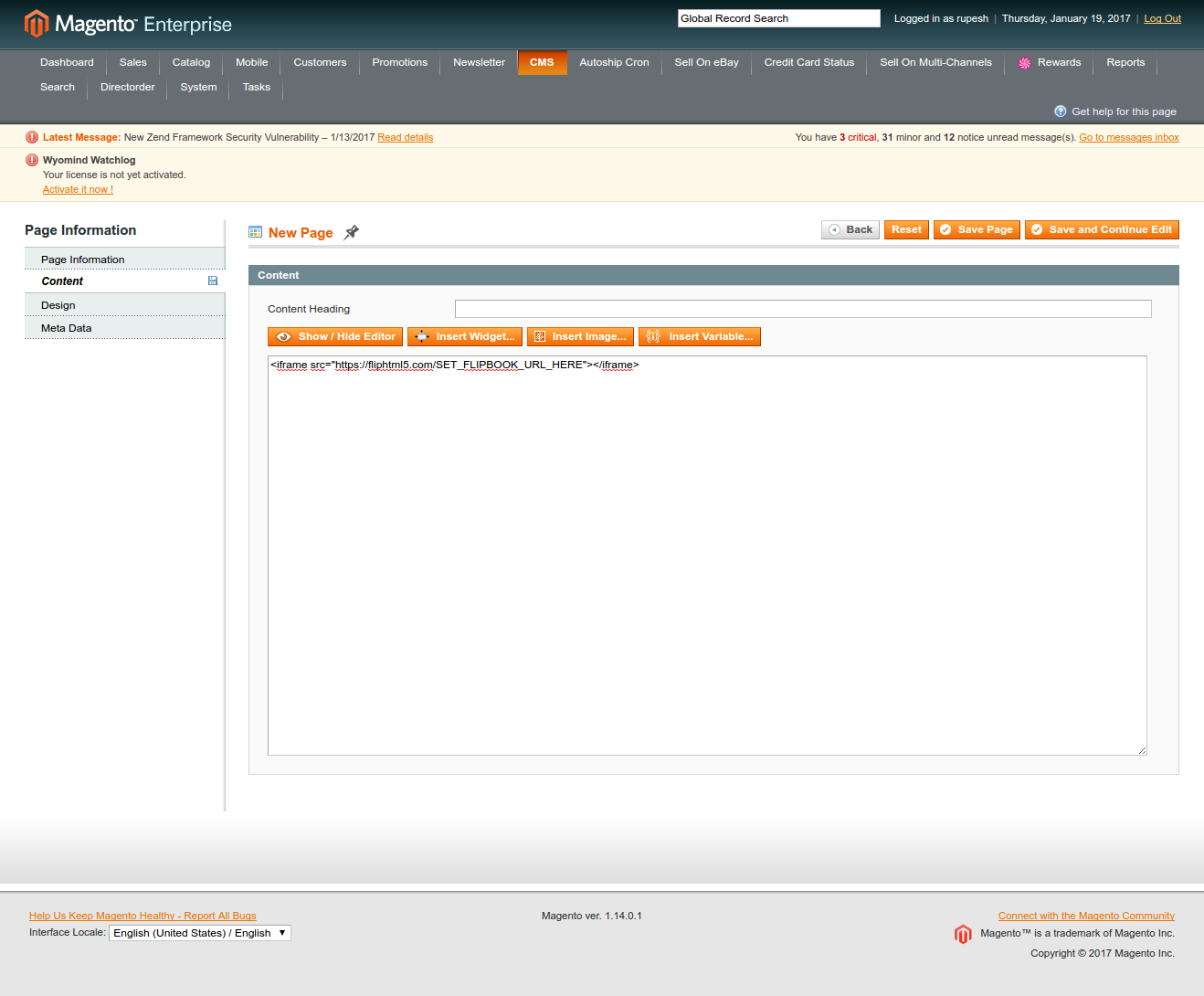 Once you copy the embedded code at the bottom of the interface popping out than paste it into your web page where you want to add flipbook.
Finally!! Flipbook will show up in your web page.
Benefits of Flipbook integration:
Enhance Product Presentation
When you use a high-quality flipbook to produce an online catalog for your website, you can choose a sophisticated design to show off your products. Place your product on attractive backgrounds to display them in their best light. Many people look for clothes ideas online before they hit the high street for a holiday shopping trip. An alluring designed catalog could present your products as high-quality ideas that the people browsing your site.

Enhance Customers experience
Online catalogs provide an opportunity to describe your products in detail. Great online catalogs do not focus solely on driving sales but instead, aim to inform consumers about the features and benefits of each product. Many customers find the flipbook format highly engaging, which means they are willing to spend time reading through it to find out which of your products go with their needs. This research can ultimately lead to the customer making a purchase, either from your online store or a physical outlet.
User Behaviour Tracking
Monitoring your users' behavior and increase the information you have about your target audience is probably the biggest advantage of using online flipbooks. Many of Digital publishing platforms provide in-depth statistics of how your user interacts with your online documents, such as time spent with the document, the number of visitors, pages viewed per user and much more. This further enables companies to make progressive change to their website and product line as per customer's preferences
Flipbook is an innovative approach for presenting traditional print documents like books, magazines, catalogs or brochures in Web & on a variety of mobile devices. Making a professional digital brochure to present your content beautifully can empower customers to engage with your online store. An amazing digital reading experience starts with great, engaging content. Flipbooks provide an interactive, dynamic, and visually attractive format for textual content, graphics, audio, other elements to combine into a more engaging and entertaining customer experience. With its creation and unique style, customers can read your products catalogs on their devices online and offline, anytime and anywhere. This powerful online catalog tool helps you to improve business, by leveraging dynamic advertising for products along with smart analytics which provides real intelligence thereby optimizing your strategy.