The current trends in mobile app development show that there is a need to focus on user experience, user interface, and performance. Developers need to use the latest technologies, such as artificial intelligence, augmented reality, and machine learning, to create more interactive and engaging apps. Additionally, apps should leverage the power of cloud computing and analytics to improve user experience, reduce development time, and enable real-time data access. Finally, developers should focus on security, privacy, and compliance to protect user data.
From the given data, you can estimate the skyrocketing market of mobile apps. And it is going to rain for a couple of years. Right now, 2.1 million Android apps and 2 million iOS apps are competing in the market. The number is increasing even when we are discussing. So, you can get an idea about the future of the mobile app design industry.
Irrespective of the capacity and type of business, everyone should own a personalized mobile app to improve the servicing quality. In 2020, when mobile apps entered the market, people were skeptical about using the modern trends and technologies that include machine learning (ML), artificial intelligence (AI), the Internet of Things (IoT), 5G, etc. However, as we are in 2023, we can see the drastic adaptation of mobile apps in different sectors. So, from the market study, we can get a clear picture of the blooming future of mobile apps. However, incorporation is the key to any business. Hence, you must gather as much knowledge as you can about mobile apps and how it dominates businesses across the globe.
Astonishing Facts About Mobile App Development
Mobile apps are interconnected with our everyday life in such a way that functioning without it will be next to impossible. And the surprising fact about the mobile app is that no one believed that the mobile apps will make people paralyzed. And it happened within 2 years. So, it is not a hidden fact that mobile app design which started as a technological curiosity has become a significant part of any business. According to a survey, by 2025 there will be hardly any person left who won't use smartphones. And people spend the maximum amount of time on mobile compared to any other device.
Hence, people will be more dependent on mobile apps. Along with the increase in smartphone selling, a lot of network users started connecting via social media. Furthermore, more than 30% of the internet users are already into eCommerce and social media apps, such as Amazon, eBay, Facebook, etc. With the advent of mobile phones, people are getting more inclined towards using mobile apps than desktop websites. Android app development and iOS app development services will grow rapidly in the coming years.
According to CMARIX, mobile app development companies are introducing life-changing opportunities in leading businesses with the latest mobile app development trends. Following the footsteps, small-scaled businesses are also launching their mobile apps. Also, the statistics show,
About 2.6 million apps are downloaded from Google Play Store.
By the end of 2021, the total mobile app development market grew 385%.
During that period, about 7 billion people started using smartphones.
The renowned mobile app development company Melbourne aims to attract new users to gain control over the market. The natural human instinct is to get the best thing without investing too much effort and time. Therefore, with mobile apps in our hands, we fall for digital facilities quite easily. So, people don't have to go outside and get everything delivered to the doorstep.
Therefore, it is a crucial stage for mobile app development companies to excel in this field. And CMARIX is following the same. The agency also follows some application development trends that are going to bring a huge change in mobile app design.
Let's discuss the strategies and trends-
Most Popular Mobile App Development Trends in 2023
1. Modifying The On-Demand Apps
Could we ever think that we will be booking cabs from our phone without even calling? No right? Uber and Ola have shown us the path. And now we are irreversibly dependent on those apps. Similar to e-commutes, other companies are also opting for mobile apps. The instant access and quick response have their own over the people. Some of the other brands and agencies following the same are Postmates, Doordash, Zomato, etc.
With such skyrocketing popularity and the business model of these brands, many startups are willing to invest in these companies. For example, by 2025 UberEats is going to get funding from a lot of startups. The data shows that the on-demand delivery market is estimated to generate $535 billion, which is 25 times high compared to the year 2014.Zomato and Postmates are for food delivery agencies, whereas Ola, Uber, and Lyft are for transport. And all of them are doing their parts to make transportation easier. These mobile app designs are dominating in their respective field. For the same reason, brick-and-mortar business owners aim to invest in mobile app development due to its lucrative returns. As people are very busy, these apps are becoming a life savior for them. With the promising sides of mobile apps, there is no chance of slowing down this business anytime soon. Anyone can take use of On Demand Application Development to make an app based on their own unique idea and set of features.
Read More: How to develop On-Demand Cannabis Delivery Weed App Like Leafly?
2. The Internet of Things (IoT) Will Grow Tremendously
Implementing cloud-based technologies brought a visible change in mobile app development. However, the programmers need to stay uptight all the time to sharpen their analytical skills.
According to a report from Statista, the global IoT market is expected to reach $1.6 trillion by 2025.
Even business giants like Microsoft and IBM are building their business based upon IoT. Following the functions, so many smartphone users are opting for controlling their homes and cars with mobile apps. The Mobile App Development Company Victoria provides data that shows, in 2030, there will be around 50 billion IoT devices around the globe.
The smart connected devices across all premises and user environments are increasingly dominating the digital landscape and no wonder that they have become the game-changer for mobile apps as well. Mobile apps have played the role of remote control for many of these connected devices and we refer to them as IoT apps. Now with the proliferation and growth of the IoT landscape these apps are also experiencing never-before demand and traction.
While the IoT landscape will continue to experience a boom in the years to come, these apps will give birth to new data-driven interactions. IoT devices are already producing a lot of insight-rich data that provides valuable insights about audience behavior and trends. IoT apps in the coming years will play a key role in understanding consumers and users and addressing them as per their needs and intents.
Some of the key advantages that put IoT apps at the very forefront of the mobile app revolution of the future include the following.
IoT apps allow monitoring devices and sensor readings.
IoT apps help to analyze data, building charts and making reports rich with user insights.
Internet of thingsapps help to enhance audience interactions with devices by the ease of use.
IoT apps are increasingly playing a key role in a smart home, smart workplace, smart and connected transport and modern Industrial environments.
3. Mobile Wallets Will Surge in Popularity
Digital payment options became a popular thing during the global pandemic. To avoid viral exposure, people started using digital cash transfers instead of cash. Gasping the situation, many entrepreneurs and start-up agencies introduced their money transferring apps. And within a short time, digital cash flow became popular across the globe. Not to forget, digital money transfer is secure and hassle-free.
In addition to secure payment, the mobile apps connect multiple apps to provide a smooth service. Mobile wallets like Paytm, Amazon Pay, Google Pay, etc. gained popularity among the people with the swift money transferring. And the apps don't have to look back anytime soon.
The mobile app development company Victoria incorporates the trending functions to create a smooth interface for the users. And day by day their reach is increasing among the people. Therefore, in the near future, mobile apps will be an integral part of our lives.
However, the technology will keep moving ahead. And people will always choose the best from the rest. Hence, the AI and ML programmers need to be in action continuously to maintain the market value along with loyal customers.
4. Popularity Beacon Technology
Beacon technology has already gained huge popularity across many industries and beacon-based notifications are increasingly helping many businesses and industries to connect their customers in a highly contextual manner. Many of the mobile app development services and similar emerging nations boast off, will use Beacons technology when building apps for small retailers and businesses. From the big retail stores to museums, from hotels and healthcare to local restaurants, every organization or business thanks to beacon technology connects their target audience in a context-aware manner.
Beacons which are actually wireless transmitters can send signals based on Bluetooth technology. For instance, when a customer passes nearby a retail store, the app of the store can invite the customer to step in and avail the latest promotional offer. The beacon technology allows the store to sense customer location whenever a customer is nearby and thus creates better scopes of business conversion.
5. Progressive Web Apps (PWA)
Another major technology trend that is going to shape the mobile app experience is progressive web applications (PWA). Appearing as the alternative to traditional mobile apps, PWA conceptualized by Google is supposed to set the trend for mobile app development in 2020 and beyond. You don't need to hire Android app developers or iOS developers for a mobile presence. Instead of developing a PWA website can just prove to be enough.
PWA in spite of being a website can actually work as native mobile apps as well. Besides using the capabilities of the browser it can be saved as an app on the home screen to be accessible anytime just like a native app. The biggest benefit of PWA is that they are not required to be published on any app stores or marketplaces. Secondly, PWAs don't consume device storage and requires downloading and installation. Most importantly, by loading instantly PWAs provide instant gratification to users.
6. Blockchain Apps
We all know how the Blockchain technology played the role of a game-changer to ensure optimum data security. An increasing number of apps across both the App Store and Google Play Store are using Blockchain technology. In 2020 and years ahead this can continue to dominate as a trend. From e-wallets to currency converters to banking and finance apps to digital asset tracker apps, all can be benefited by Blockchain technology.
Some of the key advantages that make Blockchain technology so popular across the niches include the following.
Improved data security and prevention of data theft or data tampering
Faster and more accessible transactions for a wide variety of niches.
Simplicity and ease of accessing data and making transactions.
Optimum data transparency for all parties thanks to the democratization of data.
7. Mobile Cloud Apps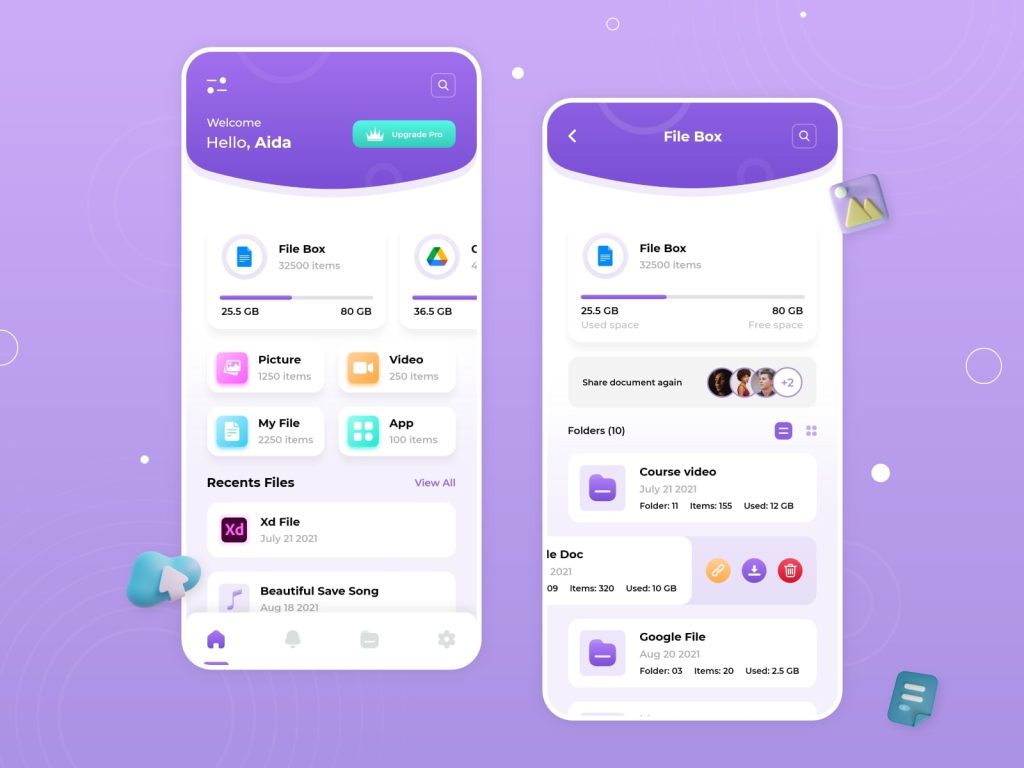 Cloud apps are not something new as most of us already use a lot of cloud apps regularly in our day to day digital interactions. From the basic Gmail app to the Google Sheet and Google Docs to the numerous document apps to music sharing apps to YouTube Offline, the examples of cloud apps are everywhere. Thanks to cloud support only mobile apps now allow offline access to contents and interactions. This is something that is going to remain as the mainstay of the digital revolution in the years to come.
Since mobile apps are too many and they are only going to expand across all niches with the increasing demand for offline access, the vast majority of mobile apps in the years to come are likely to have cloud support.
Some of the key reasons cloud-based mobile apps will continue to be popular in the coming years include the following.
Secure and smooth access to data across multiple devices and touchpoints.
Saving mobile storage space.
Utilizing optimum computing power through device and remote cloud support.
Faster loading speed and offline access to content with caching support.
Far enhanced user experience with streamlined sharing and computing capability.
8. More Accelerated Mobile Pages (AMP)
Mobile user experience largely depends on the speed of access and this obviously depends on faster loading speed. Naturally, from Google to every tech giant on the mobile and web space are working to deliver the fastest loading speed. This is where the role of Accelerated Mobile Pages (AMP) becomes truly important. AMP is basically a bareback version of the HTML web pages to ensure optimum loading speed.
You can ask how AMP can at all play a role in the mobile app development trends. Well, AMP in more than one way brings the faster mobile app user experience closer through a fast-loading mobile web page. Just like PWA, it approaches the mobile user experience through a more apt and user-focused web solution.

9. The incredible 5G technology
The advent of 5G will significantly affect app trends in 2023. This technology has the potential to transform the way mobile applications are used and produced for developers, resellers, and creators. Developers will be able to produce more complicated applications because of 5G's quicker download rates, lower latency, and greater bandwidth capacities. This implies that more engaging and immersive experiences will be offered, including applications for augmented and virtual reality and more complex games.
Additionally, 5G will make it possible to create applications that properly and quickly handle data, enabling more sophisticated automation and better analytics. As a result, in order to remain competitive, developers will need to stay on top of developments. This could entail refocusing on developing applications designed exclusively for 5G networks and utilizing the new functionalities that 5G offers. Read this to know more about the Impact of 5g on mobile app development.
10. Apps For Foldable Devices
Foldable handsets currently account for a negligible proportion of the smartphone market. But as manufacturers continue to develop in this market, this will alter in the upcoming years. Foldable devices have already been produced by companies like Samsung, Huawei, and Motorola, and more are anticipated in the near future.
Over conventional smartphones, foldable devices have a number of benefits, including a larger display, better portability, and increased durability. In the upcoming years, foldable devices are likely to become increasingly prevalent as technology advances.
Depending on the user's wishes, these cellphones can fold to reduce or increase the screen size. By folding the device, a user may, for instance, make a call while watching a video on a smaller screen.
From the standpoint of app development, resellers and content producers must take these devices into consideration when creating or updating an app.
11. Mobile Commerce or mCommerce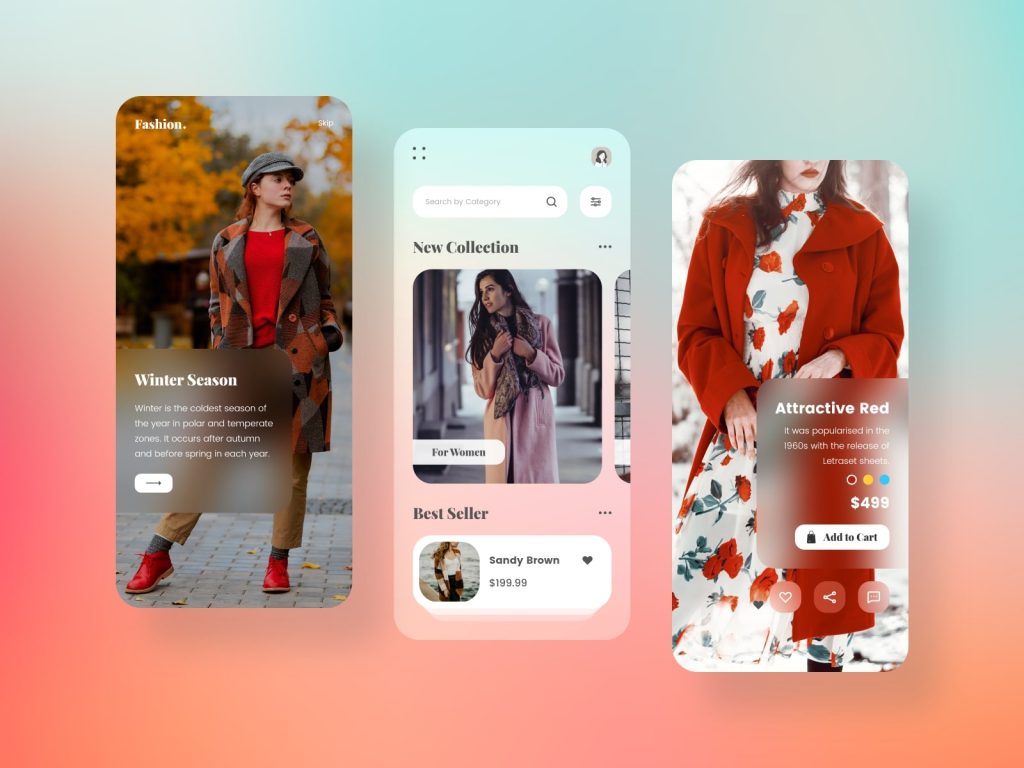 Mobile commerce, or m-commerce, is the buying and selling of goods and services through mobile devices such as smartphones, tablets, and wearable devices. With the rise of mobile commerce, businesses can reach customers faster, increase customer engagement, and provide a more personalized shopping experience, leading to increased customer loyalty. Additionally, mobile commerce can help businesses gain access to new markets, reduce operational costs, and improve customer service as it trends in app development. As more and more consumers embrace mobile devices, businesses have to keep up and develop mobile commerce solutions that provide customers with the same convenience, security, and convenience as traditional retail.
You may like this: Building a Two-Sided Marketplace for Your Business
12. Augmented Reality (AR) and Virtual Reality
Robust, Immersive Experiences: AR and VR apps are becoming increasingly more sophisticated, offering more robust, immersive experiences. Companies are investing heavily in developing more sophisticated graphics, audio, and other technologies that make the user experience more realistic and engaging.
Contextual Computing: AR and VR apps are increasingly leveraging contextual computing to provide a more personalized experience. Contextual computing uses data and information about a user's environment, such as location and user preferences, to create a more customized experience.
Increased Use of AI: AI is becoming more widely used in AR and VR app development. AI can be used to help create more realistic virtual environments and to personalize experiences for users.
Cross-Platform Compatibility: AR and VR apps are becoming more cross-platform compatible, allowing users to access their apps across different devices. This makes it easier for users to switch between different devices, while still having access to the same content.
Increased Focus on Social and Collaborative Experiences: Companies are investing in developing more social and collaborative experiences that allow users to interact with each other in an AR or VR environment. This allows users to share experiences and work collaboratively on projects.
13. Chatbots
Companies are increasingly investing in AI-based chatbot technology to build apps which are more human-like and are able to provide better customer experiences. The use of natural language processing (NLP) and natural language understanding (NLU) to create more efficient chatbots has been a major driver of the chatbot market in recent years. The market is also driven by the availability of cloud-based services, which allow companies to deploy chatbot solutions quickly and cost-effectively. Furthermore, the use of chatbots to address customer inquiries and improve customer services is also driving the market.
The global market for chatbots is expanding at a 24% annual rate. Virtual assistants are anticipated to be used in 25% of all customer support tech engagements by 2020. Chatbots must gain traction in the e-commerce sector and the mobile app development market for this to happen. This is due to the fact that the majority of customer service interactions occur through mobile apps and online shops. In the near future, chatbots are anticipated to rule customer service departments since they can provide round-the-clock assistance and minimize the need for human operators. As they can offer individualized and convenient access to health information, chatbots are also becoming more and more popular in the healthcare industry.
You may like this: how to get investors for an app?
14. Wearable apps
Wearable technology is any device that can be worn on the body and allows users to interact with the world in a different way. This can include devices such as smartwatches, fitness trackers, augmented reality glasses, and more. Wearable technology has become increasingly popular in recent years due to its ability to help users monitor their fitness, stay connected with others, and even access information on the go. Wearable technology is expected to continue to grow in popularity in the future as more devices and applications become available.
15. P2P apps
Peer to peer (P2P) app development is a growing trend in the software engineering field. P2P applications allow users to connect directly with each other instead of having to rely on a centralized server. This type of application is becoming increasingly popular due to the ability of users to access data and services directly from each other, without having to go through a third-party. Additionally, P2P apps also offer better security as data is not stored in a central server, which makes it less vulnerable to cyber attacks. Build a Peer-To-Peer Payment App by outsourcing your project to a mobile app development company.
Additionally, since data is stored on devices, it is not subject to censorship or interference from external sources. This type of application is also becoming more popular due to the increasing cost of traditional server infrastructures and the ability of users to customize their P2P applications to their own needs. In the coming years, P2P app development will continue to grow as more developers become aware of the advantages of this type of application. Additionally, with the rise of decentralized technologies such as blockchain, P2P apps will become even more popular as they allow users to transfer data and assets securely in a trustless manner.
16. Smart hubs
The trend in mobile applications for smart hubs is to focus on convenience and connectivity. These apps offer a wide range of features, including voice control, remote access, and integration with other devices. They also offer useful tips, tricks, and advice on how to get the most out of your device. With the growing number of connected devices, these apps are becoming increasingly popular, as they offer users the ability to easily control their connected home with just a few clicks. Additionally, more and more smart hub applications are becoming available, offering users more ways to interact with their home. In the future, we can expect to see even more integration with other devices, as well as more features to enhance the user experience.
17. Instant Apps
Instant apps mobile app development trend Instant apps are the latest trend in mobile app development. Instant apps allow users to access a mobile app without downloading it from an app store. Instead, the app is downloaded on demand from a web page or link. This reduces the amount of time and space needed to download an app. Instant apps can be used for both personal and business use, and can offer features like in-app purchases, notifications, and more. Instant apps are becoming increasingly popular among developers and users, as they offer a more streamlined and convenient experience.
18. Greater Focus on Security
From an app development standpoint, you can't afford to take any shortcuts when it comes to securing your app. If you're an app reseller, security needs to be a top priority for your clients as well. That means developing a secure app that is free from any vulnerabilities, encrypting data and communications, and managing user access. You should also implement two-factor authentication, strong password policies, and regular security audits. Additionally, use secure back-end coding and hosting, and always stay up-to-date with the latest security threats. Finally, make sure to provide your users with ongoing updates and notifications about the security of your app.
19. Location-based applications
Location-based app development is a growing trend in the mobile app industry, as more businesses are leveraging mobile technology to provide better customer experiences. Using location-based tools and services, businesses can reach their target audiences more effectively and efficiently. Additionally, location-based apps can be used to track customer behavior and gain valuable insights into consumer preferences. Examples of popular location-based apps include navigation apps, restaurant finders, shopping apps, and fitness trackers. These apps are making it easier for businesses to reach their customers, increase engagement, and boost sales.
Conclusion
The future of mobile app development is looking brighter than ever, with the rise of new technologies and the application development trends, such as artificial intelligence, virtual and augmented reality, and the internet of things. These technologies allow developers to create more innovative and creative apps that provide users with an even better experience. Moreover, the increasing demand for mobile apps and the growth of mobile app developers is also expected to continue in the coming years.
The trend of cross-platform mobile app development and cloud-based mobile development will also gain more traction in the future. These technologies will enable developers to deploy the same app across different mobile platforms, thus allowing businesses to reach out to a wider audience. Finally, the increasing use of mobile wallets, the rise of mobile commerce, and the growing popularity of mobile gaming will further fuel the growth of mobile app development in the years to come.
Take a look at
Frequently Asked Questions
Artificial Intelligence (AI): AI is becoming increasingly popular in mobile app development, allowing apps to become more powerful and efficient.
Augmented Reality (AR): AR is used to add a layer of virtual objects and graphics to the real world. It is becoming increasingly popular in gaming and entertainment apps.
Cloud Computing: Cloud computing allows apps to access data stored in the cloud, making them more secure and reliable.
Internet of Things (IoT): IoT enables devices to communicate with each other and exchange data, making them smarter and more efficient.
Wearable Apps: Wearable apps are designed to be used with smartwatches and other wearables. They are becoming increasingly popular for monitoring health and fitness.

Mobile app development is important because it helps businesses reach more customers, and in turn, increase revenue. Mobile apps allow businesses to better engage with customers, provide a better user experience, and create more opportunities to generate revenue. Additionally, mobile apps provide a more efficient way to deliver services and products, and they can also help businesses stay competitive in today's market.

The best framework for mobile app development depends on the type of app you are developing and your specific needs. Popular options include React Native, Flutter, Xamarin, and Ionic.

Augmented Reality (AR): Augmented Reality is an underrated trend in app development that allows users to interact with digital content in a real-world environment. It can be used to create immersive experiences and provide an engaging way of delivering information.
Wearable Technology: Wearable technology is a great tool for creating apps that are more accessible and easy to use. Apps that are designed for wearable technology can be used to track health, monitor activity levels, and provide notifications.
Cloud Technology: Cloud technology is becoming increasingly popular for app development as it provides a secure and efficient way to store data. This technology also allows for greater scalability, which is important for businesses that have a growing customer base.
Voice Technology: Voice technology is becoming more popular for app development and allows users to interact with apps using their voice. This makes the app experience much more natural and intuitive.
Chatbots: Chatbots are AI-powered digital assistants that can be used to automate customer service processes. They can also be used to provide personalized product recommendations and provide helpful information to users.