Are you still using paper as your primary medium for your signing documents and contracts? If so, you are not leveraging benefit of digital industry where there is a growing trend of discarding paper and signing essential business records on the web or mobile. Whether you're signing a merchant contract for home loan or anything similar, the digital signature software can offer notable advantages. Regardless of the span of your business or what industry you're in, everybody is looking to save money and expand revenue. DocuSign offers a simple and intense method for how documents are signed and stored to make your objectives a reality.
DocuSign ranked #3 on Forbes World's Best 100 cloud companies list, is an Electronic signature service for documents that need to be signed by customers. Using e-Sign Document module with Docusign you can send PDF records to Contacts, Organizations, or Vendors and get the report marked electronically. DocuSign gives legacy electronic signature innovation and digital transaction management (DTM) services. Docusign has over 50 million clients across 188 nations who are signing, sending and maintaining documents digitally on any device. Docusign provides advanced features, which eradicate the need to fax, print and scan documents, making the procedure productive and profitable. Docusign provides two main approaches of integrating with third party, mainly PowerForm and via Docusign API. We are focusing here on the Powerform approach.
A PowerForm is a document starting with a unique, secure URL that provides accessible to signer to finish the process. With PowerForms, you can create a DocuSign transaction without sending documents from your DocuSign account.
PowerForms are created from templates. To create a PowerForm, First you need to create a template, and then enable the template as a PowerForm. You can indicate whether signers must finish an email approval before they can approach and sign the PowerForm. This gives an additional layer of beneficiary validation, requiring signers to get an access code by email, this code is mandatory to view and sign the form.
Steps on How to Generate Docusign Powerforms
From the Templates page, find the template you need to use for your PowerForm
Click the "USE" drop down and select "CREATE POWERFORM". A Dialog box shows up. Complete the forms by filling require data. And then, Click on "CREATE" to make and activate your PowerForm.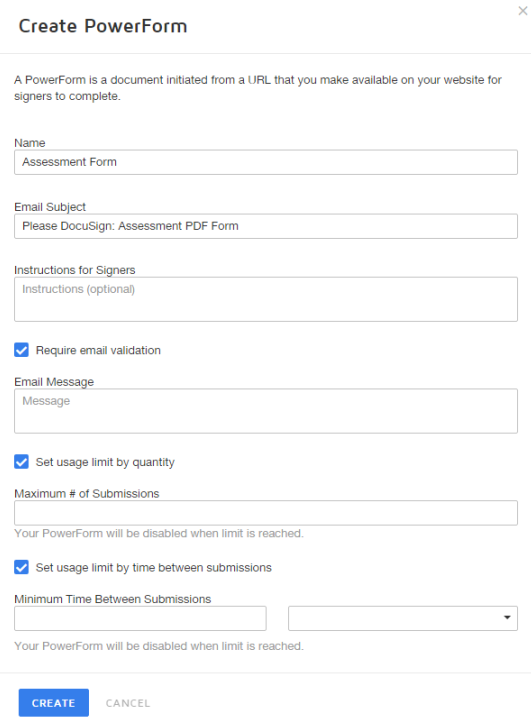 Once your PowerForm is created, you can integrate it into your website, or assign as a secured link by email. Signers can receive and sign your forms on demand. This makes PowerForms a way to capture signatures and data from parties whom you have not known previously.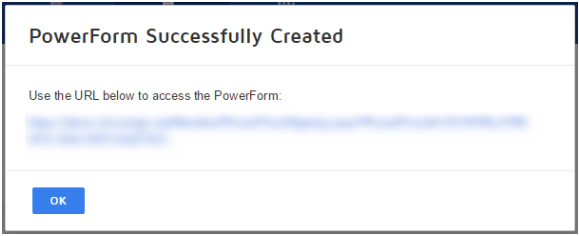 How to integrate DocuSign Powerform in Magento
Magento is among the most popular eCommerce development platform and many businesses are leveraging implementation of Docusign with Magento so they can manage their contractual agreements and paperwork with different types of users directly using digital document & signature. They don't use tedious process of sending documents to & fro via courier/ post and managing tonnes of paperwork into files.
Following steps are guidelines of how to integrate Docusign in Magento:
From the Documents page, select the PowerForms folder on the left menu to display all PowerForms.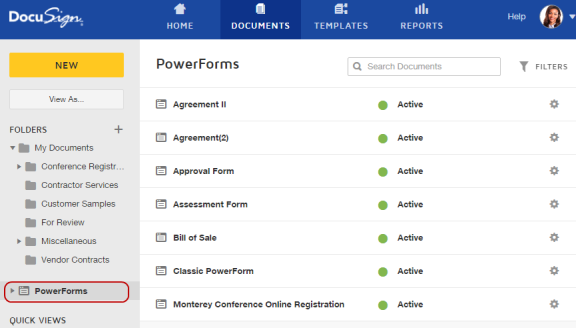 Find the PowerForm for which you want to get Embed URL and click the gear icon, select Edit PowerForm.

In the Edit PowerForm dialog, copy the URL shown in the dialog.

Now for integration, first you need to create a CMS Page in Magento
From the Admin menu, Select CMS -> Pages- > Add New Page button.

Enter the detail in the Page like, Page Title, URL key and Select Store View where the Powerform page will be available.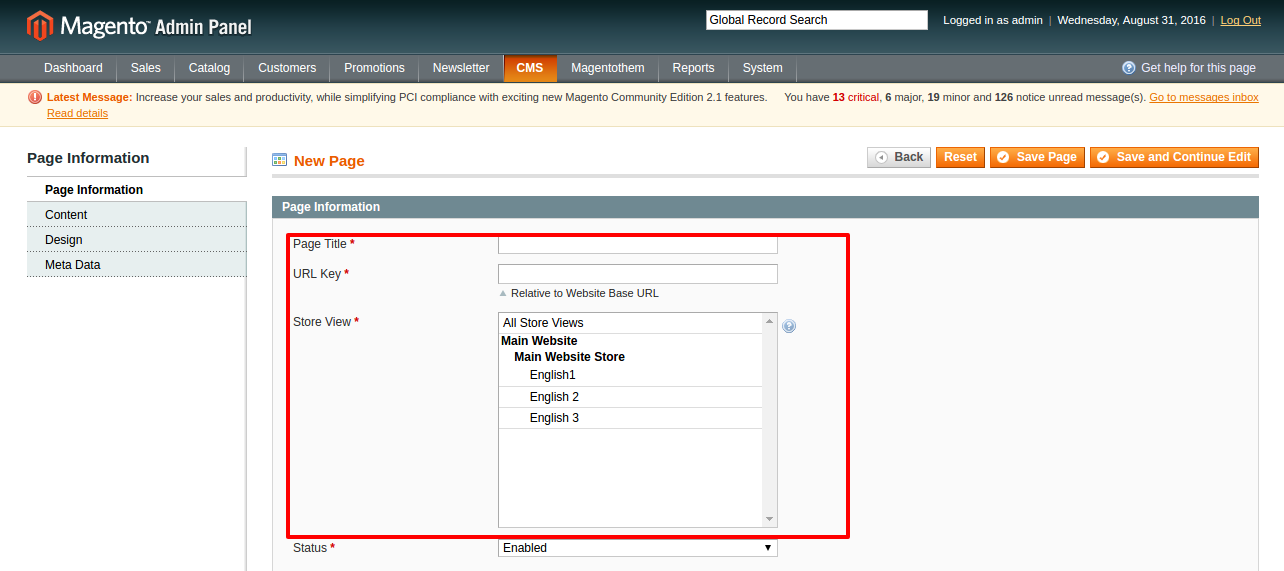 In the left menu Select the Content in the Page Information panel and add Embed the Powerform activation URL into an iframe.

If you want to check your Powerform is working or not you just need to follow the given steps
Click the PowerForm URL which you received after creating PowerForm.
In that PowerForm Information form, enter your detail like name and email id, and click on Begin Signing.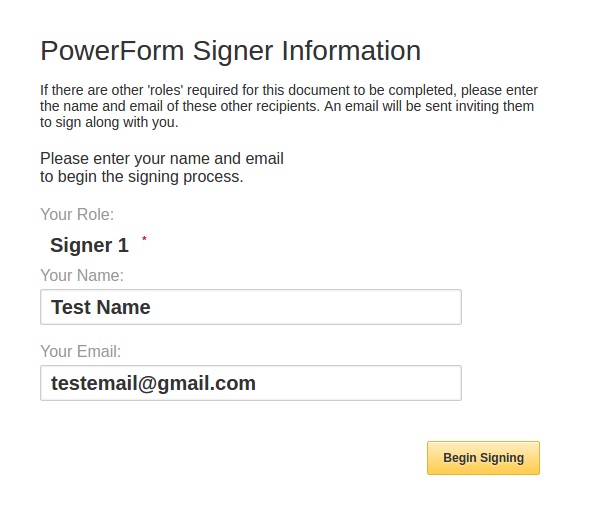 Benefits of Docusign Powerform Integration with Magento
Cost Effective

Saves the cost of documents' printing, faxing, and supplying, all is included! Organizations send contracts for signature straight from the DocuSign widget. Recipients get a link in the email to study the document, sign it and revert it via DocuSign.

Time Saving

Organizations can send across the documents for signature in only a couple of minutes and get them back quickly saving a lot of time. No compelling reason to invest energy in printing and faxing the report or expressly meeting potential customers and existing clients for counter-signature.

Easy and Convenient

When organizations integrate DocuSign application inside their Website, transaction administration gets as easy as clicking a button. They can access the website through any internet-enabled gadget and complete the record sending process on the go.

Fast Sales Processing

It takes a couple of minutes or hours for organizations to process contracts and understakings. As there is no hassle of printing an agreement and then mailing or faxing it to the customer for signature. So, superfluous delays like dislocation of agreement files, delay in counter-signature from the recipient's end and disappointment of mail conveyance do not exist.

Security

Specialists around the globe encourage DocuSign electronic signature since it is totally legitimate and serves as a more permanent and essential proof. According to the law, once e-signature is done on any agreement, the concerned individual becomes bound by the terms expressed in the document.
The normal time to get a paper contract signed is measured in days; though the normal time to get an electronic contract document signed is measured in minutes. Going paperless is not a simple errand. With Docusign PowerForm you have the advantage of indicating and sending altogether new customer-facing systems from one end to another. For this you may need to integrate new applications or functionality into existing systems. The magnificence of DocuSign Powerform integration in your web platform permits your client to sign from anywhere in the world.