With the increasing competition across every industry, businesses are looking to recruit talented professionals equipped with advanced skills. After all, businesses want to maximize user satisfaction and fulfill their set commercial goals. The same goes for businesses undertaking design and development projects and looking to attract more customers. This is why more and more businesses are investing in design resources. To help you figure out your design needs and create the best team possible, we have curated this guide on why you must hire dedicated designers.
When you surf through multiple apps and websites, you are mostly attracted to applications with visually engaging components and attractive designs. This is why businesses are focusing more and more on creating apps and projects that help build a powerful brand image and boost market popularity. However, this complete process is easier said than done – businesses need to invest finance, resources, and time. Hiring in-house designers can be quite hectic and will mean greater investment in resources. This is why we recommend you hire dedicated designers who can work remotely and possess an advanced skill set.
But, how do you do so without any prior experience in hiring designers and how do you ensure they're the best you can find in the industry? To help you hire dedicated designers and build the perfect team as soon as possible, we have curated the following article which answers these questions. So, what are you waiting for? Let's get started and break down everything you need to know to hire dedicated designers and build the best design team.
What Are The Challenges You Might Face When Hiring A Design Team?
When starting out in the industry, you might not have previous experience in hiring and resource management. This is why it is not unusual for you to face numerous challenges and pressures in the early stages. But, to make your job a bit easier and help you hire dedicated designers as quickly as possible, we are here to discuss some common challenges you must keep an eye out for. Don't worry! These challenges can be easily solved by hiring an outsourcing agency or a UI/UX design agency that helps bring your idea into reality.
Some challenges that you must look out for and be prepared to handle include:-
Finding The Best Talent That Fits Your Project Needs
When you're just starting out in the industry, the main problem is finding the best talent right away. If you're from a non-tech background and have no idea about the key elements that contribute to engaging design elements, it can be especially difficult for you. Another common problem is that you might come across talented designers, but they might not be a good fit for the project you have in mind. After all, you must not only hire dedicated designers with advanced skills but you must focus on hiring those designers who would seamlessly fit with your company culture. After all, the ultimate focus is to develop a great brand identity that helps your business stay ahead of the competition.
Highly Competitive Talent Hiring Industry
With an increased focus on hiring dedicated employees for better design and development of projects, UI/UX design services are an in-demand skill. Due to the intense competition, UI/UX designers can expect good pay from established companies who have the investment budget. But, for startups and mid-sized businesses, it can be especially difficult to match the pay offered.
Limited Finances And Investment Available
It is no secret that hiring professionals with advanced skill sets can be quite expensive. This is why you must carve out a budget and keep it in mind before you go ahead and hire dedicated designers. Ensure that the amount you need to invest to hire dedicated resources for better design and development does not compromise other critical business operations.
Finding Local Talent
Often, it is difficult for businesses to hire dedicated designers based in and around their locality. In these cases, they might have to settle for remote talent and outsource UI/UX design services from far-away locations. Outsourcing talent from UI/UX design agencies based in a different city, country, or region can be highly expensive. This is why we recommend you hire dedicated graphic designers from agencies offering talent at justifiable rates.
Evaluation Of Portfolios
If you do not have any previous tech experience or are not aware of the different design fundamentals in play, it can be difficult for you to evaluate design portfolios. After all, a designer's portfolio must be engaging and communicate why they're the right fit for your company and project. It is necessary for you or your recruitment team to be aware of the process of proper portfolio evaluation to filter out candidates from the available talent pool and better aid you in hiring dedicated designers.
Remotely Managing The Design Team
As discussed, it is often the case that businesses do not find the right-fit talent in their locality and need to outsource their design team. When hiring remote talents from across the globe, you run the risk of communication gaps and collaboration challenges due to the differences in time zones.
So, how should you go about the hiring process and hire dedicated designers without much hassle? Well, even with these challenges, the dedicated design team model can bring in a lot of benefits. Interested to know more about how it is the solution to your problems and can help you better engage with customers in no time? Keep reading!
What Is The Dedicated Team Model All About?
Before we jump right into discussing what the dedicated team model is all about, let us understand the traditional hiring model to better spot the differences.
In a traditional business structure, businesses must hire employees to create their team and start on the project. Then, they must assign employees with the different tasks essential for project completion, and once done, the employees must be let go. But, the major problem with this model is that the team structure is quite difficult to maintain and there is no consistency among all employees. After all, every employee possesses a different skill set and has their individual strengths and weaknesses making them irreplaceable.
This is where the dedicated design team model can come to your rescue and help you hire dedicated designers who contribute to better business growth in no time. The dedicated team model is considered to be a collaborative model where businesses must focus on specific projects and the tasks involved to take the project to its completion. A lot of businesses prefer the dedicated design team model due to the added flexibility it offers. Another advantage of this model is that businesses must hire dedicated designers who work together as a team.
So, with the dedicated team model, businesses can expect better design consistency and higher quality of work that is realized by the collaboration of multiple skilled designers. When you hire dedicated designers and create a team at the beginning of the project, you ensure that the team is there with you throughout your project development journey. You can communicate your business goals and the brand identity you have in mind during the initial consultation. This also ensures that the designers will go above and beyond to understand your business needs and design engaging solutions that help bring in more customers.
Which Businesses Can Benefit From A Dedicated Design Team?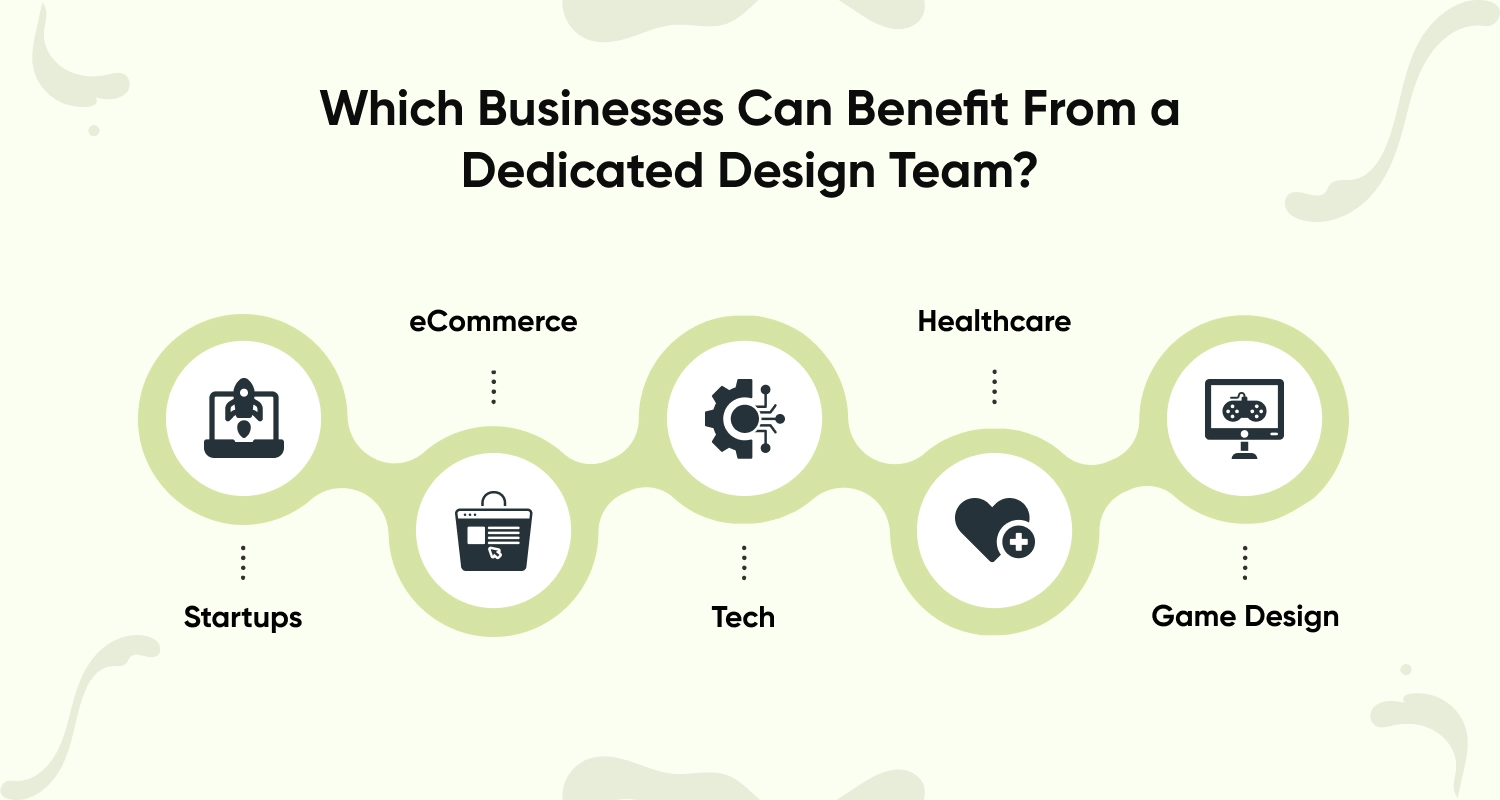 A dedicated design team can be beneficial to businesses across different verticals and is not limited to specific business types. In fact, a lot of companies have made major changes in team structure by hiring remote and dedicated talents for a better brand identity. But, to help you better understand the different types of businesses that can benefit from a dedicated design team, we have listed a few below:-
1. Startups
Since startups might be short on their design budget, it would undoubtedly be more economical for them to hire dedicated designers on hourly pricing models. This will not only help them tackle the project in smaller chunks and ensure better inclusion of feedback at all stages, but the model helps businesses better track project records and check deliverables.
2. eCommerce
Since eCommerce platforms can be quite complex to design and develop, it is important businesses hire dedicated designers. This will help ensure that they build simple and interactive user components that contribute to better end-user journeys and customer satisfaction.
3. Tech
Although most tech companies have in-house design teams to help develop better products, tech companies focusing on specialized areas do not have access to dedicated designers. This is why a lot of tech companies prefer the dedicated hiring model and hire graphics designers when necessary.
4. Healthcare
After the global pandemic, the healthcare sector made a huge investment in IT and tech services. For example, a lot of healthcare centers invested in telemedicine and hospital management systems. These centers have the budget to invest in development services but are generally short on time and need to launch their online services as soon as possible. So, most health companies hire dedicated designers to design simple interfaces and user-friendly journeys for their mission-critical healthcare applications.
5. Game Design Companies
Without an engaging interface and artistic visuals, a game would never be able to grab user attention and get ahead of the competition. This is why most game development companies need to hire dedicated creative graphic designers to design game art, infuse 2D and 3D elements, and other popular game design features. It is impossible to design interactive game elements without staying in continuous touch with game artists. This is why most game design companies prefer the dedicated team model over the traditional resource hiring model.
Why Should You Ask A Company Offering UI/UX Design Services To Provide A Dedicated Team?
The prime focus of the dedicated design team model is to create a product that targets a single audience group. This concept works well for small businesses and startups as they can easily focus on better reaching their target audience without the need for a huge financial investment. Moreover, the model specifies that the design team and business representatives work closely together throughout the design and development process. This means that continuous feedback is incorporated to ensure that the final product is as close to the original concept.
It is obvious for you to wonder about the benefits a dedicated team might bring and whether it is worth the investment or not. Well, design is not a simple process and includes multiple aspects that you must consider before making any decision. You must note that there is no one-size-fits-all approach when it comes to design which is why a dedicated team model will highly benefit you. When you hire dedicated designers and follow this team model, you can also ensure better collaboration and the inclusion of an innovative approach.
To help you better understand the benefits this hiring model can bring to your business, we have listed some below:-
Better Focus on The Ultimate Goal
Most businesses prefer the dedicated team model as it ensures added importance to focused work and is a great way for organizations to focus on the project. Since the team is specifically formed to tackle the project on hand, it is easy to ensure that there are no distractions and that the project design and development can continue as planned. Due to the decreased interference, businesses can expect increased team productivity and quicker project completion.
Flexible Resources That Can Be Adjusted Based On Business Needs
When you outsource your design team and hire dedicated designers, you get access to a team that is skilled in different areas of design and development. You can expect the team to include at least one designer who is an expert in his/her particular field. This means that the other team members are also exposed to the specialized area and will have the time to explore the different solutions available in hand.
In the dedicated team model, businesses hire dedicated designers after an initial consultation meeting where business needs and project goals are extensively discussed. So, organizations get access to designers who take client needs into account and develop solutions accordingly.
Clear Communication for Smoother Design Process and Effective Management
In the dedicated team model, the design team and business representatives are constantly in communication. This means that there are fewer chances of misunderstandings about project goals and business needs which contribute to quicker design and development. Another advantage is that errors or design issues are discovered at early stages which can help save a lot of time and money in the long run.
Since all teams involved have a clear idea about their roles and responsibilities, they can easily schedule other tasks and better plan their day without much hassle. This leads to an environment of better collaboration and efficient product design and development in the long run. Moreover, when businesses hire dedicated designers based on this model, they can clearly communicate their working hours. This helps ensure that the designers are available during business working hours and can make adjustments to suit the organization's time zone.
Hire Dedicated Designers With CMARIX Today!
The dedicated team model is the best way to create a team and get your project started in no time. It also helps startups and small-sized businesses quickly develop products and services and get ahead of their competition in no time. Moreover, the model allows you to better focus on other business processes and needs while you leave the design and development of the project to the experts. At the same time, the dedicated team model ensures that you are in continuous touch with the team to ensure the final product fulfills your business needs and project goals.
Looking to hire dedicated responsive website designers or looking for dedicated UI designers for hire for better project design and development? Get in touch with a professional development company offering expert mobile app design services and get started as quickly as possible! At CMARIX, we not only offer flexible pricing models but also give you access to a huge talent pool to help you hire dedicated designers who are the right fit for your project.
Frequently Asked Questions
For startups, investing in hiring a full-fledged team of designers might not be possible. This is why they must hire dedicated designers and create a team based on the dedicated team hiring model.

It is not possible to properly estimate the cost of hiring a dedicated team of designers as it depends on several factors like the designer's skillsets, the project complexity, and much more. To get an accurate mobile app design cost estimate, we recommend getting in touch with a professional design and development company.

When you hire dedicated designers, you get access to a skilled team as per your requirements and only need to pay for their time working on the project design and development. To further learn the benefits of hiring dedicated designers, read the above article in which we break down the different aspects involved.

As a business owner, you might not have the time to stay updated on the different UI/UX design trends. It is all the more difficult if you do not have prior tech and design experience. This is why we recommend you hire dedicated designers who stay updated on the design trends and emerging technologies to help you stay ahead of your competitors.

There are a lot of design projects that you might be planning to undertake. These include web design, app design, print design, logo design, branding, and much more. To ensure that your design team can handle the project you have in mind and deliver great results, we recommend you hire dedicated designers specializing in the project type you have in mind.