As a content management system, SharePoint CMS assists in the organising and administration of business documents, data, media assets, and internet content from the point of generation to the point of archive. It was recognised as a Leader in Gartner's Magic Quadrant for Content Services Platforms in 2020 for the fourth consecutive year. Today, SharePoint CMS is used extensively for enterprise content management (ECM) due to its ground-breaking integration with Office 365 productivity and communication tools, support for multi-type, multi-format, and inter-content, rich document control ability, including real-time document collaboration, and powerful data security features.
What is SharePoint CMS?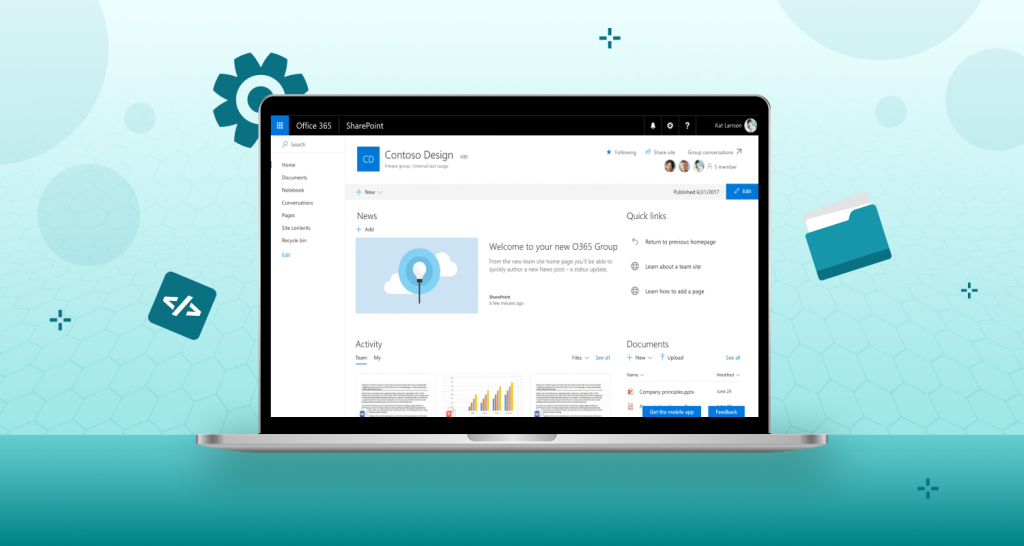 Microsoft SharePoint is a popular content management system. It is now a portion of the Microsoft 365 package, and many companies use it for document storage, tracking, and sharing.
By issuing a document ID to each item on its server, the SharePoint content management system enables you to produce unique documents. Because counterfeited documents do not have the same document ID, these IDs assist firms in identifying documents that have been copied or relocated from their location. Document IDs can also be configured for top-level site categories.
SharePoint's dashboard contains a plethora of capabilities for marketing content management and information tracking. It includes a web analytics application that gives real-time information. This data can be used to create consumer profiles and track campaigns. SharePoint's content audits also assists firms in optimising their SEO approach through the use of multivariate tests.
What Are the Benefits of Microsoft SharePoint CMS?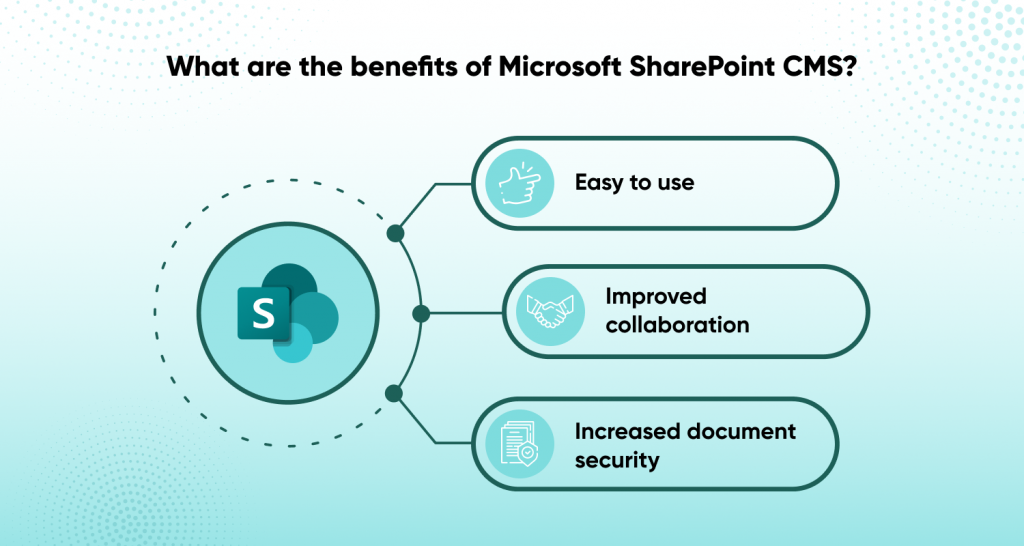 SharePoint CMS is an excellent content management system. You can manage digital assets such as corporate documents, records, media asset libraries, and visual/audio content. This content management system has several advantages. Let's have a look:
Easy to Use
The SharePoint content management system is effective and simple to use. Its user interface provides an intuitive user experience. You can use a variety of devices to access the platform, including PCs, laptops, tablets, and smartphones. Furthermore, its process is simplified, allowing first-time users to simply manage the system's complexities. It can also assist you in automating critical business procedures.
Improved Collaboration
SharePoint document management system enables organizations to exchange documents for collaboration in real-time and making decisions. It enables multiple individuals to collaborate on the same text by handling versioning and keeping a basic history of the document. You can also talk to other editors about modifications.
Increased Document Security
SharePoint can also aid in document security. It effectively secures your papers using encryption and cloud backup. You may also control who sees, prints, and edits your documents.
SharePoint allows you to limit peer and group sharing (i.e., only people who are part of authorised groups can see or edit your documents). You may also set up access inheritance for SharePoint groups, which implies that only particular users in the group will be able to access it.
This prevents unauthorised access to documents. For certain documents, you may also enable security mechanisms including two-factor authentication and an OTP.
SharePoint CMS Features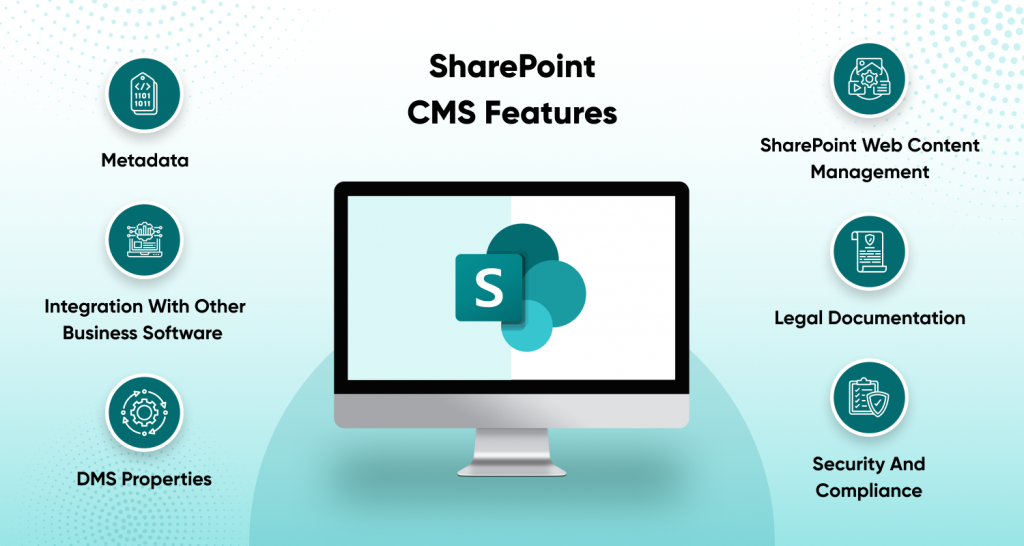 Metadata
Metadata refers to information about data. It allows people to learn more information about the data despite having to access it.
Users can establish both formal and informal categorization systems for their data using SharePoint's Managed Metadata feature. The official hierarchy is known as taxonomy, and the colloquial structure is known as folksonomy.
Admins can create display filters for libraries using taxonomy/folksonomy. You can also construct term sets, which group documents in SharePoint that have a common term. Term sets can be both local and global in nature.
Integration With Other Business Software
SharePoint CMS may communicate with other corporate applications such as CRM and ERP. It can also be integrated with project management tools like Jira. SharePoint can also be linked to other Microsoft 365 tools like Excel, Word, and PowerPoint.
DMS Properties
Although SharePoint lacks important DMS properties such as shared notes capabilities and content indexing (the ability to index-search entire documents), it does provide basic DMS functionality such as permission validation and versioning.
SharePoint Web Content Management
SharePoint includes reusable themes and page layouts that you might use to easily develop web content. Furthermore, firms might reuse templates and theme rules across multiple sites to ensure brand consistency. You can also change the look and feel of the SharePoint intranet. You can always opt for custom CMS development services for this.
Legal Documentation
The eDiscovery Center in SharePoint is a specialist tool for handling, indexing, and managing legal documents.
Security and Compliance
Microsoft SharePoint CMS come with several security features. It has a data encryption feature. Data at rest is encrypted at two levels: disk-level BitLocker data encryption and file-level encryption with a unique key for each file. The SSL/TLS connection protects data in transit.
It also has access control. CMS access with permissions to secure critical content from unauthorised reading, modification, and deletion at any level – from a document to the entire site.
A two-factor authentication feature is available in this CMS. To access SharePoint CMS, enter a password and a code from an email or text message.
SharePoint Content Management Example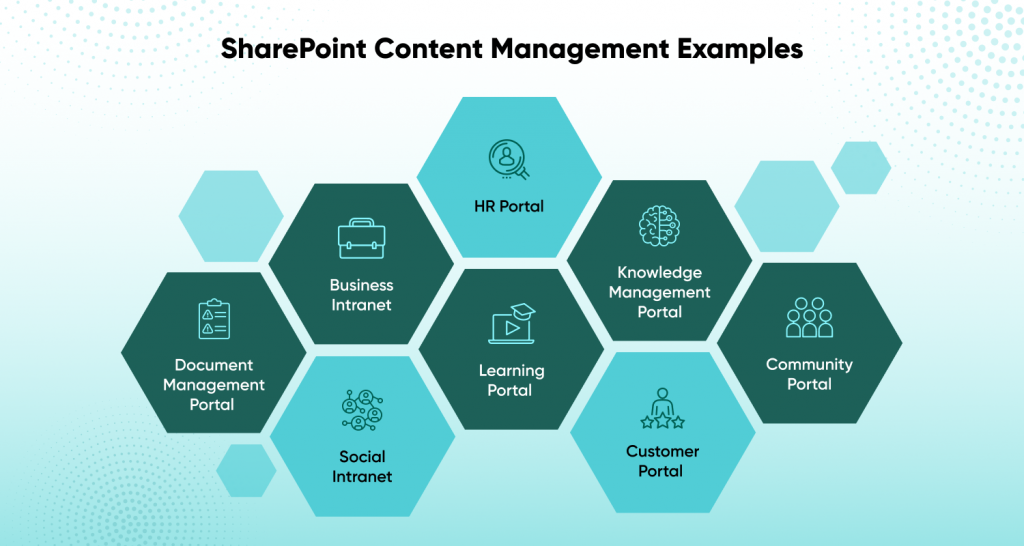 SharePoint CMS makes it simple to generate and manage a wide range of content for intranets, extranets, and portals.
Document Management Portal
You can create templates for documents. In addition, you can also create document workflows with multiple steps that are not linear (e.g., approval, collecting signatures).
It has a document collaboration feature in real-time. You can search for documents by title, metadata, or full text. You can also search filtering and enterprise search. The document access depends on permission. It also has versioning of documents and an audit trail.
Business Intranet
You can use SharePoint CMS for developing a business intranet in your organization. What's even more exciting, you do all of the following using this.
The management company and industry announcements and news
Document administration.
Employee profiles and an organisational chart
Policy administration.
Management of knowledge.
Employee communication and collaboration are formalised.
Management of compliance.
Now you can build your own business intranet.
Social Intranet
You can also build a social intranet and engage with your team. You can manage the following things:
Employee communication that is informal (blogs, forums, discussion boards).
Gamification.
Communities.
Integration of social media.
Surveys and feedback
Galleries of media.
The possibilities are endless with SharePoint CMS.
HR Portal
You can even build an HR portal using SharePoint CMS. Using this, you can do the following:
HR document administration.
Management of employee information.
Employee competency and skill management
Employee benefits administration.
Management of employee requests.
Management of employee learning and development.
Get this now for developing a smoothly running HR portal.
Learning Portal
This CMS is not only related to offices but also to educational institutions. You can build a learning portal with this CMS.
Support for learning content that is multi-type, multi-format, and multi-language.
Management and development of learning content
eLearning Collaboration (e.g., group tasks).
Quizzes and exams are used to assess learning.
Content feedback from students.
Knowledge Management Portal
You can also create a knowledge management portal using this CMS.
Creation and management of knowledge assets (e.g., articles, guides, FAQ).
Collaboration on intellectual property.
Knowledge storage that is structured.
Transfer of knowledge
Advanced knowledge asset search.
Reporting and analytics (e.g., user activity, number of articles created, views).
You can manage such activities using this CMS.
Customer Portal
You can manage your customers by developing a customer portal using SharePoint CMS.
Onboarding of new customers.
Multi-language customer-targeted content creation and management (press releases, knowledge articles, user manuals, etc.).
Customer engagement with the material (shares, likes, subscription to updates).
Ticketing for customers.
Customer comments (surveys and polls).
What are you waiting for? Try this out today!
Community Portal
Communities are important for society. Thus, you can build a community portal using SharePoint CMS.
Management of community membership.
Gamification and social characteristics
Transfer of knowledge
Event administration (e.g., lectures, podcasts).
Ad administration (templates, scheduled publishing, etc.)
Create your own community portal now!
CMS SharePoint Integration
The interface with Microsoft Office is excellent. Again, it may come as no surprise that SharePoint works well with Word, Excel, and other office apps.
SharePoint may be a fantastic intranet solution. SharePoint is likely most famous as an intranet solution, rather than a tool for constructing websites that clients will engage with, due to that fantastic office and employee connection we described a moment ago.
Even though SharePoint is more commonly used for intranets, it doesn't mean you can't use it to create a public-facing website. You simply need to be aware of the constraints before beginning the process. For starters, adopting Microsoft SharePoint CMS as an intensive CMS necessitates a competent programming staff that is well-versed in the software. Another disadvantage is that the design and layout features available on a SharePoint company website are quite limited.
Choose the right SharePoint CMS Solution Company
Content management systems are critical for managing a company's online presence. You need a cloud-based solution to store and transmit information across your organisation, whether you're using it to handle product information, marketing campaigns, or internal paperwork.
By building a central information repository for all of your data, SharePoint CMS can help you complete this work more efficiently. You can also share documents with other teams and view changes in real-time. Hence, choosing a company that provides custom CMS development services is crucial for your business.
Final Thoughts
SharePoint provides powerful and workflow-enabled solutions for improving document control in a company. It is the ideal collaboration tool for small and medium-sized businesses.SharePoint Enterprise Content Management streamlines intranet information governance and administration. This improves communication, cooperation, and workflow within and between organisations. For efficient content management, Microsoft CMS is the way to go, especially if you currently utilise other Microsoft 365 tools. If you want to avail all these services for your business, hire SharePoint developers now.
Take a look at
Frequently Asked Questions
As is always the case, the proper response is it depends. It's ideal for organising various types of documents. As you might expect, the software excels in this area. As a result, if your company's website contains a lot of PDFs or Microsoft Office files, SharePoint could be the ideal solution.The interface with Microsoft Office is excellent. Again, it may come as no surprise that SharePoint works well with Word, Excel, and other office apps. Hire

Microsoft development services

for best results.

SharePoint Content Management System is a CMS-based versatile platform. The following features make it different from others.

Simpleness of use
Navigation that is consistent and provides a logical user experience
Branding is improved by the use of a logo and other features.
Enables faster development
Types of Asset Library Shared Content
Metadata Management Service

For all this, get an asp.net development company now.

SharePoint CMS can help you complete this work more efficiently by creating a central information repository for all of your data. It also allows you to exchange documents with other teams and examine modifications in real-time.

SharePoint can be used as a document management solution.

Templates for documents
Document workflows with multiple steps that are not linear (e.g., approval, collecting signatures).
Document collaboration in real-time.
Search for documents by title, metadata, or full text.
Search filtering and enterprise search
Document access is dependent on permission.
Versioning of documents and an audit trail.

You can use SharePoint CMS for managing the above things by hiring asp.net developers.