It is not long ago when TV was our prime source of entertainment and occasionally we used to give movie theatres for watching the latest releases. Within just less than a decade everything is changed by movie streaming apps. Now, we can enjoy a TV show or the latest movie on Netflix. Yes, Netflix and similar movie streaming apps completely transformed the entertainment industry and made all your audiovisual entertainment accessible anytime and anywhere.
Now, with the phenomenal success of Netflix, Hulu, Amazon Prime, and several others we can understand the huge role played by movie streaming apps in revolutionizing digital entertainment. By 2020 the business volume of video streaming apps is expected to reach a volume of $70B or more. At the same time, Netflix is going to be available in more than 114M households. So, a lot of activities and promises are waiting for entertainment media software services and developers.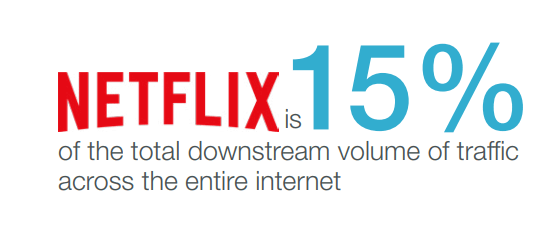 The Netflix Effect: Reasons Why Movie Streaming Apps are Getting Popular
While Netflix literally set the cornerstone of success for the vast majority of movie streaming apps, we need to take cognizance of the key reasons that make movie streaming and entertainment apps popular. Let's have a look at the key reasons.
The convenience of watching movies and TV series right on the mobile screen and on other connected smart devices is the key reason behind the popularity of Netflix and other movie streaming apps in general. Such apps by offering all audiovisual entertainment options just make users feel free from the bond of TV screens. Such apps allow them watching movies or TV shows anytime and anywhere they want.
Most of the leading movie streaming apps including Netflix provide an extensive way to personalize content choices as per the user preferences. By analyzing user behavior and earlier preferences of the users, video streaming apps always showcase content that users are more likely to prefer.
Cost competitiveness of the Netflix content compared to other traditional channels such as Dish TV, Cable TV, and other video content resources make Netflix and similar apps so popular. Compared to the entire length and variety of video and streaming content such apps offer, they are actually more cost-effective than traditional channels.
Monetization Methods for Media Streaming Apps
While mobile apps are increasingly being preferred by businesses to kick off their video streaming apps, they need to consider the key monetization methods for their apps. Some of the key monetization and pricing models for video and media streaming apps include the following.
According to this model, some content is offered as free for the users while other content users need to subscribe to the premium app version. The freemium version is good because of attracting all users with free content and after that attracting them to a more extensive range of content against some fees.
In-app advertising is another popular monetization strategy that works for many apps. This monetization model allows advertisements to be shown in between or prior to the video streaming. YouTube is a nice example of applying this monetization model.
This is another popular monetization model in the video streaming industry. The pricing for viewing the content depends on when and how many times the video is being viewed. Video content can be accessed free for the initial viewing and can be changed later on.
The subscription-based monetization model is the most popular among media streaming apps. In this model, the viewer has to pay a daily, weekly, monthly, or yearly subscription fee to stay as a registered user and for accessing all the contents. Both Netflix and YouTube Premium fall in this category.
Most Important Technologies for Media Streaming Apps Now
In the coming years, media streaming apps are going to be more dominant than ever before and they can really leave behind traditional media and movie industries in terms of viewership and revenue. It is not necessary to say that some technologies are going to play a big role in shaping and reshaping media streaming apps and their content. Whether you hire Android app development service or iOS developers for your media streaming apps, the following technologies are going to make a big impact on your app development and strategy.
Cloud computing allowing any time anywhere access to media and other types of content is going to be the biggest alley of media streaming apps of the future. Cloud computing allows developers to store heaps of media content in a location-independent and device-independent manner will prove to be hugely impactful for video streaming apps of the future.
Artificial Intelligence (AI)
Artificial Intelligence ( AI) is going to transform the media and movie streaming for the years to come. By collecting real-time user data it can derive user insights to make more personalized recommendations and lusting of contents to boost user engagement and increased viewership. Real-time user insights will give the media streaming apps more ease to recommend content that users are more likely to engage with.
Augmented Reality (AR) and Virtual Reality (VR)
AR/VR will further make inroads into the media streaming apps as they can bring the storytelling effect into the media streaming. By creating an immersive environment where viewers feel like part of the story, the streaming media content can boost user engagement. With the popularity of 360-degree videos, action videos and drone photography, there will be more streaming media utilizing AR and VR led innovation.
Blockchain will deliver another range of value addition to the streaming of movies. By automating real-time bilking for the movie industries and by establishing real-time links with direct usage and billing mechanism, Blockchain will bring revolution in the economy of media streaming. Blockchain-based cryptocurrencies and coins can also be popular for making payment for accessing media content in the time to come.
Finally, the emergence of superior and high-speed 5G connectivity coupled up with the connected smart things will help to access media content even easier. Already connected surveillance camera systems, remotely connected camera systems used for capturing outdoor life and movement and connected drone photography are proving to be tremendously effective for streaming video content from the various environments. We can expect more IoT led innovative streaming content to appear in the media streaming apps of the future.
Conclusion
While video streaming apps will continue to be popular, the unique content, niche audience focus, and app performance are going to play the most crucial role in streaming app success.