Today, mobile technology is redefining our lives, industries, and online consumer experience. This is why businesses are investing in fully-functional and high-performing applications that help bring success and profitability. One of the application concepts that has gained popularity and is being developed by numerous companies is Progressive Web Apps (PWAs). Some common benefits of PWAs include – an increase in overall engagement by 137%, a rise in the number of mobile sessions of a site by 80%, a lowering of bounce rate by up to 42.86%, and an increase in page views by approximately 134%. Interested in investing in PWAs to reap their benefits? Check out the following article that lists the top progressive web apps examples for inspiration and get started!
What Are Progressive Web Apps (PWAs)?
Before we jump directly into the top progressive web apps examples, let us discuss what PWAs are all about.
A Progressive Web App or PWA is an application type that is available on the web and built using general technologies like HTML, CSS, and JavaScript. The benefit of these apps is that they can be accessed on all devices, including mobiles and desktops, that have a web browser. But, the obvious question that arises here is that web applications have always been accessible on mobile devices; so, what is so special about PWAs?
Well, traditional web applications are slow, have fewer traits, and are not utilized as much as native mobile apps. On the other hand, PWAs are a type of website or webpage that does not require discrete distribution or bundling. Moreover, unlike native apps, users do not need to install PWAs via Google Play and Apple App Store. Our custom web application development services include the development of PWAs that help businesses better target customers.
What Are The Prime Features of Progressive Web Applications (PWAs)?
As discussed, PWAs function on browsers and are therefore accessible on all browser-compliant devices. When talking about cross-platform resolutions, the aim of these apps is to assist developers in the effortless development of cross-platform applications. Today, most browsers support all characteristics of PWAs which has also contributed to their popularity.
The prime features of PWAs that differentiate them from traditional applications are as follows:–
Independent of connectivity – PWAs are highly popular because they are capable of functioning on low-quality internet connections. Moreover, some features and functionalities of these apps are also available offline.
Compatible with browsers and highly responsive – Since PWAs are developed keeping mobile and desktop users in mind, designers and developers focus on building an app whose content and functionalities are available to everyone.
Push notifications – Today, almost every app sends regular push notifications to keep users updated about different features and help draw their attention. PWAs also employ push notifications to keep customers more involved and encourage them to better interact with the application. When we discuss the top PWA apps example, you will notice that a lot of them utilize push notifications for better engagement.
App-like interface – PWAs have an interface that is similar to native mobile applications, meaning that these have the best of both worlds.
Linkable – Since PWAs are accessible via all browser-compatible devices, it is easy to share them via URLs. This means that users do not need to undergo complex installation processes to access the app.
Self-updates – Unlike native apps, PWAs do not need any manual updation. In case of any updates, the newer versions are directly deployed on the same URL as the existing application to ensure that the changes are visible across all browser-compatible devices.
Installable – Although PWAs do not have installation processes similar to native applications, they are installable. All you need to do is install a home screen icon without using any online stores to access the PWA and its functionalities.
Safety – Since PWAs are available on browsers, they are served through HTTPS, which helps ensure that unauthorized users cannot access the app content. This is why all examples of PWA that we will mention in the next sections are popular and widely used.
What Are The Top Progressive Web Apps Examples That You Can Draw Inspiration From?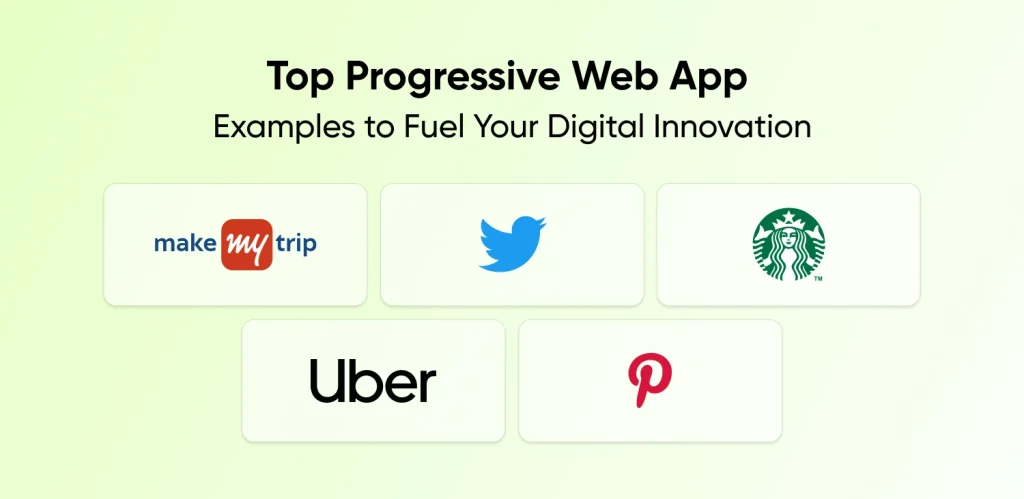 Although there are numerous PWAs available in today's industry, we will discuss the top progressive web apps examples in this section. These PWA examples are perfect to draw inspiration from and will help you better understand the numerous elements that you must include to ensure they take the industry by storm.
MakeMyTrip
If you are questioning what is a progressive web app example, you are at the right place! MakeMyTrip is one of the best progressive web apps examples that we can kickstart this article with. Created by India's most prominent travel and booking organization, MakeMyTrip suffered high bound rates and had to spend a lot of money on customer acquisition. However, the business took the right step and decided to leverage the benefits of PWAs. This helped them create an app that not only ensured better customer engagement but also helped lower investment costs. With MakeMyTrip's PWA, some important results that they noticed are:-
Increase in page load times by 38%
User sessions rose by 160%
Conversion rates saw a 3x rise
Starbucks
Starbucks started its mobile ordering app in 2015 but has gained a lot of popularity since and has become one of the best progressive web apps examples. However, their app was not suitable for developing markets like rural areas and places where internet connection is not stable and quite slow. This put the company in thought and they wanted to ensure that customers can browse the Starbucks menu and include items in their cart even without a stable internet connection. And, it is exactly why they decided that a PWA would be the best option for them to cater to rural and urban markets. Starbucks' PWA is extremely user-friendly and impressive and performs effectively like a fully functional app even in areas with unstable internet connectivity.
Pinterest
Pinterest is one of the top progressive web apps examples that you can draw inspiration from. The app is one of the top social media networking apps that allows users to look for and curate images, videos, and other visuals. However, the major issue that the app faced was that it had very low sign-up and conversion rates, which is why they decided to switch to PWAs. Pinterest's app is a data-friendly solution for users and utilizes features like push notifications and low bandwidth usage which makes it one of the best examples of progressive web apps. Some remarkable results the company saw after launching its PWA are:-
An increase of 44% in user-generated ads returns
An upsurge of 40% in the total time spent on their mobile web
Increase of 60% in Pinterest's user engagement
Rise of 50% in ad click-through which helped revenue

Uber
Uber is an international ride-sharing app that has always taken on new markets and done so quite successfully. The app helps users request and book rides as quickly as possible regardless of their location and internet connectivity. But, as the app expanded, it put a lot of pressure on their databases and demanded that their app be capable of handling increasing user needs. Uber's PWA is not only capable of working on devices with unstable network connectivity but also on low-end devices. It also helped the company reduce the app's size and brought it down to 50kb, which ensures that the app can load rapidly and is easily accessible.
Twitter Lite
Twitter (now, X) is popular for being a fast-paced social networking application and is undoubtedly one of the best progressive web apps examples. The application's users love the platform for being able to quickly make posts or share their thoughts with people. People can also join digital conversations about trending topics and take a step towards creating a better network. However, if you have been an old Twitter user, you will know that the app has not always been as lightweight and intuitive as it is today. Previous versions of the app were not flexible and quite heavily loaded, which is why the platform decided to update its application to a PWA. After this switch, Twitter noticed an increase of about 75% in the tweet volume, a 65% rise in pages per session, and a decrease of 20% in the bounce rate, making Twitter the best progressive web app example.
Why Are PWAs So Popular And Why Do Businesses Seek Them?
The concept of PWA was introduced by Google in 2015 and has since gained a lot of popularity. Some reasons why PWAs are being preferred by numerous developers and businesses all across the world include:-
Progressive – When compared to traditional applications and websites, PWAs are highly progressive. What exactly do we mean when we use the term "progressive" with respect to PWAs? Well, this refers to the fact that PWAs are compatible with all browsers, making them accessible on numerous devices. This is a great advantage over native apps that can only be accessed on a specific browser or platform.
Responsive – In today's generation where most of our lives revolve around our mobile devices, websites and applications need to be responsive. Since PWAs are developed keeping multiple device formats in mind, they are highly responsive and are preferred by search engines.
Capable of working offline – Most websites cannot run without internet connectivity, but mobile apps can run on unstable networks too. PWAs work by caching application data and are developed to function even without network connectivity.
Highly efficient – Since PWAs are fast and highly functional, they provide great user experiences. As soon as these apps are downloaded, users can sign up or log in and start using the app at their convenience.
With so many advantages offered, it is obvious that businesses are investing in PWAs to reap the benefits. We recommend getting your PWA developed by the top progressive web app development company to take the industry by storm!
Conclusion
With so many PWAs available across different industries, there are numerous progressive web apps examples that you can draw inspiration from. Not only do they offer great user functionality, but PWAs also employ advanced technologies to ensure they are relevant to today's standards. We hope the above article provided you with enough progressive web apps examples and helped you understand how they can help your business.
Interested in developing a PWA for your business to better fulfill customer demands and reach them? Hire progressive app developers with years of experience to ensure that your dreams are brought into reality. When you get in touch with our development team, we ensure discussing your needs in depth and plan a strategy that works.