Web development has been a growing trend among businesses and entrepreneurs. In the last few years, web app development has helped the business owner to expand their business and gain potential customers. However, developing website applications is not everyone's cup of tea. Despite the lack of resources, inexperienced staff, and no expertise, you can still develop web apps. This is where businesses turn to Outsource web development.
Outsourced website development is catching on with companies looking for a professional-looking site.
Statista says the IT outsourcing market will cross $400 billion in 2023. Almost no company and business owners dispute the value of outsourcing web development. It can be not easy to select the right outsourcing partner.
As a convenience to you, we have prepared this comprehensive guide. Here, we provide a detailed explanation of outsourcing web development services and the steps to finding the right Web App Development Company. Keep reading to find out more.
About Web Development Outsourcing
The process of outsourcing web development involves entrusting the project to another individual or company instead of hiring internal personnel or relying on expensive tools.
Creating a customized website requires third-party specialists with the necessary expertise and skills.
By choosing a reputable outsource web development company, you can build high-performing web apps. Witness some of the successful Web Application Examples like Twitter and Instagram. You develop such scalable apps and build a legacy by making the right choice at the right time.
Types of Outsourcing Web Development Models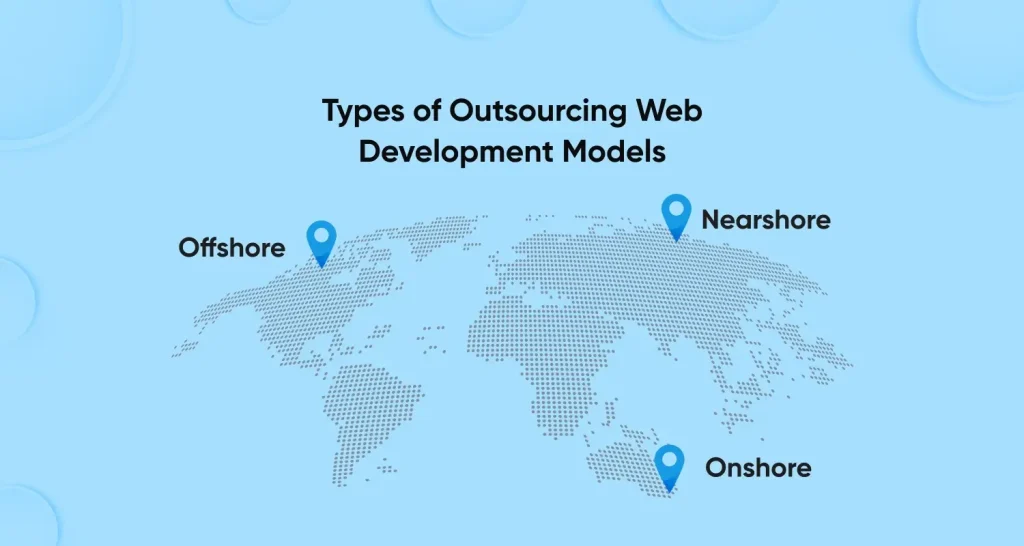 Outsourced web application developmentcan be quite rewarding, but it also comes with some challenges. There is much to do, from selecting an outsourcing provider to negotiating the contract terms and signing the contract.
However, before you move forward to build a web application, familiarize yourself with the critical types of web development outsourcing in order to decide which one you require.
Nearshore Outsourcing: A nearshore outsourcing approach involves partnering with companies or service providers near your home country. Compared to offshore outsourcing, this provides many of the same advantages like reduced costs and a wide pool of talent without the risks or challenges of offshore outsourcing.
Offshore Outsourcing: An offshore outsourcing project is one where a company or individual is hired to complete the project overseas. By outsourcing this work, companies can reduce labor costs and utilize skilled workers abroad.
Onshore Outsourcing: The term "onshore outsourcing" involves hiring a company or individual from your country to perform a task. As opposed to its offshore counterpart, this type of outsourcing can provide several advantages.
Is it Right for You to Outsource Web Development?
Hiring an outsourcing company is the best option for a business to build a website that functions well and is visually stunning. Managing everything on your own is not practically possible in development when you don't have a full-fledged development team.
However, it is said that outsourcing has become a common and most in-demand trend in the IT industry. Here are the following scenarios that call for outsourcing web development services.
Insufficient in-house expertise
The need to reduce costs
Having difficulty launching your website or application
Lack of access to the latest technology stacks and frameworks
Identify and focus on the business's core functions and competencies
In light of the above, it might be better to outsource your web development if you're facing any or all of these situations.
Benefits of Outsourcing Web Development
It is beneficial for your business to outsource web application development services. As a result, you will receive the following assured benefits.
Enhanced time-to-market
Developing your website or application faster can be achieved by outsourced website development. A team of experienced external developers can help you avoid the delays and hassles associated with building and launching an application or website from scratch.
Enhanced Risk Reduction
By opting to outsource web development to India, you can have peace of mind that your project will be managed by experts. This results in reduced risk. You can seamlessly communicate with an Indian web developer to discuss your project. With experienced web developers, you hardly witness development and deployment errors.
Prioritize Key Activities
Outsourcing web development lets you concentrate on your core business activities. Following approval of the details of your outsourcing web development project, approval to commence the work is all that is required.
The company that develops your website will handle all the hard work and keep you updated on all developments.
Focusing on the core business activities is more effective rather than worrying about who will do what.
Recruit Skilled Personnel to Scale Up
The ease of scaling up with outsourcing allows companies to expand quickly and easily without adding additional staff. Especially for small and medium-sized businesses, which face time and financial constraints. A significant advantage of hiring skilled developers is that they can even provide unparalleled VueJS Development Services.
In addition to increasing their productivity, web development adds another dimension to their work that may not directly benefit their efficiency but could increase their global reach through a website or web application.
Outsourcing your web development will enable you to scale your business more efficiently and quickly.
Enhances competitiveness
Outsourcing ReactJS development services from a company with good knowledge of ReactJS will provide you with top-quality ReactJS development. This is strategy will increase your customer base and help you outperform your competitors.
Step-by-Step Process: Outsourcing Web Development Projects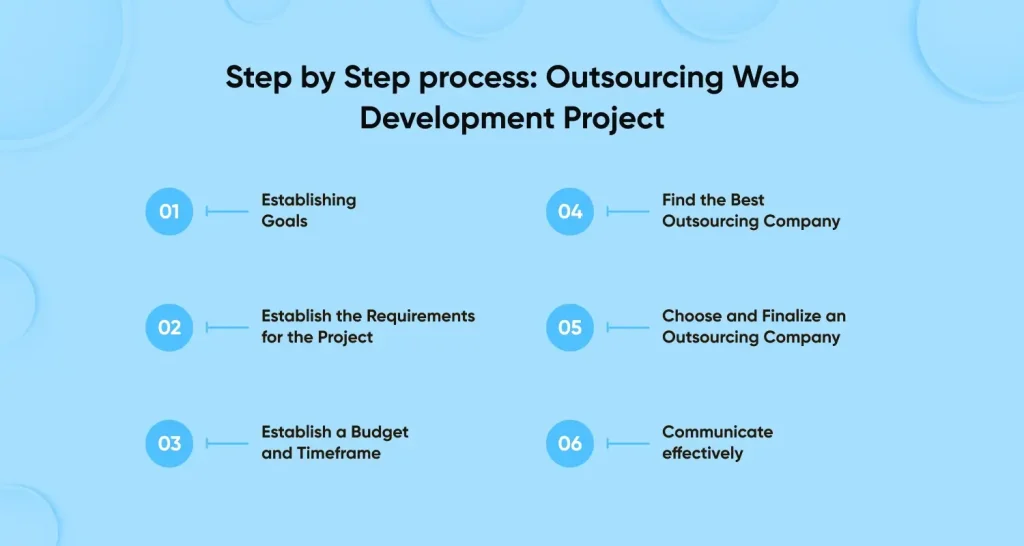 Whenever you choose to outsource the development of a web solution, it is essential to take your time with the decision. It is important to take the time to fully comprehend your project's scope and the steps involved in its development before starting any development.
Secondly, you need to conduct research in order to find a reliable outsourcing web development company that provides web development services.
Here is a step-by-step guide to outsourcing web development projects.
Step 1: Establishing Goals
Before outsourcing your project, it is necessary to thoroughly understand the project's purpose and determine its ultimate objective. If you want your project to meet its goals, you must gain clarity on a few things about it.
The purpose of the web application
Aspirations for the project
What problems does it solve for customers?
How will it benefit the end users?
h3>Step 2: Establish the Requirements for the Project
With a precise overview of your project and definite specifications, it will be possible for you to communicate the requirements to your outsource web developereffectively. Additionally, if you do not have clarity over your requirements, you will lose money and time, as the developers may not be able to deliver the project as per your expectations or may not be able to fulfill all of your requirements.
Thus, it is necessary to specify the requirements of the project and share them with the outsourcing team. By clearly outlining the requirements, you will also be able to decide whether you need a team-based model, a process-based model, or a model that augments existing staff in order to perform the service.
Step 3: Establish a Budget and Timeframe
When you have established the requirements for your project, it is time to estimate how long it will take to complete it.
Timeframes for web solutions will vary depending on the complexity and size of the project.
An informative website can be developed faster than an eCommerce website or a web portal customized to a client's needs.
Therefore, your timeline and milestones should be considered as your project progresses.
After determining the time frame, create a budget. There is a budget for each type of project, according to its requirements.
By evaluating the project plan, outsourcing companies estimate how many hours are required to complete the project. Taking a timeframe into account allows you to have a fair budget estimate.
Depending on your budget, there are various outsourcing companies that can help you with the development of your website.
In addition, depending on your budget and needs, you can decide whether it is better to outsource onshore, offshore, or nearshore, depending on what fits your needs.
Step 4: Find the Best Outsourcing Company
During this step, you should shortlist a handful of companies that specialize in outsourcing web development or web app development. Depending on the type of project and the budget you have, you will need to assess each of them.
The ideal company must offer a wide range of services, use a technology stack that is current, have a strong portfolio and testimonials from satisfied customers, be transparent about their pricing, and offer secure payment methods.
Obtaining this information from a company's website is easy, but it is always a good idea to double-check before you make a final decision. In order to ensure that all these factors are met, create a list of questions you should ask them before you Hire Web Developers.
Step 5: Choose and Finalize an Outsourcing Company
The next step after selecting a company for outsourcing is to prepare a contract and settle the details.
Every detail of the contract, from the specifications for the project to the payment terms, should be spelled out.
defining the deliverables is crucial as well; you should also indicate what results you want the project to achieve.
Signing a clear contract is the best way to avoid outsourcing risks and keep absolute transparency.
Here are some details to include in the contract:
An overview of all web development services available, including back-end and front-end development, as well as full-stack development
Stacks and frameworks to be used
Project milestones and timeline
Details of the payment (hourly or fixed rate)
Results sought by the work
Term and conditions of task execution
Step 6: Communicate Effectively
'Communication' is another essential aspect of successful outsourcing. Communication is vital between you and the outsourcing company. Having a clear understanding of your vision allows them to create a web solution that can meet your vision fully by putting features and functionalities into it that match your project specifications.
So be sure that your project manager is capable of communicating your vision to the developers along with a detailed description of the project requirements, goals, and overall project objectives.
The other problem with outsourcing is the possibility of having time-zone differences which can result in communication gaps due to the lack of consistency in communication.
Therefore, you should only hire a company with experience working in various time zones.
As a result, they use online communication tools such as Skype and video chat to communicate with their clients, adapting to their schedules as necessary.

Conclusion
Outsourcing web development projects has numerous benefits and saves you time and effort. But you must hire a web developer with core expertise in managing the development project and an excellent track record of delivering top-notch development services.
Frequently Asked Questions
Outsourcing a web development project involves numerous steps and processes, from determining the goals and project requirements to choosing the right outsourcing team who can create top-level web applications.

Outsource web application development offers several benefits, making it worthwhile to consider this option when designing a new website or web application.

Aside from talent, you also gain experience with methodologies and processes essential to efficient and successful web development.

Cost reduction is one of many reasons why companies outsource web development. The benefits of outsourcing web app development include the following:

Accessing the best talent.
Reducing hiring and firing time.
Increasing flexibility.
Speeding up development.

To outsource the web development project to an Indian company, start with certain steps like understanding the nature of your project, finding the Indian outsourcing development team capable enough to manage the development project, and finally, discussing the project with the potential developer.