As today's digital landscape is changing and more and more advanced technologies are coming to the spotlight, APIs are gaining popularity. But, why so? Well, APIs allow systems to retrieve and utilize data present in some other application or ecosystem and speed up different business processes. A great example is Google integrating a weather forecasting API to show users relevant weather updates. When talking about the insurance technology (insure-tech) industry in India, there has been tremendous innovation growth. Moreover, with customers looking for personalized approaches and services, insurance APIs have become popular.
Insurance APIs are a great way for insure-tech companies to integrate with insurance companies and reap the mutual benefit of better business opportunities. A great example of Insurance API utilization is the availability of add-on passenger or baggage insurance when buying flight tickets. This is why Insurance APIs are one of the most popular insurance products in today's digital India. If you are a business, it might be a good time to utilize insurance API integration services to better fulfill customer demands and offer better services.
Are you looking to invest in Insurance API integration but are confused about which Insurance API to use? To help you find an Insurance API that is best suited for your project, we have compiled a list of the top Insurance APIs available in India. So, jump right into it and get started with knowing more about Insurance APIs that you can utilize for better business profits!
List of Insurance API Platforms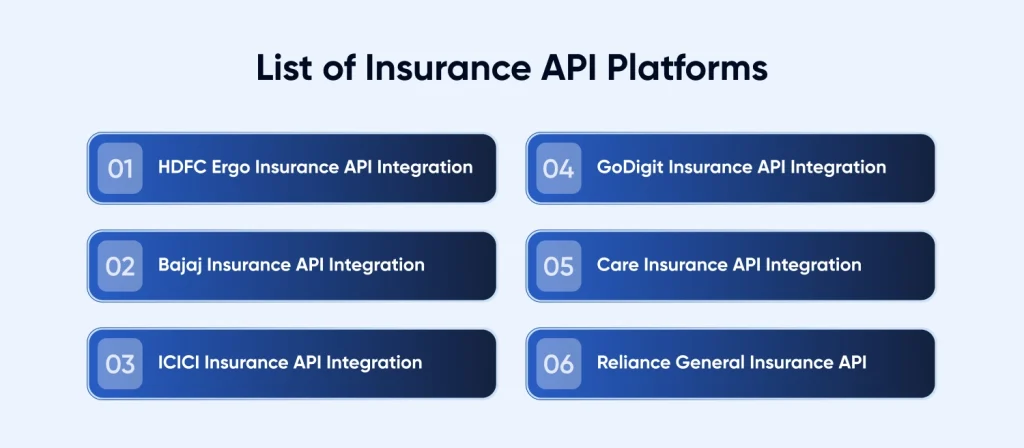 To make it easier for you to find the best Insurance API, we have compiled an Insurance API list that you will find in the below section.
1. HDFC Ergo Insurance API Integration
HDFC Bank offers developers with a wide number of APIs listed as follows:-
Accounts and Deposits – With these APIs, developers can add features that allow customers to invest and enjoy HDFC banking services with your application.
Building Blocks – These APIs are used by developers to add essential services that range from PAN validation to multi-bureau checks and customer demographics.
Cards – With the Card APIs, developers can fulfill varied customer card requirements including credit cards to Forex while also enhancing the overall user experience.
Loans – HDFC's loan APIs allow developers to embed the bank's loan products and services into your application and streamline different business processes.
Payments and Collections – With the payments and collections APIs, developers can utilize HDFC's services that focus on helping businesses fulfill their daily financial operations.
With so many APIs available on HDFC's platform, a lot of businesses prefer investing in HDFC Ergo Insurance API integration. If you are looking to get started with Insurance APIs but are unsure about what services you need, we recommend checking out HDFC's insurance API platform.
2. Bajaj Insurance API Integration
If you are looking to integrate insurance services and products offered by Bajaj Allianz General Insurance Company Ltd. (BAGIC), you will be glad to know that they have an API platform for developers. With the Bajaj Insurance API integration, developers can integrate cyber insurance and health insurance services into their applications. What's more? BAGIC also offers APIs that allow developers to offer features related to insurance policies for cars, commercial vehicles, homes, travel, and two-wheelers. With so many APIs available to ensure customers have access to great insurance products and services, we recommend utilizing API integration services for greater efficiency and accuracy.
3. ICICI Insurance API Integration
One of the leading insurance providers in today's industry, ICICI Bank also offers a wide range of APIs dedicated to helping developers utilize insurance data for better fulfillment of customer needs. ICICI bank also has an official API portal that lists numerous APIs, which also makes it one of the top platforms for insurance APIs in the industry. This is why a lot of businesses are currently investing in ICICI Insurance API integration and introducing application services for better customer benefits.
4. GoDigit Insurance API Integration
GoDigit is a general insurance company that issues insurance policies for cars, two-wheelers, and commercial vehicles. Customers can easily fetch their GoDigit insurance policies via their DigiLocker accounts, which attests to the fact that it is a popular insurance company choice. With GoDigit General Insurance's API, developers can instantly start utilizing ready-to-use mock samples. This will not only help boost the overall development speed but also increase the speed of the application. We recommend trying out GoDigit Insurance API integration at the earliest to remove all tedious tasks and reduce your application's dependency on unreliable third-party applications.
5. Care Insurance API Integration
Although Care Health Insurance is a private entity, it is available on DigiLocker and offers great insurance facilities to customers. The entity offers its customers numerous insurance policies ranging from health insurance to travel insurance. If any of Care Insurance's services seem like the perfect accessory to your application, we recommend investing in Care Insurance API integration to reap better business benefits.
6. Reliance General Insurance API
Reliance General Insurance Company policies are some of the industry's best and are also available on DigiLocker. With numerous APIs, Reliance General Insurance is a great choice for developers looking to add insurance features. The company offers APIs related to their travel, commercial vehicle, car, two-wheeler, and health insurance policies. Developers can utilize Reliance General Insurance API integration to benefit from the company's insurance APIs and provide customers with better features and facilities.

How to Choose the Right Insurance API Platform?
With numerous Insurance API platforms available in today's digital landscape, the crucial question is how can you choose the right one. After all, customer needs must be the prime focus and you must choose an insurance API platform that caters to most of these to reduce the overall development time and cost. To help you better understand how you can choose the right insurance API platform, we have compiled a list of a few factors that you must consider. Check these out to ensure that you have chosen the right platform that provides your development team with access to all the Insurance APIs necessary to guarantee great customer experiences.
1. Free vs Paid
Whenever you are building an application or a platform, the total investment required is the first question that comes to mind. A lot of businesses jump at the opportunity of free features and integrations, but you must keep in mind that it can require you to compromise on the quality. We recommend figuring out your budget before determining which of these options are the best for you. Note that API insurance services available on open-source or free platforms might lack support and detailed documentation. If you have an expert development team, free insurance APIs can be a feasible option.
2. Enterprise Solutions vs Startups
The list above mentions the top Insurance API platforms present in today's industry, but when determining which platform is the best for you, you must factor in the company's experience. For example, enterprise API solutions are developed by dedicated teams with years of experience, whereas API solutions developed by startups might not cover all necessary areas. This means that although enterprise insurance software solutions might cost more, these are generally scalable and offer developers with access to nearly unlimited resources. We also recommend getting in touch with the API's development team to ensure that it is capable of handling your business and customer needs as you grow.
3. Low-Code vs Traditional APIs
A few API platforms offer APIs for insurance companies that are particularly low-code and aimed at allowing those with not much technical expertise to utilize them. On the other hand, traditional APIs might take a lot of time and require more developer experience to ensure proper integration. We recommend choosing one that your development team can easily integrate with your application.
Some other factors that we recommend looking for in an Insurance API platform include:-
The platform must be compliant with common standards like the GDPR and HIPAA (especially for health insurance services)
Best API testing tools to perform security tests with ease and ensure that your platform is secure and functional
The presence of extensive documentation to help developers figure out solutions to code faults and problems
API templates and lifecycle management features to ensure proper maintenance
Conclusion
In today's industry where everyone is looking for applications offering added accessibility, convenience, and access to personalized features, insurance APIs are a great solution for businesses. With numerous benefits to the insure-tech industry, insurance APIs have become popular, making it a great time to invest in Insurance API integration.
Are you thinking of trying out insurance payment gateway API integration or want to integrate some other insurance service with your application? We recommend getting in touch with our expert development team for quick development of functional applications and integration with popular insurance APIs.