When people think of travelling, they usually think of fun experiences, such as exploring new sites, eating new cuisines, and relaxing in cosy accommodations. However, one of the most considerable hardships of travelling is getting there. For some, a plane, train, or automobile will take them from their homes to the places they want to see.
Although travel is always an adventure, travelling between two different places when you're a tourist can sometimes be a daunting experience. However, when you take a virtual tour of your destination, you can see more and better understand what it offers.
Are you unsure of what is being discussed above?
We are hinting at a city tour guide app built by the Travel App Development company that can be your pocket assistant and work as a charm for travelling pleasantly in the future.
Features and Facts of Successful Travel App
The tour guide mobile app leverages the latest location-based technology. It provides users with a personalized experience helping them to find their way and explore their city in a new way. The purpose of the tour guide is to help visitors find the local places of their cities they have never visited so they can discover them and start learning more about them.
It can also provide directions from one place to another for users unfamiliar with the city and who do not have a map. Travellers can immerse themselves in the culture of a town and build a better understanding of it by interacting with local businesses and taking walking tours without any fear of being lost in the new place.
Must-Have Features and Functionalities to Build a City Tour Guide App
Google Navigations
One of the main benefits of integrating Google Maps into the city tour app is allowing users to follow the right direction. Users must use the app's internal navigation system from point A to point B. Integrating Google Maps will allow users to follow the screen's directions without using the app's navigation system. It will save users time and also help them get better navigation.
The integration of Google Maps will allow users to follow the right direction while visiting the places of the city. The app will provide users with a guide to the sites and can also be used as a guide to the other parts of the city. This will allow the users to immerse themselves in the city's culture and build a better understanding of it. At the same time, the Geo-location tracking feature in the city tour guide app will provide:
The live location updates.
A navigation route.
Various other details can provide accurate location of the visiting places and navigation route.
Weather Forecasts
Keeping your users updated on weather conditions can help you generate more revenue from your app. For example, if it is raining in your user's current location, they may want to postpone their visit to the museum and be more likely to visit it on a sunny day. Weather updates can help your users plan their trips more precisely; an accurate weather forecast can help them plan their journey accordingly.
Multi-lingual
You should add multiple language support for your city tour guide mobile app. Different languages require different interface conventions, and users of different cultures may have different expectations for your application depending on their preferred language. Your app should be accessible and intuitive regardless of which language is spoken.
In-app Translator
An in-app translator is a feature built into an app and translates what is being typed on the keyboard into something the user understands – like another language-through a speech-to-text engine. Because of this feature, the app can provide a better, more personal experience for the user. Some apps include the translator by default, while others offer it as an additional one.
Push Messages
A city tour guide app has several uses: it can give users push notifications to stay informed about the event. Secondly, it can offer them recommendations for spending time and where to go based on location. Thirdly, and most importantly, the Language Tour guide app can help to improve language skills by providing them with the most up-to-date and complete language learning content available.
Panic Button
The most common reason people visit a new city is to begin a new journey. While some people will travel through a new city for sightseeing, others will travel long distances to explore a new place and experience a new culture. Providing a panic button in your app makes it easier for users to get help in case they are in danger by giving them an option to quickly send an alert to an assurance point if they are in an emergency.
Social Sharing
With social sharing, travellers could share their experiences on their social media platforms through the new social feature. This feature allows users to share their experiences with others on their social media platforms and embed a link to the place itself for anyone to visit. Users can share stories and experiences with friends, family, and the community.
Past Tour
Users can see the places they have been to and the dates they have been there. This feature will help users to get accurate information about the places they have visited. Mobile previews will provide a visual preview to help users quickly understand where they are visiting and how they can get around.
Audio Mapping
An audio map is a mapping that is created using audio signals and can be shared on different platforms and viewed on devices with audio capability. The city tour guide app with an audio mapping feature can help explore a specific location through a tour and narration.
Rate & Review
This is a new feature to help the users to get accurate information about various city places, and it can even help the locals to know their city better than ever through the travellers' reviews.
Trending Features That Must Be a Part of Your Travel App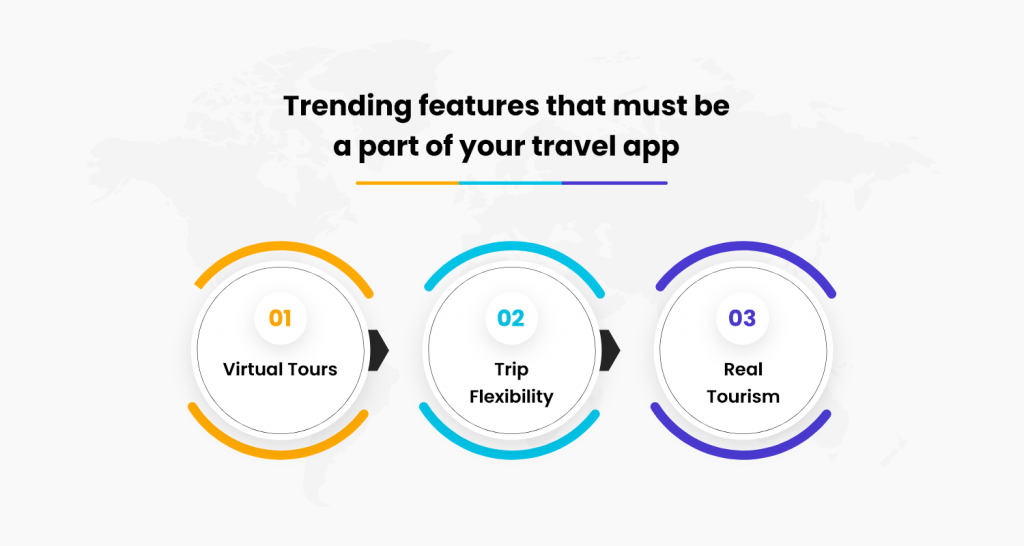 Virtual Tours
The primary purpose of building a mobile app is to provide users with a real-time platform where they can experience your product. This can be done by using virtual reality facilities within your app. The first thing your users will experience when they enter your app is a simulation of the place you want them to connect with. This allows them to get a feel of your product before they step into the place.
This will give the users a chance to better understand the space, the ambience, the wind, the rain, the sounds, the smells, and the textures of the place. When you Hire Mobile App Developers, this feature will allow you to expand your business to new areas and bring in more revenue when the users experience the connection with the place. '
Trip Flexibility
A travel app allows travellers to cancel, re-book, or get any other required support while travelling. Your app is the first point of contact between your customers and the city they visit, and it's an opportunity to provide a unique experience that sets you apart from your competitors. You can build a platform that enables your customers to navigate your city easily, customize their experience, and connect with the places they're most interested in visiting.
Real Tourism
Real tourism is about the real world, where travellers can experience the actual world. Your app should give users more options to connect with the real world. These could be places where users can go camping or what are places they can go to dive into the ocean to watch the beautiful underwater world we cannot be a part of. It could also be places where users can go hiking or places they can go to enjoy a quiet stroll on the street where they can meet the people who live in the city.
See Also: Top Travel App Ideas for Startups
Travel App Development Cost in 2023
The mobile app development cost is determined by the feature sets required. For example, for developing a mobile app that is aimed at providing analytics, the app development cost is usually determined by the features needed for the analytics, such as reporting, dashboards, charts, etc.
The cost of the app varies across the mobile development lifecycle, from the initial development phase to the development-ready mobile app. The development phase involves a lot of planning and preparation required before a mobile app development project can begin.
Hence, the cost can vary anything from $10,000 to $100,000 or beyond, get in touch with your app developer to get the ball-part figure for your app.
How to Monetize Your City Tour Guide App?
When it comes to making money from mobile, there are currently three primary monetization models: subscriptions, in-app advertising, and exclusive features.
There are many ways for businesses to monetize their mobile apps. Most revolve around in-app advertising, where money is exchanged for the user granting access to premium content or features. This means that the app developer is essentially making a deal with the advertiser and getting a cut of the value exchange in the process. This is not a bad deal for either party since the advertiser is getting additional exposure for its brand, which helps increase brand awareness and, thus, revenues. In contrast, the developer is getting paid for each ad served and each additional user-generated.
Free Version
You can keep some of the features reserved for premium members only that they can access after purchasing the subscription. This benefits you because you can keep your valuable information safe if you aren't a premium member. This will let you use the same information and access it anytime. It also helps you quickly access your data when offline.
Paid Version
One of the most significant benefits of using a travel app is collecting extensive data on travel behaviour. It is precious for local businesses to build an audience and for marketers to identify their best prospects.
The app must provide local businesses with a tracking tool to see how their user base has changed over time. It should be noted that the app should be used to show the business's ROI and how the industry has benefited from its users.
City Administration Collaboration
Your city tour guide mobile application would enhance a visitor's experience of a city and bring a new level of engagement. It would also improve the local business by increasing the number of people coming into a city, boosting foot traffic, and getting people acquainted with the city.
Conclusion
There are a lot of new mobile apps in the market, but their developers are not as experienced. This is a pity because apps that deliver a good user experience are usually more profitable than those that don't.
A city tour guide mobile app can be more than just a mobile app. But, it can be beneficial only if the app development company has enough years of experience and expertise.
We at CMARIX, provide a complete end-to-end solution for app development, from the design to the deployment. Whether a straightforward single-page app or a complex multi-page app, the app service can provide end-to-end solutions for any of your app requirements.
Request an application development quote from the right app developers today.