To beat the global pandemic and cater to the needs of patients all across the world, the global healthcare industry had to adopt numerous advanced technologies. Another reason is due to the wide adoption of digitization that has forced industries to evaluate their positions and utilize it to ensure seamless and efficient processes.
New technologies focused on electronic health records (EHR) and electronic medical records (EMR) help simplify the consultation process and allow doctors to better manage the data available. According to recent statistics, about 95% of hospitals in the US are utilizing certified EHR platforms, proving that EHR software development is in focus now and is set to witness massive growth.
Another report suggests that the global EHR market size is set to grow at a 9.3% CAGR and reach a valuation of USD 52.98 billion by 2027, making it a great time to invest in EHR software development. After all, EHR systems facilitate the use of e-prescriptions and e-documents and simplify the consultation process via digital mediums like video calls. Moreover, with the added focus on telehealth and CRMs after the pandemic, a lot of businesses have realized that EHR systems have a far-reaching impact on the entire healthcare system.
If you are not sure whether you must invest in EHR systems or not and would like to learn more about them, you are at the right place! In the following article, we will discuss all about EHR software development including the reasons why we need it, the different types of EHR systems, and the benefits associated. We will also discuss how to develop an EHR system, the average cost associated, and answer some commonly asked questions about EHR systems. So, what are you waiting for? Let us jump right into it and start our conversation around EHR software development.
What is an EHR System?
Before we start talking about EHR software development, we must discuss what an EHR system is all about.
EHR systems are centered around the creation of electronic health records, which is a completely digitized software containing extensive information about the patient. Typically, electronic health records software includes the following patient details:-
Medical history
Vaccination history
Vital signs
Diagnosis
Test results
Allergies
Ongoing medications
Lab data
Progress notes
Insurance details
While EHR systems and EMR systems are often used interchangeably, the primary difference is that EMRs are a digital version of patient charts from a single practice and are not designed to be shared outside that practice, unlike EHRs. Electronic medical records refer to a digitized version of patient charts that are stored inside a clinic and contain details and records about the patient in a single practice. Note that EHRs are designed to be shared with other labs and healthcare providers and focus on offering patients with added convenience and accessibility.
What Is the Need for an EHR System?
The next question in your mind must be why EHR software development is necessary in today's healthcare industry. Well, EHR systems help labs and healthcare providers capture, store, and share patient data in a structured manner. EHR systems also allow different healthcare facilities to share patient data securely via network-connected systems for research and monitoring purposes. As discussed, unlike EMR systems, EHR systems must be capable of handling huge amounts of data that are not limited to the patient's medical history.
Following the COVID-19 pandemic, healthcare professionals are increasingly using EHR systems to review patients' vaccination statuses, medical conditions, and current medications. EHR systems also provide access to comprehensive patient data that ensures that patients do not need to fill out lengthy application forms, while also helping doctors offer accurate diagnoses.
What Are the Different Types of EHR Systems?
Just like other technologies and applications, there are different types of electronic health records systems. Primarily, these can be divided into two categories, which we will discuss in the following section as it will better help us break down how to build an EHR system.
Physician-hosted EHR System: In this type of EHR system, patient data is hosted on the servers of healthcare providers. This is why physicians are responsible for buying the associated hardware and software and must also maintain the EHR system.
Remotely-hosted EHR System: In this EHR system category, the server of the system is based in a location that is outside the physician's office. So, the physician is not responsible for the software and the hardware and need not take on the responsibility of maintaining the server. If you are looking to get into EHR software development, we think you should get in touch with a custom healthcare software development company that focuses on developing remote solutions. This will ensure that your healthcare team will only have to focus on collecting patient data and will not need to worry about other additional system responsibilities.
Why Is It Beneficial to Build Your Own EHR System?
Now that we have discussed the different types of EHR systems available, we must discuss whether you must invest in EHR software development or not. Generally, experts suggest businesses invest in EHR software development when they require complete control over the EHR system. In this case, you must ensure that the EHR system is capable of handling business scalability issues and must be user-friendly. Another important point to note is that popular EHR systems often charge commissions or have a user limit which can be quite problematic for physicians with numerous customers. With your own EHR system, you do not need to worry about changing your EHR systems or having limited access.
If you want to invest in EHR software development, we recommend choosing a reliable vendor who helps develop systems that offer a lot of benefits. Some common benefits of the different examples of EHR systems are listed below to ensure that you have a better idea about why you must invest in building an EHR system.
EHR Software Development Benefits for Businesses
Before we discuss the benefits of an EHR system from the point-of-view of the users, let us talk about the benefits that businesses can reap. These are as follows:-
Scope for Better and New Opportunities
Like every other market, the EHR market does not offer a "one size fits all" solution model. Instead, the type of EHR system adopted is highly dependent on the number of users, the size of the healthcare organization, and the region they operate in. This is why there is always scope for innovation and entrepreneurship in terms of EHR development and new business models.
Multiple Monetization Options
Different EHR systems come with different monetization options which often include subscription models, free software models with features exclusive to premium users, and pay-per-use. The different types of monetization options available make it extremely wise to invest in EHR software development and earn profits from them.
EHR System Development Benefits for Hospitals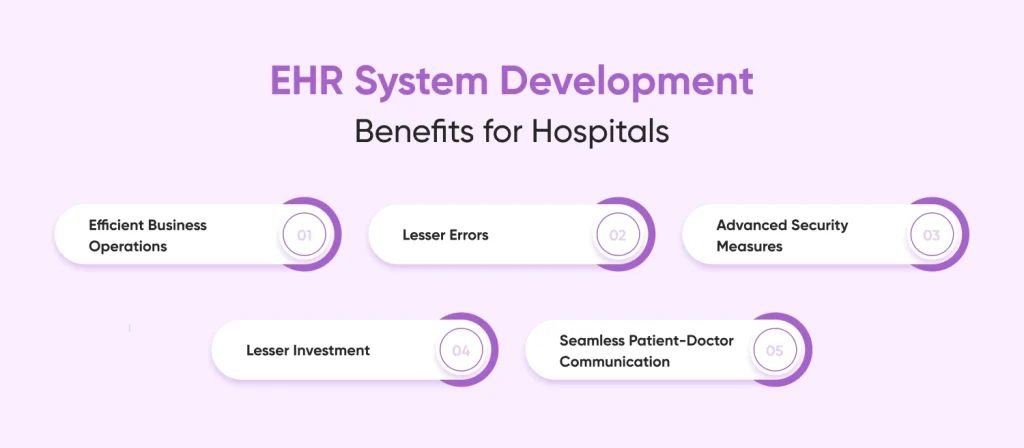 Some common benefits that hospitals can expect from EHR systems include:-
1. Efficient Business Operations
Irrespective of the type of EHR system chosen, all of these systems come with features that help healthcare organizations manage documents. Moreover, these systems allow access to patient information within seconds, which helps speed up business operations and adds to efficiency.
2. Lesser Errors
Since EHR systems come with detailed patient information including current medications and dosages and medical history, healthcare providers can more easily avoid prescribing incorrect dosages and prevent adverse reactions. Moreover, healthcare professionals would also be aware of drug interactions and easily lower the chances of malpractice.
3. Advanced Security Measures
EHR systems developed by the top medical tech startup include multiple layers of security protocols and layers. This helps add measures like automated session termination, encryption, and multi-factor authentication, which ensure that customer data is protected and reduces risk of being hacked.
4. Lesser Investment
Although EHR software development can require a huge investment in the early stages, it helps save on costs in the long run. For example, transcription costs, record storage, and claims management can not only require a lot of time but must also be done by experts and the costs soon add up. Hence, investing in EHR software development will help reduce the overall investment while ensuring you get access to other benefits.
5. Seamless Patient-Doctor Communication
It can be quite difficult for patients to remember every expert advice and minutes of doctor consultations, and the same goes for doctors. Since EHR systems store in-depth patient data, it is easier for doctors and patients to communicate. This also helps ensure that healthcare professionals have access to all necessary information to guarantee an accurate diagnosis.

EHR Software Development Benefits for Patients
Other than benefitting healthcare professionals, EHR systems are also popular for the benefits that patients can enjoy. These include:-
Quick Access to Important Data
The main focus of EHR systems is to make it easier for patients to store their data and share it with their healthcare providers. Since EHR software systems contain the necessary data, patients are not required to carry numerous files and documents for their consultations. Moreover, these software systems focus on being user-friendly, meaning users will be able to quickly and easily access the required data.
Removal of Duplicate Tests
Due to the lack of synchronization in today's healthcare system, a lot of patients end up taking the test numerous times. Since EHR software systems store information about all diagnostic tests and results, healthcare professionals have access to all available test results and patients can avoid taking the same test multiple times.
Tech Stack Necessary for Proper EHR Software Development
Before we jump into discussing how to build EHR software, let us look at the necessary tech stack. With years of experience and a team of expert EHR and EMR software developers, we are well aware of the tech stack needed to ensure proper EHR software development.
However, you must remember that this is not the ultimate list and the chosen tech stack can vary based on the features to be included and the type of EHR system to be built. We recommend discussing it in more detail with your partner development company to ensure that the best technology stack is being used for your EHR software development.
| | |
| --- | --- |
| Purpose | Recommended Options |
| Languages | Swift, Kotlin, JavaScript, PHP, Java, Python |
| Databases | MySQL, PostgreSQL |
| Frameworks and Libraries | Angular, jQuery, Django, NodeJS, Bootstrap |
| Utilities | Amazon S3, Microsoft Azure, Cloudflare |
| Payment Gateways | Braintree, PayPal, Stripe |
| Analytics | Amazon EMR, Google Analytics, Optimizely |
| Web Servers | Apache, Nginx |
Now that you are aware of the commonly chosen tech stack for EHR software development, let us look at the ideal team structure:-
3 web developers out of which 2 would focus on front-end and 1 would focus on back-end development.
1 Android developer to build the EHR mobile app dedicated to Android devices.
1 iOS developer to build the EHR mobile app dedicated to Apple devices.
2 QA engineers to ensure the EHR web and mobile applications work perfectly.
1 project manager dedicated to overseeing the project development and ensuring it is happening as per the estimated timeline.
How Do Businesses Create EHR Software?
Now that we have had a look at the different tech stacks available, let us discuss the processes that your development team will follow to create EHR software systems. These include:-
1. Validation of Idea
Before jumping right into the development of EHR software, your development team must research the product's feasibility and market fit. This includes setting up a meeting dedicated to understanding your business needs and the vision you have for your EHR software. Then, they will look at your competitor's products and find out how they can help your system stand out. Once your development team has researched more about your idea and it has passed all checks, they will go ahead with the next phase.
2. Discovery Phase
Unfortunately, research must not end as soon as your app idea is validated by your development team. Instead, they must think about the different systems your EHR must be integrated with and follow some other complicated steps as listed below.
To ensure proper EHR software development, certain certifications must be obtained like the ONC-ATCB certification in the United States. Once the certification is obtained, your product becomes reliable and can be distributed among healthcare professionals.
Check International Regulations
Your EHR system must also comply with international regulations to ensure that you do not get fined for ignoring certain security measures. For instance, some policies that you must check include HIPAA, PIPEDA, and GDPR. You must also check to ensure that your system focuses on other regulations concerned with access control, data storage, and transmission.
3. EHR Prototype
The best way to validate your idea and get customer feedback is to create a prototype similar to the final product. As a professional EHR software development company, we focus on creating a prototype that includes the necessary features and utilizes the required technology stack.
4. Development and Integration
Once the prototype feedback is collected, we start focusing on the final design, development, and integration process. We ensure following the promised timeline and make changes based on your feedback to deliver an EHR system that works the best for users and you.
5. Release and Maintenance
Once we have built and tested your EHR software, we release it on the appropriate app stores. The deployment process is handled by our experts to ensure that there are no errors and that your EHR system is available for users. Lastly, we focus on maintaining your EHR application to ensure seamless, error-free, and continued working and support.
What Is the Cost of EHR Software Development?
The average cost of electronic health record system development is based on multiple factors like the features included, team expertise, location of the agency, and target app platform. Although these details vary from one project to another, the core features and purpose remain the same.
Generally, development companies charge anywhere between $50 to $80 per hour, which takes the total cost to:-
Web-Based EHR MVP – $40,000 to $66,320 USD
Mobile-Based EHR MVP – $60,000 to $96,960 USD
Please note that the total cost required to develop advanced versions of the applications is based on factors like – auto-scheduling features, average rates charged by the selected vendor, and integration with advanced technologies. These can take up the average cost of EHR software development to $50,000 to $1, 20,000 USD for the advanced versions of the EHR software.
CMARIX Experience in EHR Software Development
With years of experience in telemedicine software development, we have helped numerous hospitals and healthcare organizations scale their operations. CMARIX's team of experts learned the various challenges that were prohibiting clients from utilizing the industry's available EHR solutions. We put our heads together to come up with strategies that not only developed capable systems but also helped clients achieve their goals. As a result, our clients got access to state-of-the-art solutions that not only fit their budget but also allow them to seamlessly scale their operations.
Conclusion
In today's dynamic healthcare industry, a lot of businesses have realized the importance of EHR software systems and are investing in EHR software development to reap the added benefits. As a renowned custom software development company, our team specializes in utilizing advanced technologies to get you the results you desire.
We also ensure that we understand your business objectives and goals to deliver the industry's best software solutions that help you succeed! Are you looking to invest in EHR software development? Get in touch with CMARIX's development team and take a step towards bringing your EHR app ideas into reality.