The healthcare industry has been revolutionized by rapid technological advancements and the increasing availability of internet networks, particularly in the smartphone industry. The telemedicine software development industry has experienced exponential growth over the past year, largely due to the COVID-19 pandemic, which created significant barriers to accessing traditional healthcare services. As a result, telehealth services have become an essential solution for delivering remote medical care.
Telemedicine software development is a key driver in the digital transformation of healthcare, particularly in managing and monitoring chronic disorders using smart devices. To meet the rising demand for telemedicine software systems, it is crucial to hire dedicated developers with specialized skills and experience in the healthcare industry.
What is Telemedicine Software?
Telemedicine software is a digital platform designed to facilitate remote medical care by enabling physicians and healthcare providers to connect with their patients in a virtual environment. This technology allows patients to receive medical attention from their healthcare providers regardless of their location or physical limitations. Telemedicine software can be accessed via desktop, mobile, or web platforms and typically offers a variety of communication methods, such as audio and video calls, as well as in-app text messaging.
What Software is Used in Telemedicine?
Telemedicine Market Overview
After the epidemic, demand for remote healthcare services peaked, but it hasn't since lost any of its appeals. Additionally, other resources indicate that telemedicine applications will continue to expand.
The demand for custom software development services has surged, leading to significant market growth. In 2022, the global telehealth market reached a value of 83.5 billion USD, and it is projected to grow at a CAGR of 24.0% in the next 7 years.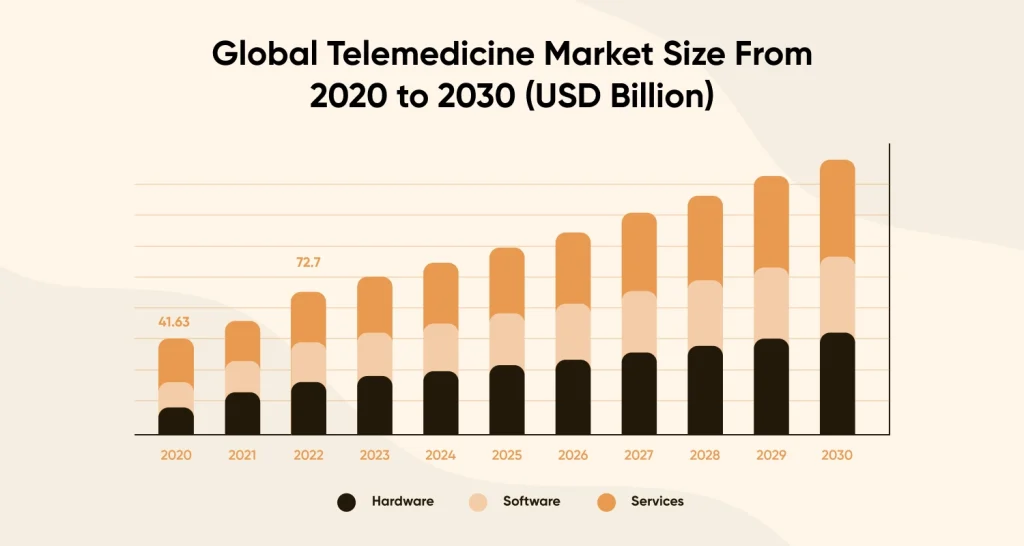 To keep current, and convenient for their patients, and to stay competitive, even smaller, independent medical practices have begun to employ telehealth software solutions.
Opportunities and Solutions of Telehealth
Telehealth is a booming sector in the healthcare industry that offers unique opportunities and solutions for both patients and healthcare providers. With the advancement of technology, telehealth has become a game-changer, enabling patients to access medical consultations from the comfort of their homes. Here are some opportunities and solutions for telehealth:
Video Conferencing: Telehealth software systems allow patients to have virtual consultations with their doctors through video conferencing. This feature has enabled patients to avoid long waiting lines and access medical consultations from any location. The technology allows doctors to diagnose and treat patients virtually, eliminating the need for physical visits.
Store-and-Forward: Another feature of telehealth is store-and-forward functionality. It involves recording, storing, and transmitting patients' medical records to healthcare professionals at another location for examination. This method is especially useful for visible symptoms like bruises that can be analyzed through photos.
Remote Patient Monitoring (RPM): RPM refers to the use of cloud computing technology to gather patient-generated data and transmit it to doctors. RPM solutions aim to identify symptoms early and make medical assistance possible for patients remotely. This feature is especially helpful for patients with chronic conditions.
Monetization Strategies
Telehealth software development requires funding. The most common way to monetize telehealth platforms is to charge patients a fee for every virtual consultation. The cost of each consultation will depend on the duration and the doctors' specialties.
Technology Trends in Telemedicine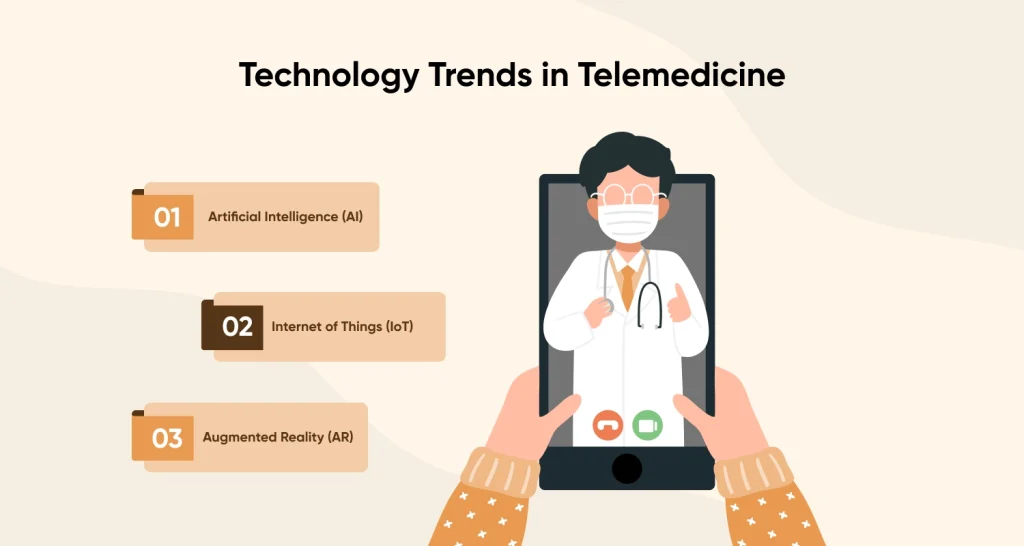 The world of telemedicine is constantly evolving, and technology trends are playing a significant role in shaping the industry. From AI and IoT to augmented reality, there are several technology solutions that are improving the delivery of healthcare services. In this article, we'll discuss some of the most in-demand technology solutions in telemedicine.
Artificial Intelligence (AI): AI is transforming the healthcare industry with its ability to process and analyze vast amounts of data. AI-based chatbots, for instance, can provide patients with fast and personalized care. They can also consult patients on their symptoms and transmit the record to their doctors for setting up a treatment plan if needed. Besides, AI-based apps can help hospitals save up to $150 billion each year, according to Accenture.
Internet of Things (IoT): IoT is playing a crucial role in telemedicine by connecting various medical devices to a network. By integrating IoT sensors into wearables and other medical devices, patients can monitor their health parameters such as blood pressure, and heart rate, and send the results to their therapists for further analysis. IoT can also improve prescription adherence and diagnosis.
Augmented Reality (AR): AR technology is helping doctors and patients to visualize healthcare information in a multidimensional way. For example, image recognition through AR can aid in the detection of diseases and help doctors diagnose patients with real-time screening analysis that is as accurate as that done by experts.
How Does Telemedicine Software Work?
Telemedicine software has revolutionized the way healthcare services are delivered to patients, providing a convenient and effective way to connect with physicians remotely. The software has enabled doctors to remotely diagnose and treat patients using various telemedicine solutions. Telemedicine software can be divided into several types, which include:
On-Demand Urgent Care: This type of software is designed to provide immediate medical attention to patients during emergencies. It includes features such as video and audio support, scheduling, document management, and integration with electronic health record (EHR) systems.
Planned Care: This type of software is used for patient checkups after an in-person visit. Doctors can handle patients according to their treatment plan, and users can communicate with physicians through text or voice call messages.
Mental Support: With the rise in mental health issues, mental support telemedicine software has become increasingly popular. This type of software allows patients to receive mental health services from the comfort of their homes, providing a safe and secure environment.
The Core Aspects of Telehealth Software Development
Telehealth software development has been an important innovation in the healthcare industry, allowing patients and doctors to connect remotely.
Telehealth software solutions have evolved to become more efficient and user-friendly, providing high-quality healthcare services. Here are some of the core aspects of telehealth software development that you need to consider:
Patient-centric Features
Telehealth software must be designed with patients in mind. It should provide an easy and efficient registration process that meets EHR integration norms and allows document uploads. Patients should also have access to video meetings with doctors that transmit high-quality audio and video for accurate diagnosis. Text messaging is also an essential feature that allows patients to communicate minor issues with doctors in their spare time. Appointment management, notifications, reviews, and payment details should also be included in the patient-centric features of telehealth software.
Doctor-centric Features
Doctors should also have easy access to essential features in telehealth software development. This includes a patient dashboard that provides access to patient information, appointment scheduling, and video conferencing. Doctors should also have access to clinical decision support tools and a secure messaging system for efficient communication with patients.
Data Privacy and Security
Data privacy and security are crucial aspects of telehealth software development. It is essential to ensure that patient data is stored securely and comply with data regulation and security protocols. You can consider integrating advanced security features like two-factor authentication, end-to-end encryption, and data backup to keep patient data safe.
Integration with Third-party Services
To provide a seamless experience, telehealth software should integrate with third-party services like EHR systems, payment gateways, and pharmacy systems. This integration can help streamline workflow and provide patients with easy access to services.
User Experience
Telehealth software development should focus on providing an excellent user experience to both patients and doctors. The interface should be easy to use and intuitive, and the software should be accessible on multiple devices.
Telemedicine Software: The Benefits of Healthcare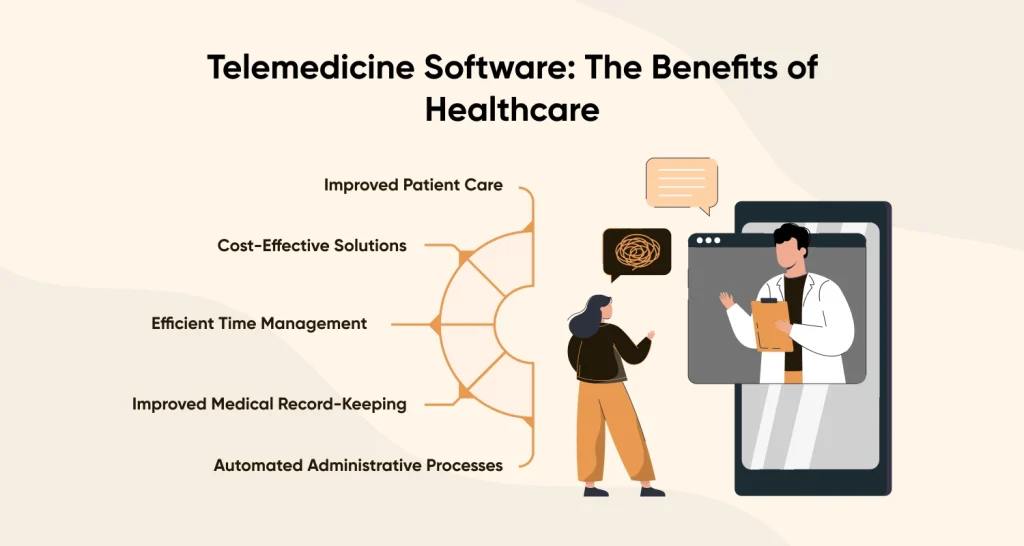 Telemedicine software is revolutionizing the healthcare industry, providing benefits to patients, healthcare providers, and doctors alike. While accessibility and convenience are some of the most obvious advantages of telehealth, there are many other benefits to this technology that make it a game-changer for healthcare.
Improved Patient Care
With telemedicine software, patients can receive high-quality healthcare services from the comfort of their own homes, eliminating the need to schedule appointments or travel long distances. This not only saves time and money for patients but also enables healthcare providers to deliver care more efficiently and effectively. Patients can easily access medical advice, receive diagnoses, and even have prescriptions filled without leaving their homes.
Cost-Effective Solutions
Telemedicine software cost is minimal than traditional healthcare methods, making it an attractive option for patients and providers alike. The COVID-19 pandemic has spurred the growth of telemedicine, with healthcare providers offering various telehealth services at affordable prices. Additionally, video consultations are more time and cost-efficient than in-person visits, enabling healthcare providers to save on rent, administrative costs, and staffing.
Efficient Time Management
For doctors, telemedicine software enables efficient time management, allowing them to schedule appointments, access patient records, and manage their workload with ease. With in-app schedules and push notifications, doctors can manage their time more effectively and balance their work life more easily, leading to better patient examination and care.
Improved Medical Record-Keeping
Telemedicine software also makes it easier for doctors to access and store patients' electronic health records (EHRs) securely. In traditional hospitals, finding patient records and sharing them with other specialists for accurate medical prescriptions can be challenging. Digital solutions offer seamless data access and transmission, making it easier for doctors to diagnose and treat patients effectively.
Automated Administrative Processes
Telemedicine software also enables telemedicine software providers to automate administrative processes, eliminating the need to fill out various forms and internal documentation. This increases efficiency, leading to higher profits and better treatment quality.
What are the Top Telemedicine Apps In the Market Today?
When you need a doctor, LiveHealth gives you access to licensed medical professionals whenever you need them. Simply sign up, log in, and choose the best doctor for your unique needs. No appointment is necessary because LiveHealth offers 24/7 access to doctors.
App Store: 4.9 and Google Play: 4.5
Lemonaid Health has quickly made a name for itself. It provides treatment and assistance for a range of ailments, including lab tests, birth control, cholesterol, acid reflux, and treatment for addiction. The day after filing a complaint, patients can make an online doctor appointment for a set cost.
App Store: 4.9 and Google Play: 4.6
AmWell has become a telehealth industry leader by giving professionals and patients a variety of options. Depending on their availability, patients have a range of doctors to pick from. Prescriptions and all patient-provider conversations are simply accessible in the patient's profile.
App Store: 4.9, Google Play: 4.2
You may like this: Best Telemedicine Apps
Challenges of Telemedicine Software
Telemedicine software development has brought a significant change in the healthcare industry, making it easier for patients to access medical consultations from the comfort of their homes. However, there are still several challenges that developers face when building such software.
One of the main challenges is finding the right team to develop the software. Outsourcing software development services can be a great way to find the right team, especially if you don't have the expertise in-house. However, it's important to find a reliable vendor who understands the unique requirements of telemedicine software and can build a secure and compliant platform.
Another challenge is ensuring data security and regulatory compliance. As mentioned by your competitor, telemedicine software must comply with various regulatory standards and use encryption to protect patient data. It's important to perform regular self-assessments and vulnerability checks to ensure that the software remains secure and compliant.
Technical issues can also arise, such as poor video quality or bandwidth issues. It's important to choose a vendor with expertise in streaming and video chat support to ensure that the software can handle high-quality video for accurate symptom interpretation and diagnosis.
6 Steps to Telehealth Software Development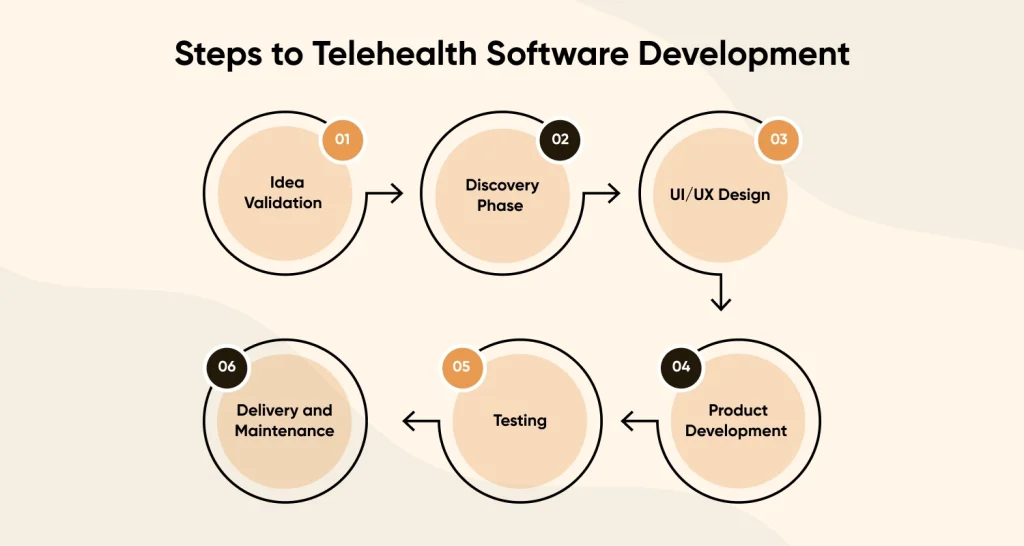 Idea Validation: This is the initial step in the telehealth software development process where you validate your idea for the telemedicine platform. In this stage, you should work with a qualified tech vendor to help you formulate the main points of your idea. Your team and the tech vendor will define the purpose of your future product, as well as the value it will bring to your potential users.
Discovery Phase: Clients and software engineers may have different ideas of the features that are needed, therefore the discovery phase is essential for the creation of telehealth software. Planning and creating a project blueprint are part of this step. You finally receive a precise cost estimate after all the data has been analyzed.
UI/UX Design: In this stage, UI/UX designers define the core user scenarios and visualize the main features of telemedicine software. They plan convenient customer journeys for all users involved and prepare an app prototype that shows how the platform will look in the future, perform, and its capabilities. The prototype may or may not be included in this stage depending on the project.
Product Development: The most important and difficult step in developing a telemedicine platform is product development. It stands for creating the product's server side, integrating APIs, and converting enticing UI designs into functional software. To test the software concept and launch the app with the least amount of financial outlay, it is preferable to start with a Minimum Viable Product (MVP).
Testing: The telemedicine platform needs to undergo rigorous testing to ensure that it meets functional requirements, security standards, and regulatory compliance. The QA engineers conduct multiple tests to identify and fix any possible bugs and malfunctions before the final client review.
Delivery and Maintenance: After passing all the previous development stages, it's time to deliver the finished application to the stakeholders and customers for testing and acquiring feedback. Based on the feedback, improvements are made if necessary. Ongoing support and maintenance are required for telemedicine solutions due to their complexity, so it's best to continue working with a dedicated development team for healthcare web development.
How Much Does Telemedicine Software Cost?
Telemedicine software development cost can vary greatly depending on various factors such as the type of software, features, design, integrations, and the rates of software developers. Typically, the cost of developing a telemedicine platform can range from $ to $ or more. However, it's important to note that the exact cost can only be determined based on the required functionality and the type of telemedicine app you want to create.

CMARIX – Your Trusted Partner in Telemedicine Software Development
Developing a telemedicine software solution is a complex and multi-stage process that requires expertise and knowledge in the healthcare industry. The success of your telemedicine platform largely depends on the experience and domain expertise of your software development partner.
CMARIX is a reliable and experienced software development company that has been providing software solutions to businesses across various industries. We have a dedicated team of healthcare software development experts who have proven expertise in developing custom telemedicine solutions, such as EHR, EMR, telemedicine apps, and more.
Frequently Asked Questions
The time required to develop telemedicine software varies depending on several factors, such as the complexity of the features, the platform or technology used, the number of integrations required, and the team's expertise. On average, the development of a basic telemedicine platform can take around 4-6 months, whereas a more advanced system can take up to 12-18 months.

To create a telemedicine platform, you need to follow the below steps:

Define the scope and requirements of the platform
Choose the right technology stack
Design the user interface and experiences
Develop and test the platform
Integrate it with other healthcare systems, if necessary
Launch and promote the platform

Telemedicine software should have the following key features:

Video conferencing and messaging
Electronic health records (EHR) integration
Secure data transmission and storage
Appointment scheduling and reminders
Prescription management
Payment processing
Analytics and Reporting

Several companies provide top-quality telemedicine software solutions. Some of the best companies in this domain are CMARIX, Grinteq and more. The choice of the best company depends on your specific requirements and budget.

Telemedicine software development offers several benefits to healthcare businesses, such as:

Improved patient access to healthcare services
Reduced healthcare costs for both patients and providers
Increased operational efficiency
Enhanced patient engagement and satisfaction
Improved healthcare outcomes and quality of care