Dining out is always popular among food lovers for discovering the ambiance and experiencing the sit-in pleasure of consuming delicacies. A dine-out experience is part and parcel of quality city life as well. But unfortunately, the year 2020 presented a new challenge to this experience cherished by millions through their memories and taste buds. The Covid-19 pandemic and ensuing crisis have remarkably altered our priorities with constraints and restrictions imposed on outdoor life including dining out and shopping.
One of the worst-hit sectors from the impact of the pandemic is the restaurant and food chains. They no longer can accommodate their sit-in customers for dining in the restaurant. After long days of complete shutdown around the globe as restrictions are being lifted gradually and partially in a few regions, the food chains and restaurants are only permitted to deliver food in a way that doesn't require any physical contact with the customers. Thus the concept of contactless restaurants once again took the center stage.
Is contactless restaurant going to be the new normal of the food business of the future? Does this look really feasible and practical? How can this work? How effective the concept is for the survival of the restaurant business? Besides trying to answer these questions we would also like to show how a contactless restaurant solution can be built.
Read More: The Impact Of Technology in The Hotel Industry
How Contactless Dining Really Works?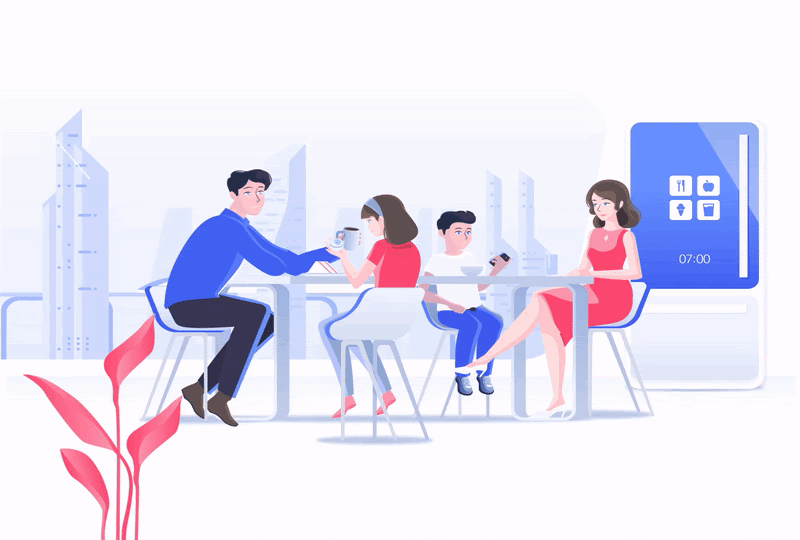 Just think of the diners serving for their preferred restaurant online and after evaluating ratings and reviews pre-order the meal well before they leave their house. As they reach the restaurant they need to stand no queue and become able to get their car parked by using a contactless valet. When they take seats, instantly the food is served. For additional orders of dessert or something, they can use a digital menu right from their smartphones by just scanning a QR code and placing the order. After the meal is completed, they make the payment using a mobile wallet. Now, this entire dining out experience is fully contactless.
Now let us break this contactless dining experience into multiple contactless procedures as explained below.
The Discovery of hygienic restaurants through digital platforms and mobile apps can be easily done. To build more confidence and transparency for their diners restaurants can post videos of hygiene steps and cleanliness steps they undertook.
Restaurants can allow pre-ordering of foods to cut the wait times at the restaurants and prevent touching the restaurant menu.
Contactless valet will help to make payment at parking lots while cutting the wait time and getting rid of the crowd.
Contactless seating is facilitated by online bookings and reservations and allotment. This will also help the restaurant to maintain adequate social distancing.
 The Contactless menu is facilitated by the 'Dine-In' digital menu solution. Such a solution by using data analytics and AI can further offer dynamic pricing and customized offers.
Contactless payments are already in place through a whole array of mobile and digital wallets.
Contactless feedback is possible by allowing customers to give ratings and feedback on their dining experience right through the restaurant website.
Read More: Key Features, Business Model and Technology Requirements for Hotel Booking App
Contactless Dining: Learning from the Dine Out Solution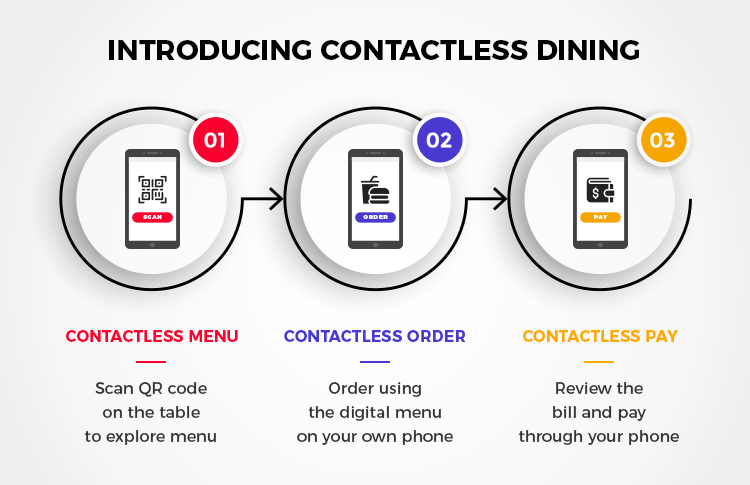 Recently some digital restaurant solutions are inspiring others to embrace contactless services for their customers. Dineout was born with the goal of helping food lovers discover and visit restaurants and food joints across the country. The platform was long hailed as India's largest dining out and restaurant technology platform.
With a restaurant first approach, the platform offered unique support to the restaurant and hospitality businesses with their ahead of time technology solutions. The innovations of the platform were truly unique as it facilitated a Contactless Dining solution long before such a pandemic crisis became a reality. Covid-19 has only aggravated the receptivity of their solutions from the industry.
The Contactless Dining platform can easily make way for innovative means to do away with irrelevant human interactions and replace it with unique tech solutions. The post-COVID 19 world has to deal with the restrictions and health hazards of physical contacts and making movement in public places.
For many months and possibly some years to come, the human movements and physical contacts will continue to be restricted to a bare minimum. This is where such futuristic solutions will play a major role. In the times ahead people will avoid touching things like currency notes and restaurant menus that generally pass through several hands to hand exchanges. In order to provide a better alternative to this, restaurants need to develop trust and ensure certain habits for reassuring diners about hygiene.

How CMARIX Can Help You Build Contactless Restaurant Solutions?
MARIX is a technology company with the distinction of creating unique and innovative solutions keeping the future trends and challenges in mind. We are a well-known name among mobile app development services and unique software developers for diverse industry needs. Long before the Covid-19 crisis became an actual reality, our experts were working on contactless payment and interactive solutions and applications for public places and various outdoor environments such as parking lots, dine-out restaurants, transport terminals, and many others.
Now that the COVID-19 crisis finally gave us a solid reason to focus exclusively on building contactless digital solutions with a keen focus on reducing physical contacts, we feel immensely responsible to deliver something unique that can fully address the hygiene challenges thrown to us by this pandemic. There are several touch points that a diner in a restaurant comes in contact with and with the introduction of the right technology we can provide the perfect alternatives for all of them. Our contactless restaurant solutions are also focused to keep the quintessential dining out experience intact or even make it better.
Conclusion
Savoring a quick sumptuous mouth grab in your favorite restaurant can look difficult in the post-COVID 19 crisis. But the contactless restaurants and similar digital solutions for public places are likely to make things easier for everyone.