If you are a hotelier or a travel industry veteran or just someone with a keen interest in the travel business, being inspired by Booking.com or Airbnb is very likely. The success stories of hotel booking apps don't just end with such a handful of examples anymore. There are loads of successful hotel booking apps that in recent years achieved phenomenal success. Many of these apps actually had a humble beginning like a single page travel website.
Here through the length of this post, we are going to explain all the key attributes of a successful hotel booking apps ranging from the business models, features and technology stack. Before you hire mobile app developers for building your booking app, make sure to do some groundwork on how these apps really work. But before that let us spare a few words on how these hotel booking apps made the big push towards growth and prosperity in the travel and hospitality industry.
Where the Market of Hotel Booking Apps Stand?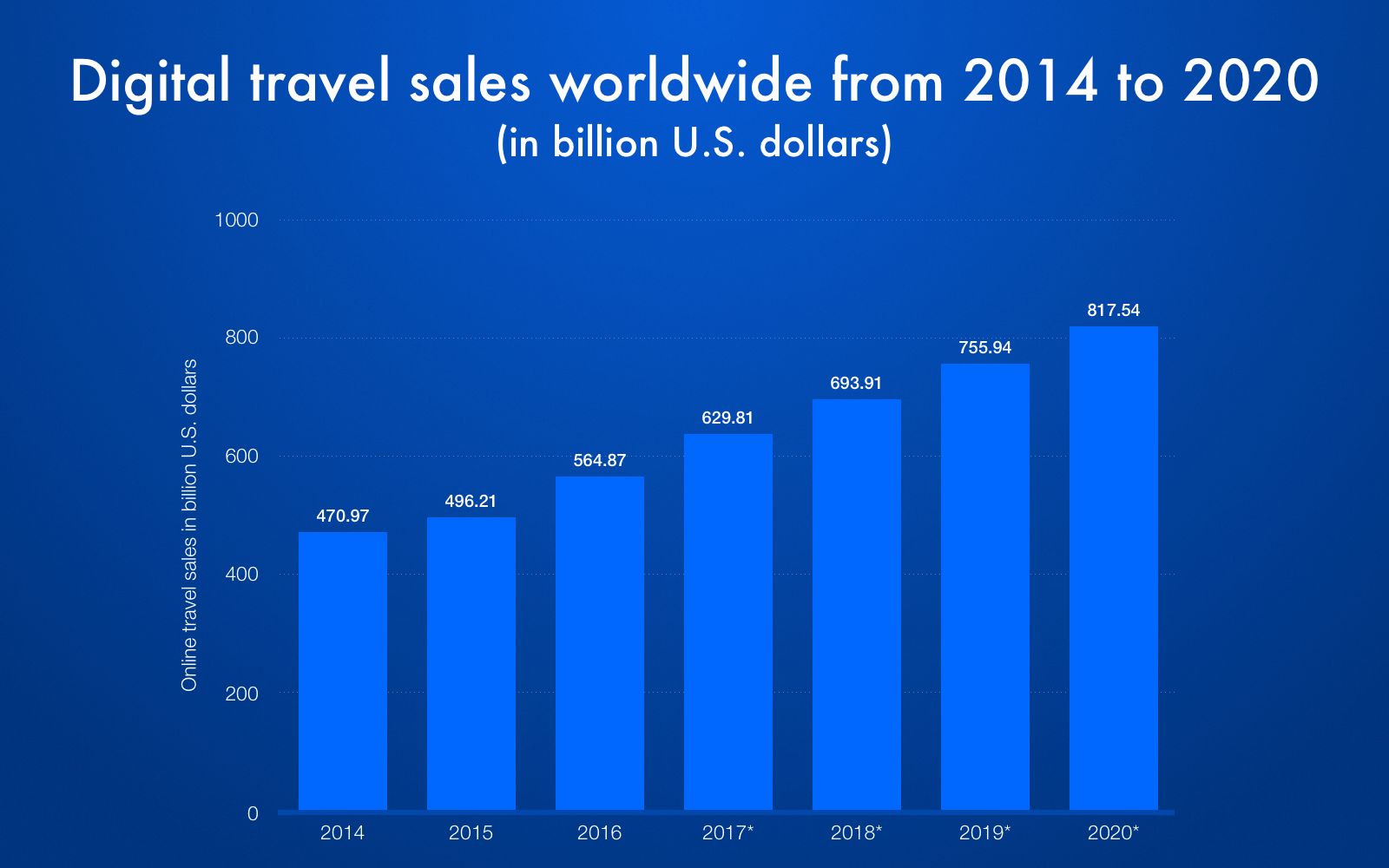 For the past few years, the travel and tourism industry is experiencing steady growth and has emerged as one of the fastest-growing industries in the world. This growth is further perpetuated by the growth of the online travel industry. Let us mention here some statistics that clearly depicts this growth story.
A whopping 80% of reservations made at the last minute are done mainly through mobile apps.
A whopping 45% of travel bookings through online agencies are carried out on mobile devices.
As far as the conversion rate of travel booking is concerned mobile apps experience at least 5 times more business conversion than on the mobile web.
Why Booking Apps are Important?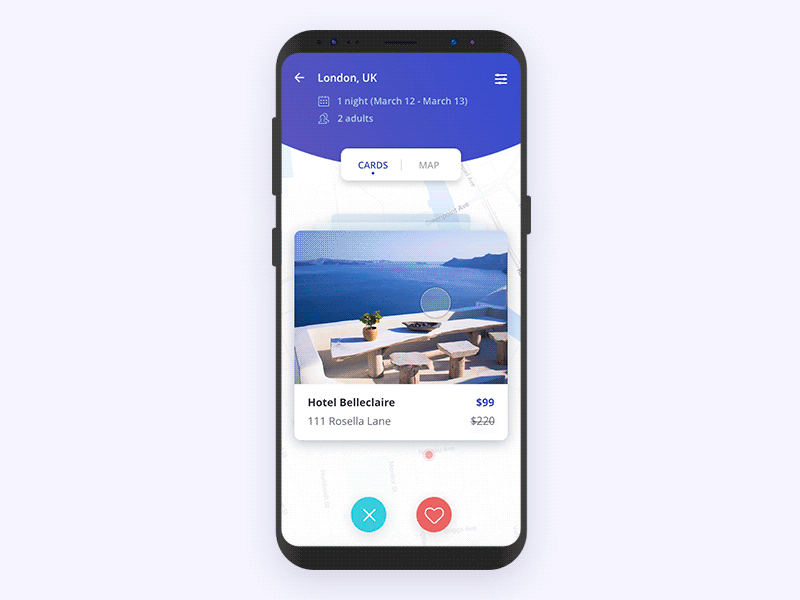 The booking apps play an important role in improving the user experience and creating more scopes of business conversion. Let us have a look at the key benefits of booking apps.
Remote hotel booking: Users can book hotels at their own convenience from anywhere and anytime.
An overwhelming range of options: Booking apps offer a gigantic variety of hotel options across prices, categories, accommodation types, locations, etc.
Price based options: Users can always search the hotels as per their budget and get the best deal.
Geolocation guidance: Booking apps also help users getting to the hotels and nearby areas with geolocation guidance.
Get the virtual look and feel: Booking apps also help users get the look and feel of the rooms and ambience right in their mobile screen.
Checking dates and availability: Booking apps also help users checking available dates, facilities, and rooms easily on their mobile device screen.
Getting notification updates: Thanks to booking app users always get notification updates about lucrative deals, availability, and offers.
Variety of payment methods: Booking apps also allow users to make payment by using a variety of payment gateways and methods as per their preference.
Better evaluation through reviews and ratings: Customer reviews and ratings help to make a better evaluation of the hotels and accommodations.
Ease of cancelling: Booking apps also allows easy cancellation of the booking with just a few taps on the mobile screen.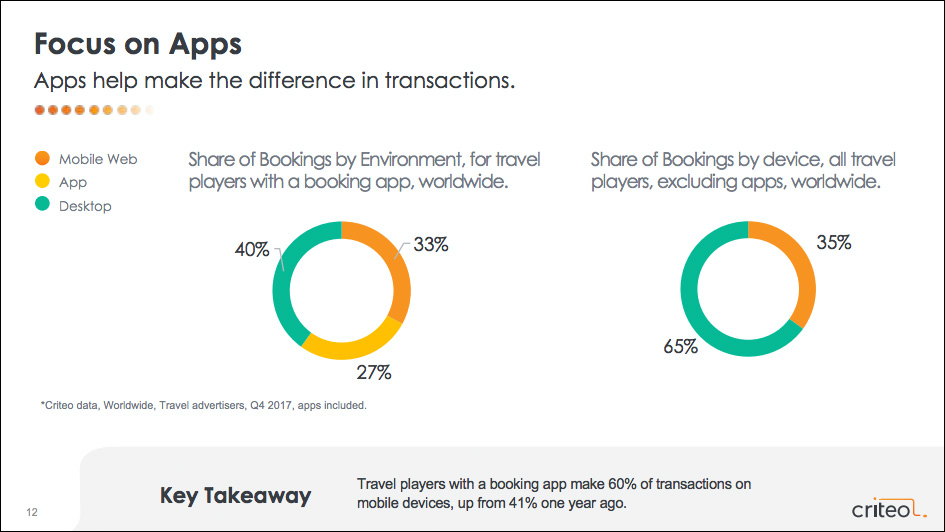 Different Types Of Travel Booking App
If you are ambitious to build a robust and feature-rich booking app, you need to first decide about the type of booking app that suits your business and intended audience. There are several different types of booking apps. Let's explain these types of booking apps separately.
Online Travel Agencies (OTA): These are the most common type of online booking services with varying capabilities ranging from hotel booking, car rental, flight ticket booking, sightseeing package booking, etc.
Hotel Aggregators: These services basically offer aggregated hotel data to provide to the users as per the queries. Booking.com, TripAdvisor, Hotels.com, etc fall in this category.
Hotel Chain Apps: These apps are created and maintained by specific hotel groups or hotelier chains to help their customers book hotel rooms in locations of their preference.
So, whether you are a hotelier or just a travel business aspirant or just a new entrant in the industry, you can either make a booking app for promoting your own hotel rooms, work as an aggregator by partnering different hotels or just run an online travel business with an emphasis on the hotel booking.
Aspects Entrepreneurs Should Focus On For Hotel Booking App Development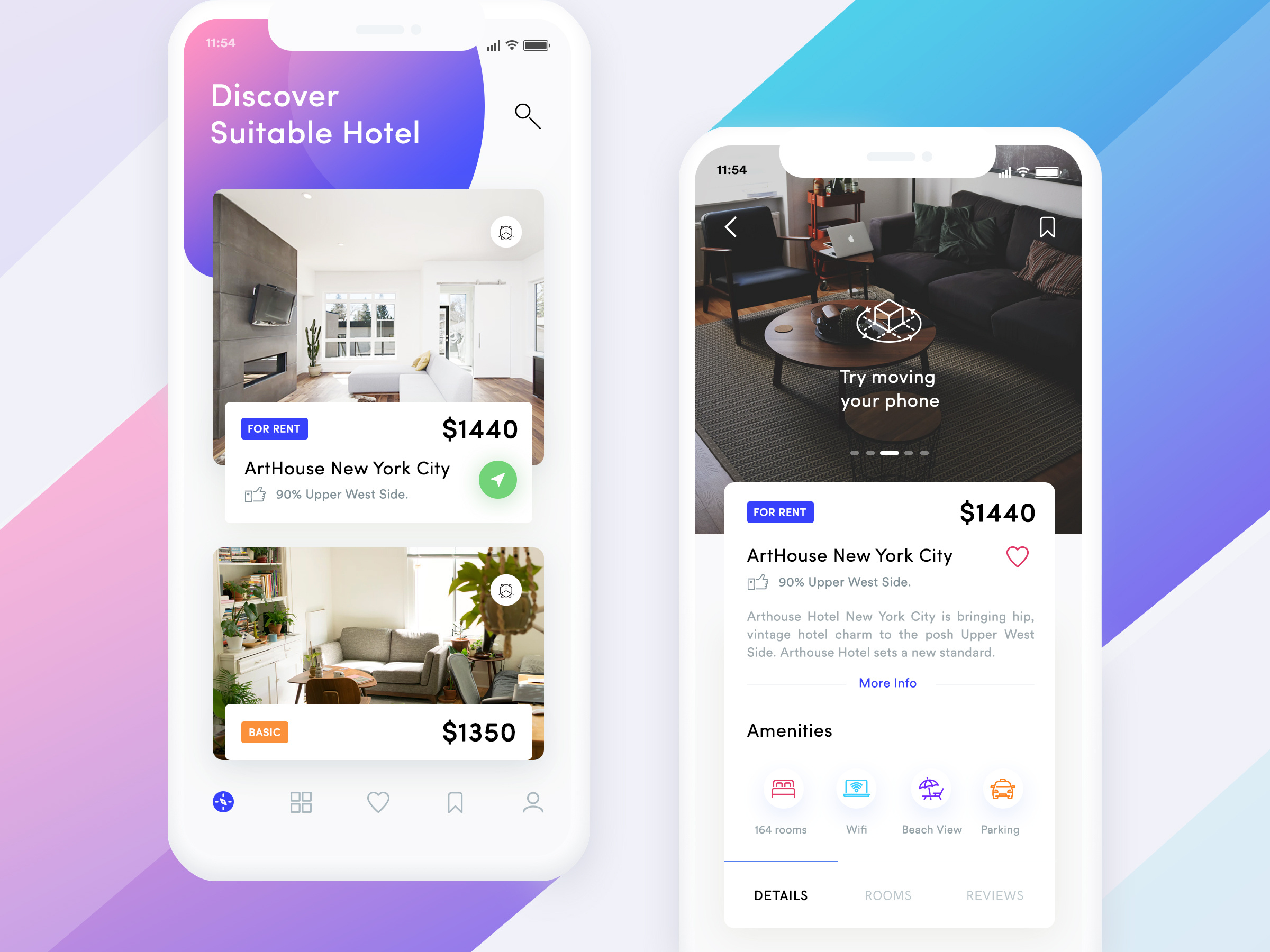 When you build your booking app, this is another key area of consideration. You need to decide about your operational area and the target audience. First of all, it is always lucrative to focus on a global audience. But this requires scaling up your business with great investment pumped into the business over time. Becoming a business with the global audience also requires considerable time. This is why, as a startup, you can always start locally by focusing on some specific geographic location and then scale gradually to other areas. Starting with your own country or continent can be a good option for a beginner.
Unique Value Proposition for the App Users
Why the user will opt for your new hotel booking app when they have so many credible options already in the market? This is the first question that you should begin with. After all, without offering a unique value proposition you just cannot set your brand apart from the competition.
Depending upon the value offerings offered by most online booking apps, here we are going to explain some value offerings that a new booking app can deliver to its users.
Last-minute deals: To stay ahead of your competition, the last-minute deal is the most important value proposition. As users are increasingly price-conscious, a lucrative deal ahead of the competition can bring your app a lot of traction and business.
Cheaper booking: The budget travelers and backpackers who can compromise on comfort instead of paying high for a comfortable stay, always opt for apps that showcase cheaper stays in tourist locations. Your app showcasing mainly the cheap hotels, B&Bs, hostels, and homestays can make a niche reputation.
Apartment sharing: Shared apartment with a fellow traveler is now a lucrative option to cut down on travel budget. Some booking websites and apps are specialised on this.
Free stays from the online community: This has become the latest fad for budget travelers. Some online platforms like the Couchsurfing.com are now used by millions of travelers worldwide for connecting people in distant parts of the globe who can allow travelers to stay in their place.
Short stays: Short and sometimes an overnight stay in various places require a completely different approach from the point of view of booking apps. Cheaper short stay options became the latest popular niche for booking services.
The Must-Have Features for Hotel Booking App
Now, let us explain the key and must-have features of the booking apps. Whether you hire an iOS or Android App Development Company USA for building the app, having a detailed idea about the key features is crucial. Let us explain these features separately as basic and advanced features.
Basic Features Of Hotel App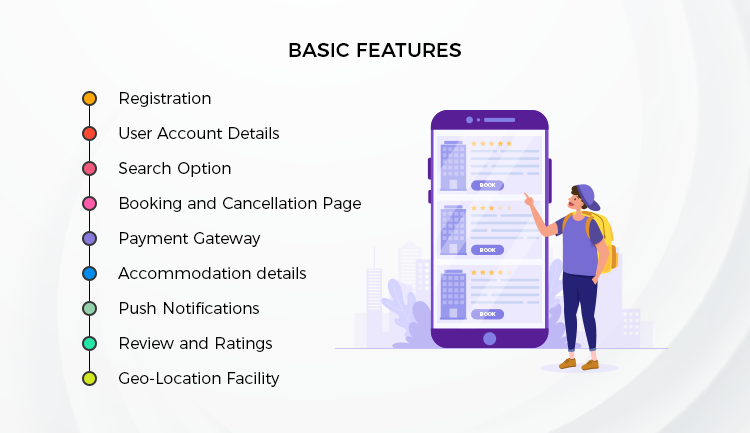 Basic features of a hotel booking app mainly consist of the key UX elements that any modern business app should have. When building an MVP of your intended app, these are the features to get priority. Here are the basic features of any booking app.
Registration
User Account Details
Search Option
Booking and Cancellation Page
Payment Gateway
Accommodation details
Push Notifications
Review and Ratings
Geo-Location Facility
Advanced Features Of Hotel App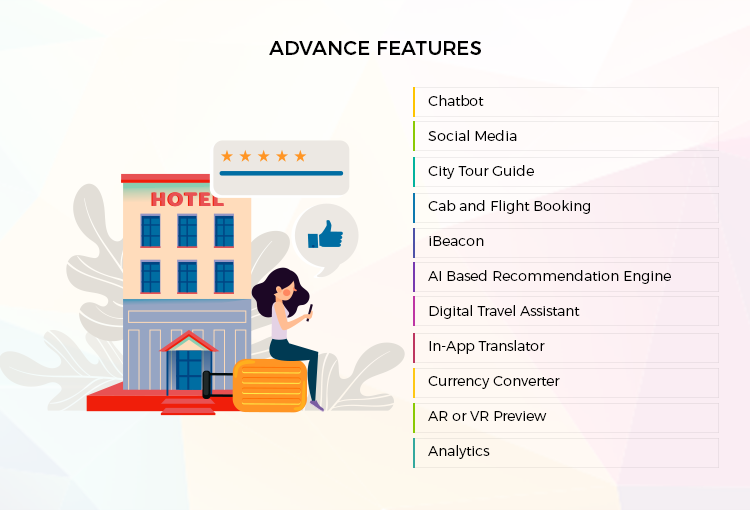 The advanced features will only help improve your hotel booking app further with additional functionalities. These features bear the hallmark of sophistication and improved the user experience for your hotel booking app.
Chatbot: Chatbot feature to help users with information and answer to relevant queries.
Social Media: Social media integration to allow users to share their reviews, experience and other information on social platforms.
City Tour Guide: A city tour guide to help the visitors of the location with information on sightseeing, shopping, transport, and food delicacies.
Cab and Flight Booking: Integrated cab and flight booking to help users book cab and flights from the same app.
iBeacon: iBeacon based notifications to welcome and provide lucrative offers when visitors pass nearby the hotel location.
AI-Based Recommendation Engine: An intelligent recommendation engine to suggest users booking options based on previous searches and earlier bookings.
Digital Travel Assistant: On the go travel assistant by using Google Assistant, Siri, Cortana or Alexa to help users with useful information while they travel.
In-App Translator: An in-app translator to help users with real-time translation when they communicate with a foreigner.
Currency Converter: A currency converter to help users evaluate the prices in local currency based on the visitor location.
AR or VR Preview: An Augmented Reality or Virtual Reality based visual experience to help users get the real look and feel of the accommodations and sights.
Analytics: A robust analytics dashboard for the admin to give a real-time evaluation of the booking.
Various Business Models for Hotel Booking Apps
Now, you need to have a clear idea about the various types of business models for your online hotel booking app. There is a variety of business models ranging from merchant model, aggregator model, dedicated model to advertising model. Let us explain these models briefly to give you an idea of which model suits you best.
This model requires the app business to partner the hotel owners to get booking rights for a number of rooms that they can offer to their users at a discounted rate. In this model, the app owner gets the rooms at a wholesale rate. The prices of the rooms can vary as per the demands of the travelers and booking status. This type of hotel booking apps make a win-win situation for all parties including the hotelier, the users, and the app business by offering the rooms and accommodations with flexible price tags.
There are several booking apps in this category. Expedia is one of the best examples of such apps. At present, Expedia dominates a large portion of the web and mobile travel business worldwide. Having a presence across more than 200 countries is a great example for new apps to get inspiration from. Such global expansion could only be possible by the app thanks to continuous popularity and investment.
This booking app model is the most popular and dominates the vast majority of booking apps in the market. As per this model, a comprehensive list of hotels across various types, specialties, prices, and categories are listed in the app. Different reservation platforms and payment gateways are also attached to the app. After selecting the accommodation the user is redirected to the respective platform and payment is done. Both Booking.com and HotelLook are great examples of this business model.
This model is another popular one that allows making money through ads on your own booking app. Since this doesn't require many risks or involves a lot of intricacies for monetising the app, it is the less profitable one among all the booking app business models. TripAdvisor is a great example of this business model.
This model is particularly popular among the renowned hoteliers and hotel chains. The hotels connecting the visitors and travelers through their own apps allows booking rooms and suites right on their mobile screens. Almost all major hotel chains now boast of their own hotel booking apps. From Hilton to Maurya Sheraton to Marriott to Grand Hyatt, all big brand hotel chains have their own apps that allow online booking.
Technology Stack to Build A Hotel Booking App
Finally, to build a great booking app you need to use all the appropriate technologies and tools to ensure superior user experience. Let us explain the technology stack for a great booking app.
Cloud app development platform: Google Cloud or Dataproc
Real-time data management and data processing: Kafka Software
Data storage and CDN based caching: Amazon S3
Desktop website UI: Chromium embedded Framework or Bootstrap
HTTP and proxy server: Nginx
Push Notifications: Twilio, Push.io
SMS, Voice, and Phone Verification: Nexmo, Twilio
Payments Gateway: Braintree, PayPal, Stripe, Google Pay, EWallets
Mandrill: Emails
Database technology: MongoDB, HBase, Cassandra, Postgress, Mail Chimp Integration
Cloud Environment: AWS
Real-time Analytics: Hadoop, Spark, BigData, Apache Flink, Cisco, IBM
Streaming Media System: Helix Universal Server, Wowza Streaming Engine, Nimble Streamer
Weather Forecasts: OpenWeatherMap API
Maps: Google Maps
GDS access: Amadeus, Sabre, or Travelport.
Nearby Places: Google Places
Hotel metasearch data: Skyscanner Affiliate API or HotelsCombined Feeds Aggregator APIs: ZUMATA Hotel Booking API or Expedia Affiliate Network API
You may like this: Creating an App for Restaurants
Conclusion
In conclusion, let us remind you of the importance of a sophisticated user terrace to engage users. Make sure your app is extremely easy for searching hotel accommodations by using different filters and it looks lean, clean and beautiful. Last but not least of all considerations concerns your app security. You should give utmost priority to the app security to safeguard user data and transactions.