Almost 64% of small companies now have their own websites, with many of them generating substantial revenue via the provision of exceptional service to their customers. A website may increase revenue and strengthen relationships with existing clients when you hire a dedicated developer. It has the potential to give your company a boost and increase profits
The issue is no longer whether or if your company needs a website, but rather how much it will cost to have one developed. We'll go into more detail in the blog, but suffice it to say that it's not always easy to put a precise price on website creation because of all the variables involved
Although the average website development cost is about $15,000, the range may be anywhere from $12,000 to $150,000 or more. This blog post should give you a fantastic sense of what you may anticipate to pay for website development, regardless of your budget or point of departure.
Factors that affect the price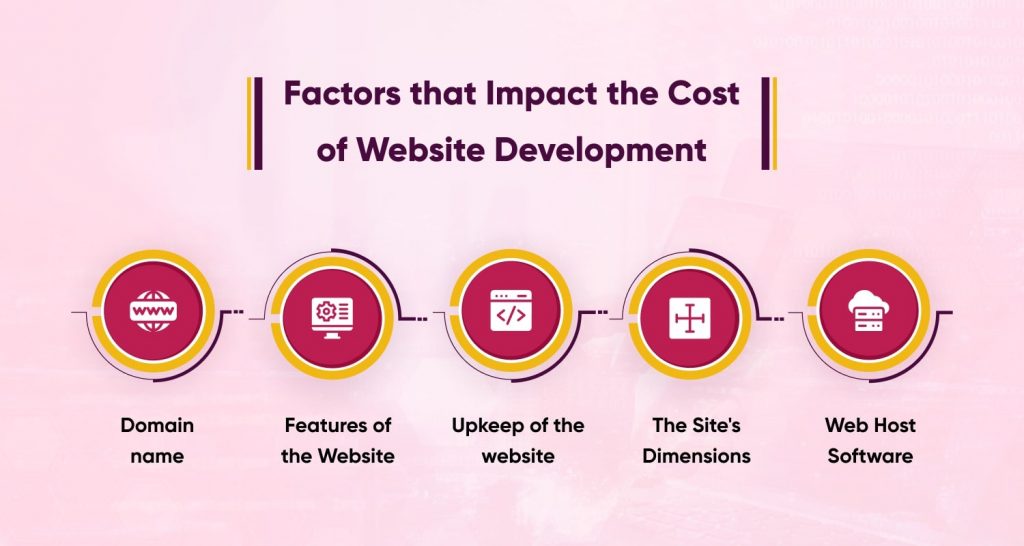 There are a number of considerations that must be made in order to arrive at an accurate estimate of the cost of developing a website. Now, let's have a look at them: There are five major aspects that go into how much a website will cost.
Costs associated with creating a website may vary widely depending on a number of different variables. It's only natural that the requirements for a company's website would range widely, given the diversity of the industries it serves. Creating a website for a data analytics company involves quite different considerations than developing a personal blog.
What Factors Impact the Cost of Website Development are listed below for the convenience?
1. Domain Name
The domain name is the first consideration. You should expect to pay anything from $10 to $15 annually for a brand new domain name for your website. It's crucial to remember, however, that there are a number of variables that might affect the final price, including:
A registrar is an entity that facilitates the process of acquiring and registering a domain name. There is a wide variety of registrars from which to choose, each giving its own unique set of services for a range of prices.
The extension appended to a domain name is known as its "top-level domain," or TLD. Prices for popular top-level domains (TLDs) like ".com" and ".org" tend to be higher than those for newer ones like ".site" and ".xyz."
Most registrars have tiered pricing structures based on contract term, which is c. Generally speaking, the longer the commitment, the lower the monthly cost, but the shorter the contract, the better the monthly savings.
While registering a domain does need you to provide some personal information, you have the option of keeping that data private. Registrars may charge a fee for extra privacy services that help their customers remain anonymous online.
2. Features of the Website
The functionality of a website is a major factor in establishing its price. The more features you want on your website, the more money you'll have to spend
There is a wide spectrum between required and optional features on a website, with the latter primarily focusing on the quality of the user's experience. For illustration, consider the following:
E-commerce capabilities, including all features required to maintain an online store. There are a number of essential design characteristics that need to be included on these sites before they can start making sales to the general public. While specific expenses can vary, a standard e-commerce website's design can easily cost over $2,000.
Member-only areas, or "membership portals," are restricted to paying subscribers. Having one of these portals set up on your site may do wonders for the reliability of your material, the convenience of your users, and the size of your client base. The annual cost of a membership portal feature may range from $89 to $399, depending on the number of users and the kind of license purchased.
To implement a subscription model on your website, you will need c. subscription services, which include the aforementioned features. These services are like subscriptions in that they send you new stuff on a regular basis, or they are curated so that you only get what you need. A complete integration of your subscription business is only $49.99 a month with apps like Bold Subscriptions.
When it comes to the nitty-gritty of running a website, a small firm doesn't need much in the way of custom programming on the back end, while larger enterprises sometimes demand more intricate design features. Website gateways are a prime instance of this
3. Upkeep of the website
Maintenance of your website is crucial to its continued viability and security, and hence to the success of your business. However, many individuals underestimate the true expense of upkeep when drawing up a financial plan. Some examples of website upkeep chores are:
Repairing damaged references
Troubleshooting and fixing bugs in content management systems and servers
Forms and e-commerce features on the site should be tested every three months.
Repairing security flaws
The importance of doing regular site backups
Expert agencies or web developers will typically take care of these details, and the associated costs will change according to the scope and complexity of the website in question.
4. The Site's Dimensions
Web design expenses may be affected by several factors beyond the quantity of features and the intricacy of the site's architecture. The sheer volume of data on a website may be a significant obstacle in many instances.
In terms of financial outlay, there is a noticeable gap between the two options. Obviously, the website development cost will increase in proportion to the complexity of your project; for example, if your e-commerce website has 500 pages, it will take a lot of time and work to create. In comparison, you can get by with far less to create a basic website using a stock design and a few pages.
5. Web Host Software
When it comes to web hosting, each company has to tailor their Website development services to their own demands. Dedicated server hosting is the best option if your company has no offline operations
This will ensure that your server is able to manage any spikes in traffic without going down. In addition, you'll have access to cutting-edge security options, which may aid you in keeping your clients' private information secure.
If you don't need your website to generate income, shared hosting is the better choice. These plans are great for the sort of website that comprises just a few pages of information due to their cheap cost and minimal maintenance needs.
Hosting on a virtual private server (VPS) is an alternative to both dedicated and shared servers. You can tweak a few settings and make some adjustments, but you still can't manage heavy traffic.

What is the Average Price of creating a Website?
What you want your website to be will have a significant impact on the final price tag. In comparison to online stores, simple websites are quite affordable. Be prepared to spend more if you want a sophisticated website
To make the following more clear, we've divided this section into three subsections:
1. What is the average price of a simple website?
Website creation may cost anywhere from $100 to $500, depending on the complexity of the site and the demands of the company.
You'll need some money set aside for the domain registration and web hosting fees if you want to create even a little website. The average annual cost of a domain registration is $14.99, while monthly web hosting costs $8.99.
For a total of $122.87, you now have the starting capital you need to begin going. A year of web hosting and a custom domain name are included in this price. Particularly if you're just getting started, this might end up costing you a pretty penny.
2. How much does it cost to make an advanced website?
You may get a good start on developing a WordPress website for next to nothing by using a free theme and plugins. It's possible that, as your business develops and your requirements change, you'll want to add new functionality to your website.
In order to make your website more engaging, you need to use CRM (Content Management System) features and capabilities. Including more sophisticated functionality on your bespoke website will naturally enhance its overall price.
Website setup fees might range from $ 500 To $ 2000 yearly, depending on the premium features you'd want to have installed. This estimate is suitable for a wide variety of rapidly expanding websites, such as those belonging to established corporations and up-and-coming startups, as well as popular blogs with thousands of readers.
3. How much does it cost to create an online store?
Research suggests that the eCommerce market is developing at a rate three times faster than brick-and-mortar stores. It's a great moment to launch an online shop if you've been thinking about getting into the e-commerce industry.
Having an online storefront allows you to reach customers around the clock and in every time zone. One of the best things about opening an internet shop is how little it may cost to get started.
If you want to start an eCommerce website from scratch, expect to spend about $119.40 in the first year. If you want to install premium addons and a premium theme for your online shop, you may need to pay more. As an alternative to more expensive eCommerce website builders, this one is still the most cost-effective.
Finding the Best Website Development Company to Work on Your Website
In order to set their products apart from the competition, 73% of businesses are currently allocating funds into website development. If you want your project to be a success, you need a solid development team. A competent group will be aware of your situation and how it affects the working procedure
In Q2 2018, smartphones accounted for 63% of all traffic to retail websites. To guarantee the project is completed on schedule and under budget, it is best to hire a dedicated developer. In addition, a top-notch crew consistently updates the customer on project progress via regular and clear channels of contact.
How to Cut Back on the Price of Your Website's Development
The question of how much it costs to create a website on various hosts has been addressed. But before beginning construction, think of ways to save money
If you're looking to save money on website creation, consider the following advice:
In the event that issues arise with your website, you should look into fixing them on your own. Try looking for instructions online or getting in touch with your site host before calling in an outside IT support company. Developers of websites are in the same boat. Unless you require a completely unique look, it is more cost-effective to install a premium theme.
Put your money where your trust is. Invest on dependable hosting, layout tools, and plugins. Although low-priced goods may seem alluring at first, they may lead to complications and additional costs in the long run. It's preferable to spend more money up front for higher-quality goods and services rather than incur more expenses down the road.
Don't lose sight of your site's overarching goal. Don't get bogged down by spending money you don't need to. If you're having trouble deciding what your website's purpose is, go back to the beginning. Spend your money on methods and equipment that will help you achieve that goal. If you own an online business, for instance, you shouldn't stress about the aesthetics but instead focus on making sure the payment method is simple and secure for your customers.
Last but not least, keep in mind that monetary expenditures are only one of many costs involved in developing a website. You should also think about the value of your time and energy.
When given the option, some individuals would rather spend more money in order to put in less effort. However, there are many that are willing to put in more hours in exchange for a cheaper paper budget for their website. If you have a preference, go with that.
Conclusion
Is it expensive to create a website? Knowing your choices is the first step towards finding out. We've broken down the price of utilizing a website builder vs having a professional create your site for you.
A variety of preferences, budgets, and goals may be met by the available choices. You may now rest certain that you've made the best possible decision.