The Automobile market for the last few years has passed through an overwhelming range of changes particularly due to the increasing role of car apps for different segments and categories of the industry. Since automobile manufacturing companies are increasingly depending on automation for efficient, fast-paced and customer centric production, the connected mobile apps for real time feedback generation are increasingly paying an important role.
Since Uber, Lyft and an array of taxi aggregator apps have set a new trend in the transport industry, the entire industry is upbeat about incorporating mobile apps to achieve more growth and revenue. Many car app development services are coming up with innovative app solutions for different automobile segments and consumers. This is how we have a plethora of car apps representing diverse niches including buy and sell apps, car servicing apps, inbuilt connected car apps to help buyers stay tuned to the company support, review and preview apps showcasing all major car brands, car wash and maintenance apps and many others.
Here through the length of this post we are going to describe several of these leading categories of car apps. We are also going to describe their features, the kind of market opportunity and value proposition they offer both for the businesses and customers, the features of these apps, how they work and the kind of technology stack required for developing them.
Why We Need A Car Marketplace App?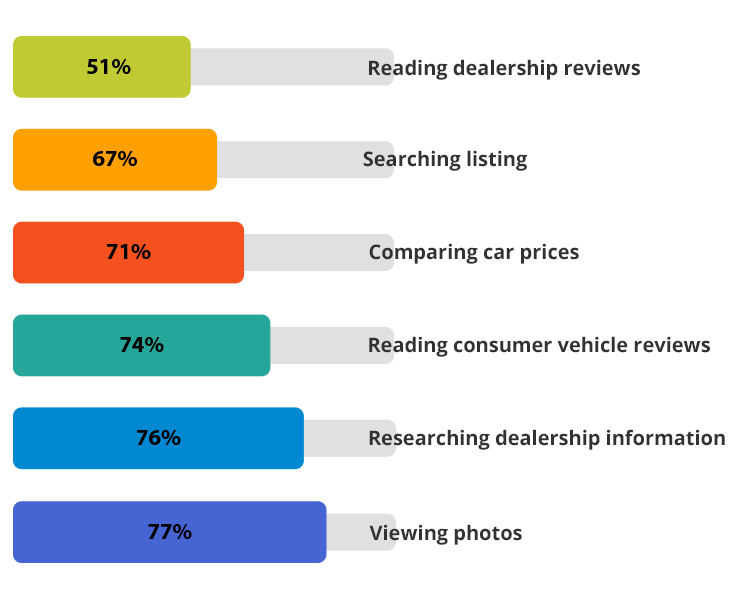 Why at all we need a car app since most brands and service providers in the automobile industry already has their own business websites equipped with the most relevant features? Well, having a dedicated on-demand app for automobile customers and for people needing car maintenance, repair, washing or other services can really help the business reach out to the audience and push sales, growth and value proposition exponentially.
A study conducted in 2014 by DMEautomotive said that buyers of automobile brands prefer had been 73% more prone to prefer making a purchase than all the other shoppers without any access to a separate app. The buyers having access to automobile apps had also been more prone to book service appointments over the mobile compared to the customers without any access to mobile apps. According to Cars.com the consumers having access to apps also spend at least 7% more compared to their counterparts without access to automobile apps.
Other studies also indicate that the automobile app users also tend to be more younger and financially solvent than people within access to mobile apps. These statistics and findings clearly indicate that the car dealers, automobile brands and other service providers in the industry can really reap a lot of advantages from the booming on-demand automobile apps.
From the perspective of the users, the car apps of all types can really have come with a bounty of benefits. A buyer thanks to buy and sell car apps can now easily remain informed about the latest models, brands and updates. Similarly, for all kinds of servicing and maintenance needs car owners can easily review and contact the service providers in times of need. Any buyer having access to mobile apps are more likely to make repeat visits to a dealership than others.
In the automobile industry there is a wide variety of car apps as we mentioned above. Each of these car app categories specifically address a particular customer need and demand. While the buy and sell used car app will help buyers and sellers to make used car purchases at great prices or sell the old car to prospective buyers, a car wash app will help car users to approach professional car washing service providers. While a car preview app like an automobile magazine will make buyers informed about the latest models, features and prices, a car maintenance app will help the buyer to contact servicing professionals to take care of the look-after of his vehicle.
Here we are going to explain some of the most popular types of car apps in the market.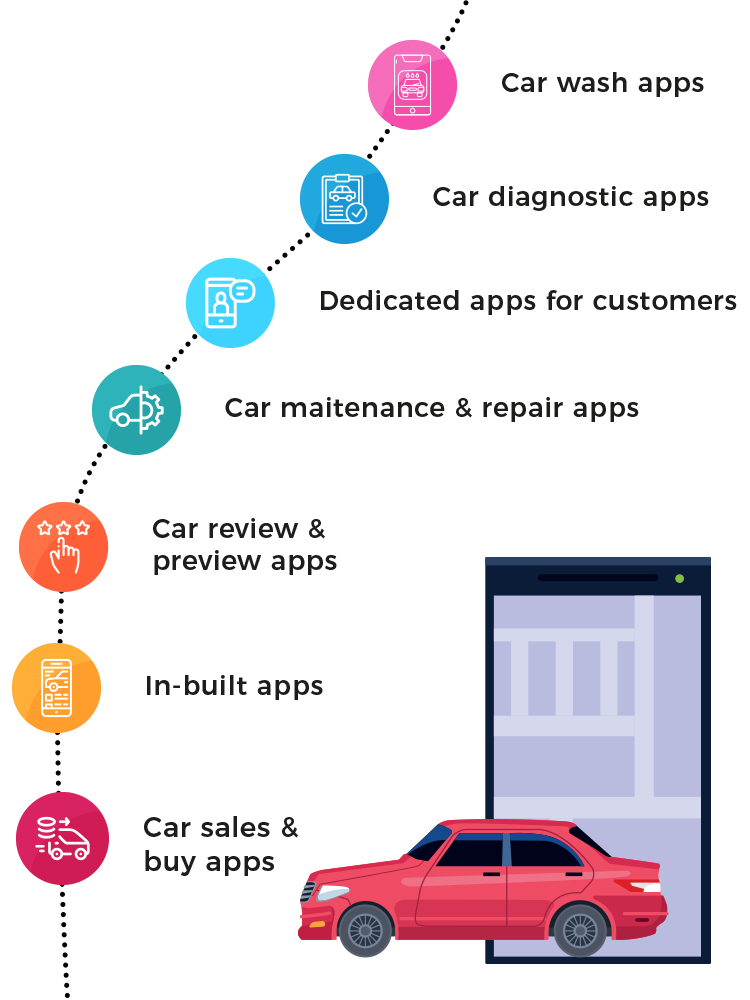 Automobile brands are already aware of the tremendous potential of the mobile apps to reach out to the wider audience in quick time. As of now, we have seen many car manufacturer brands coming with their dedicated apps for pre-launch preview and booking and for pre-booking test drives. Apart from such dedicated apps, consumers can also access dealer apps to get access to the latest information about a lot of new and old car models from the same app.
Most buy and sell automobile apps offer both the options to look for used and new cars. There are also dedicated used car buy and sell apps and apps for new car purchases. Popular automobile apps like CarTrade, Cars India fall in this category.
Car Review and Preview Apps
A survey by AutoTrader UK says that any buyer of a new car spend vast majority of his time researching and previewing cars before taking a final decision about the purchase. Nearly half of these buyers having access to automobile apps actually use several devices to research and find information about their dream car. We have several popular apps in this category like TrueCar, Car Wale, Instamotor, etc.
These apps offer detailed information about any car model including the features, optional value-additions, accessories, price quotes, lifestyle and utility attributes and images. These apps working like a mobile magazine keeps you updated and informed about the latest offerings in the automobile market. These apps also helps you compare various models and brands against the on-Road price quote and feature offerings.
Mobile apps in the automobile industry is also playing a great role in fostering manufacturing innovation. Not so long ago, integrating GPS into a car required a bulky and high-footprint GPS unit. Thanks to the mobile apps like Apple Apps, Google Apps and several others we can now integrate the same GPS function through an integrated mobile app. The best thing is, such inbuilt apps are more precision-driven and accurate than the earlier GPS units.
How inbuilt mobile apps for automobile sector can transform the driving and boarding experience is best explained by the way a Uber driver gets access to real-time navigation guidance, make calls and get payment from customers through e-wallet.
Car Maintenance and Repair Apps
Among the many different purposes that automobile apps serve, car maintenance and repair seems to be one of the top priorities. Mobile apps in real time can help drivers find the right direction through on-screen navigation, find fueling station and parking zones nearby and tracking their cars in crowded marketplace.
Now, there are mobile apps to have total control over your car including remote locking of car doors. Thanks to such apps you can use your mobile phone like a remote device to control the car audio volume or soundtrack or control the air conditioner.
Many car maintenance apps are now coming with innovative solutions to deliver great in-car boarding experience. A lot of new security solutions like sending rapid distress calls in case of any emergency are also being incorporated into automobile apps. As a vast majority of car owners already own smartphones, such apps will continue to grow in popularity.
For vehicle owners and drivers keeping their cars in a safe and secure condition is always the first priority. Thanks to car diagnostic apps now on-road car safety can be improved to a never before level. Such diagnostic apps can detect any problem or safety issues related to the engine or other parts before the car hits the road. Instead of waiting in the middle of your trip for the breakdown van to arrive at your rescue,you can always diagnose and detect all issues prior to sitting behind the wheel.
Dedicated Apps for Customers
After-sales service has always been a grey area of concern for the entire automobile industry. The availability of spare parts and nearby service stations to different policies adopted by the brands in regard to car servicing, there are different aspects to measure and evaluate after-sales services from the perspective of the buyers. Now, thanks to mobile apps car manufacturers also can showcase their after-sales service and support for the consumers.
With after-sales support provided through mobile apps, customers can book service sessions in advance, send query for assistance in emergency situations, get guidance through real-time chat and provide feedback of the services.
There are already several mobile apps to take care of keeping your car in clean and tidy condition. After coming from a long road trip from the hills or after driving over the bumps and ditches on the road when your car looks shabby, just with a few taps you can schedule a car wash session. The best thing is, the washing will be done by expert professionals who knows how to take care of different types of dirt and residues accumulated in the body of a car.
You may like this: Taxi Dispatch Software Development
How Does A Car App Work?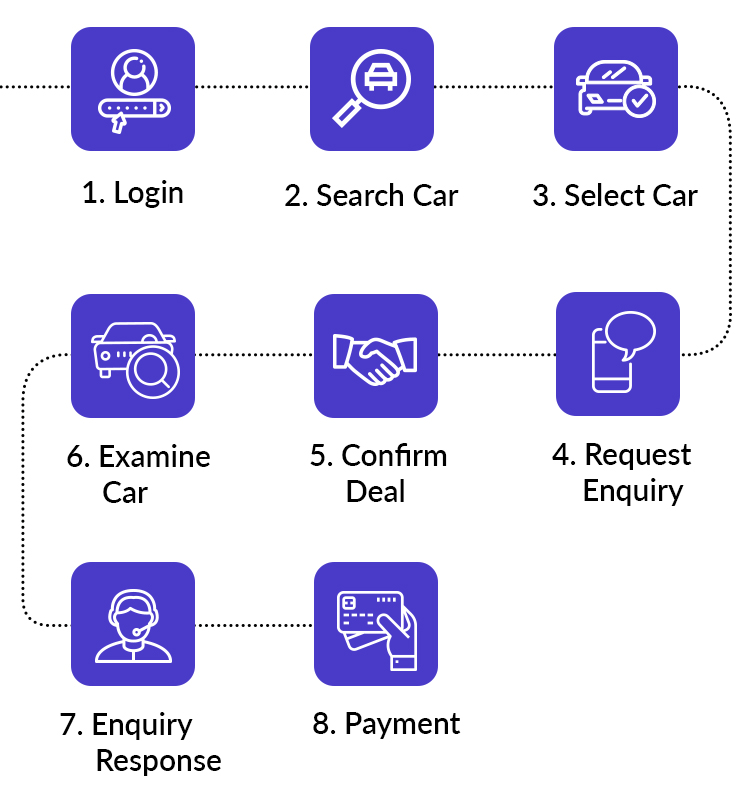 Obviously, not all car apps work in the same manner. Some car apps bring together customers, automobile brands and dealers through an open interface for buying and selling of cars. The inbuilt connected car apps basically work like rich IoT apps to help drivers and riders with an array of useful features. Other car apps for servicing, maintenance and washing allow customers to deal directly with the service providers through an interactive interface. Your choice of automotive development solutions will largely depend upon the app category and preferred feature set.
Top Features Of A Car App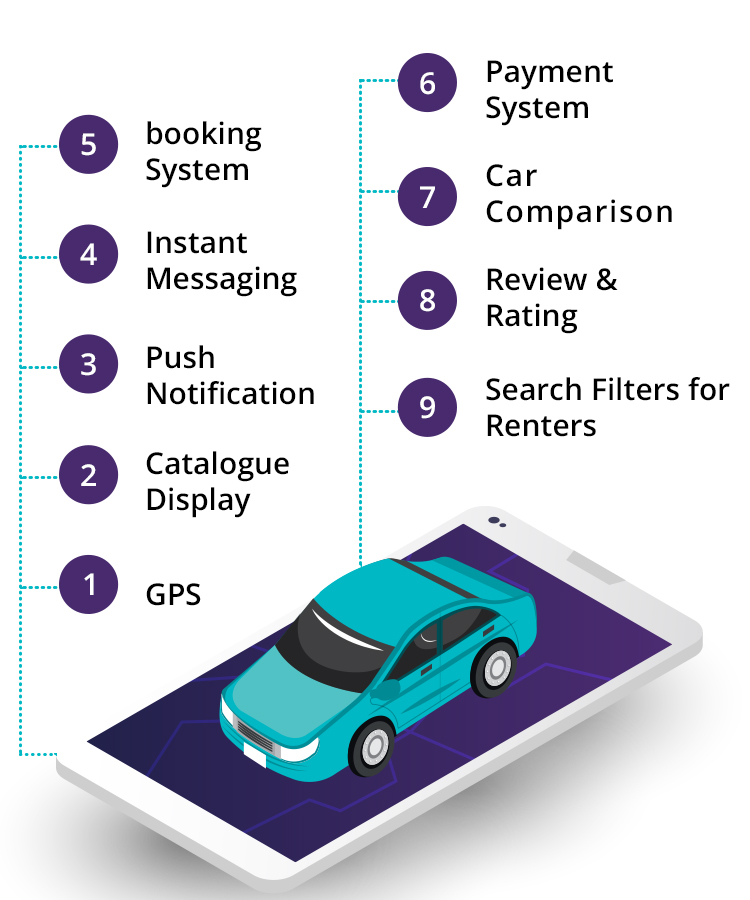 A car app generally comes with the following features:
The catalog of the saleable vehicles
GPS enabled geolocation finder to help customers easily locate the seller and service provider.
Social media and YouTube channel integration.
Push notifications and integrated instant messaging services to connect customers about offers, new cars and promotions.
Contact details and a contact form to help customers contact service providers and automobile brands.
Advance Features Of Car App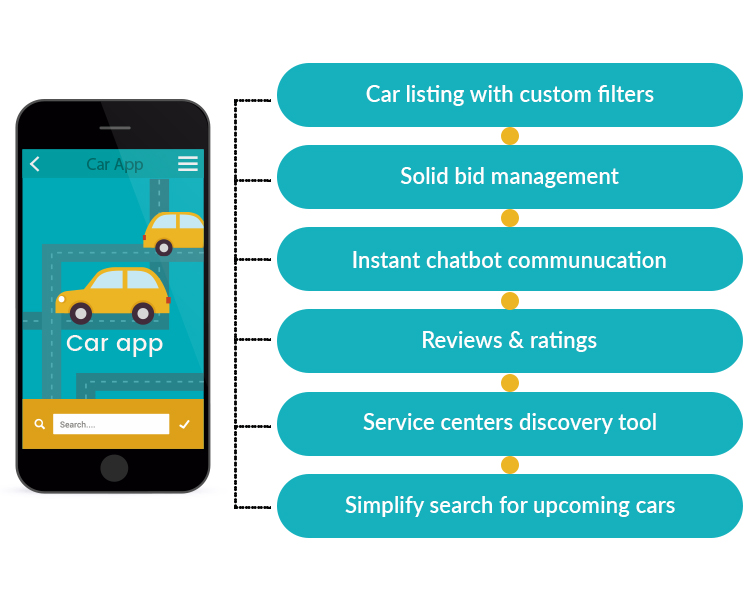 Apart from the above-mentioned common features, a car app should also come loaded with some advanced features like the following:
Car Listings with Custom Filters: Like ecommerce store product listings your buy and sell car app can also offer multiple filters to customise the list as per user preference.
Solid Bid Management: A comprehensive bid management system should be in place to help buyers and sellers gain the best pricing advantage.
Instant Chatbot Communication: To help customers with instant solutions to problems and to guide them throughout an integrated intelligent Chatbot can be very effective.
Reviews and Ratings: The integrated customer reviews and ratings help a car app to validate its offerings and claims.
Service Centers Discovery Tool: A GPS enabled discovery tool will help customers find the nearest service centers and fueling stations.
Simplify Search For Upcoming Cars
Technology Stack For App Development
To build an automobile app with all the cutting-edge features as mentioned above, the developers also need to choose the right technology stack comprising appropriate frameworks and tools for the respective mobile platforms. Though a native app development approach works best for specific OS platforms, the developers can opt for building a basic app following MVP (Minimum Viable Product) approach with only relevant features while deciding to build other features later.
Let us briefly provide here the required technology stack for iOS and Android platforms.
Android
Java using Android Studio
iOS
The common technologies required for building car apps across all platforms include the following.
PHP, Laravel, Symfony or Yii Framework
MySql Database or NoSQL
API in JSON Format
Conclusion
If you want to build a high-traction car app that competitively stands out, you need to study the shortcomings and positive aspects of other apps in your category. A quick loading app with crisp and simple aesthetics and all relevant features can help your cut a niche reputation.