Leading e-commerce stores or online businesses are basically multi-vendor online marketplaces. When you look around for leading e-commerce stores the names like Amazon, Airbnb, Walmart, eBay, etc will instantly pop up in your mind. In spite of having diverse business models, they have one common thing and that is, they all represent multi-vendor marketplaces.
So, it is likely to be ambitious to build a multi-vendor marketplace like Amazon or eBay. Before you decide to hire a Magento development company as a custom e-commerce software developer for your project, let's have a detaIled understanding of the key aspects.
Here we are going to explain various development options for such e-commerce marketplace.
Custom Developed Marketplace Software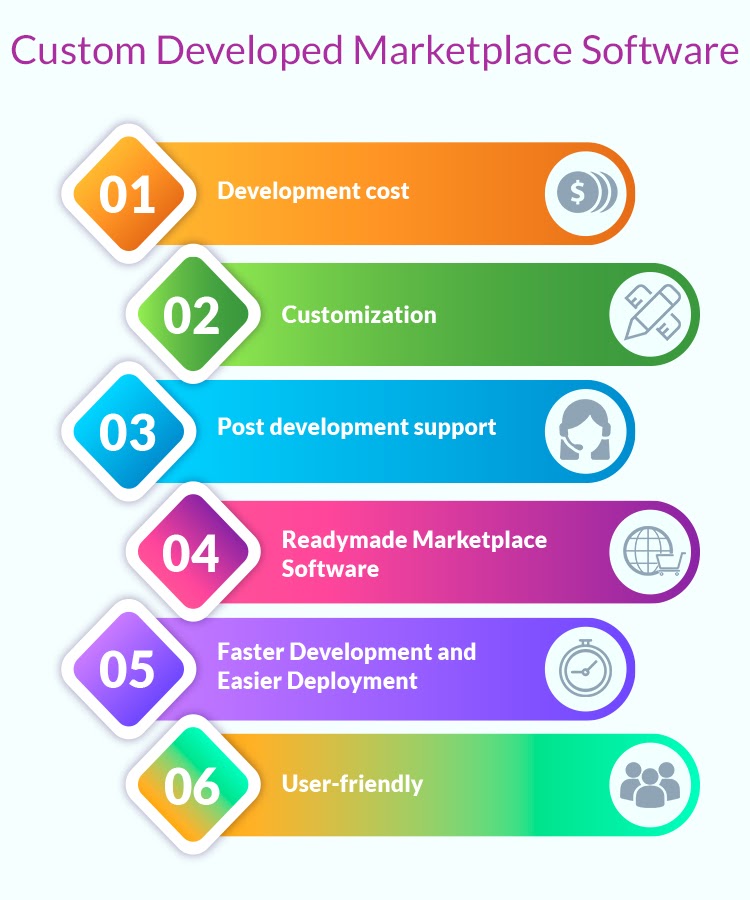 If your e-commerce marketplace needs more than just a software and if you want a software solution tailor-made to fit your specific requirements and optimum scalability, custom software is ideal.
Let's check out the pros and cons of a custom developed software.
Pros
You can tally personalize online shopping experience as per your audience needs.
There is optimum scalability irrespective of user growth.
Custom-built features as per specific requirements.
Cons
Can involve a bigger investment.
Time consuming as development starts from scratch.
You need experienced developer talents.
Ultimately, the output and performance cannot be guaranteed until its out.
Now, let us have a look at the key considerations of a custom developed E-commerce multi-vendor website.
In case of the custom custom e-commerce marketplace website development, the development cost is pretty high. This is more because of the need for developer talents with great experience and expertise. Moreover, a meticulous approach on every aspect will involve bigger development time as well.
You can allow your customers a lot of scopes for customization as per their likes or dislikes starting from the font, template to website theme. The code dependency is also taken care of to accommodate any type of add-ons.
The ultimate important part of any development company building custom solution is providing post development support. Any e-commerce store may need further modification or changes to meet their needs and this requires post development support.
Readymade Marketplace Software
There are too many readymade marketplace software platforms that are widely used by many e-commerce businesses. These software solutions have their equal pros and cons.
Pros
Because of being ready-made it can build a platform faster.
Less expensive as readymade software comes with a fixed price.
Lots of free readymade tools and extensions can be used.
With a lot of plugins it can offer customisation as well.
It is user-friendly by accommodating conventions of popular software.
Cons
There is a limit of customization with such software.
Switching from one platform to another can be difficult.
Business competitors can use the same solution or template.
Regular updates and performance optimization is required.
Let's have a look at the key considerations for using a readymade marketplace software for e-commerce stores.
Though the readymade software comes as already developed they can be further customized with third party plugins and tools.
Faster Development and Easier Deployment
As they come as readymade scripts there is hardly any need for additional coding. This helps faster development and make the e-commerce store ready in far less time than custom software based stores.
Readymade multi-vendor e-commerce mobile app and software evolved as per user needs and general market demands and hence they are truly user-friendly. As they are constantly fine tuned with latest design elements and features, they offer great user experience.
3 Leading E-commerce Development Platforms
There are too many top e-commerce software platforms in the market. Here we have picked the leading 3 e-commerce development platforms that are popular all over the globe.
Shopify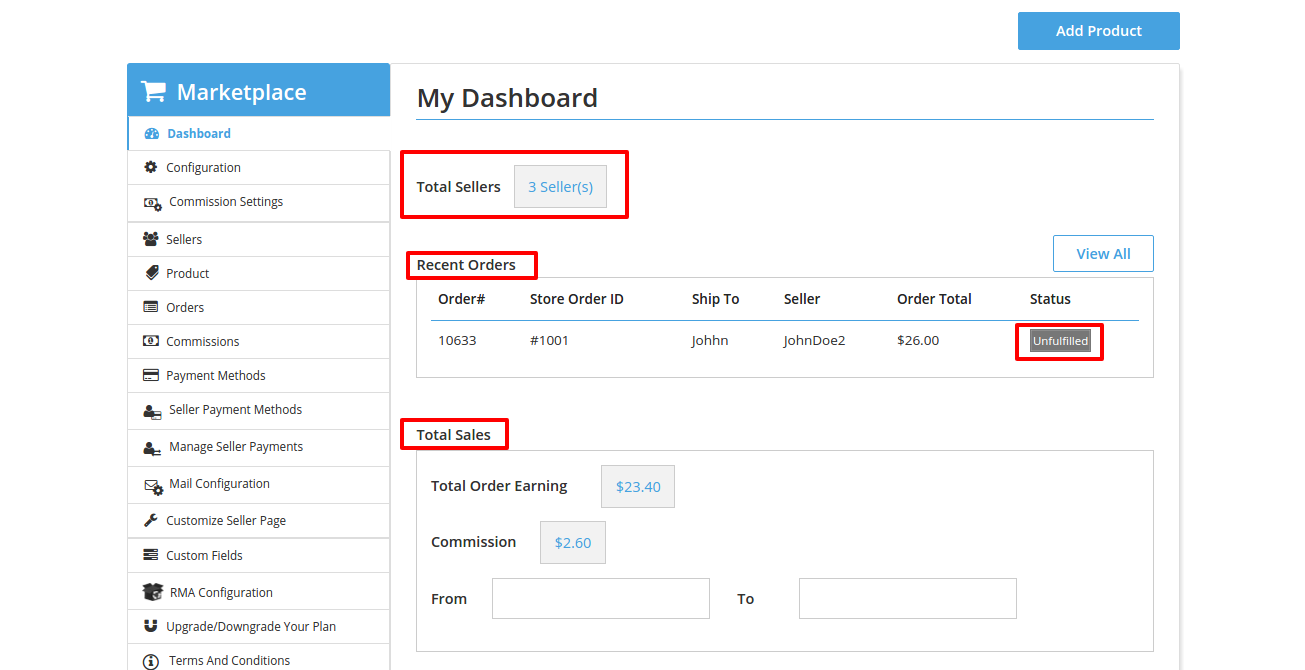 It is a managed e-commerce platform that takes care of everything including hosting, easy development help and built in promotional tools. You need to pay per month to keep your store running. There are various plans to choose from. Let's have a quick look at the features.
It allows a revenue model based upon a global commission for all the sellers or a specific commission for every individual seller.
Product import ability and bulk editing ability in CSV.
Ability to showcase both physical and digital products.
Reminder feature to send alerts to a seller through email.
Individual profile pages for vendors.
Multi-lingual support and multi-location presence supported.
It comes with 3 different tariff plans with the monthly payment apart from providing a 15-day trial period.
WordPress
WordPress is a leading CMS solution that empowers the largest number of websites, blogs and e-commerce stores. It is a free and open-source content management software built with PHP and MySQL. With a flexible plugin architecture and a robust template system it supports building all types of websites including e-commerce stores. With the free WooCommerce plugin you can easily integrate features for sales and purchases.
All basic features of a multi-vendor store and ability to integrate more through plugins.
Can accommodate unlimited Vendors.
An easy to use front end vendor dashboard.
Order management.
A system for vendor withdrawal.
E-commerce store widgets.
Technical support from WordPress.org.
The solution comes with as many as 5 tariff plans along with a free plan.
Magento
Read More: Top Brands Using Magento For Their eCommerce Business
Magento is a robust and globally recognised e-commerce open source platform offering loads of e-commerce-ready features for marketing, search engine optimization, and content management. It is a platform that requires users to take hosting separately. It is great particularly for the tech-savvy businesses, but it is also the most robust in terms of capabilities.
It provides support of all languages including LTR and RTL.
It comes with templates ready to accommodate responsive web design.
It delivers modern e-commerce features such as seller product collection, order
management, feedback support ratings, and commissions.
It provides support for all leading payment gateways and wallets.
The Magento is available for just a one-time fee along with three-month long support service.
Conclusion
While multi-vendor eCommerce marketplaces will continue to grow and become popular, the choice of the tools and technologies as per business needs and audience will always be crucial.