Do you have a strong interest in interior design and furniture? Or perhaps you've always wanted to open your own internet furniture business?
In the modern world, having an internet presence is crucial for businesses, particularly those in the furniture sector. Internet buying is becoming more and more convenient. Making an online furniture app will therefore greatly increase your customer base and increase sales.
According to Statista, the global online furniture industry has reached a revenue of $729.20bn this year with an annual growth rate (CAGR) of 5.03% from 2023 to 2028.
With the convenience of their mobile devices, your consumers can easily browse through your products, place orders, and make transactions thanks to an eCommerce mobile app. With the aid of a well-made and user-friendly app, you may provide a seamless shopping experience that changes to meet the shifting needs and preferences of your target market.
It's crucial to take the experience of specialized mobile app developers into account before starting the process of developing your online furniture store app. These experts have the necessary technical know-how and business acumen to turn your idea into a fully operating app.
Now let's dive into the world of mobile app development and discover how to create an engaging app for your online furniture store that will amaze the users and propel your company to new heights.
Essential Features of Online Furniture App Development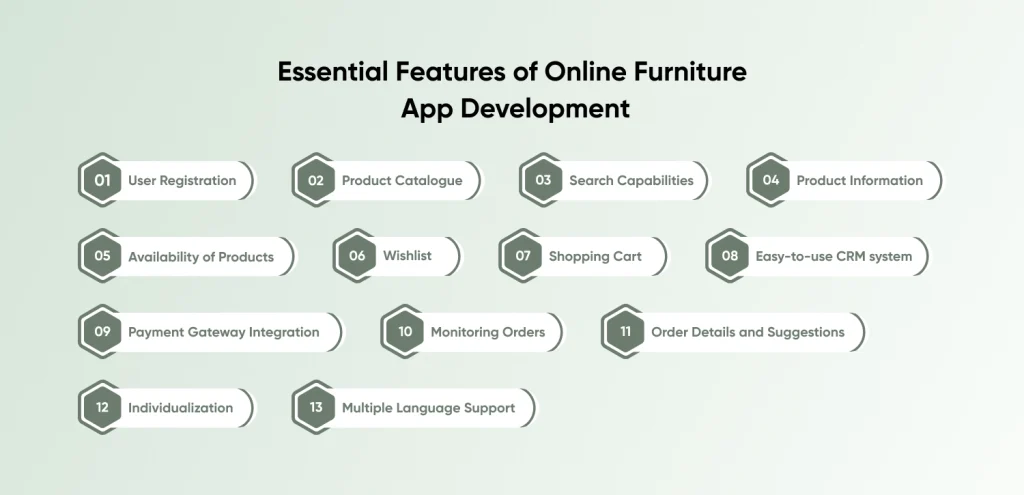 The best on-demand app development services are those that give you the top-class and most exclusive features for an online furniture application. You may discover the following typical features in an app for your online furniture store:
User Registration: It enables users to access customized features like wishlists, order tracking, and notifications by either creating an account or logging in with their current credentials.
Product Catalogue: Offers a large selection of furniture pieces together with thorough descriptions, excellent photos, and cost details. Customers can explore various categories, refine search results, and arrange items according to their tastes.
Search Capabilities: Allows users to look for certain furniture pieces using keywords, filters, or features like material, size, color, etc. It facilitates users' rapid discovery of the precise products they seek.
Product Information: Gives a thorough description of every piece of furniture, including its measurements, the materials it was made of, the available colors, user reviews, ratings, and related items. Users can utilize this to make well-informed purchasing decisions.
Availability of Products: The program may display statistics on furniture product availability in real-time. This could show if an item is in stock, available for preorder, or not. Customers can use this to inform their decisions by considering what is already available.
Wishlist: Enables clients to list their preferred furniture pieces for further review or comparison. It enables users to usefully keep track of objects of interest.
Shopping Cart: Lets users add specific furniture items to their shopping cart for a faster checkout process. They can check and adjust the cart.
Easy-to-use CRM System: Better customer service and an improved user experience can be achieved by integrating a Customer Relationship Management (CRM) system with an easy-to-use interface. It makes it possible for the app to keep track of user activities, handle user data, and provide tailored promotions and recommendations.
Payment Gateway Integration: To offer a simple and safe payment process, the app interfaces with well-known payment gateways. A convenient checkout process is ensured by the variety of payment options available to users, including digital payment systems, mobile wallets, debit cards, and credit cards.
Monitoring Orders gives customers the ability to monitor the progress of their orders and obtain details regarding shipment, delivery, and the approximate dates of arrival. They are able to get updates or notifications about their orders.
Order Details and Suggestions keeps a thorough order history for users, making it simple for them to keep track of previous purchases, place new orders, and see past exchanges. The app may also utilize this information to provide user-specific recommendations based on their past purchases.
Individualization based on surfing history, buying patterns, and user preferences, makes tailored recommendations. By making furniture recommendations that match the interests of the user, it improves their experience.
Multiple Language Support: This feature lets users choose their favorite language for product descriptions, app navigation, and other content in addition to the default language. It improves accessibility and increases the app's usability for users worldwide.

Furniture Mobile App Store Development Process
In general, there are four processes involved in developing an online furniture app store.
1. Setting up the Magento 2
The industry-leading eCommerce software platform, magento, is an excellent option that includes pre-built features like payment portals, an intuitive admin panel, and drag-and-drop layout capabilities.
2. Selecting and Acquiring a Theme for Design
Hundreds of thousands of pre-made themes that are tailored to certain areas, such as clothing and shoes, are available in magento. You need to decide which of these works best for the screen on your mobile device and website.
3. Set Up Payment and Shipping Options
Magento 2 allows you to choose your warehouse location, delivery costs, and delivery address placement across a range of shipping platforms and methods. Nearly every payment option, including PayPal for international payments, Paybox for clients in Europe, and Braintree for clients in North America, is accessible via the magento platform.
4. Logistics
From the time the user places his order until it is delivered and accepted, he should have an excellent experience. For courier services and delivery, you must choose a reliable logistics partner.
Advanced Functionalities of the Social Furniture Shopping App Development
Register/Log in
When a user opens the app, they will see this feature first. The application requires a login and password to be accessed. Apps now, however, enable users to log in with their social network accounts, which is really helpful as it saves users from having to remember their usernames and passwords.
Assistance for Chatbots
When you first opened the app, you were greeted by a chatbot that would help you navigate it and respond to any questions you might have had.
Push Notifications
Users receive timely reminders from push notifications, which also keep them informed about the newest developments in the furniture industry. Users can use notifications to be reminded of the most recent collections brought to the furniture store or of a specific set they requested the business bring in for them.
Built-in Camera
Customers will be able to take images of the furniture pieces with the app's camera so they may view them at a later time. To obtain a full 360-degree perspective of the furniture set, users can also record a movie of it.
Effective System for Managing Content
An application called a content management system is used by the apps to manage their web content, enabling various contributors to generate, edit, and publish content. Stated differently, the generation and alteration of digital material is managed by a content management system (CMS).
Methods of Payment
Allowing for flexibility in payment methods is a terrific way to put users at ease. A range of payment methods, such as PayPal, UPI, credit cards, and debit cards, will simplify the purchasing process for customers.
Loyalty Initiatives
Discounts, exclusive deals, and a host of other advantages are part of loyalty programs, but they are only available to users who have been actively using the app for a considerable amount of time and have maintained a positive relationship with it.
Dashboards and Statistics in Real-time
You can use interactive data visualizations to analyze, monitor, and report on the company's data in real time with the use of real-time dashboards. These are fairly beneficial in that they offer the most pertinent data for operational reporting.
Examples of Online Furniture Stores and Apps
Wayfair Inc.
One of the well-known furniture apps, Wayfair Inc., offers more than 7 million products. Through the app, it has standardized the online furniture and home decor retailers. The software has an amazing 3D View in Room feature that assists customers in selecting their furnishings. Additionally, the app's room planner feature makes it incredibly easy for users to choose a piece that complements their house with speed.
IKEA
The massive furniture retailer IKEA is well-known for offering reasonably priced home goods. The startup uses 3D effects in its software to simulate the appearance of real photos. Additionally, users can create a shopping app to design a room by selecting a few objects and virtually placing 3D models in certain locations. This app offers many other incredible features, such as decor recommendations in a "For You" feed, a section for personalized products, and the ability for users to explore the history of objects they have viewed.
Urban Ladder
Many people find this app to be visually appealing, owing to the popularity of contemporary and chic home design themes. This application makes things lighter than before by allowing customers to furnish the house decor right away. It uses more than 5,000 pieces of furniture and design concepts. It includes a list of personalized suggestions based on the search history. Additionally, users can pinch and zoom to examine things up close.
Amazon
Whatever the need, furniture is undoubtedly one of the many things that Amazon can fulfill when it comes to online buying. There are a tonne of possibilities for furniture and home decor accessible here from various sellers. Amazon offers a wide range of styles and premium designers, ranging from basic and reasonably priced to intricate and diverse.
Walmart
Another one-stop shop for pretty much anything can be found at Walmart. This store is more than just groceries, as we well know. This business offers a plethora of possibilities if you're seeking furnishings to decorate your home. Aside from that, you've undoubtedly already used it, so you are aware of how user-friendly it is and how many options are available to you.
Teck Stack to Develop
Twilio and Push.io offer push alerts.
Datastax: Management of data
Verification of SMS, Voice, and Phone: Twilio, Nexmo
Databases: HBase, Cassandra, MongoDB, and MailChimp Integration
Cloud infrastructure: AWS
Mandrill: email management
GWT: Effective programming
Debian: the operating system for all platforms
Helix Universal Server, Wowza streaming, and Nimble Streamer are examples of streaming media systems.
Real-time analytics: BigData, IBM, Spark, Hadoop, Cisco, and Apache Flink
How Is the Furniture Store App Monetized?
You cannot leave building a furniture store without investigating how to make your app or website profitable. If your app provides online help, you can use the following monetization approach to grow your revenue:
1. In-App Acquisitions
At the end of the day, you are satisfying your clients if your furniture store provides guaranteed presents with purchases. Offering in-app purchases that entice users to download your furniture app is the best method to monetize it. Yes, it's a great idea to boost app downloads, produce high app traffic, and achieve overall solid sales numbers.
2. Discounts and Gifts
Creating a welcoming app experience for your clients from the time they sign up is crucial if you are going to build an online retail store. In addition to giving them vouchers to use towards a specified purchase amount or to enter a fortunate draw, you can give them a welcome gift for registering.
3. Contest
Organizing competitions for users is one of the finest methods to not just monetize a furniture app but also to keep users interested and involved. Establishing a competitive atmosphere won't improve your store's sales numbers, volume of business, or, most importantly, its potential for incredibly devoted customers.
Cost of Developing a Mobile App for Online Furniture
You must take the time to review the projected cost of creating an online furniture store. The process of constructing an online furniture store involves a wide range of factors. Numerous things will influence the pricing of the online furniture store. Let's examine them now.
The mobile app's design concept for the internet furniture store
promotion assistance
The total count of pages
Branding cost
Maintenance and technical assistance after the website has completed its creation
Use of cutting-edge eCommerce mobile app solutions and modules, such as chatbots
Moreover, the distinction between a basic furniture store app and an intricate furniture store establishes the approximate cost you will incur for the task. A complicated furniture store app can be created for about $20000 USD, while a small project can be completed for about $10000 USD.
Conclusion
For furniture industry organizations, there are several benefits to using on demand app services to create furniture applications. Furniture shops may build an engaging web platform that improves the consumer experience by working with reputed mobile app development companies or you canhire mobile app developers.
With the help of a furniture app, companies can create a comfortable online presence that lets clients browse and buy furniture from the comfort of their homes. With online shopping becoming increasingly popular, having a furniture-specific app can greatly increase sales and consumer engagement.
It is advised that you get in touch with CMARIX or another expert mobile app development service provider to take advantage of the advantages provided by furniture app development. From conception to launch, our team of committed mobile app developers can help you every step of the way and offer continuing support and upkeep.