Do you own an eCommerce business or a retail store? Are you wondering how to create a shopping app for your business?
It is as simple as developing any other mobile application. Before you skip to how to create a shopping app, you need to understand why you need an app.
Let's take an example of the most used online eCommerce shopping app worldwide- Amazon. According to Statista, due to online retail, Amazon hit nearly $514 bn in net sales last year.
Well, providing ease and convenience to your customers should be the topmost priority of your business. Giving a good retail experience is what a customer should feel while shopping.
All you need to do is read this blog to understand everything in detail and then you can hire mobile app developers to help you with shopping app development.
Reasons to Create an eCommerce App
Here are 5 top reasons why creating an eCommerce app for your retail business can be beneficial:
Increased Reach and Sales: With an eCommerce app, you can reach a wider audience beyond your local area, resulting in increased sales. Customers can easily find and purchase your products using their mobile devices. Additionally, you can integrate an eCommerce shipping API to provide a seamless checkout experience for your customers.
Enhanced Customer Experience: An eCommerce app offers a more convenient and personalized shopping experience to customers. They can easily browse through your products, read reviews, make purchases, and track their orders within the app. You can also use eCommerce development services to customize your app and create unique features that appeal to your customers.
Competitive Advantage: In today's digital age, having an eCommerce app can give you a competitive edge over businesses that do not have one. It shows that you are up-to-date with the latest technology and willing to invest in your customer's experience.
Brand Building: An eCommerce app allows you to showcase your brand and build customer loyalty. You can use the app to promote your products, offer discounts, and engage with your customers through push notifications and other marketing tactics.
Increased Efficiency and Cost Savings: An eCommerce app can streamline your operations and reduce overhead costs associated with physical stores. You can manage your inventory, orders, and customer data more efficiently using a single platform, resulting in cost savings and improved business processes.
An eCommerce app can increase your reach and sales, enhance the customer experience, provide a competitive advantage, build your brand, and increase efficiency and cost savings. Consider partnering with eCommerce development services to create a robust and reliable app that meets the needs of your business and customers.
5 Best Online Shopping Apps That You Can Create Your Own Store App Like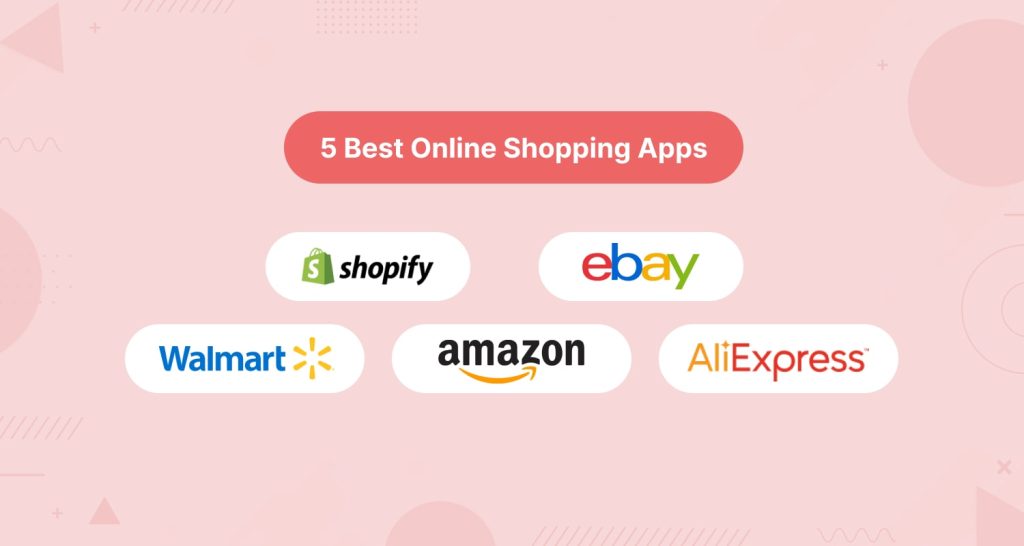 1. Amazon
Amazon is one of the largest online retailers in the world, with a comprehensive shopping app that offers a wide range of products, including electronics, clothing, books, and more. You can create an app similar to Amazon using shopping app development services and integrate features such as product recommendations, personalized search results, and secure payment options.
Best features: personalized recommendations, quick and easy checkout, Alexa voice assistant integration, one-click ordering, and access to Amazon Prime benefits.
App ratings: 4.8/5 on iOS app store and 4.4/5 on Google Play store.
2. Walmart
Walmart is another major player in the eCommerce industry, with a shopping app that provides a seamless shopping experience to customers. You can create an app similar to Walmart and use features such as barcode scanning, price comparison, and easy checkout to attract customers.
Best features: barcode scanner, savings catcher, easy reorder, free two-day shipping on eligible items, and grocery pickup and delivery.
App ratings: 4.7/5 on iOS app store and 4.2/5 on Google Play store.
3. eBay
eBay is an online marketplace that allows users to buy and sell products, including rare and hard-to-find items. You can create an app similar to eBay and use features such as bidding, auctions, and feedback ratings to build customer trust and loyalty.
Best features: bidding and auction system, advanced search filters, watch list to track items, buyer and seller protection, and real-time notifications.
App ratings: 4.7/5 on iOS app store and 4.3/5 on Google Play store.
4. Shopify
Shopify is a popular eCommerce platform that allows businesses to create their own online store and sell products. You can use Shopify development services to create a custom app for your store that integrates with your Shopify account and provides a seamless shopping experience to customers.
Best features: customized storefront, inventory management, secure payment options, order tracking, and 24/7 customer support.
App ratings: 4.8/5 on iOS app store and 4.4/5 on Google Play store.
5. AliExpress
AliExpress is a global online marketplace that offers a wide range of products at affordable prices. You can create an app similar to AliExpress and use features such as free shipping, secure payment options, and buyer protection to attract customers and build a loyal customer base.
Best features: free shipping on most items, buyer protection, millions of products from different categories, and secure payment options.
App ratings: 4.7/5 on iOS app store and 4.5/5 on Google Play store.
These online shopping apps offer a range of features to customers, including personalized recommendations, barcode scanners, bidding systems, inventory management, and free shipping. Their app ratings on both iOS and Google Play stores are generally high, indicating that they provide a good user experience. However, it's worth noting that app ratings can vary over time and across different regions, so it's important to regularly monitor and improve your app's performance to ensure customer satisfaction.
You may like this: Build a Successful Two-Sided Marketplace
Top Features You Should Consider While Shopping App Development
After discussing the top shopping apps and their features, it's important to consider what features should be included in your own shopping app. Here are some core and advanced features to consider when creating your own shopping app using shopping app development services:
Core Features
User registration and profile management – This feature allows users to create an account on the shopping app and manage their personal information, shipping and billing addresses, and payment methods. By creating an account, users can save time during checkout by not having to re-enter their information and view their order history.
Product search and filtering – This feature enables users to search for specific products by entering keywords or applying filters based on categories, brands, prices, or other attributes. This feature helps users find what they are looking for quickly and easily, making the shopping experience more efficient and enjoyable.
Product listing with images, descriptions, and pricing – This feature displays all the products available on the shopping app, along with their images, descriptions, and pricing. Users can click on each product to view more details such as size, color, availability, and customer reviews.
Shopping cart and checkout – This feature enables users to add products to their cart and proceed to checkout when they are ready to complete their purchase. During checkout, users can review their order, apply any discounts or coupons, choose their shipping and payment methods, and confirm their purchase.
Order tracking and history – This feature allows users to track the status of their orders in real time and view their order history to keep track of their purchases. This feature provides transparency and builds trust with the users, which can improve their shopping experience and satisfaction.
Payment gateway integration – This feature enables secure and seamless transactions by integrating with popular payment gateways such as PayPal, Stripe, or Apple Pay. This feature ensures that users can complete their purchases with ease and confidence.
Push notifications for order updates and promotional offers – This feature allows businesses to send timely and relevant notifications to users, such as updates on their order status or promotional offers that may interest them. This feature helps businesses stay connected with their users and improve their engagement and loyalty.
Customer support and feedback – This feature provides users with various ways to contact customer support, such as email, phone, chat, or a help center within the app. This feature also allows users to provide feedback on their shopping experience, which can help businesses improve their apps and services.
Social media integration – This feature enables users to share products they like or their shopping experience on social media platforms such as Facebook, Instagram, or Twitter. This feature helps businesses reach a wider audience and promote their brand and products.
Security features such as SSL encryption, two-factor authentication, and PCI compliance – This feature ensures that users' personal and payment information is protected from hackers and fraudsters. This feature is critical for any eCommerce app created using shopping app development services to ensure the trust and safety of users.
Advanced Features
Personalized recommendations based on browsing and purchase history – This feature uses machine learning algorithms to analyze user data and provide personalized product recommendations that are more likely to interest them. This feature can improve the shopping experience by reducing the time users spend searching for products and increasing the chances of upselling or cross-selling.
In-app chat or video call with customer support – This feature enables users to communicate with customer support directly from within the app and can include features such as live chat, video calls, or screen sharing to resolve any issues or answer questions quickly. This feature can enhance the shopping experience by providing a personalized and real-time interaction with customer support.
Barcode scanning for product information and price comparison – This feature allows users to scan barcodes of products using their smartphone camera to view more information about the product, such as reviews, prices, or specifications. This feature can help users make more informed purchasing decisions and improve the app's usefulness.
Augmented reality for virtual try-ons and product visualization – This feature allows users to use their smartphone camera and AR technology to visualize how products would look in real life, such as trying on clothes or placing furniture in their home. This feature can enhance the shopping experience by providing a more interactive and immersive way to shop.
Multi-language and multi-currency support – This feature enables the shopping app to support multiple languages and currencies, making it accessible to users from different regions and countries. This feature can increase the app's user base and revenue potential by catering to a global audience.
Social login and social sharing – This feature allows users to sign up or log in to the shopping app using their social media accounts such as Facebook, Google, or Twitter. This feature can simplify the registration process and improve user engagement by enabling users to share their purchases and experiences on social media.
Voice search and virtual assistants – This feature enables users to search for products or place orders using voice commands, such as "find me a red dress" or "add a white shirt to my cart." This feature can improve the accessibility and convenience of the app, especially for users who prefer hands-free interactions.
Loyalty and rewards programs – This feature incentivizes users to make repeat purchases and engage with the shopping app by offering loyalty points, discounts, or exclusive offers. This feature can increase user retention and loyalty, which can lead to higher customer lifetime value and revenue.
Geolocation and in-store pickup – This feature allows users to search for nearby stores or pickup locations and choose to pick up their orders in person instead of shipping. This feature can reduce shipping costs and times and provide users with more flexibility and control over their orders.
Analytics and reporting – This feature provides businesses with valuable insights into user behavior, sales trends, and app performance, enabling them to make data-driven decisions and optimize their app and services. This feature can help businesses improve their ROI and competitiveness in the market.
These features can enhance the shopping experience, improve user engagement and loyalty, and increase revenue potential for businesses.
You may like this: Digital Commerce Versus E-commerce
How to Create a Shopping App – Check These 9 Steps
Do you have a concept for a purchasing application for your company? Here are all the steps you must take to comprehend how to build a personalized app with cutting-edge purchasing app features.
Step 1: Do Market Research
Before you start building a shopping app for your company, choose your specialty. If you had more than an idea to choose the niche, it would be beneficial. It is here that app market study is useful. While conducting your market study, you should be aware of the response to the following query.
You can find the gaps by using the shopping app's comprehensive market research. It may also aid in the app's validation. Finding a product-market fit for the shopping cart app you intend to create is similarly crucial.
Conduct a SWOT and risk analysis of the shopping app market to make sure you have a thorough knowledge of your opportunities and competitors.
A validated concept for the shopping app, a specified target audience, and the problems experienced by users are the deliverables at the conclusion of this stage.
Step 2: Develop a mobile development strategy.
It's time to lay a solid groundwork for constructing your own purchasing application. You settle down and develop the idea at this point. Start off by describing what you want to give the audience.
You should specify the monetization strategies as you create the mobile app strategy and branding for the purchasing application. When defining a monetization strategy, it's important to understand how free apps generate revenue. This will be beneficial when you are developing shopping software.
Choosing a monetization strategy that complements your app development paradigm and methods would be beneficial.
Step 3: Choose an approach for developing apps.
How are you going to create the concept's purchasing app? Do you prefer cross-platform or native app development?
Development of Native Apps
You can use native programming to create a shopping app specifically for iOS or Android.
The platform-specific tech stack of native apps will help you quickly build the mobile application. This method allows applications to incorporate native components without sacrificing performance.
Development of Cross-Platform Apps
Cross-platform apps are an option if you want to create a shopping app for various platforms without changing the interactions or UI design. For each device, the app's logic and codebase will be the same. For a platform-specific encounter, minor adjustments might be required.
You can use hybrid applications if you don't want to waste bandwidth downloading mobile apps.
They are web services encased in mobile applications. Without downloading them, you can use these applications on mobile web browsers. They function similarly to shopping applications but take up no space. Finding answers is much simpler.
Step 4: Select a Trustworthy App Development Company
Your native mobile apps or cross-platform development strategy must be supported by a well-defined team structure for developing mobile applications. You now need to choose whether you want to create the app internally or externally. Finally, you should decide what kind of service you want to use.
You have the option of hiring a team or hire a dedicated developer for your website. You can put together a group of native or cross-platform app writers depending on the strategy you decide to take.
Depending on your plan, you can choose a native app creator or a cross-platform developer. For this purpose, you can employ a freelancer or team.
Depending on your requirements, you can outsource it to a business offering specialized eCommerce programming services. You won't have to pay their wages or make infrastructure investments.
Step 5: Development of UI/UX
The user experience plan should be worked on after the approach, strategy, and tech stack have been established. Interacting with the interface, designing for usability, and positioning the components on the mobile app are all parts of the experience. You should be aware of the best mobile app design practices before starting the design process for a shopping app.
Step 6: Creating a Shopping App
The front-end and back-end development phases would make up the mobile app creation process.
You can create the mobile app from a single codebase if you're planning to make a cross-platform app. With native, however, you have to create the applications separately for the Apple App Store and the Google Play Store. All of the communication between the interface and servers is part of the backend work.
Step 7: Testing, Implementation, and Feedback
It is crucial to offer smartphone users top-notch and effective mobile applications that can persuade users to remain on your mobile application a little bit longer.
Before releasing the applications to the appropriate app stores, quality testing, load testing, and functionality testing are essential. It will take a while to test the application because each component needs to be thoroughly examined for performance, quality, and speed.
To ensure that your program is of the highest caliber, you should run the following tests.
Functional testing
Speed testing
Usability testing
Performance and load testing
Security testing
You will receive user comments after the application has been released to the store. To keep developing your application and enhancing the experience, it would be beneficial if you incorporated this input.
Step 8: The Marketing Techniques
It's possible that there won't be a rise in downloads for your app, which could help with conversions and earnings. Therefore, the first thing to do is to start marketing efforts that you think will help you gain visibility.
Your pre-launch, launch, and post-launch marketing plans must have been prepared. It's time to put the initiatives into action. Your pre-launch teasers and campaigns can begin as soon as the coding is complete and a few weeks before the debut.
For greater visibility, employ a 360-degree marketing approach. After the launch, you can promote the mobile software using offline stores.
Step 9: Maintenance and Support
Your outsourcing business might give you a maintenance package for the first few days following the app's debut. They will attend to every need that your program raises. You can also modify the package to meet the requirements of the business.
The mobile app development company will make sure that your employees have received thorough training and are aware of all the requirements before handing over the shopping app to you.
Perfectly following these procedures will result in a suitable app solution that satisfies the needs of your end users. Cost estimates for shopping apps must be made right from the beginning of preparation. The approximate expense of creating an online store app will be covered in this section.

What is the Cost of Developing a Shopping App?
The cost of developing a shopping app can vary depending on several factors. Here are some factors to consider when estimating the cost of developing a shopping app:
App Platform – The cost can differ based on the platform you choose to develop the app for, such as iOS, Android, or both.
App Design – The app's design can affect the cost, including the number of screens, the complexity of the UI/UX, and the need for custom graphics and animations.
App Features – The number and complexity of features can impact the cost. Basic features such as search, product pages, and cart functionality will cost less than advanced features such as augmented reality or voice search.
Development Team – The cost can vary depending on the size and location of the development team, as well as their experience and skill level.
Backend Infrastructure – The cost can differ based on the complexity of the app's backend infrastructure, including data storage, server requirements, and integration with third-party services.
Testing and Deployment – The cost can differ based on the time and resources needed to thoroughly test and deploy the app on various devices and app stores.
Overall, the cost of developing a shopping app can range from $65000 to $90000 or more, depending on the factors mentioned above. It's essential to work with a reputable shopping app development services provider who can help you determine the most cost-effective approach to developing your app while meeting your specific needs and requirements.
Develop A Robust Shopping App With CMARIX
Use this comprehensive guide and the top e-commerce app development services if you want to build a shopping app for your online store. And complicating digitization is a crucial job in the long run for a better business strategy.
There is enough information about the features, process, types, and many other topics, but the answer is too long for most people to comprehend the entire process in detail.
Even though professional advice is still required, you can get in touch with our knowledgeable developers at CMARIX who can assist you in finding the ideal app solution for the current eCommerce industry.
Frequently Asked Questions
There are several steps to make a shopping app, including:

Determine the app's purpose and target audience
Decide on the app features and functionality
Design the user interface and user experience (UI/UX)
Develop the app using programming languages and frameworks such as Java, Kotlin, Swift, or React Native
Integrate third-party services such as payment gateways and eCommerce shipping APIs
Test the app thoroughly for bugs and performance issues
Deploy the app on app stores such as the Apple App Store and Google Play Store
Update the app regularly based on user feedback and market trends

There are several popular shopping apps, including Amazon, Walmart, Target, and eBay. The best app for online shopping depends on individual preferences, such as product selection, pricing, and shipping options.

The cost of developing an online shopping app can range from $65000 to $90000 or more, depending on factors such as the app platform, design, features, development team, backend infrastructure, and testing and deployment. It's essential to work with a reputable shopping app development services provider who can help you determine the most cost-effective approach to developing your app while meeting your specific needs and requirements.

To make an online shopping app like Amazon, you need to:

Determine the app's purpose and target audience
Decide on the app features and functionality
Design the user interface and user experience (UI/UX)
Develop the app using programming languages and frameworks such as Java, Kotlin, Swift, or React Native
Integrate third-party services such as payment gateways and ecommerce shipping APIs
Deploy the app on app stores such as the Apple App Store and Google Play Store
Update the app regularly based on user feedback and market trends

There are several ways to monetize a shopping app, including:

In-app advertising: display ads within the app to generate revenue
In-app purchases: allow users to purchase products or services within the app
Affiliate marketing: earn commission on sales referred through the app to other eCommerce sites
Subscription model: charge users a monthly or yearly fee to access exclusive content or services
Sponsorship: partner with brands or retailers to promote their products or services within the app