The launch of online trading apps has made stock trading more accessible and convenient to the common man. With the elimination of the middle-man, more and more people are signing up on online trading platforms to invest in stocks and grow their portfolios. This is why trading apps like Robinhood are a huge success and are growing in popularity. Owing to this huge growth potential of stock trading apps, more and more startups and businesses are looking to build a trading app like Robinhood.
But, how do you get started with building trading apps and ensuring they are a market hit? Our experts have researched hundreds of stock trading apps like Robinhood and have built quite a few to find out the secret recipe to success. There are several factors that you must take care of when you build a trading app like Robinhood. For example, you must know what features should absolutely be included to ensure you better fulfill customer needs.
To help you learn all there is to about stock trading app development and easily build a trading app, we have created a detailed guide that breaks it all down. So, what are you waiting for? Get started and learn the secret to building the industry's best trading app today!
An Overview Of The Stock Trading App Development Market
Before we jump right into how to build a stock trading app, there are a few practical questions we must tackle to ensure you have adopted the best app development plan. The first question that comes to mind is whether the stock trading app market is viable or not. In the following section, we report our expert opinion on the same to help you decide whether investing in building a trading app is the right move or not.
Apps like Robinhood are mainly targeted at users who want to start investing and trading but are on a tight budget. Users can simply download these stock trading apps from the Google Play Store or Apple App Store and start investing right away! Moreover, these apps do not charge any commission, i.e. have a zero-fee investing trend, which makes the overall investment process much simpler and affordable.
But, should you invest in a finance software development company to build a trading app? Well, it is a great way for businesses with a huge clientele and years of experience in the trading industry to grow. After all, it is a great way to improve their services, become more accessible, and increase their customer base in no time.
There are a few major players in the trading app market which leaves a lot of space for other development companies to come to the forefront. According to a report published by Statista, Robinhood has already engaged 22.5 million active users since its launch in 2014. Although the app is highly popular among beginners in stock trading, it is also criticized for its adoption of the gamified approach. So, there is still a lot of space left for the development of the best trading app that can overtake Robinhood and other similar apps.
But, how do you ensure that your stock trading app will outgrow the industry's major players and undoubtedly become the best trading app? Well, our experts have researched the industry's most popular apps and evaluated customer feedback. Based on our findings, we have put together this detailed guide that will help ensure that you do not make the same mistakes and become the best stock trading app in the market.
How Does A Stock Trading App Like Robinhood Work?
Before we jump into our tips and advice on how you can build the best stock trading app, we must understand how an online trading platform works.
Stock apps use algorithms and data analytics to track stock prices and analyze them to find patterns. This helps them provide users with insights that can help them easily decide which stocks to invest in and when to do so for better profits. Generally, these trends are visually represented in the form of graphs to allow users to better view the data. Some other common features include investment news and performance metrics of the stocks the user has invested in.
To realize most of these features, the development team must leverage advanced technologies like AI & ML, big data, and data analytics. If you do not have much technical experience or are a tech beginner, we recommend getting in touch with a professional app development company to help save time, money, and effort in the long run.

Some Tips To Help You Successfully Build A Trading App Like Robinhood
With 14+ years of experience, we have learned a lot by developing apps that are capable of rising to the top in no time. Some of our most effective tips that you must keep in mind when looking to build a trading app like Robinhood include:
Thorough Market Research And Competitor Analysis – Even though the stock trading industry has a few major players, it can be a good idea to research the market. Carefully study the market to find out patterns in user behavior and analyze what your competitors are doing. This will help you find out their drawbacks and make a better development plan that helps ensure added customer satisfaction.
Take Fintech Compliances Into Account – To ensure that your app does not get shut down after launch, you must ensure that it complies with all trading and financial regulations set in place. You can hire an expert finance team to ensure that there is no scope for future problems and compliance issues.
Hire Mobile App Developers – To Build A Team – Building an app is not an easy feat which is why you will need all the support you can get. Ensure that the technology partner you choose is the industry's best and can help bring your idea into reality. After all, your technology partner and their experience highly influence the overall development process.
Determine App Features To Be Included – The market research that you conduct will surely offer a glimpse into the different features your competitors' apps include. But, you must decide what features you will include in your app before your development team gets started. It will help them set better objectives and have a better visual idea of what the final application must look like.
But, how do you draw inspiration and determine what features your app must include? Well, you can certainly ask your partner development company to shortlist a few features. Want to know more about the different features your stock trading app can include to better define your objectives? To help you out, we have listed a few key features that every stock trading app includes and that yours must too!
What Key Features Must You Include In Your Stock Trading App?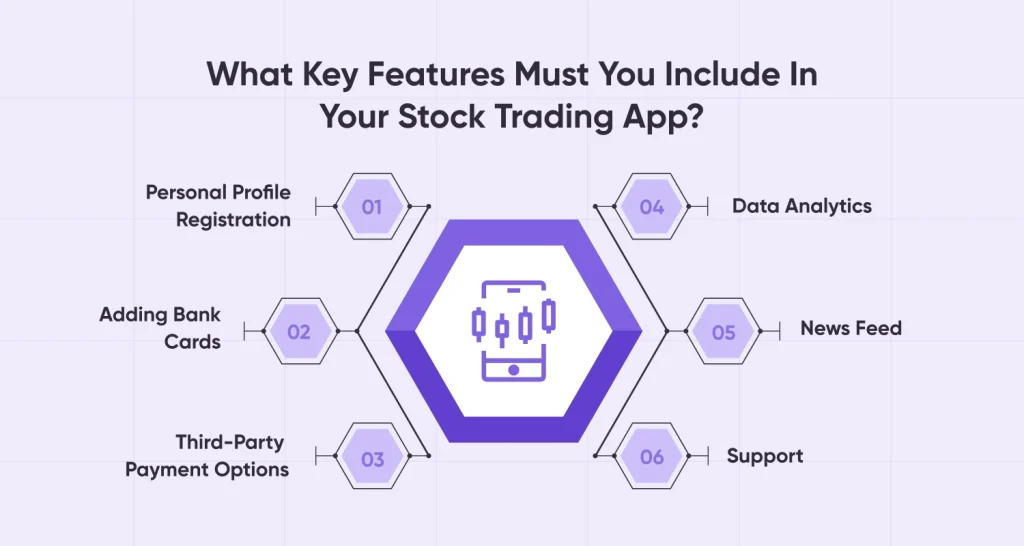 Some key features that your trading app development team must include in your stock trading app are as follows:-
1. Personal Profile Registration
One of the most crucial features that your stock trading app must include is user profile registration and you must keep this phase as simple as possible to ensure better customer satisfaction. After all, if users cannot sign up or sign in, they will uninstall the app and take their business to your competitors. We recommend offering the possibility of signing in with social media profiles. The main focus in this phase must be to implement secure options to better protect customer data.
2. Adding Bank Cards
In any trading app, users must be able to add their banking and card information to start investing. This is why it is one of the most crucial features that must be implemented and added to your stock trading app.
3. Third-Party Payment Options (Most Essential To Build A Trading App Like Robinhood)
All payment options must be secure to ensure there is no scope for financial fraud. This is why we recommend integrating secure third-party payment APIs to protect customer data while ensuring the process is simplified and convenient.
4. Data Analytics
As discussed, stock trading apps must offer users a representation of how stock prices fluctuate along with actionable insights. To implement these features, the development team must leverage advanced technologies like data science, AI & ML, and others. Moreover, these must implement advanced chart features to help users get access to the data in the best way possible. Your development team can integrate the best-trending stock market API to better realize these features.
5. News Feed
Another critical feature of trading apps especially those targeted to beginners is the news feed. This feature must offer users news updates about the stock market and offer them information about any policy changes that affect stock trading.
6. Support
When creating a trading platform built for beginners, you must ensure that customers have access to a reliable support team. This will not only help users clarify doubts and queries as soon as possible but also boost customer satisfaction in the process. So, it is necessary to include support features and integrate them directly with the platform.
How To Build A Stock Trading App Like Robinhood For Today's Industry?
With so many trading apps available in the market, it can be challenging to create a stock trading app that is destined to become the industry's best. But, we are here to help break it down into smaller chunks and help you get started with the development of a fully-functional stock trading app as soon as possible. These are:-
1. Conduct Market Research And Better Understand Business Goals
A lot of businesses get so focused on the design and development of their trading app that they often skip this step. However, we believe that it is the most crucial and majorly contributes to the end-user journey. It is important that you have a good idea about the stock market before you start on your journey of developing a trading app. Some common questions that you must aim to answer before jumping into the development process include:
Why do you want to build a trading app like Robinhood?
Who is your target audience and how do they use their mobile devices?
What is the investment budget that you can dedicate to building the app?
What are the technical requirements and specifications (if any)?
Who are your competitors and what can you do differently?

2. Plan The Development Approach To Be Adopted
The next step is to explore the different development approaches available and choose one that suits your business goals the best. For example, pre-built app design and development templates speed up the development process and can be cost-effective. On the other hand, tailored solutions do take long, but can guarantee elevated user experiences and completely cater to your brand identity. Evaluate the different options available to you and decide which suits you the best before kickstarting the development process.
3. Design A Seamless And Interactive UI/UX
As soon as the development plan is finalized, you must work on the development roadmap while your team must focus on creating an app wireframe or a prototype. This will help you get a better understanding of how the final app will look and get user feedback to make the necessary changes before jumping into the design and development process.
4. Partner With A Professional Mobile App Development Company To Build The Best App
Building a trading app is not an easy feat which is why you must choose a mobile app development company that specializes in app design and development. This will also ensure that the burden is off your shoulders and that your app design and development are in very capable hands.
5. Test And Deploy The App
Once the app has been developed, your team must carry out the complete app testing process to debug the code and identify bugs. Doing so will help you better identify app problems and ensure that you have solved them before the app is launched. This will ensure that your app works as expected and is ready to be deployed. Now, your team will release your app to the platform they deem fit to allow users to use the app and enjoy the experience.
What Is The Approximate Cost Of Stock Trading App Development?
The cost to build a trading app like Robinhood can cost anywhere between $30,000 to $70,000 USD. After all, it depends on a lot of factors like the features included in the app, the advanced technologies in use, and the code complexity. Want an accurate estimate of the cost of stock trading app development before investing in it? Get in touch with our experts to discuss your business needs and get a detailed breakdown of the total investment needed.
How Can CMARIX Help You Create A Stock Trading App Like Robinhood?
Trading apps can help existing trading businesses expand and bring in more customers without much effort. To build a trading app, you need an in-depth understanding of the different factors at play, and we hope our article helped break it down into simple parts. Interested in getting started with building a trading app that is set to break all boundaries and dominate the industry?
With over 14+ years in the market, our team of experts is quite knowledgeable about the fintech and banking industries. We have developed a wide range of fintech solutions to allow users to conveniently invest, better plan finances, and perform banking operations. Our professional team is exactly what you need to succeed and build a trading app like Robinhood that sets new industry standards. So, reach out to us to schedule a call and get started on your journey to building the best trading app in the market!
Frequently Asked Questions
Some common features included in stock trading apps include – user profile creation, user onboarding, newsfeed, dashboard, secured payment gateways, and much more. To learn more about these key features, check out the above article on building trading apps.

To ensure that customer data is protected on trading apps, your team must implement advanced security measures and protocols. Moreover, they must ensure that your app complies with all regulations including data security and protection rules.

The time frame for developing a trading app depends on a lot of factors and can be accurately estimated by a professional development company.

Apps like Robinhood make money in numerous ways out of which the most-used one is – payment for order flow. This simply means that the app routes user orders through market makers who ensure that the trade is complete and compensate the business for a small cut.

The process of building a stock trading app is quite complicated, but you can check out the above article to learn more about it and get the help you need.