Your TV, which used to be the most widely used media channel, is gradually losing ground. The widespread availability of fast Internet and the decreasing cost of internet-enabled smartphones are two of the most important factors in the rise of video streaming websites. Did you know by the year 2024, the number of people watching live video is predicted to rise to 164.6 million.
OTT services use the internet to stream material without any pauses and distribute it directly to users. The online video streaming platforms, which are based on the idea of "on-demand content," have a significant advantage over a traditional cable subscription because they give users more freedom to watch their preferred content whenever and wherever they want without any time or location restrictions.
Before you begin developing a live streaming website, you must first determine which type it belongs to. The following are three types of live streaming apps that are commonly used.
Types of Live Streaming Website
1. Live Broadcasting Apps
The most common sort of live-streaming app is certainly live broadcasting. Users can use the software to broadcast live video and audio recordings to those who have access to the stream. These apps have spawned a slew of internet celebrities and influencers.
Twitch, YouTube Live, Livestream, and Periscope are some of the most popular live streaming apps.
2. Audio Streaming
The idea is the same: users may listen to music without having to download it. It's all really basic. Remove the video and you've got yourself an audio streaming app. You can listen to audio that is streamed in real time over the internet using an audio streaming app. Some of the most well-known music streaming services are Pandora, Spotify, Apple Music, Gaana, and Wynk.
3. Video on Demand Streaming
This one makes it possible for the user to watch TV series and movies without downloading them on devices. However, a distinctive feature is that they can pause content, resume, and rewind it. As a rule, users have to pay for subscriptions to have access to the content. Netflix, Hulu, Amazon Prime are leaders in this area.
In this article, I will explain how to create a live streaming website. But before we get into the specifics, let's define what we mean when we say "live streaming services"
What is a Live Streaming Service?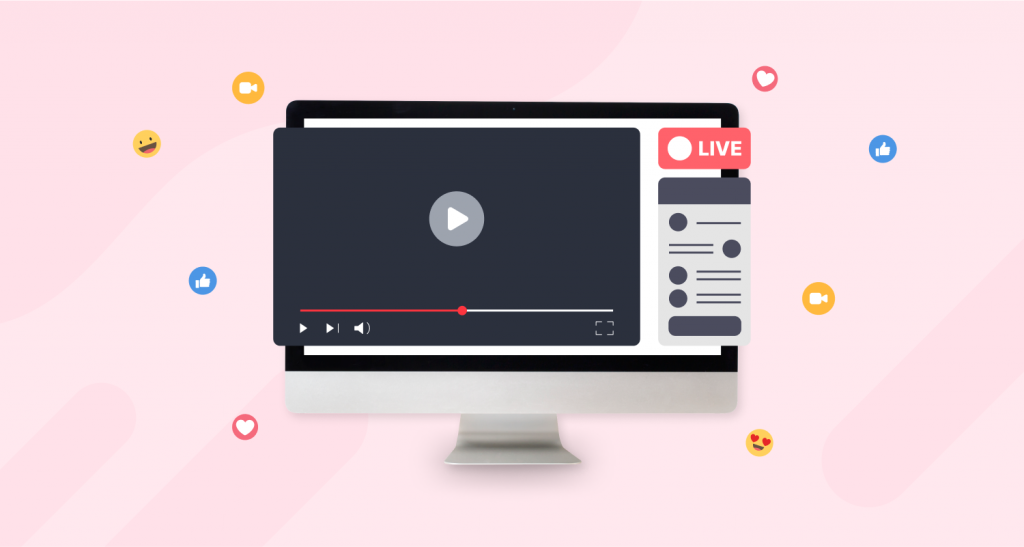 Live-streaming apps, as the name suggests, let users simultaneously capture and transmit video. These apps have become more prevalent in recent years because of the fast internet and sophisticated camera technologies.
Live video streaming applications have accelerated influencer marketing, entertainment, commercial marketing, and online engagement.
Now…
We're not suggesting that sites like Twitch and YouTube for live streaming are terrible. They are fantastic platforms that enable you to communicate with billions of people worldwide.
However, live streamers are understanding that starting their own live streaming website is the only way to guarantee the long-term viability of their operation, particularly if they depend on the revenue generated by their content.
Why? Due to the fact that this is a stand-alone platform that you own, you are able to:
Maintain your independence as an artist.
Make sure you have your finances under control.
Expand your audience (out of the realm of algorithms).
The content you post, the message you want to convey to your target audience, and the way you monetize your content are all completely up to you. Having total control over your revenue sources is essential if you intend to rely on your live broadcasts for a living.
Consider Twitch as an example. According to the terms of their Partner Program agreement, they have the right to delete all of your content and cancel your account at any moment. This is a frightening thought for anyone attempting to make a living from live streams.
You might believe it takes a lot of work to set up and maintain your own live streaming website. And this is true in a lot of ways. However, if you want to create a viable business out of your live streaming, we think it will be worthwhile in the long run.
You must invest some time in research for your OTT platform development that is dynamic enough to entertain a variety of audiences. Some of them include market niche research, the best companies for developing video streaming apps, monetization strategies, and fundamental content licences. This can help you identify the objectives of your project, your target market, and the business strategy for your various streaming services. A licence with regard to streaming rights is necessary to ensure that the law is obeyed.
Let's explore in greater detail how to create video streaming apps that may provide a seamless user experience and amuse a variety of audiences.
Segment Your Audience
In order to create a successful app, you must first determine a specific market need. There are a variety of alternatives to streaming websites.
Run A Research Phase
Choose your target market and the devices on which your app will be accessible, such as a desktop operating system, a smart TV, a website, or an iOS/Android video streaming app. Depending on your selection, you will be able to determine the technology stack needed to build the product.
Confirm Media Availability & License
Depending on the project type, you may offer customers content created by you as well as content distributed by third parties. Copyright defence strategies and any related legal ramifications must always be taken into account.
Select The Monetization Strategies
Determine the monetization strategy for your streaming business. It takes more than just having a capable technological solution to have a sustainable business. Knowing how to generate income from a video streaming software is also crucial.
Create a Video Streaming Platform
By developing apps with no risk, you might be able to test your ideas for video streaming sooner in the real world. Get to launch it with additional benefits by hiring web developers or full-stack app developers.
What Are The Key Features of A Video Streaming Platform?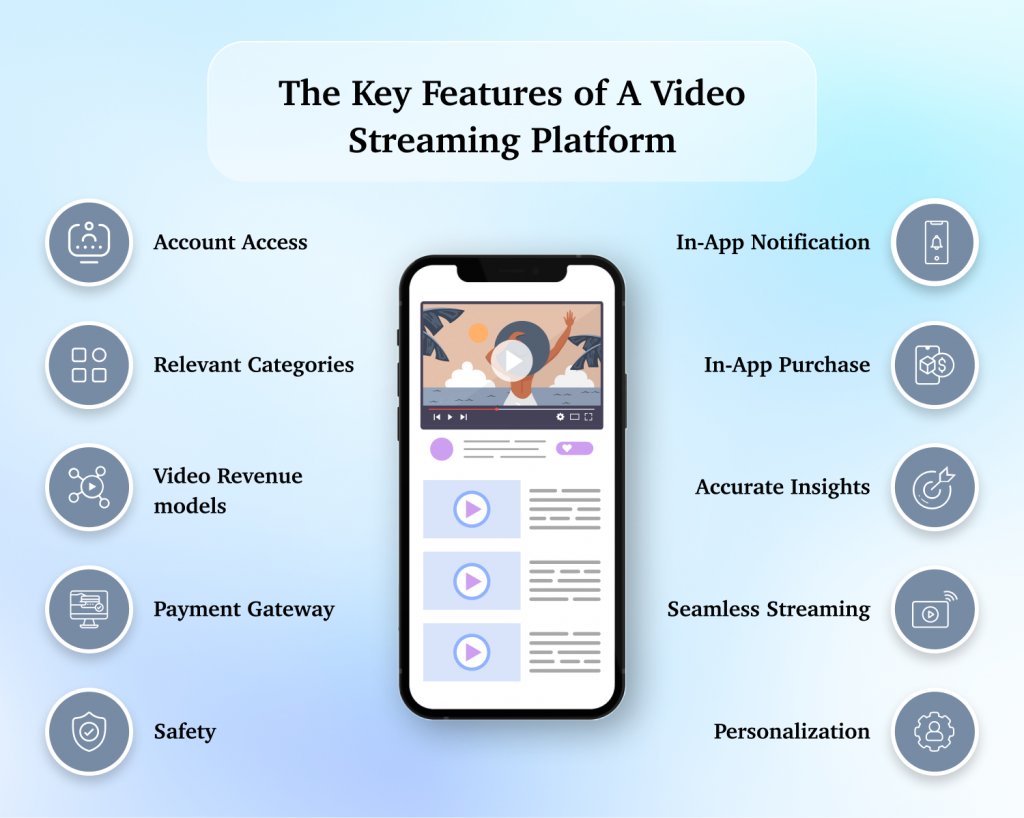 Mapping out the features your app will offer is one of the most important steps when creating a video streaming website. Your online video streaming service needs to be flexible enough to respond to the users' shifting needs.
Account Access
One of the most vital components your online video/audio streaming platform must have is this one. A user-friendly registration and profile-building process is essential for granting access to user-saved content and facilitating the development of a personalised watch list. It's useful for providing customers with a tailored experience.
In-App Notification
You may communicate with your users in real time by sending them push notifications about significant updates and marketing campaigns.
As a result, your online tv streaming website service will see an increase in both user engagement and site traffic. Your app should provide the same material in several languages to appeal to a wider audience throughout the world and ensure that they are able to appreciate your work regardless of their native tongue.
Relevant Categories
Having different sorts of content in distinct areas lets users to readily get the desired content without spending much time searching for it, making this one of the most significant features that works along the lines of structured offers.
It contributes to a better user experience by making navigation easier.
In-App Purchase
Providing more value to site visitors is a great approach to boost revenue. In this way, useful extra functions can be made available to users for a reasonable price.
Essentially, in-app purchases are like adding extra features to your video streaming service.
Video Revenue models
Multiple video monetization platforms give producers and broadcasters the freedom to select an effective monetization strategy for generating income.
Accurate Insights
Including this function in your video-on-demand app is a great way to learn more about your target demographic.
Using the data on how engaged your viewers are, you can create more of what they want to see. Additionally, it will benefit you in avoiding common errors. With the help of a payment gateway, you can easily collect subscription fees from your users.
Payment Gateway
Users should be able to choose from a number of different payment options when signing up for a subscription. Payment options including debit/credit cards, net banking, digital wallets, and others should be accepted so as not to limit customer choice.
Seamless Streaming
Your internet video streaming service should be dependable enough to provide viewers with a seamless experience. You should not have any technical problems with your internet video streaming service.
In terms of streaming services, you should always go with a provider that offers a low latency streaming option that uses a global or multi-CDN(Content Delivery Network). This makes it possible to maintain a consistent experience even with slow internet.
Safety
Cyber-theft is a significant problem for online solution providers in the digital age. All of your users should have a secure streaming experience from your app, and privacy requirements shouldn't be compromised.
Effective digital rights administration systems and encryption will help to safeguard the copyright of the material on your platform and prevent its unauthorised distribution and access.
Personalization
The ability to give a tailored experience to users depends heavily on customization. The extent to which your internet video streaming solution can be customised will determine how widely adopted and successful it is.
When developing a video streaming app, it's important to work with a service that gives you enough leeway in terms of customization that you can establish your own brand and provide a white label OTT platform.

How to Advertise Your Brand-New Live-Streaming Website
It's time to start spreading the word now that your live streaming website is up and running. If you're serious about promoting your live streaming website, you'll need to develop a marketing strategy. It might be as easy as making use of your current email list or as complex as a full-scale launch with influencer marketing.
Starting with Friends
This one is a little more traditional, but it still works, especially if you're just getting started. Just let everyone you know about your new website, including relatives and family. Get the word out by having them spread it to their friends!
Use Your List to Your Advantage
Send an email informing your existing email subscribers about your new live streaming service. Ensure that:
Talk about what prompted you to begin your own live broadcast.
Explain the potential benefits to them.
Include a call to action (CTA) that is clear and a link to your live streaming website.
Since your email list's subscribers are already familiar with and interested in your subject matter, they are a great audience to target for your initial promotional efforts.
Combining Forces with Other Artists
Are you close with other opinion leaders in your industry? Working together is a fantastic approach to connect with a new audience that could be interested in watching your incredible live streaming.
Before approaching influencers and content producers in your network, make sure to develop a win-win partnership offer. What can you provide them, and their audience, in return? Maybe you could provide a handful of their fans free access for a while.
The ideal choice is to collaborate with someone who is also getting ready to introduce their own live streaming service. You can launch together using this method!
You May Also Like : Video Streaming API Integration
Bringing It All Together
Growth in the streaming sector is inevitable. Live streamers should create their own video streaming platforms so they have complete freedom over the content they share, the audience they reach, and the revenue they generate.
Here are your three choices for creating a live video streaming website:
Put your trust in a convenient, all-in-one service like CMARIX.
Hire a developer to create the website in accordance with your specifications.
Use open-source programmes like WordPress.
The ability to continue streaming your material, giving your subscribers a convenient experience, and creating a reliable and ongoing income from your live streams are ultimately what matter the most.
You now have a better understanding of how to create a live streaming website and which platform is most suitable for streaming video. In this sector, it's important to strike a balance between commercial objectives and customer satisfaction.
Frequently, you'll require the assistance of an experienced web developer. Get in touch with us if you want to find out more about the process of creating a minimum viable product for live streaming.
Take a look at
Frequently Asked Questions
Discover your area of expertise. Choosing the material that your app will stream to users is the first step.
Choose the content's accessibility.
Select the monetization strategy.
Review the prerequisites for the video streaming app.
Create an MVP for an on-demand streaming service.
Compile comments.

However, developing a video streaming app that can rival Netflix's content selection, user interface, and all-encompassing usability isn't that challenging; you can just quickly release any video streaming app with a few essential features and expect users to engage with your brand.

Complete personalization, adaptable platform deployment solutions, an advanced robust player, scalable video analytics, end-to-end encryption, and many other features are essential for developing a successful video streaming app.

The two most often used streaming protocols are HLS and RTMP. These two protocols are used by various devices, therefore if you want to create a live streaming website, you'll need to support them both. RTMP, for instance, is primarily used by PCs, whereas HLS is primarily used by mobile devices.

In recent years, OTT platforms for streaming video have experienced tremendous development. Through the three business models of SVOD(subscription-based video on demand), AVOD(advertising-based video on demand) & TVOD(transaction-based video on demand).