Do you have an idea of developing a dating app?
Did you research well and understand that there's potential to earn billions like Bumble and Tinder?
Well, according to Statista, online dating is projected to reach US$ 2.98 billion by the end of 2023 and is expected to reach US$3.39 bn in the next four years.
After reading the above stats, it is proven that developing a dating app is beneficial and increases the ROI of the business.
However, this is the right time to enter the online dating market by developing an app with the help of a developer from the best mobile app development company. This blog helps you with the guide on how to create a dating app in detail.
Let's start with why building a dating app is important.
5 Key Reasons to Develop a Dating App
Did you know, Statista records say that more than 336 million people are seeking love online by using such online dating apps?
The Potential of Dating Apps
An enormous market is available for business owners thanks to the burgeoning dating app sector. Making a dating app offers a lucrative opportunity to capitalize on the rising popularity of online dating and to increase revenue through subscriptions, in-app sales, or adverts. The creation of MVP apps enables you to quickly release a minimal viable product and collect user input for future enhancements.
Accessibility and Convenience
Dating applications offer consumers a simple way to connect with possible mates at any time. By developing a dating app, you provide users the freedom to easily explore profiles, communicate, and locate matches from the convenience of their mobile phones. Users can find and connect with individuals nearby using features like location-based matchmaking, which improves accessibility and increases the likelihood of meaningful relationships.
Personalization and Targeted Matching
To provide personalized recommendations and targeted pairing, dating apps draw on user preferences and algorithmic data. By analyzing user data and preferences, you may develop a dating app that offers relevant and compatible matches, improving the possibility of successful encounters. Including tools like compatibility tests and advanced search filters improves the user experience and increases app engagement.
Opportunities for Social and Professional Networking
A dating app does more than simply help people discover romantic companions; it also facilitates social and professional networking. Users can broaden their social networks, connect with like-minded people, and develop new friendships. Your dating app can promote a feeling of community and compel users to participate outside of conventional dating interactions by incorporating features like group events, online groups, or interest-based forums.
Scalability and Global Reach
A well-designed dating app has the potential to appeal to users all over the world. You may cater to consumers from other countries and greatly increase your user base by developing a bilingual and culturally inclusive app. Scalability is possible with MVP app development, allowing you to incrementally improve and scale your app's infrastructure as user demand increases and providing a seamless user experience.
Now that you know the reason why it is important to build an app, let us now study the different types of dating apps in the market.
4 Best Dating Apps in the Market
It's important to survey the market and comprehend several best dating app categories before you start developing dating applications. You'll be able to design a distinctive and noteworthy experience for your own dating application by researching your rivals and specialized apps. The following examples of well-known dating applications might be used as examples for your development process:
1. Bumble
Bumble is a multi-niche dating app that caters to interests other than romance and is available for both Android and iOS users. It enables users to forge meaningful connections with people in their community and meet new people. Bumble differs from other dating apps since only women can start chats after a match. Additionally, Bumble establishes a 24-hour message-sending window to encourage more active interaction.
2. Tinder
Tinder is the pinnacle of international dating services, with a sizable user base and an easy-to-use interface. It caters to individuals looking for casual relationships or dates by making it simple for users to meet matches from diverse regions. Tinder offers a seamless search for love because of its user-friendly features and intuitive UI.
3. Grindr
The well-known LGBT dating app Grindr uses geolocation to match users with nearby possible mates. The app is designed for queer, gay, bi, and trans people who are looking for deep connections. Users are able to interact with other users, add images, and establish profiles all without charge.
4. OkCupid
American-based OkCupid is a well-known social networking tool that emphasizes making friends, dates, and romantic relationships. The matchmaking algorithm on OkCupid is one of its unique features; it presents users with a list of potential mates based on their answers to a questionnaire.
You may learn a lot about how to design your own dating app by looking at these widely used dating apps and analyzing their advantages and disadvantages.
How to Create a Dating App?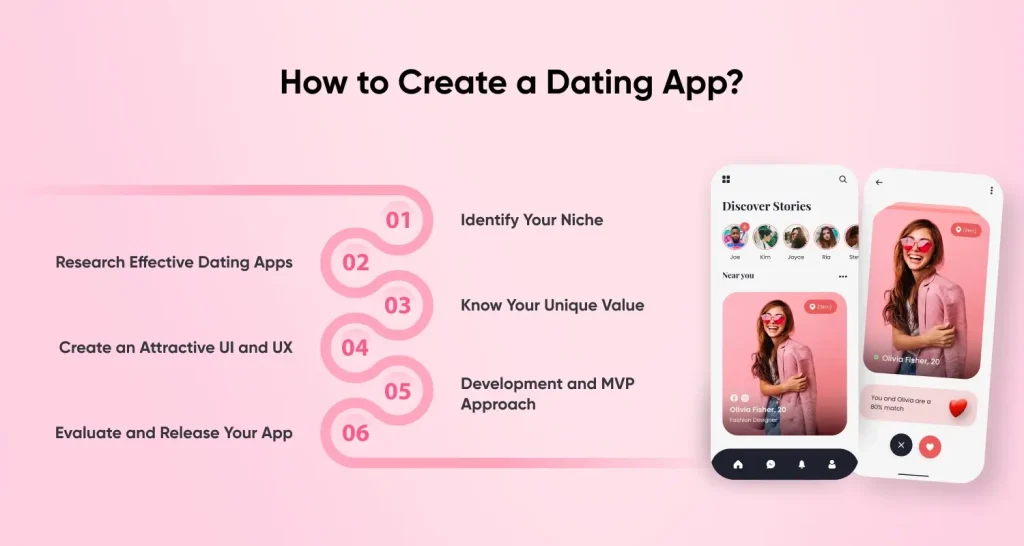 It takes meticulous preparation and execution to build a dating app. A step-by-step tutorial for making your own dating app is provided below.
Step 1: Identify your Niche
Find a specialized area of the dating industry before developing a distinctive dating app. Look into the dating niches that already exist and decide which one best fits your objectives and target market. You can customize your app to meet their demands and stand out from the competition by concentrating on a certain specialty.
Step 2: Research Effective Dating Apps
Examine well-known dating apps like Tinder and Bumble to comprehend their core functions and features. You can determine what is effective in the sector and what you can do better with the aid of this research. Additionally, investigate specialized dating apps like AshleyMadison and Match to learn how they cater to particular user demographics.
Step 3: Know Your Unique Value
Choose your app's unique selling proposition (USP) or value proposition to set it out from the competition. Determine what makes your app unique and how it helps users. A distinct UVP will provide you with a competitive edge and draw people who are interested in what your app has to offer.
Step 4: Create an Attractive User Interface (UI) and User Experience (UX)
Create a dating app with a visually appealing UX and UI. Assure a smooth and simple customer experience from registration to matchmaking. To create a compelling experience, include the newest UX/UI trends. Tools for prototyping can help your designers create an app.
Step 5: Development and MVP Approach
To make your design a reality, work with a reputable mobile app development company. Consider creating a Minimum Viable Product (MVP) version of your app if you have a tight budget or wish to launch your product rapidly. A minimum viable product (MVP) enables you to release a rudimentary version with key functionality and collect user input for incremental enhancements. With this strategy, you can continuously improve your app based on customer demands and preferences.
Step 6: Evaluate and Release Your App
Before releasing your app, give it a thorough test. Conduct thorough testing, paying particular attention to matching algorithms, in-app purchase features, registration and login procedures, and API testing. Release your program to the Apple Program Store and Google Play Store after testing is finished.
Keep the timeframe in mind and allot enough resources for each step of development as you go along. A successful dating app needs to be developed over time, with adjustments based on user feedback and market trends. Maintain flexibility and modify your app to satisfy your target market's changing needs.
Next comes the feature that should be incorporated into a dating app.
Essential Features of Your Dating App MVP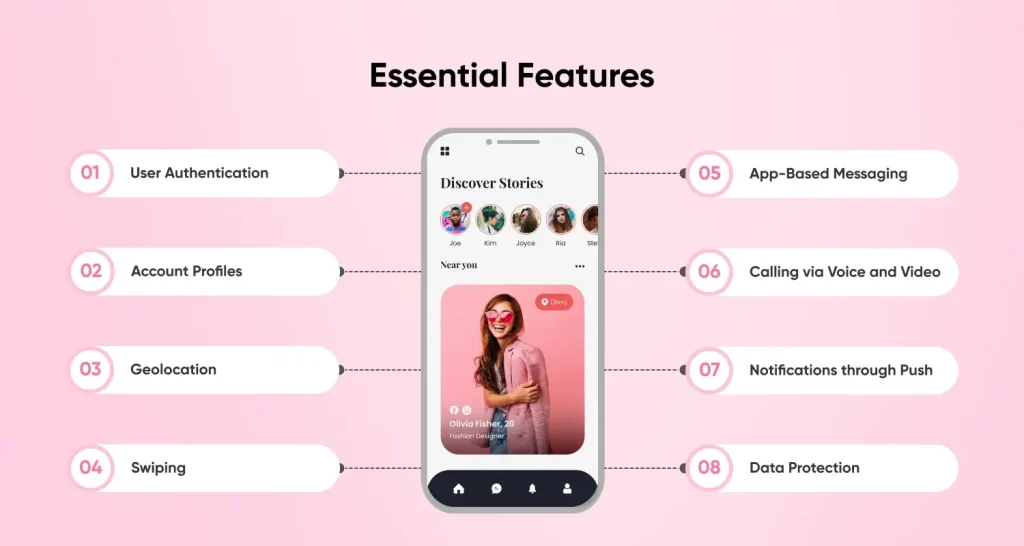 In order to compete in the market, a dating app needs to include the following features:
User Authentication
Allowing consumers to sign up using social media accounts like Facebook or Google will make the process simple and quick. Additionally, allow individuals to register with a confirmed phone number.
Account Profiles
Allow users to construct extensive profiles with the information above the bare minimum. Give them the freedom to elaborate on their dating preferences, interests, lifestyle, and morals. Include the ability to post a profile picture, allowing users to connect their Instagram accounts or upload images from their devices.
Geolocation
Use geolocation technology to assist users find matches in the area they want to be close to. Allow users to narrow their search and connect with people nearby by selecting a city, region, or distance range.
Swiping
Implement the well-liked swiping function, which lets users indicate whether they're interested or not in possible matches. Users can swipe right to show interest in a profile or leave to pass it by. The user experience and engagement are improved by this aspect of gamification.
App-Based Messaging
Give consumers the option to chat with their matches directly within the app. Offer alternatives for sharing multimedia content, sending stickers, and text chatting. Increase the variety of conversation topics available to maintain user interest and improve communication.
Calling via Voice and Video
Include phone and video calling capabilities to enhance user comfort and connection prior to face-to-face meetings. These features can reduce initial anxiety and enable users to engage virtually and get to know one another better.
Notifications Through Push
Use push notifications to increase user retention and engagement. Keep users updated and motivate them to remain active on the platform by notifying them of matches, new communications, or app upgrades.
Data Protection
Put data security first in order to respect consumer privacy and foster trust. Put in place strong security measures and abide by industry regulations. Make sure the program protects user data, especially if it handles financial data or offers in-app purchases.
By including these essential components, you can design a compelling and competitive dating app that prioritizes user privacy and security while providing a seamless user experience.
You may like this: How to Build a Web App?
How to Create a Dating App and Make It Profitable?
You can monetize your dating app in the following methods, which we've gathered into a checklist to help you comprehend these tactics:
Premium Apps: Take into account releasing a more feature-rich version of your software that consumers can upgrade to. This monetization strategy is used by certain well-known apps, including Tinder, Bumble, and OkCupid. Among the premium features are
Offer a premium edition of your program that is free of adverts for an ad-free experience. Users can choose the premium version if they prefer ad-free content. This monetization technique is used by OkCupid, HER, and Grindr to increase user satisfaction.
Virtual presents: Include a feature that lets customers give their matches virtual presents for a set charge, such as flowers, kisses, or greetings. Users wishing to convey love can use this function. This feature caters to users looking to express affection and is employed by apps like Dating.com, Meet24, and Grindr.
In-App Advertising: As a monetization tactic, incorporate focused adverts inside your app. To avoid customer dissatisfaction, it's crucial to create a balance and avoid bombarding users with too many adverts. Select and include appropriate adverts with care to keep users interested.
CMARIX Experience of a Dating App Development
You require a dependable and knowledgeable partner who is aware of the nuances of the market and can provide a high-quality solution while creating a dating app. In this situation, CMARIX is useful.
Here are a few reasons CMARIX ought to be your first choice when creating a dating app:
Precise Target Audience Study: Before we start developing, we do extensive studies to comprehend your target audience. By customizing the end product to its unique requirements, we can maximize user engagement and happiness.
Excellence in Quality Assurance: Throughout the whole development process, quality is given top priority. Our committed QA staff makes sure that your dating app is free of bugs and functional concerns, ensuring a seamless user experience.
We are committed to maintaining your privacy and protecting your ideas and intellectual property. We are prepared to sign a Non-Disclosure Agreement (NDA) if necessary, guaranteeing complete secrecy and safeguarding your project.
Agile Development Approach: By using an agile-oriented development technique, our team of experts can produce your dating app with reduced costs and time-to-market. We place a premium on effectiveness without sacrificing quality.
We work directly with you to realize your vision and make sure your app achieves your business goals throughout the whole development process.
Conclusion
To bring your app ideas to life, it is crucial to find an experienced app development team that understands your vision and can execute it flawlessly. With their technical expertise and your unique concept, you can turn your dating app idea into a reality that engages users and stands out in the competitive landscape. So, don't hesitate to take the next step and start creating your own dating app today, leveraging the knowledge and resources available to you.
Frequently Asked Questions
The cost of creating a dating app can vary depending on various factors such as the complexity of the app, the features and functionalities included, the platform(s) targeted (iOS, Android, web), the development team's rates, and the geographic location of the development team. Generally, the cost can range from $45,000 – $1,25,000.

The choice of coding language for a dating app depends on the platform(s) you are targeting. For iOS app development, Swift is commonly used, while for Android app development, Java or Kotlin are popular choices. If you are considering cross-platform development, frameworks like React Native or Flutter can be utilized, allowing you to write code in JavaScript or Dart, respectively.

The time required to create a dating app depends on various factors, including the complexity of the app, the number of features, the development approach (native or cross-platform), and the experience of the development team. Generally, it can take several months to a year or more to develop a fully functional dating app.

Dating apps employ various monetization strategies to generate revenue. Some common methods include:

In-app purchases
Advertising
Freemium model
Premium subscriptions
Partnerships and collaborations