Technology is growing exponentially, and the skill sets of heinous hackers are never far behind. Well beyond just being able to focus on your personal information, they would now be able to actually attack your old browsers, protocols, and applications too. Without appropriate encryption, your information is not any more protected. You know about the way that security is fundamental for any amazon aws web development services and also for the payment provider. Minimizing the threat of fraud and stolen financial data is a key tenant of any business. For instance, Credit Card Numbers ought to be protected from any deceitful gatherings. The card affiliations have made a course of action of rules and security checks which should be followed by anyone with access to card information including portals. In the past few years, there have been various changes with major payment service providers, SSL security, and even shopping carts. One most significant change in the PayPal update and in their Payment Standard products.
PayPal is one of the world's largest online payment services, providing credit card processing and other transaction services for individuals and organizations around the world. Organizations use PayPal not only to process credit card payments, as well as to give the entire online transaction process, including the shopping cart and checkout services. It offers merchants a high level of service, as well as the possibility for increased sales, at competitive rates – and with fewer fees than typical traditional merchant credit card processing services.
As a pioneer in financial technology, PayPal's main goal is to give simple, secure and reliable financial service and digital payments. To achieve this they constantly assess their security posture by measuring input from a different organization, councils, and standards to create an environment that merchant and customer can trust. The Payment Card Industry Security Standards Council (PCI) issued a new security standard that must be implemented. From that point onward, all entities must quit using Transport Layer Security (TLS) as a security control in their systems and completely transition to a protected version of TLS encryption protocols, such as TLS 1.2.
PayPal has recently introduced the plans to update their security and hence enhance their reliability and strength. These security-related product updates are a piece of a broad activity to enhance security gauges. A few updates are mandatory and required by each site that transmits or processes cardholder data – this is deemed mandatory by the PCI Security Council.
What Do Merchants Need to Do?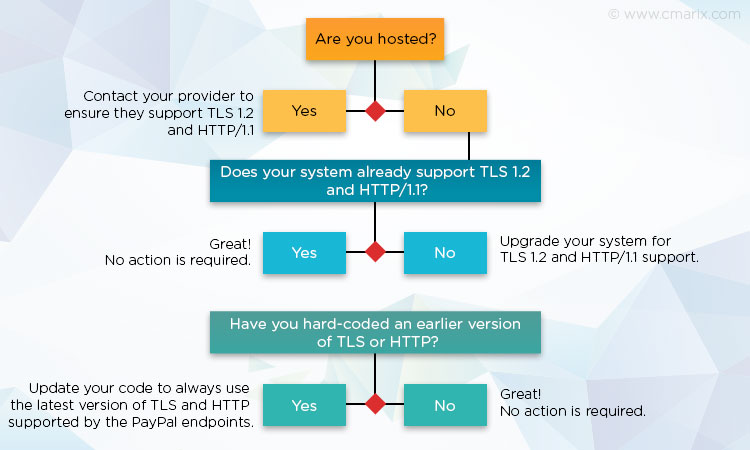 You can do this in a very clear and straightforward manner for that you need to check your environment that supports TLS 1.2 and, if necessary, make suitable updates. For this, run a test transaction using the PayPal Sandbox environment and check the performance. If everything is fine, it implies that the site is compatible, but if not, then there are sure changes that have to be done. You may also check with your Service provider for help. Most likely all major cloud-based platforms are as of now using PCI compliant data transfers and it is very little that should be done from the merchant's end. But it is as yet a smart thought to confirm with the amazon aws web developer.
If you don't upgrade your integration, you will most likely be unable to accept any PayPal transactions, process credit card payments with PayPal, or access the funds in your PayPal Business account.
Being proactive is the best way to dodge unwanted security breaches against your organization and customers. The forthright expenses of performing system updates such as TLS 1.2 are much less than what your organization would spend cleaning up a potential security breach later. Also, once your users' trust in your site is broken, it's difficult to win back. Giving a secure experience facilitate your customers to feel certain about executing with your web platform.