Discovering new areas is a favorite pastime for almost everyone. In search of new and exciting experiences, we are continuously on the lookout for opportunities to travel to far-flung and exotic locales.
Statista estimates that the tourism sector in India has contributed US$178 billion to the country's economy. There are some very priceless moments that we have captured on film while traveling. The world is our oyster, after all, and there is so much out there to discover.
Getting away from it all… When we imagine traveling, what is the very first thing that comes to mind? You've got it exactly on the money!
There really must be affordable, high-quality housing and board options. There's no need to remind anybody that a vacation might be ruined by a poorly kept hotel or bad meals.
This is where a well-designed travel app comes in handy, allowing you to reserve a room at a top-notch establishment that provides not just delicious meals but also an attractive overall package.
If you're looking for a rental at a price that fits your budget, Airbnb is one of the most promising internet booking sites. Its prices are consistently lower than those of competitors, and its service is second to none. After its initial public offering in 2020, at a price of $146 per share, Airbnb was valued at $86.5 billion.
Airbnb is a great alternative to pricey hotel stays for both homeowners wishing to make some extra money and vacationers on a tight budget. Airbnb's services are convenient, original, and financially viable, which has led to rapid international expansion in a very short period of time.
Airbnb Business Model
If you're going to put up the cash to create a service app like Airbnb, you should study the Airbnb business strategy first. By doing so, you will have a deeper understanding of its operation. Airbnb has a straightforward business plan.
Every major city has hosts who can show you around their available residences. They may use the Airbnb website to advertise their houses for short-term rentals. They may provide ownership, rental rates, arrival and departure times, and other relevant characteristics.
Visitors in need of a place to stay may do so via the Airbnb website. Options are provided for them to choose and select from based on their own tastes. In order to get more specifics about the rentals, they may even talk to the hosts.
The core of Airbnb's business is the concept of the "sharing economy," in which the mvp development company acts as a go-between to connect those who have resources to sell with those who need them.
Why Do Users Prefer Airbnb?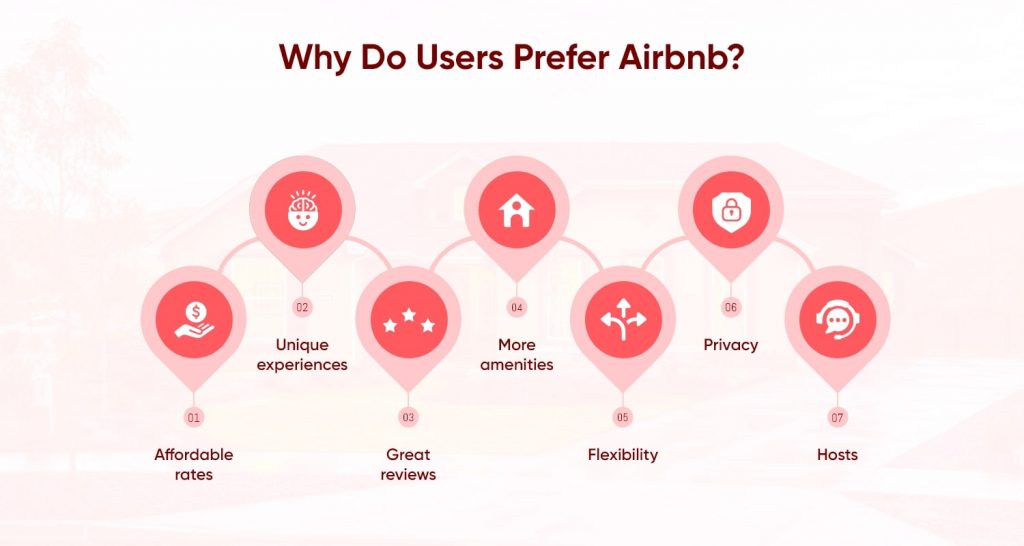 In comparison to other platforms, Airbnb has a number of advantages. When compared to other travel sites, Airbnb is preferred by most travelers because of its lower prices and widespread appeal.
Users consider it a prudent choice since they may spend the money they would have spent on lodging on more interesting and culturally significant experiences in their destination city.
Compared to hotel rooms, the prices listed on Airbnb are the lowest available. The vast majority of Airbnb listings are private homes like condos, houses, and castles rather than hotels.
People traveling in large groups will find these accommodations to be excellent. Families would rather stay in a rented house than a hotel because of the homey atmosphere it provides. The cost of lodging may be reduced by sharing a room.
Airbnb also has hotel rooms, hostels, and even a bed for rent, in addition to the aforementioned options. In addition, those who are traveling alone or who do not want to rent out their whole home will appreciate the opportunity to rent out only a single room or an additional area. A conversational element between guests and hosts is also available on Airbnb.
Users may make specific inquiries about the leased property, such as those pertaining to extra costs, amenities, opening hours, and more. The host may learn more about their visitors thanks to this function, which benefits the user as well when they decide to build an app like airbnb.
Features to Consider While Developing an App Like Airbnb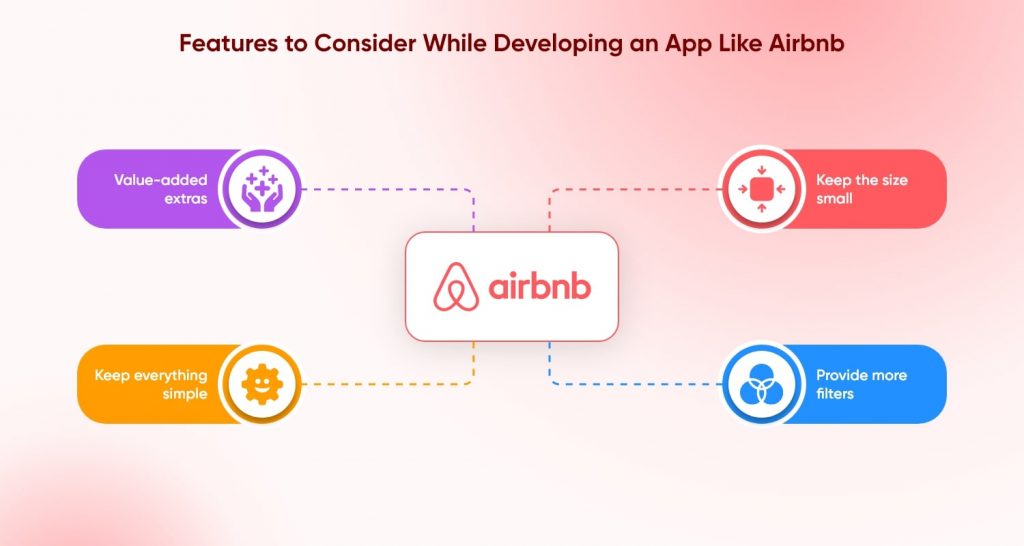 Value-added extras
Consider what the Airbnb Portal lacks that would make it attractive to users of similar travel apps. It should offer high-quality manual verification software for its customers to employ when checking the legitimacy of rental listings. This feature increases consumers' confidence in the service.
You may find many such problems that tourists have and provide solutions to them. It's important to keep in mind that replicating Airbnb in the cloud would be futile. Give a boost to the world and provide something special.
Keep everything simple:
Airbnb's ease of use is a distinguishing factor. When using the Airbnb website or mobile app, you'll immediately notice the extensive, but simple and user-friendly interface that provides an outstanding experience.
Users like transparency and simplicity. As such, take this in mind while creating your own Airbnb-style rental software.
Keep the size small
Size matters, so don't go overboard creating an app; instead, aim for efficiency. Users will always have storage problems, no matter what gadget they use. So it seems sense that people would value an app that doesn't take up too much space.
Provide more filters
Adding additional filters is a good idea since people become interested in a service when they can customize it to their own needs. You may personalize the listing page by adding filters that aren't available in standard airbnb-like apps.
You may like this: Top Tourism App Ideas
Traveller Mobile App
Sign up/Sign in
Users may create an account and log in to the app using their email address or phone number and a password.
Explore Homes
Users may "Explore Homes" to see available vacation rentals in a certain area, along with information on those rentals (such as amenities, breakfast, maximum number of guests, cost, reviews, etc.).
Explore hotels
You may check out the hotels in the area by browsing a list that includes the amenities each one offers, the number of rooms available, the dining options (if any), and the total cost.
Search and filter
The ability to search for lodgings in a certain area and refine your search results by a variety of criteria (such as price, restaurant type, and neighborhood) is provided by this feature.
Favorites
Save Users may save time throughout their search by marking their favorite accommodations as "favorites" for subsequent evaluation.
Ratings
Users may rate and review lodgings based on their overall satisfaction with their stay.
Reservation Cancellation
Customers may cancel their reservations for rentals right from the app.
Host Mobile App
Sign in
In order to use the mobile app, hosts need to provide their email address, phone number, and password.
List property
Hosts may post listings for their properties by providing basic information such as the property's address, the number of guests it can accommodate, whether or not breakfast is included, and so on.
Inbox
Email box for contacting guests about their reservation at the property, its availability, or any other needs and questions.
Calendar
Calendar will save data about the specified property or hotel's bookings for a certain day or days.
Lists
Hosts have the option of editing existing lists or creating whole new ones. In addition, they may access and modify information related to their property.
Total earnings
Check out the host's aggregate earnings from all of the hotels they have listed in the booking app.

7 Easy Steps to Creating Your Own Airbnb-Style Travel App
Need some advice on creating your own Airbnb-style app? Airbnb-style travel software development is a scalable, high-profit business. The essential Airbnb app development steps for airbnb developers are outlined here.
Make a strategy for your company's future success
A well-thought-out business strategy is essential to turning your million-dollar app concept into a reality. There are already hundreds of travel applications available in the app store, so it's important to get the ball rolling with a high-level business plan that details the company's long-term vision, short-term objectives, and the ways in which the app's features will set it apart from the competition.
A well-thought-out business strategy is the key to making progress toward your objectives and realizing your vision for Airbnb's future. In order to address the inquiry of "how to develop an app like Airbnb," the first thing to do is to draft a business strategy.
Determine your platform
It is common practice for companies to believe that supporting several platforms (such as iOS and Android) or developing a cross-platform software would allow them to attract a larger customer base. To reach a wide audience, however, requires a time-consuming and resource-intensive process of developing native applications for each platform.
A cross-platform development strategy impedes progress and lowers quality. It's best to start by releasing the app on the platform that the majority of the intended users already have access to, and then, based on that platform's success, expand to the others. Before choosing which platform to release the app on, it's important to weigh the pros and cons of each.
Make a user interface
Apps that are easy to use and understand are highly desired. A wireframe or low-fidelity prototype is recommended before diving headfirst into the UI/UX design, since it serves as a skeleton for the app and demonstrates the user's interaction with the app's features and subsequent actions.
Businesses may learn about the app's flow and any design tweaks they need to make on their own using a do-it-yourself (DIY) approach. The next step is to dive into the code and bring your vision for the app to life. It's also possible to take into account the one-of-a-kind UX design approach and some handy hints for providing a really memorable and impressive encounter.
Create capabilities
It takes time to gain traction and establish a competitive advantage in the market with Airbnb-style services, so starting late is not an option. Building your app's essential features and the unique selling proposition (USP) that will set your app apart from the competition is best accomplished by beginning with a minimum viable product.
The Airbnb app was developed with three distinct user experiences in mind: the visitor experience, the host experience, and the admin experience.
Do some administrative work
Backend development is crucial, since it is the engine that keeps your app running smoothly. It's responsible for the nuts and bolts of the programme, such as storing and retrieving data, responding to API queries, and setting business rules. Mobile app development companies may either look into using a backend-as-a-service provider or create their own backend from scratch.
Put the app to the test
Without proper testing before release, no programme can be guaranteed to do well. Apps are tested in a variety of ways to guarantee they meet and exceed user expectations, including functional testing, user interface/user experience testing, usability testing, experience testing, and performance testing. The purpose of quality assurance and testing is to eliminate any problems with the app's functionality or performance.
Presenting and Upcoming Amendments
After the developers have finished their work and uploaded the app to the app store, it becomes available to the public. Updating the app with new features and performing regular maintenance are two ways to keep users interested and ensure the app continues to be successful.
How Much Would It Cost to Develop an Airbnb-Style App?
The price tag for a service similar to Airbnb? You have probably heard this from reputable development firms before, but it is hard to provide an accurate estimate of how much it will cost to create a travel app like Airbnb. Developing an app like Airbnb might cost much more or less depending on a number of variables.
Consider some of these elements:
Platform Option
Developers unique skill sets and experiences
Whether to do development in-house or hire a third party
The implementation of cutting-edge capabilities and features
Methodological Framework for the Evaluation of Technologies
Personalization level of the design

Creating an app with similar functionality to
airbnb app design
typically takes 4 months and costs between $25,000 and $35,000. Adding more complex features and functions to an app often requires a larger investment of time and money, as well as the involvement of seasoned developers and experts, and a longer development cycle.
Find Out How Much It Will Set You Back to Create an App Like Airbnb for iOS, Android, and Windows:
Web development: $30,000.
App creation for Android: $60,000
Creating an app for iOS: $40,000.
Numerous factors, including the complexity of the software and the number of platforms it must support, affect the overall cost of development. In order to get an accurate estimate of how much it would cost to construct an app, we need to know how long it will take several organizations to create the same set of features in a mobile app, and then apply their respective hourly rates.
Conclusion
It's never been easier or more relaxing to travel than it is now. Tourists may choose from a wide variety of accommodations, transportation alternatives, and conveniences. In order to ensure that their customers have a pleasant and relaxing trip, travel app development companies are always thinking of new ways to improve the experience.
Users like to accomplish everything from the convenience of their couches, making it imperative that you establish your company online. Create a hotel- and excursion-booking app with the ease of Airbnb app android and any other features you think would be useful. Also, remember that the app's two main users, hosts and guests, will have distinct needs.
Take a look at
Frequently Asked Questions
The time required to release a high-quality minimum viable product (MVP) might average up to six months. The time it takes to create an app, however, may vary widely depending on its complexity, the market it targets, and the constraints its creators must meet. The development team you work with will be able to provide you more precise estimates of how long it will take to create the MVP.

The basic idea is that you post your home on Airbnb in order to rent it out for shorter and shorter periods of time. You are needed to pay for the care of the property and be prepared to engage in conversation with the visitors, but you are not obligated to offer a full-service facility.

You just use the Airbnb app or go to the Airbnb website and search for the location you wish to stay in. You will find a section at the very top that asks for information on the guests, the dates, and the place. You also have the option of choosing between an overnight stay, an experience, or even an online experience.

Money is never really exchanged in person between Airbnb hosts and guests. When a guest makes a reservation via the Airbnb website, they are responsible for paying for everything associated with that stay. Guests even have the option to divide expenses between themselves and their traveling companions. Airbnb accepts payments via PayPal, direct transfer, and other options as well.

There are a lot of variables that affect the final cost. The typical cost to create an app is between $60,000 and $150,000.