Technology has always helped humankind into better social, economic, and cultural developments. It has done marvelous wonders in society. The advancement of scientific knowledge has spearheaded the entire socio-cultural fabric of the modern community. Real Estate is a recently growing business that has grasped a whole lot of attention. The present pandemic position and the global population explosion have forced people to Hire Dedicated Developers in this situation.
However, in light of current circumstances, people are looking for online resources to help meet their real estate requirements. The absence of localization does not prevent the advancement in digitization. Lockdowns have indeed restricted the normal lifestyle of the community. However, it has also improved the demand for digitization facilities. Most SMEs (small-to-medium-scale enterprises) are now opting for digital resources over the Internet.
Striving for Survival Against the Present Pandemic Situation
Surprisingly, some years ago, real estate was hardly into online business. But, the demanding changes have forced this industry to look for virtual resources for survival. The Covid-19 situation has pushed the real estate industry into the digital realm. Real estate business owners can now obtain a comprehensive detail of their ongoing activities in real-time. Now, they can get all the necessary information directly from the comfort of their home.
Virtual online software platforms have made some significant developments over the last decade. They have offered accurate numerical and precise statistical data through pre-set programming algorithms. The real estate industry can make good use of this feature for their business. Some of the ways are described below through which the thriving real estate business can gain a firm foothold in this situation.
Unlimited Data Storage Over Cloud Systems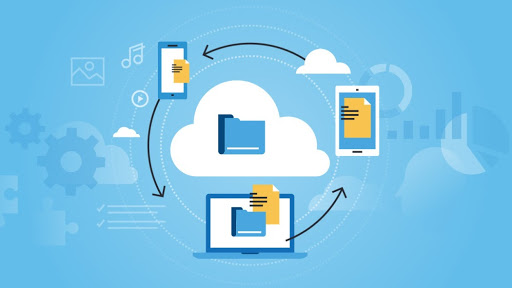 The cloud storage facility has attracted lots of general public interest over the last few years. It has enabled commercial and business operations irrespective of geographical location. Workers can maintain their tasks through live virtual platforms while their superiors can remain up-to-date with live data regarding employee activities. Real estate owners can keep direct track of their business functions in real-time. Such cloud storage options promise decreased expenses, live data sharing and access, and dependable data storage with protection. The real estate industry can maintain, update and manage their elaborate records over these storage mediums for future references.
Advancements in Automation that Save Money and Tanpower
Automation is one of the most demanding necessities of present business institutions. It saves significant amounts of valuable time and financial resources. Automation technology has substituted the need for limited-and-slow manpower with limitless-and-swift machinery. Artificial intelligence follows its pre-set algorithms to update live data with complete accuracy. The current pandemic situation has called for on-demand automation techniques. These modern measures can generate leads with accuracy.
They can maintain financial accounts and transactions. They can also generate leads with online forms and synchronize them over Omni-channels. System automation also maintains property inspection quality and lead value over online platforms. Therefore, to Hire Dedicated Developers during such ravaging times, automation systems can best help to serve your needs.
Block-chain Technology to Simplify Complex Data Filing Management
Blockchain technology is a dependable virtual system that is virtually impossible to alter, cheat or hack. This technology guarantees the safety and security of transactions as a digitized ledger. The DLT or Distributed Ledger Technology in blockchain imprints individual transaction records on the ledger of all its members for record safekeeping.
Blockchain technology provides reliable answers for property transactions in real estate. With the help of simple real estate mobile app ideas, a backend connection to a property management system made of blockchain tech, can help owners sign-up the lease agreements, database filing management, and cash flow. Blockchain technology can also facilitate deed management over real estate apps.
Virtual Home Tours to Save Time, Money, and Health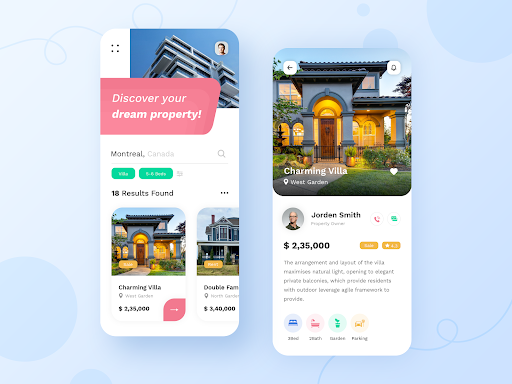 Home tours over virtual platforms can help real-estate developers maintain their business over virtual platforms. Statistically speaking, the major proportion of the population prefers virtual home tours. These tours make use of simple photographs to 3-D home models including video conferencing facilities. Such virtual home tours can help save time, money, and energy, which would otherwise be spent on traveling. Another advantage of virtual home tours is the ability for clients to schedule their meetings with ease. Now get to Hire Dedicated Developers through such virtual home tour options.
Reports indicate the following –
The majority of the interested buyers (about 67%) prefer more virtual tours.
The other group (about 26%) are more or less indifferent to such virtual home tours.
The remaining (about 7%) groups do not want virtual home tours.
Contribution of Technology in Real Estate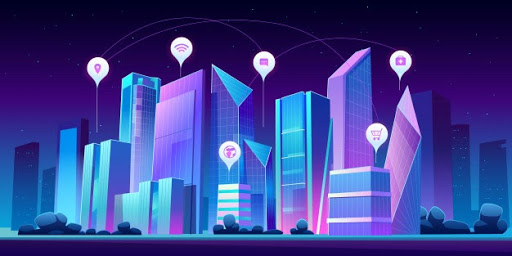 Technology has always helped human civilization to progress further and improve their standard of living. Time is a witness that the developments in scientific knowledge have improved the present quality of life. It has given birth to this modern civilization we live in today. Smartphone apps have come to the forefront of general preference. These applications have improved the convenience of their users. People can do almost anything they need in their daily life over these smartphone apps.
Marketing facilities are growing every day over these mobile applications. Real estate business owners are also looking for opportunities in building real estate marketing strategies to seize a significant portion of the civil market.
Real estate business owners are also looking for this opportunity to seize a significant portion of the civil market. People can book their land slots or purchase them from their cell phones. They can also take a good look at their property and scrutinize them over their smartphones. The Covid-19 pandemic might have halted the daily lifestyle of the community. However, developments in modern technology have paved new ways for business opportunities.
The real estate industry does not fall in any exceptions. The mobile app development company in New York designs and delivers such potential apps to their clients. The previous discussions dictate the diverse applications and usability of online storage and virtual platforms. Desperate times call for desperate measures. The present technology can help real estate developers to manage their businesses with ease. Landowners can lease their property over such platforms.
Wrapping up
They can remain up-to-date with the leads that generate over time. They might even be able to communicate with their buyers and discuss their pricing options according to their requirements. The maintenance of privacy is a serious issue. Proper safeguards need to remain in place to assure reliable privacy protection. Blockchain technology offers a promising opportunity for the management of data, records, and customer privacy. It can help the real estate business to cut out on the elaborate processing operations that take place face-to-face with the client.
Such technology can maintain vast records of customer transactions with the guarantee of their data protection or privacy. Hence, we see that technology has spearheaded the real estate business and with the proper tools, it might outlast the present pandemic condition.