CMARIX as one of the top outsourcing software development company in India boasts a story of shaping the business brands with technology and thought leadership and this has been finally recognized by none other than Clutch. Yes, we just received the Clutch award for becoming a top B2B technology company globally in 2020. While this resounding fit of success is applauded by our clients and employees, thus actually made our resolve stronger to create new benchmarks and serve new business clients with our innovative and future-ready solutions and thought leadership.
At CMARIX, we boast of a multifaceted development environment with several processes and services ranging from web and mobile app development to ERP and CRM solutions. Our development solutions and services inexorably linked with our thought leadership have shaped the growth story of countless organizations across all niches over the years. No wonder, time and again we have been recognized by a multitude of industry rewards and recognitions both on the national and international scene.
Having been among the top Clutch recognized B2B companies means we belong to that minuscule few who create industry benchmarks and industry standards in creating future-ready innovative solutions and delivering the most customer-friendly services for businesses. Having been long recognized as a leading development company in enterprise IT solutions, this latest recognition has just added another accolade to wings. We always considered Clutch as the most coveted and sought after platform for recognizing industry leaders and this award brought no less than a dream come true moment for the entire CMARIX family.
At this juncture of overwhelming joy and applause all around, we thankfully recognize and remember the patronage our clients from all over the globe gave us in all these years. The pool of clients across all business niches who have been direct beneficiaries of the efforts of CMARIX in shaping leadership and innovation in the B2B space has always been our greatest assets.
At the same time, we as the most employee-friendly software development company in India must not forget the stupendous, consistent, and success-defining efforts put by our employees representing one of the best talent pools in the entire IT industry. All our developers, business strategists, product designers, project managers, team coordinators, and process heads gave their best creative efforts in offering the industry benchmarks of innovation that shaped our brand. Once again we must remember that the credit for this recognition from Clutch entirely should go to the pool of talents we harness. Every employee of CMARIX is now an equal recipient of this global recognition.
It's An Impetus We Always Strived To Achieve
At CMARIX, it has been our deepest inspiration to create industry benchmarks and standards that other brands strive to achieve. The true recognition that we always strived for is the success stories of our clients in which our innovative technology solutions always played a key role. The real impetus and inspiration have always been our popular and innovative digital solutions and enterprise products that made the foundation of successes for too many enterprises.
In tune with the deeper satisfaction and joy in creating innovative winning solutions for our clients, we also received all major industry recognitions and rewards in many international as well as domestic marketplaces. Over the years, we have received several key recognitions and rewards for our thought leadership, web development, mobile apps, and several others. Following each of these awards, our resolution and will to create more winning solutions have only increased.
What many of our leading enterprise clients say about our offerings is no less recognition for us. Over the years, all major companies and startups served by our services and technology solutions emphatically expressed their satisfaction and never failed to mention how our innovations could propel their business growth, industry leadership, or brand recognition in various measures. The testimony of our clients remains to be the biggest recognition and inspiration for CMARIX to tread new heights and chase new goals.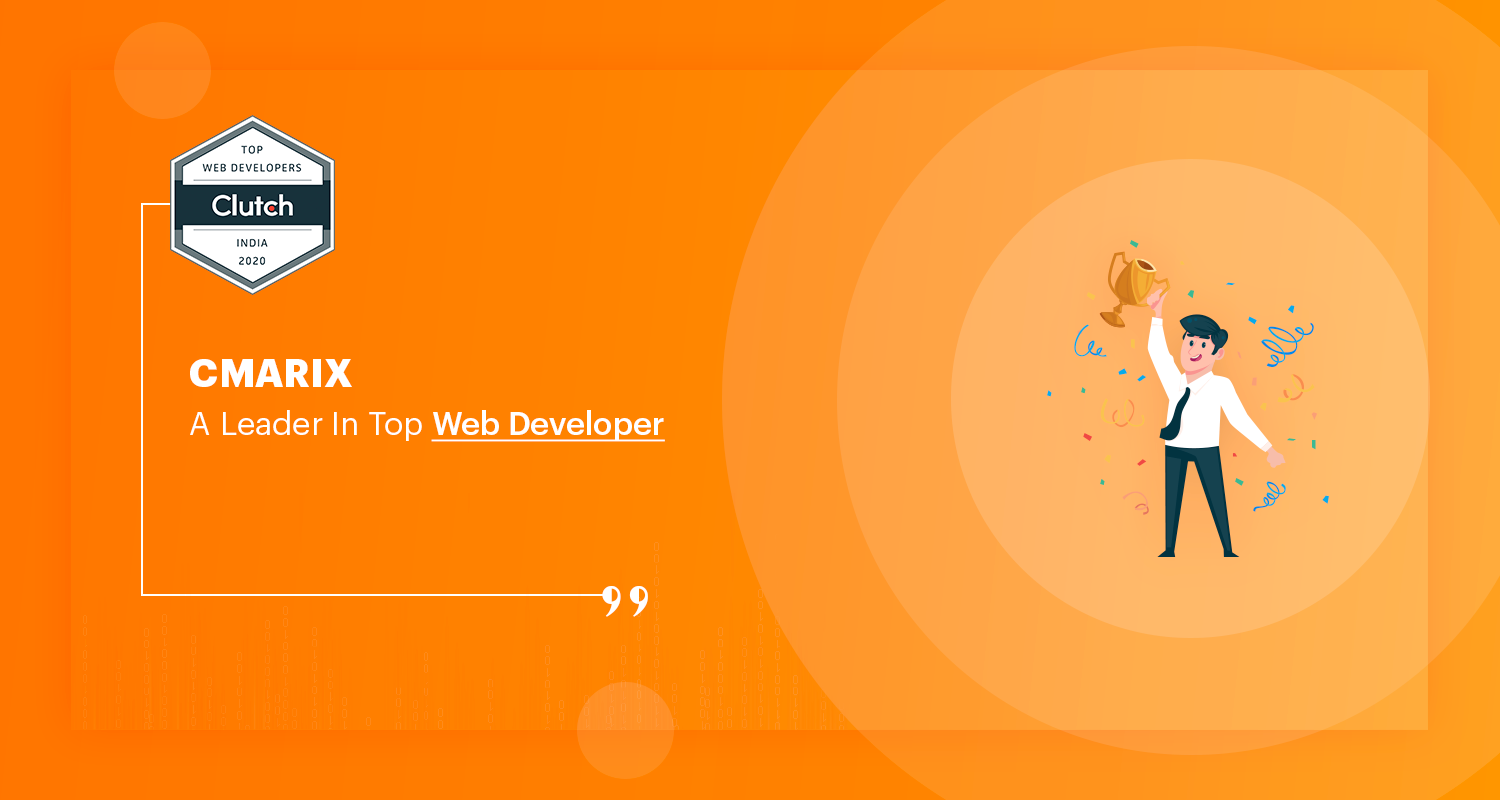 Read More:CMARIX Technolabs Named a Top Web Developer in India!
Innovative Future-Ready Tech Solutions Are Our Key Strength
Now at this juncture when rewards and recognitions started to come our way, we must recognize and redefine our key strength to make the foundation of our future success. Here at CMARIX, innovative and future-ready technology that helps businesses win the competition is our key strength. With the most disruptive and eta defining technology solutions, we strive to help our clients achieve business growth and create industry benchmarks.
Our unique and turnkey software development solutions and services always maintained a consistent focus on the software development best practices, creating new benchmarks in terms of innovation, and thought leadership throughout the box approaches and strategies.
With every new client stepping into avail of our unique technology solutions and services we guarantee optimum customer satisfaction by utilizing the scope of the latest technologies while ensuring to generate the highest ROI. Thus far our innovative solutions have served thousands of enterprise clients across 46 countries all over the globe. We boast of a robust team of 115+ developer and designer experts and the industry's best strategists and thought leaders experienced across a multitude of challenging projects.
Why is Clutch Recognition So Special?
Clutch has established itself already as the most sought after platform for B2B solution providers to become reviewed and evaluated. Using a unique and novel research methodology based entirely upon actual client feedback, Clutch recognitions have become the most accurate ones to evaluate a service provider or a technology service brand. No wonder, the who's who of the global technology brands always look after Clutch recognitions as the most important industry recognition.
Clutch is also most preferred by business clients and enterprises who want to evaluate tech solution providers through unbiased reviews. CMARIX boasts of a bounty of positive customer reviews and top ratings on this platform. We garnered 30 company reviews and 5-star ratings for our Clutch profile.
Many of our Clutch reviews explain in detail the value created by our company for the clients and how our tech solutions helped them to serve their customers with unique value propositions. Most of our Clutch reviews instead of hollow sounding praises actually offer a specter of our key competence and the things that we are good at.
Conclusion
Our recognition as the top global B2B company by Clutch is just another big milestone in our continuous quest for achieving new heights. This fueled more inspiration to propel our journey as a technology company.