Here at CMARIX, technology is our forte. We're passionate about helping our clients achieve disruptive growth – and we do so by providing turnkey software development solutions and maintaining a strong focus on software engineering best practices, innovation, and creativity.
We guarantee complete customer satisfaction by working with the latest technologies and providing the highest ROI possible to clients across 46 countries. Our team of 115+ experts works hard to be at the top of the global software development field, and our hard work has not gone unnoticed — Clutch.co just released its 2020 Leader Awards and named CMARIX as a Top Developer!
Clutch has quickly become the go-to resource in the B2B market because of its novel research methodology, which is based on truthful client feedback. Clutch helps firms across the globe connect with the solution providers that they need in order to improve effectiveness and increase productivity. The well-respected research firm provides independent, quantitative, and qualitative analysis on leading services firms, which makes an award from Clutch even more honorable. We're excited to be recognized as a leader in the global development field.
Read More: Top California Software Development Companies
Potential buyers can use Clutch to read unbiased reviews and really know what they're getting into before hiring a service provider. We're proud to have 30 reviews and a nearly perfect 5-star rating on our Clutch profile. Here's a preview of one of our many glowing client reviews: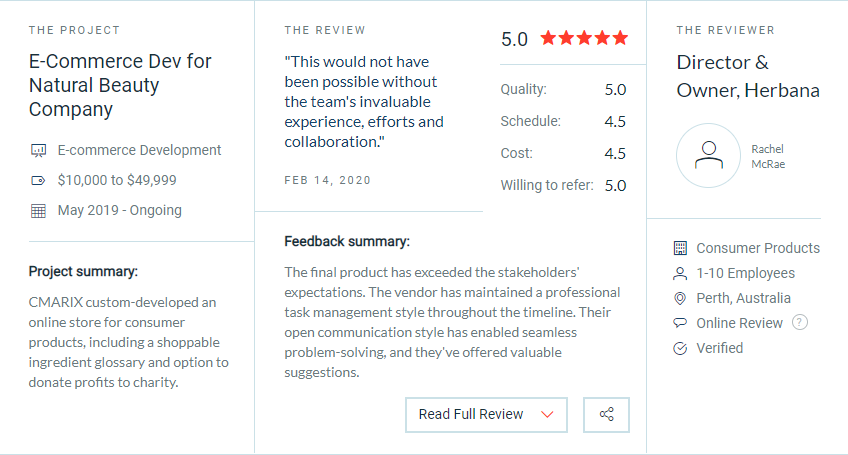 This is just a small portion of the full review, which just goes to show how uniquely insightful and detailed Clutch's reviews are. Be sure to check out our other reviews to get a good idea of what it's like to work with us.
We're a one-stop-shop for all of your tech needs, from software or mobile app design and development to QA, deployment, and maintenance – so don't wait, contact us today for a quote!