CMARIX is excited to announce that we have been named one of the top web development agencies in India!
"India is a hub for development companies, and the fact that these companies were able to set themselves apart is quite an impressive feat," said Alaina Stevenson, a Senior Business Analyst at Clutch, of the distinction. "With more and more developers entering the space every day, and the amount of development technologies that exist, being able to specialize yourself as a leader is amazing. These companies deliver on their services and their vast reviews and portfolio items prove that they deserve to be a leader."
Clutch is a B2B ratings and reviews site based in Washington DC. They rank businesses in a number of service categories. Check us out in their ranking of the top web development companies in India.
One of the most important things that Clutch considers when ranking business is the reviews they collect from clients.
We have been partnered with Clutch since 2015, and have received 20 reviews, with an average of 4.8 stars. Transcripts of all our reviews can be seen on our profile, but here's a preview of one of our most recent ones.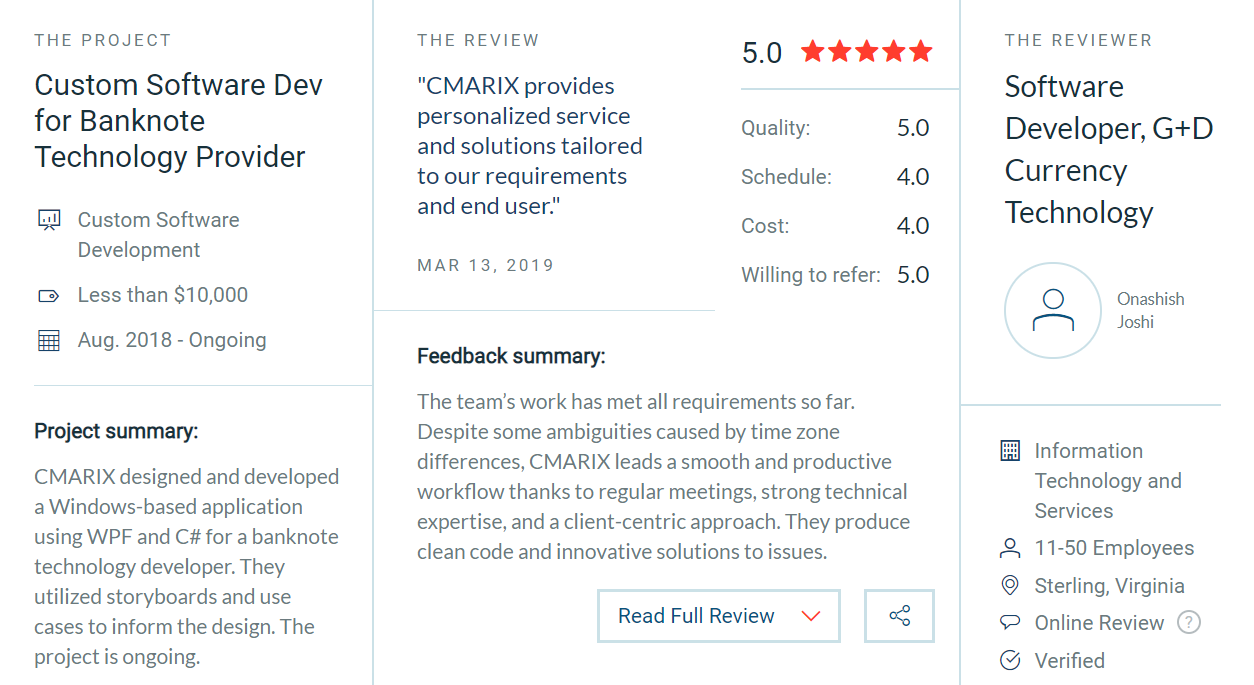 Clutch also has two sister sites, The Manifest and Visual Objects.
The Manifest is designed to give potential customers the ability to easily browse and compare the qualifications of different businesses in the same category. We are in the top 20 on The Manifest's list of the best software development companies in India. We were featured for the range of web app development services we offer, as well as a web app we designed for a VR gaming company.
Visual Objects is designed to showcase the work of creative and design firms, with easy to view and assess profiles of a company's work. They feature businesses from a number of fields, including branding, web design, and web developers in India.
We want to thank all our wonderful clients, we could never have reached this far without you. We are excited to keep improving and to continue growing our presence on Clutch.