Today, only one thing is certain, and that's change. Every year, there are major trends that take the world by storm, and trends apply to almost every discipline, including web development. It can be hard to stay in the current, after all, it takes skills to keep innovating and producing masterful works.
At CMARIX Technolabs, we are geared up towards greatness. We are the leading technology outsourcing company in India, and we specialize in enterprise, software, app, and web development. Founded in 2009, our company has received numerous awards from international institutions including Clutch.
Read More: Top California Software Development Companies
Just recently, we've been made aware that our company was named as one of Ahmedabads 2021 leading developers. Clutch recognized our company's excellent web development works.
Based in Washington, DC. Clutch is a B2B review and rating agency that is well-respected in the space for its commitment to helping corporations connect with solution providers. Each year, their team recognizes the best-performing agencies from different industries and locations across the globe.

Considering that Clutch's criteria for this award are though, this is big news for us. We want to thank Clutch for being a great partner for our growth and for being a wonderful platform to showcase our works.
We also want to thank our clients for making this possible. Their reviews on our Clutch profile open countless opportunities for our company.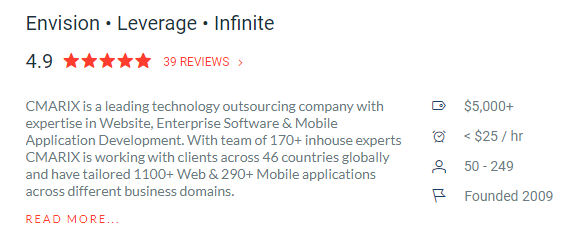 As we move forward, we can't wait to see what 2021 has in store for us. We are excited to take on more projects and face more challenges. We know that the road is long and tough, but we know that we can conquer everything with our clients.
Interested? Perhaps you have a project in mind? Let us know! Get in touch with us and let's discover how we can help.