The digital world observed a revolutionary innovation when the companies led the up-gradation of their security with artificial intelligence face recognition apps. Mobile apps development services companies in India didn't lag, and even they followed suit.
Three to four decades ago, the whole concept of a mobile application with a face recognition feature sounded like something out of a science fiction movie or novel. With the rapidly growing digitization, face recognition apps enhanced the security of mobile phones for the better. Face recognition online, and the apps help control false arrests, diagnose patients suffering from genetic disorders, and reduce the rate of cybercrime and malware attacks.
Following the ever-growing face recognition software trend, there is an urgent need to Hire Mobile App Developer India. To keep up with the technological advancements and introduce the people to the newest features.
The app development companies have progressed a lot in terms of keeping up with artificial intelligence technology. The technology industry and the researchers both are equally interested in biometrics technology.
What is Biometrics?
Biometrics is the technical measurement and the statistical method of analyzing people's unique physical features and behavioural traits. This technology is mainly used to identify, access control, and identify individuals who are said to be under scrutiny or surveillance.
Biometric authentication is to enable the identification of a person by their physical and behavioural traits. The term biometric is a Greek word, wherein bio means life and metric means to measure.
Types of Biometrics
There are primarily two main types of biometrics, which typically falls under two categories one is physical identifiers and behavioural identifiers.
One of the first and foremost features of biometrics was the fingerprints which were first deployed on smartphones. Devices such as a mouse, the smartphone screen, and door panels have the technical attribution to become a fingerprint scanners.
Every smartphone comes with high to low-resolution cameras, and if the device has a good camera quality, then it can be used for authentication. In this aspect, facial recognition and retina scan are two main approaches. For instance, Google face recognition is one of how the phone is unlocked.
One of the most prominent and popular authentication systems is the voice command used as voice assistants, not just in phones but also in digital assistants.
This is unique biometrics that traces familial ties. This identification biometric gives accurate details during any situation like missing persons to identify victims during disasters and even during potential cases of human trafficking. So this is very useful biometrics as well.
This is a recognition software and hardware which companies generally use in the retail sector and banks. This is an appropriate option that is used during those situations when the users are expected to sign their names.
Physiological Recognition
Apart from the human face, other parts of the body use image-based recognition, such as the iris, palm vein, hand geometry, and ear shape.
Read more: Why Should You Hire A Dedicated Developers To Develop Successful Web and Applications
10 Best Face Recognition Apps for Android and iOS
1. FaceApp (iOS, Android)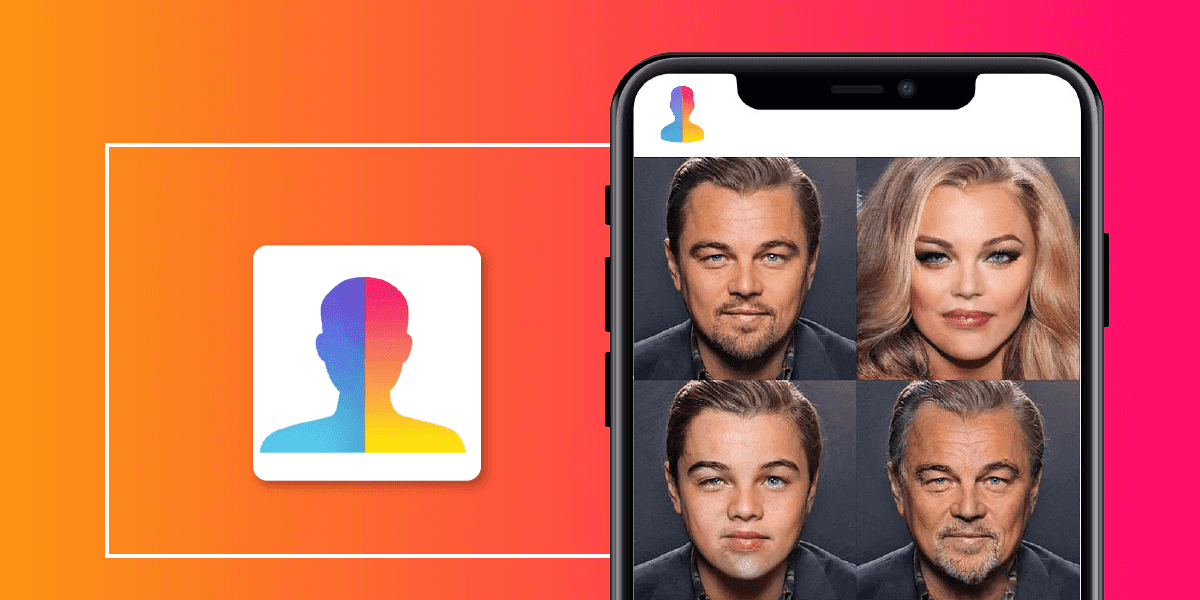 This is a biometric app that detects the face, which was launched in 2017 for iOS phones. With the increasing popularity, it wasn't long when FaceApp was launched for android too.
Quickly it became a trendy face recognition app on android; celebrities joined in the ongoing trend.
Key Features:
This facial recognition app distinguishes itself from all others in the market by incorporating a Hollywood filter selfie.
The stylish features are artificial intelligence-based.
It allows users to add their old and new photographs.
With one tap, the user's background can be changed, and colour filters can also be applied.
The smile filter allows to whiten the teeth in the pictures or edit it to remove the teeth.
A hairstyle filter enables you to change the hair colour to black, white, or brunette; it allows you to see yourself in different hairstyles.
Genderswap filter allows you to reimagine yourself as a girl or a boy depending on the opposite gender.
The age filter of FaceApp allows people to see themselves in younger or older versions.
2. Luxand App ( iOS, Android)
Luxand is a hi-tech company that started its operations in 2005 with a few services and apps. It comprises Face SDK, which is ideal for biometric identification, surveillance and other different purposes, that are used by big brands and organizations around the world.
Some of its high-profile customers include LG, Universal Pictures, Samsung, Unilever, P&G, Ford, and Badoo.
3. AppLock App (Android)
This is one of the best face recognition apps on android. This app makes sure that no one other than the user can access his or her personal information, social media accounts, and financial accounts. Apart from mobile face recognition, voice recognition is also one of the features for security purposes.
4. Face DNA Test App (Android)
One of the best apps for face recognition online, the Face DNA test is a facial recognition app that analyses the focal points of a face after successful scanning. The facial recognition app then compares the image with some other person to detect a match.
5. Railer App (iOS, Android)
Gone are the days when students could do a "proxy" attendance on behalf of their friends; the Railer app is a face recognition attendance app. It is one of the best face recognition apps used to track employees or students' attendance, depending on the organization. A noteworthy feature of the app is that it requires minimal manual work by integrating BioId connect technology.
6. Blippar App (iOS, Android)
A one-of-a-kind app that enables the user to learn about the surrounding just by a mere scanning of the object. It is primarily an object recognition application that allows users to experience augmented reality through everyday objects.
7. Face2Gene App (iOS, Android)
A revolution in the healthcare app genre, this facial recognition app is designed specifically for healthcare professionals. They use it to evaluate genetic disorders and their variants in the lab and the clinic.
8. FaceFirst App ( iOS, Android)
Of all the other face recognition apps, this particular one allows the user to determine who they are from a distance. Hence it becomes an appropriate face recognition Android app for the military, retailers, transportation centres and law enforcement. Upon uploading a picture on the app, that particular person is identified by going through a vast database of known persons to determine his individuality, and it also prevents identity theft.
9. MojiPop App (iOS, Android)
A UK-based company called Eureka studios has launched a customized Avatar app with MojiPop. This is a free facial descriptor recognition software that comprises a wide variety of fun animated stickers.
10. BioID App
BioID is an authentication system with a multi-factor user feature. The app functions via biometrics to verify individual identities; this also makes it possible for the users to log in to other supported websites and apps with facial identification.
SEE ALSO: How to Make an iOS App?
Wrapping Up
Biometrics has become an integral part of any device, be it mobile phones, laptops or computers. The face recognition apps for android are the newest facets of a technology that will continue to grow exponentially, just like it has been. The airport facilities, educational institutes, retail stores, airlines at departure gates or marketing and advertising campaigns all use face recognition online to detect identity.
Want to Make the best facial recognition app with the least features or technology? Consult Our Expert App Developer