A lot of businesses, especially those offering streaming services and learning platforms, offer subscriptions to users. This industry is commonly referred to as subscription commerce, while subscription-based software solutions are known as SaaS solutions. A lot of businesses utilize software solutions that are licensed on a subscription basis to save on investment in expensive hardware or IT infrastructure. But, seamlessly managing data for better analysis and smoother business operations can be quite difficult. So, how do you overcome this hurdle and ensure you can easily scale up your business? Well, B2B SaaS Integration of your cloud platform, cloud-based software services, and business presence application data is the way to go!
With B2B SaaS integration, you can easily transform your SaaS business into a fully functional one. You might be asking – why is this the best solution available and what are the benefits that you can reap? To help you better understand B2B SaaS Integration concepts and develop an effective SaaS integration strategy, we have curated this article.
We will also discuss the basics of the B2B SaaS business model and the current market statistics revolving around it. So, what are you waiting for? Jump right into the article and get started with learning more about B2B SaaS Integration and implementing it.
What Is The B2B SaaS Business Model All About? – Market Statistics Included
In a B2B SaaS model, the business providing the software charges a monthly or annual subscription fee to access its software. Some businesses also offer lifetime subscription plans that allow users to use the service continuously. Please note that the subscription fee depends on the number of users, support level, and features included. In some models, users can also access add-on services like training and premium customer support for additional charges.
Since the B2B business model mainly relies on customers subscribing to the business' services, it can be said that they are highly invested in customer success. From the user's point of view, B2B business models offer a financial advantage. After all, users need to pay for the service as long as they need it and can easily discontinue the subscription if they are not satisfied. This is why SaaS business ideas have a huge success potential especially if the subscription fee is reasonable based on the offered services.
According to reports published by Statista, the SaaS market in the US is approximately valued at USD 197 billion. The growth projection suggests that the SaaS market will reach a valuation of USD 232 billion by 2024. As for its valuation in the global market, the SaaS industry is expected to grow and continue the trend as organizations around the world are performing SaaS application integration to save on investment and allow for more flexibility.
Some key drivers that have led to this growth in the adoption of SaaS products and services include:-
Increase in the adoption of cloud computing and cloud services
Need for businesses to digitize their business and take it online
Growing demand for software aimed at increasing productivity, automation of processes, and better data analysis
In addition to these above-mentioned reasons, another prime reason is the increased adoption of remote work and digital solutions after the COVID-19 pandemic. Collectively, these drivers have led to an increasing growth in the popularity of B2B enterprise SaaS solutions.
What Are The Most Used B2B SaaS Solutions That Utilize The Cloud?
Before we jump directly into the benefits of B2B SaaS integration, let us have a look at the most-used, cloud-based B2B SaaS solutions:-
Customer Relationship Management (CRM) – These software solutions help businesses manage customer interactions and track leads. Some common features included in CRMs are sales forecasting and customer service and support.
Human Resources Management (HRM) – These solutions are aimed at helping businesses better manage employee data to enable them to better fulfill their roles and responsibilities.
Enterprise Resource Planning (ERP) – These integrate multiple complex business processes into a single step to make it seamless.
Project Management – Project management software solutions focus on allowing businesses to plan, track, and manage ongoing projects. These are also used to implement task assignment and team collaboration features.
Accounting And Financing – Another SaaS product that is essential to a business functioning, these software solutions allow businesses to better track their financial data.
Marketing Automation – It is often difficult for businesses to focus on marketing tasks along with prime business tasks. But, with marketing automation solutions, managing marketing activities becomes quite easy.
Business Intelligence And Analytics – These software solutions provide data analytics, reporting, and predictive analysis features that help businesses gain insights and make better business decisions.

Why Do You Need B2B SaaS Integration?
Before we jump into the benefits of B2B SaaS integration, let us discuss why exactly the need for B2B SaaS integration occurs.
Well, a business can opt for one of two types of business solutions:-
Point solutions that are focused on helping solve problems that are specific to your business
Hub solutions have the same focus but mainly focus on the generic business areas to help boost business productivity
When a business is starting, point solutions are the best option and can help get great benefits. But as the business scales up, it can be quite difficult to maintain and you might face some challenges. This is because most point solutions only focus on the immediate business problems and do not account for much of future business scaling. In this case, all you need is a bigger support of the extension which is often realized by B2B SaaS integration with a product that supports a broader scope.
As for hub solutions like business CRMs, these software solutions tend to scale as per business needs and requirements. However, if you want to make it a one-product-fits-all solution, you will have to focus on B2B SaaS integration processes to achieve the concept of a centralized management system.
Nowadays, a lot of businesses have to manage multiple software solutions which can be quite tiresome. This means that there are quite a lot of chances of missing out on a bit of data aggregation. Moreover, users of today do not need any other software product; all they need is a software ecosystem that performs more functions than a single solution. To solve this problem, B2B SaaS integration came into existence and is the best possible solution.
What Does SaaS Integration Mean?
Similar to API and database integration, SaaS integration allows users to easily connect 2-3 SaaS applications. With SaaS integration, data transfer becomes smooth and it is easier for the business to perform functions that are critical to its functioning. This is why a lot of people also refer to this as SaaS data integration which basically connects all the SaaS applications through a single cloud platform.
In simple terms, SaaS integration is an effective way to allow communication between connected apps. This allows better data sync between data being generated from different sources and also allows data transfer from one application to another to complete the dependency among them. The result is a centralized system that offers unified experiences to users and allows them to make the most out of the system.
Since users have to manage a single system, they can easily boost their productivity. Moreover, these platforms help manage leads and other ongoing business tasks which helps hold the team accountable. As more and more SaaS solutions are implementing data analytics processes, businesses can boost operations and make better decisions. This is why B2B SaaS integration is said to be the most effective way to achieve process automation with business-critical applications.
What Benefits Can You Unlock With B2B SaaS Integration?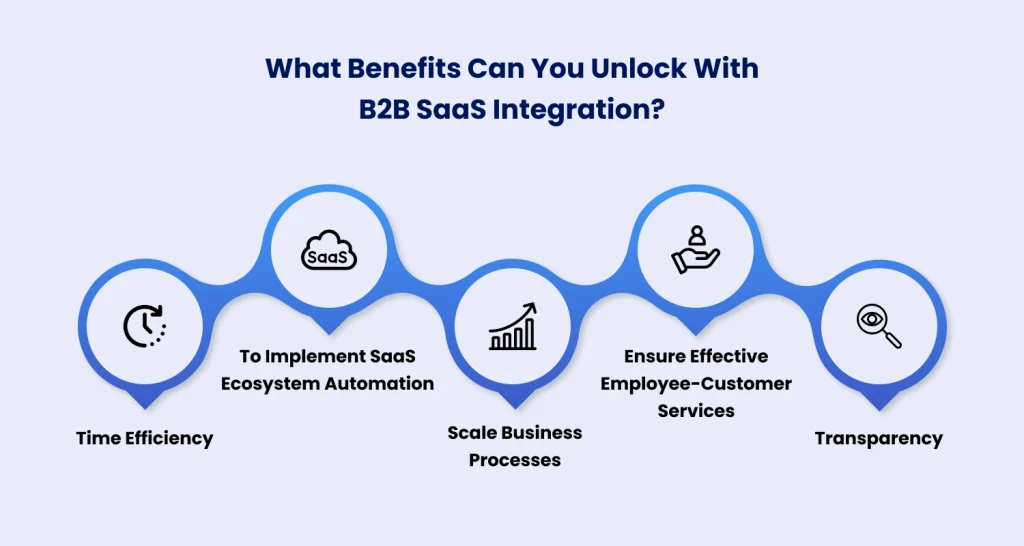 B2B SaaS integration has helped a lot of companies reap the most out of their SaaS solutions. In this section, we will take a look at these benefits to help you better understand why businesses must follow SaaS integration best practices:-
For Time Efficiency
As B2B SaaS integration allows businesses to streamline their processes and achieve automation, it is obviously a wise choice for businesses looking to boost their productivity. With a SaaS integration platform, seamless data transfer is enabled which allows for data synchronization and efficient data processing. Moreover, once you achieve successful B2B SaaS integration, the need for manual data entry is omitted which helps reduce errors. Since automation of complex business processes is achieved, a lot of your time will be freed up. You can utilize this time to perform activities that help add value to your business.
To Implement SaaS Ecosystem Automation
When performing repetitive tasks like tedious data-entry operations, it is common for us to get tired and make mistakes. But, a small mistake can cost businesses a lot of money and time. Moreover, it becomes almost impossible to track down the error and rectify it. Since SaaS integration allows businesses to automatically and seamlessly transfer data between two cloud-based apps, the need for a middle person is omitted. This results in the implementation of an efficient and automated SaaS ecosystem.
Scale Business Processes
As mentioned, point and hub SaaS solutions often reach their limitations and might not be able to handle the business's scaling requirements. But, with SaaS API Integration, effectively scaling up of business processes is possible. After all, it helps streamline information transfer and application communication. Adding SaaS products that offer analysis features can also help you make better business decisions. So, in short, SaaS integration is the key to achieving SaaS solution automation that allows you to scale your business without much hassle. We recommend you hire SaaS developers if you want to ensure successful SaaS integration.
Ensure Effective Employee-Customer Services
Without effective communication, it can be difficult for any collaboration to succeed. With SaaS integration, other than the automation of data transfer, users can enjoy effective communication and collaboration between team members and multiple business departments. A perfect example that helps showcase this point is – CRM integration with a business-critical ERP solution ensures businesses have access to the latest customer information that allows the business to offer personalized services.
Transparency
B2B SaaS integration with cloud-based analytics software and tools ensures that businesses have access to data reports. These allow businesses to better analyze data, draw conclusions, and make better business decisions. Some common cloud-based analytics tools used by businesses include PowerBI and Tableau. If you want to integrate your SaaS solutions with these, we recommend you hire dedicated developers with experience in B2B SaaS integration.
Conclusion
It is clear that B2B SaaS integration can help businesses ensure increased productivity and help them bring in better results. We hope the above article helped break down what SaaS integration is all about and how it can help your business.

Looking for expert help to bring about SaaS integration for effective business functioning and better growth? Get in touch with an expert company offering professional SaaS application development services to ensure effective B2B SaaS integration.