Whenever you feel hungry and don't find enough energy or grocery in your fridge to cook something, you wish to order food from any nearby restaurant. Well, there's an app for this. Whether to fill your stomach or to add some fresh spice to your taste buds or just to give a treat to your guests, on-demand app delivering food from nearby restaurants can be a great help.
While food ordering apps are getting popular by serving customers preferred foods from their chosen restaurants, all of these apps do not excel with the same delightful customer experience. Any UI/UX design service should give special attention to the relevance of delivery as per the user preferences when building a food ordering app.
As of now, we have got several successful food delivery apps varying in different user experience attributes. From Zomato, Swiggy, GrubHub to Uber Eats and a few others, we have come across a full circle in dealing with food delivery apps. While all these apps are tremendously popular for any Mobile App Development Company India it is interesting to see that they lack certain UX elements as well. None of them fails to live up to the expectations of their users, but each one of them can do better.
Let us explain here key UX elements that every food ordering app should have.
1. Simple Onboarding Experience
Simple and quick on-boarding is one of the most important criteria for great user experience. From creating a profile to having a quick understanding of how the app works, all should happen in a jiffy. The most important thing is you need to help your new users ordering food quickly or else, they can lead to another app quench their hunger.
It is important to make precise steps to take the users through a process of finding their restaurants from where they can order foods of their choice. The creation of a profile should allow social registration or guest login to help new users quickly get through the app.
At the next level, they should be allowed to select the food of their choice from the restaurants of the locality first followed by faraway places in the list. When most customers consider shorter delivery time as an important factor, giving priority to local food joints will help to give them more relevant results. At last, at the checkout page, you have to provide them with several options for processing payments including obvious cash on delivery, net banking and cards.
2. Location Tracking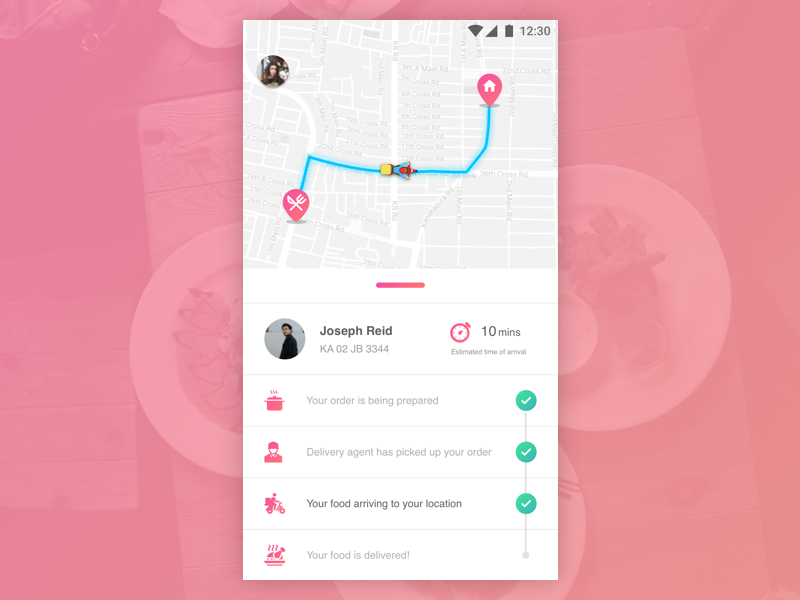 Source:https://dribbble.com
For all food delivery apps tracking customer, location is crucial to detect the distance and accordingly assessing the delivery time. Based on the location of the customers the list of delivery restaurants will be provided. The distance will also help the app to calculate delivery charges if there is any. Now for tracking user location different food delivery app have different approaches. Let's take the example of three popular food delivery apps, namely, Zomato, Swiggy and Uber Eats.
1. Zomato
This food delivery app makes it mandatory to switch on the device location tracker. Zomato also helps in validating the location with manual input and in most cases, it doesn't make a big deviation for the delivery person to reach the customer's place easily. The best thing is, Zomato covers more areas and interior city localities for their service. But when the app tracks location, it takes a serious toll in the battery power.
When you switch on the location, Zomato is pretty good in auto-detecting your location. In spite of a little too cluttered in a UI for a food app, it is actually the most effective and the app offers a pretty useful search bar.
2. Swiggy
Swiggy allows you to place an order right away without making it mandatory to allow location tracking. But the app keeps warning you if you have not selected location through location tracking feature of the device. The blue screen continues to warn you for selecting location first.
When the location is turned on, Swiggy automatically detects your location. The overall look and feel of Swiggy are pretty minimalist and clean. That gives Swiggy a better competitive score for customer friendliness.
3. Ubereats
Ubereats works in a more intelligent way. If you do not switch on the location the green colour may stand out before you order. But Ubereats can detect whether you are at home or outdoor. That's really impressive.
Even when you switch on the location, your manually typed address remains unaltered. This is because Uber is more committed to being precise about tracking location whether the device location is switched off or on.
3. Prioritize User Needs
Giving priority to user preferences and ensuring delivery of foods as per customer choice is a big consideration for food delivery app. Some of the key criteria for selecting food ordering apps include the type of cuisine, delivery charges, delivery time, ratings, promotional discount, etc. It is important to keep these filters in the top of the home page to allow easy access.
When it comes to accommodating personal preferences, compared to both Swiggy and Zomato Uber Eats gives better output. Ubereats reflect the preferred and frequently ordered places in the list of restaurants. On the other hand, too much reliance on earlier order data to list the restaurants can actually prevent new options to show up. Ideally, there should be a balance to allow both.
4. The Ease Of Searching For Restaurants And Menu
As far as the ease of searching restaurants and menu is concerned almost all the available food delivery apps do a great job. If you want to take inspiration from any app and do better while making such an app Swiggy and Zomato just delivers a great experience. The clean images of the menu and listing of menus with different categories make finding any food extremely easier.
All the major food delivery apps come with an easy search bar allowing the customers to search for either restaurants or food items. There are several categories and the customers can easily find any item under the respective categories. Finding restaurants under different menu categories and other categories like "frequently ordered" make the search experience extremely easier. Zomato also offers a category of restaurants that offer discounted food.
5. Clear Mention Delivery Timing And Cost
Besides allowing menu-based browsing and restaurant listing based on user preferences, the listing should come with a clean listing of the food prices, the details of the menu items and the respective time required to deliver the item at customer's doorstep.
All three major apps, namely Zomato, Swiggy and Uber Eats often lists food with less detail about the included items. It is particularly true for "Combo packs" with an assortment of multiple dishes served to proportion for lunch and dinner. But all three apps excel well when it comes to clearly mention delivery time and the food price.
6. Live Location Tracking Of Delivery And Live Support
Allowing customers to track the location of the delivery valet is a key consideration for superb user experience. The customer must be able to locate where the valet has reached on the live GPS map along with estimated time of delivery.
Apart from this, the customer should be given access to the phone number of the restaurant as well as the valet. It is also important to allow customers giving special cooking instructions to the restaurants while ordering. In these respects, Zomato looks great, though the other two doesn't lack much.
Apart from these, customers should be provided with live support for solving any food or delivery related issue. Live chat support of Zomato and Swiggy works great and seldom you are left without an unanswered query. They are pretty fast in replying your queries and solving issues, sometimes with reimbursed purchase points for bad food or delayed delivery.
Read More: Create a Restaurant App
Conclusion
The UX necessities mentioned and exemplified above shows the huge role attention to details of customer engagement plays in making an app better appreciated. A food delivery dedicated app developer should always put himself in the shoes of the customers across different contexts to be able to fulfil customer expectations.