Have you ever felt that you have an amazing idea and if executed correctly, it could be on the way for a successful startup which could have some mind blowing valuation in future. At the same time you lack the clarity of executing this brilliant concept? The answer to your dilemma is developing a Minimal viable product.
Minimal Viable product enables entrepreneurs to test the concept. In other words you take the essence or the Unique Selling Point (USP) of the product and get market feedback. Based on this prototype run you will have interesting feedback & learning which can again be implemented into MVP. This process of execution & learning continues in sprints and iterations thereby laying a strong foundation of successful product.
Minimum viable product (MVP), as defined by Eric Ries, is a learning vehicle. It permits you to test a thought by exposing an early version of your product to the target customers to gather the relevant data, and to learn from it. It is that version of a new product which permits you to collect the maximum amount of validated learning about customers with the least effort. It helps entrepreneurs to begin moving towards learning as fast as it could be possible. An alternative to the traditional product development, which usually involves a long, attentive incubation period and strives for product perfection, the objective of the MVP is progressively moving toward learning, not end it.
Many of successful web development company implement diverse MVP technique in their business.Y-Combinator and Techstars both use comparable modules and companies which came out of the incubators are like Drop box and Airbnb by using this methodology.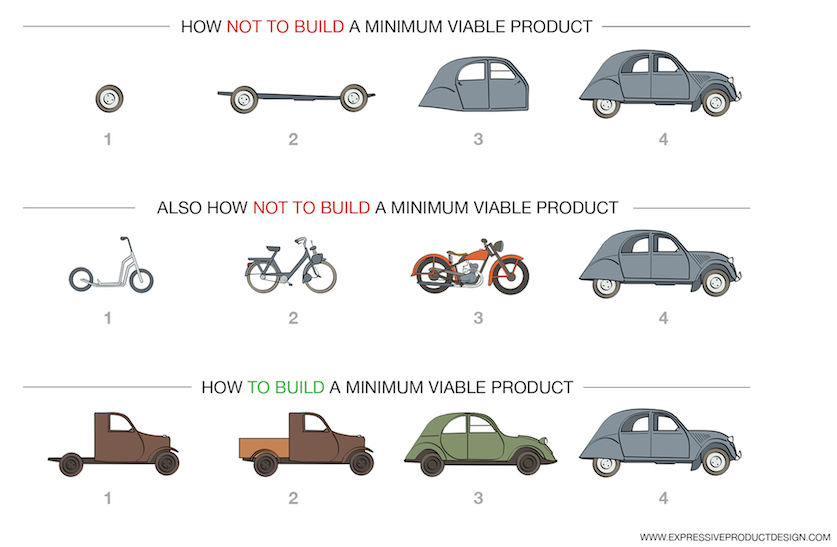 How It Helps Start-Up
MVPs are worked for a set of the initial target audience or market, just to get the suitable thought for a next or final version or might be the possibility of an idea. That implies, the range of your MVP is limited to the customers who you are focusing on. That is a time when you get to know the accurate feedback of your true customers; which at times helps you to begin building a perception about your product. By this, you will get a precise understanding of your product.
Focus to the Core Value Proposition
Beginning with the MVP constrains, you need to characterize your quality suggestion clearly and concretely. It affects you to examine the breadth and depth of your vision and to characterize precisely what value you need to give to your ideal customer. You can then set clear targets, choose what truly should be created to test your quality recommendation, and invest your time and money efficiently.
Reduce Rework
Building additional features on top of your core product may cloud the worthy recommendations and complicate the initial user experience for early adopters. Great research and design reduce the risk of building undesirable features, however, there's not a viable substitute for testing your product in the business sector. It implies that even if rework is essential, your amount of rework should be minimal. When you keep your initial product release minimal, and your consequent releases incremental, you'll be agile in the market.
Validate the Problem & Solution
Before you do anything else, you initially need to examine demand of the solution of the problem that you want to address within the target group facing the challenge. You also need to figure out possible unique approach of solving it. And the customers' feedback during the stage of developing the solution is usually helpful.
The MVP is your tool of choice for this step. When you have rightly identified that the problem exists and is faced by a group of customers. The next step is to test your Problem-Solution Hypothesis to learn as much as expected about your customers and empathize.
How Should a Start-Up Execute It?
While executing the MVP it is important to concentrate on overall customer experience along with the product core functionality because the ultimate objective is to achieve a result for the customer rather than build any particular feature. A well-run development procedure will design and test features considering the overall customer reviews rather than testing customers behaviour over a particular features.
Organize initial survey data
Your survey should be able to bring you strong knowledge implications over which you should focus during early iterations and should considered for feedback as you connect with more and more prospects. Obviously, the people that responded positively to the survey will be your significant first focus group. You should ideally be able to decide one or two characteristics which will rapidly let you know what group of people not to pursue, which can be entirely helpful to track the right customers, which is a necessity in the early phases of a start-up.
Input from Prospective clients
It is advisable to scribble notes while listening to prospective customer's feedback. Prepare key statements for the prospect, highlighting the customer's necessities which can be similar to user stories. This will advance all through the product design and development phase, and ideally through the entire lifecycle of the product.
Develop customer relationships
During your questioning to the prospects, some will turn out as a clear contender to amongst the first few customers of your product. These people are critical in getting your company off the ground. Towards the end, make sure to seek permission for a follow-up and to involve them in the product design process, with gratitude towards them for their consideration, in advance. Be sure to let them know the goal is to take care of their issue, how significant it is to you and conveying that they are crucial in your developmental procedure.
Developing a Minimal viable product is a universal concept use in both Web platforms as well as Mobile Application Development. Many start-ups find outsourcing as great option to develop MVP since it provides leverage in terms of cost effective approach and turnkey solutions at one place. At the same time, it is important that you collaborate with an outsourcing company that brings tremendous experience and technical know-how at your disposal.