For every employee, the workplace is where he spends most of the day time. All the eight hours every day they spend within the four-walled infrastructure called offices make a huge impact on their well being and overall psychology. If the biggest asset of any company is its human capital it is time to reconsider how they are affected by the office infrastructure.
Workplaces of leading companies such as Google and Facebook already created some benchmarks in this regard. These companies really created hopes and aspirations for the job seekers who dream of working with these brands because of the workplace environment besides other reasons.
There are too many startups that are also considering this aspect seriously. By embracing aesthetically appealing design, they are increasingly paying attention to the workplace environments and office infrastructure and the impact on their workforce. They also found that when a workplace looks dull, it can make the employees less productive.
The Impact of the Workplace on Employees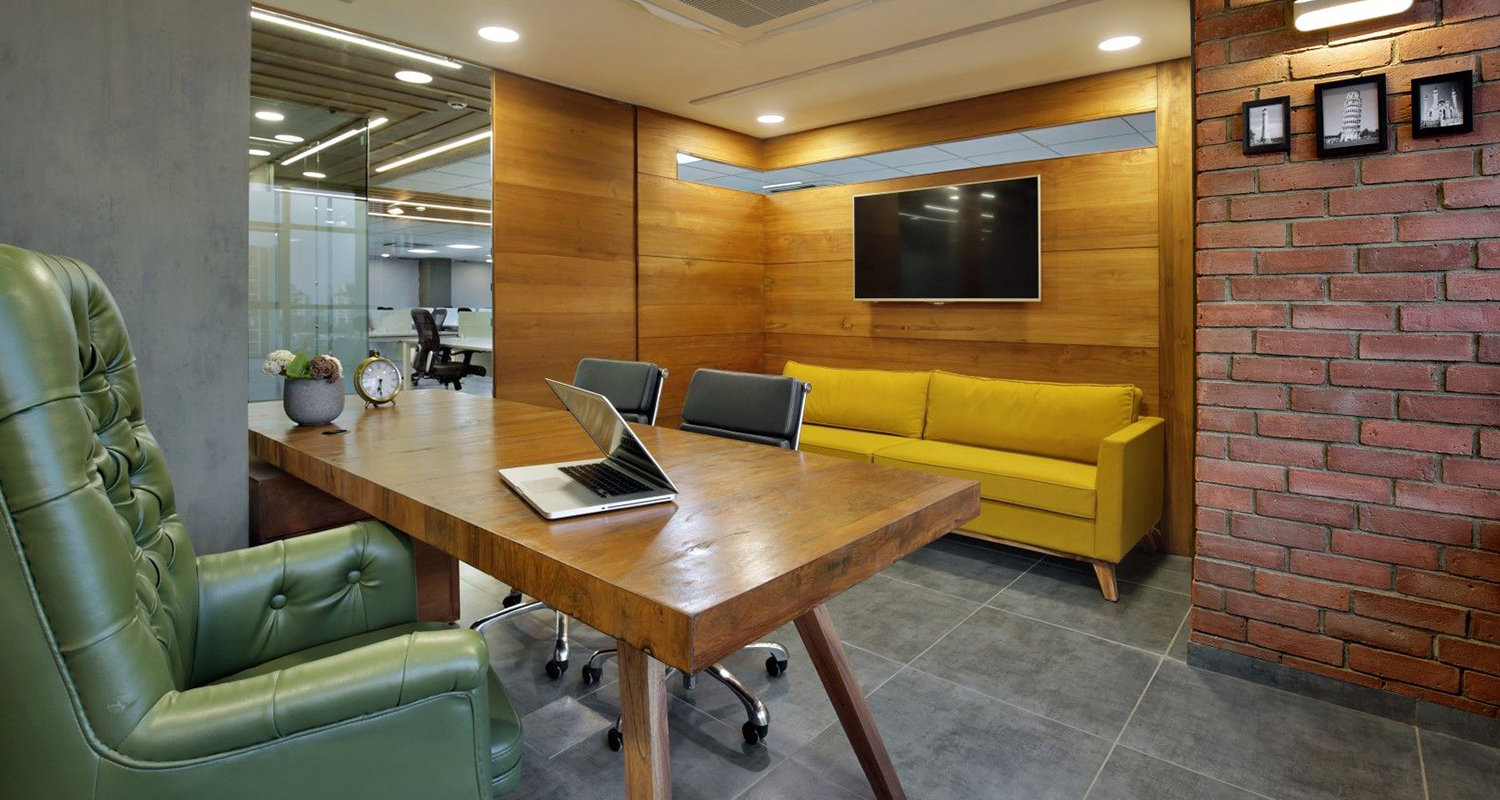 A workplace besides being aesthetically pleasing should also create a good vibe on the psychology of the employees. This is why building the right infrastructure and office interior is so crucial for and growth of an aspiring company.
Some of the most notable ways workplace environments impact productivity include the following.
An office infrastructure that looks and feels good to the senses can end up enhancing employee productivity.
A great workplace infrastructure ultimately makes a great impression on the customers of a business and help to to make your business more profitable
A workplace with a pleasing interior and a sense of enough space ultimately helps reduce stress and enhances tranquillity.
A workplace that feels better than a home in terms of flexibility, comfort, and tranquility will help your employees stay longer at workplaces and stay more engaged with their tasks.
What are the Key Elements of a Happy Workplace, from the Infrastructure Point of View?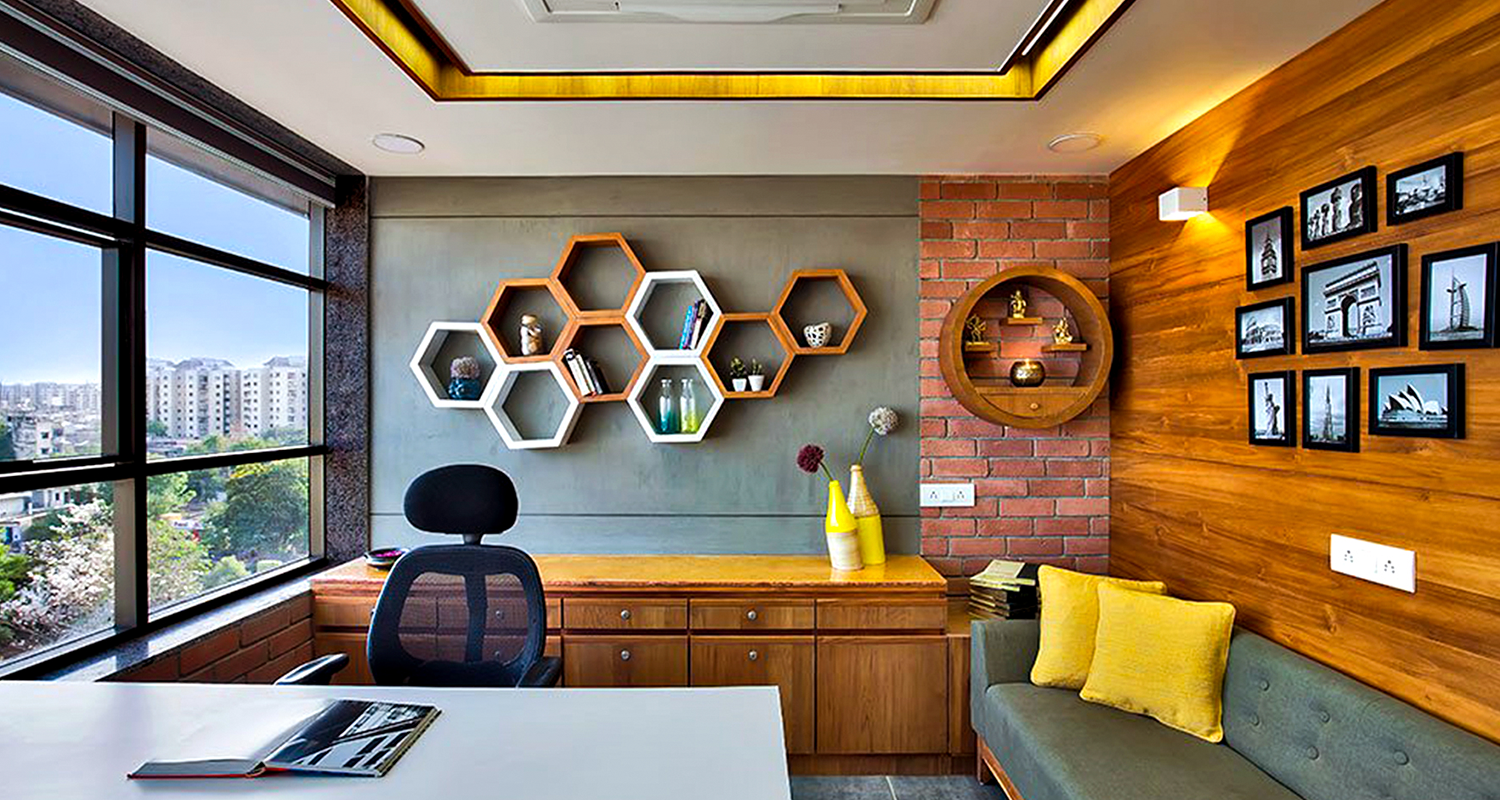 We all know that each colour has a distinct psychological effect. It is not just the colours, but there are several elements in the brick and mortar workplaces and several key interior aspects that have precise psychological ramifications.
Here below we would try to explain a few of them.
Making way for natural light is extremely crucial to help employees connect with nature and have a bright mood.
In interior workplace areas with the least privacy concerns, it is advisable to use more glass to create a sense of openness and collaboration.
The interior should use a visually appealing theme with consistent colour patterns, artwork, and wallpapers.
Use some open spaces like rooftops or balconies to help employees spend their breaks out in the open for some time.
Related: CMARIX Technolab Pvt. Ltd. office by ADHWA-architecture, Ahmedabad – India
Stress Management, the Single Most Important Consideration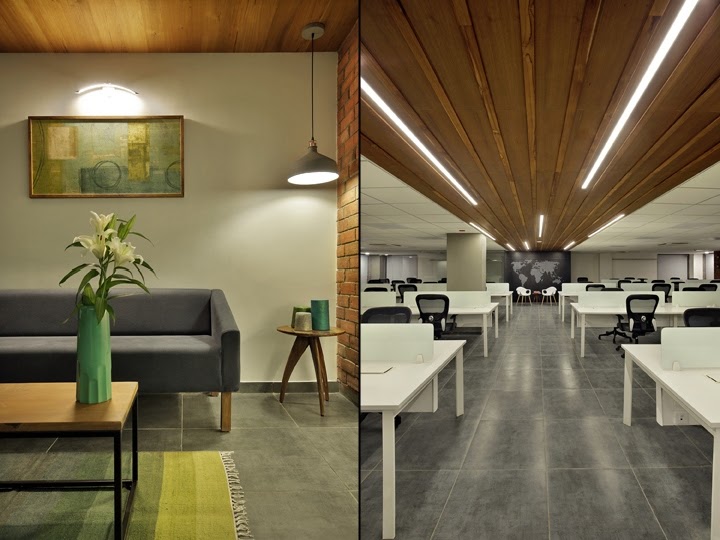 With regular deadlines and work pressure, employees in every work environment are in need of de-stressing themselves.Workplace infrastructure in this regard can really play an effective role.
The principle concerning ergonomics basically insists on accommodating everyone to stimulate their creative capabilities, to reduce strain on the eyes and senses, and to boost happiness by ensuring collaboration and communication among the team members.
While cluttered workstations often make the reason for employee absenteeism and low work morale, the office infrastructure and interior can really make a positive difference in these regards.
The infrastructure of the workspace can play a major role in reducing stress and maintaining the health of the employees. Investing in the infrastructural design can help you in satisfying your biggest asset of the company, your employees.
Now that we have described the importance of a good workplace environment and infrastructure, here are the leading enterprise workplaces where this principle is in operation.
CMARIX Technolabs Office, Ahmedabad
CMARIX Technolabs is worth mentioning because its treatment of the new office interiors follows a perfect plan to infuse a productive spirit with a sense of freedom and inclusivity. Their interior boasts of a feeling of sophistication perfected with spacious ambiance and eye-catchy aesthetics.
CMARIX is a globally known outsourcing software development company in India. The company achieved such a breathable interior for its workplace because its company heads and directors worked in many parts of the world to bring home some aesthetic and practical dimensions that are time tested. The result is a superb workplace with zero stress, more openness, and a pleasing atmosphere.
Gulf Ispat Limited, Gurgaon
This beautiful office with a terrace garden looks captivating to the senses at the very first look. The office offers a large front open terrace with no permanent structure so that it elevates the mood and creates a sense of unbounded freedom.
The design of the area by using tensile roof structure and transparent glass walls also adds attraction to the place and allows creating functional areas such as entrance lobby, cafeteria, conference and meeting rooms, pantry and toilets.
GE Digital Office interiors, Bangalore
The GE Digital office located in Bangalore, India is another great example of a breathing workplace. It perfectly boasts of the vision of GE Digital, the software company from GE to create an office space that symbolises their innovative spirit.
Microsoft Office, Mumbai
Microsoft office space in Mumbai follows the company's well known quest for innovation and practical advantages. The office comes with Microsoft corporation's WPA (Workplace Advantage) branding makes perfect sense in bringing together usefulness and cool aesthetics.
Microsoft focused on transitioning the core workplace guidelines to innovative workspaces with more focus on creating a design that brings also residential and hospitality specific elements besides the common corporate office space design cliches.
Ecolab Workspace, Bangalore
This workplace typically shows how a working environment should evolve and create more breathing spaces beyond the walled cubicles making stressed enclosures for employees.
This vision for Ecolab collaborative workspace totally made a distinction from the rigid offices common in most corporate houses. The office has also taken advantage of its sprawling real estate space with more than 28,000 square feet area.
Singa Infrastructure Office, Mumbai
The Singa Infrastructure office located in Mumbai, India is a classic example of how modern workplaces are transforming workspaces into habitable environments.
Singa Infrastructure and Mining which is a well known equipment and logistics company from Mumbai used a lot of geometric motifs, visual layers and controlled visual cacophony to create a visually engaging workplace environment.
Conclusion
With so many leading companies giving importance to the workplace environment for de-stressing their employees and enhancing productivity, even small businesses are considering giving a makeover to their workplaces. In the years to come, creating inclusive and engaging office infrastructure will be a crucial aspect of any business.