Mobile apps have already become part and parcel of our daily lives. In the past few years, a whole new breed of mobile apps has arrived to shape an on-demand economy. The era-defining impact of mobile apps continues to transform our lives. Do you want to take this emerging app business opportunity with a new app idea? Well, let us explain some unique app ideas for your app business. Before you hire a mobile app development company, make sure you have evaluated the idea and how it can really make a successful app.
On-demand Car Wash App
Yes, it is still a unique idea that very few could actually think of building an app for. Almost every car owner requires a car wash from time to time. When they need to wash instead of heading for the nearby service station or instead of looking for the nearby wash professional, they can just book the service through the on-demand service app. The app with different panels can actually provide you a variety of service options for the car as well.
Personal Cooking Guide or Chef
There is no denying the fact that food delicacies appeal to everyone without exception. It is also an established fact that our taste for good food varies across a wide variety of tastes, culinary traditions, custom choices and ingredients. Moreover, many of us have the uncanny habit of experimenting with food. Naturally, a fully-fledged food guide app or app working as a personal chef can be a great choice for people wanting to experiment with cooking and food delicacies.
Do you want to try your hand in authentic Cantonese delicacies? Or, you want to give a surprise to your guests with some simple and mouth-watering Tuscan delicacies? Well, with a personal chef app at your service cooking any food maintaining the right procedure and ingredients is absolutely easy now. Such an app can be a great option for urban customers who always miss their home-cooked food. It can be a secret weapon for people wanting to experiment with new delicacies and cooking stuff. To make things further interesting, the app can also provide detailed information about each and every ingredient.
Grocery Delivery App
Though there are many grocery delivery apps presently in the market, most of them don't provide any unique value-added services. Apart from offering competitive grocery delivery option, you can build an app that offers very detailed information on the products, their health benefits and the culinary traditions and recipes they represent.
You can also offer suggestions for garnering more user benefits. Grocery delivery app should also concentrate on keeping the best quality and fresh products for their users. Such an app can also excel simply by offering the best price or the best value in the price category.
Packers and Movers App
When shifting our accommodation from one part of the city to another, all of us need the service of packers and movers. But instead of searching for them on the web, if you can contact such a service just through a mobile app, it becomes more user-friendly and useful. You have the option of building an aggregator app consisting of all packers and movers services if you can just give the packing and moving services and build an app for that.
On-demand Medicine Delivery App
Medicine delivery apps will continue to be popular as fixing doctor's appointments or scheduling medical examinations through mobile apps has now become commonplace. Medicine delivery through mobile app-based service can be highly effective and beneficial for enhancing patient care.
Such an app will offer exceptional ease of use for patients and caregivers. As an extra value addition, the same app can also offer an exhaustive database of various chronic diseases and the over the counter drugs and medications.
An App for Sharing a Book
The book worms have not become extinct. They gave actually turned to kindles, PDFs, Mobi books or digital books that can be read across all devices including smartphones and tablets. Well, digital books and Kindle copies of books have really revolutionized the way we access knowledge and read. But still, the fetish of books looks really awesome to many of us simply because of the touch and smell of those leaves between the book covers. The sharing of books is also extremely popular among readers.
Do you want to build a successful app banking on this crazy love for books? Well, before you hire Android app developer or an iOS development company for the same, let us give you a unique idea. Why not build a unique app that caters to this craving of sharing a book with friends and other interested expletives? Well, an app for sharing the books, whether in physical or digital format can really be very popular among the readers, bookworms, and all-rookie in whose life books play a very vital role. The app can just work like an online book repository holding a collection of e-books and physical books in private collections that can be shared, borrowed or exchanged among the users.
General Home Service App
In most cities getting housemaids or service professionals for various day to day activities is very difficult. Moreover, hiring a stranger for cleaning, flooring, housekeeping and cooking jobs can be very challenging from a security perspective as well. This is why a mobile app for all kinds of home services ranging from plumbing, electricity, cooking, cleaning, and laundry to housekeeping and gardening can be highly popular.
It can just work like the Uber of home services boasting of a huge database of service professionals besides maintaining the security and compliance norms along with detailed documentation of each and every service giver.
An App for Getting Produce Directly from a Farmer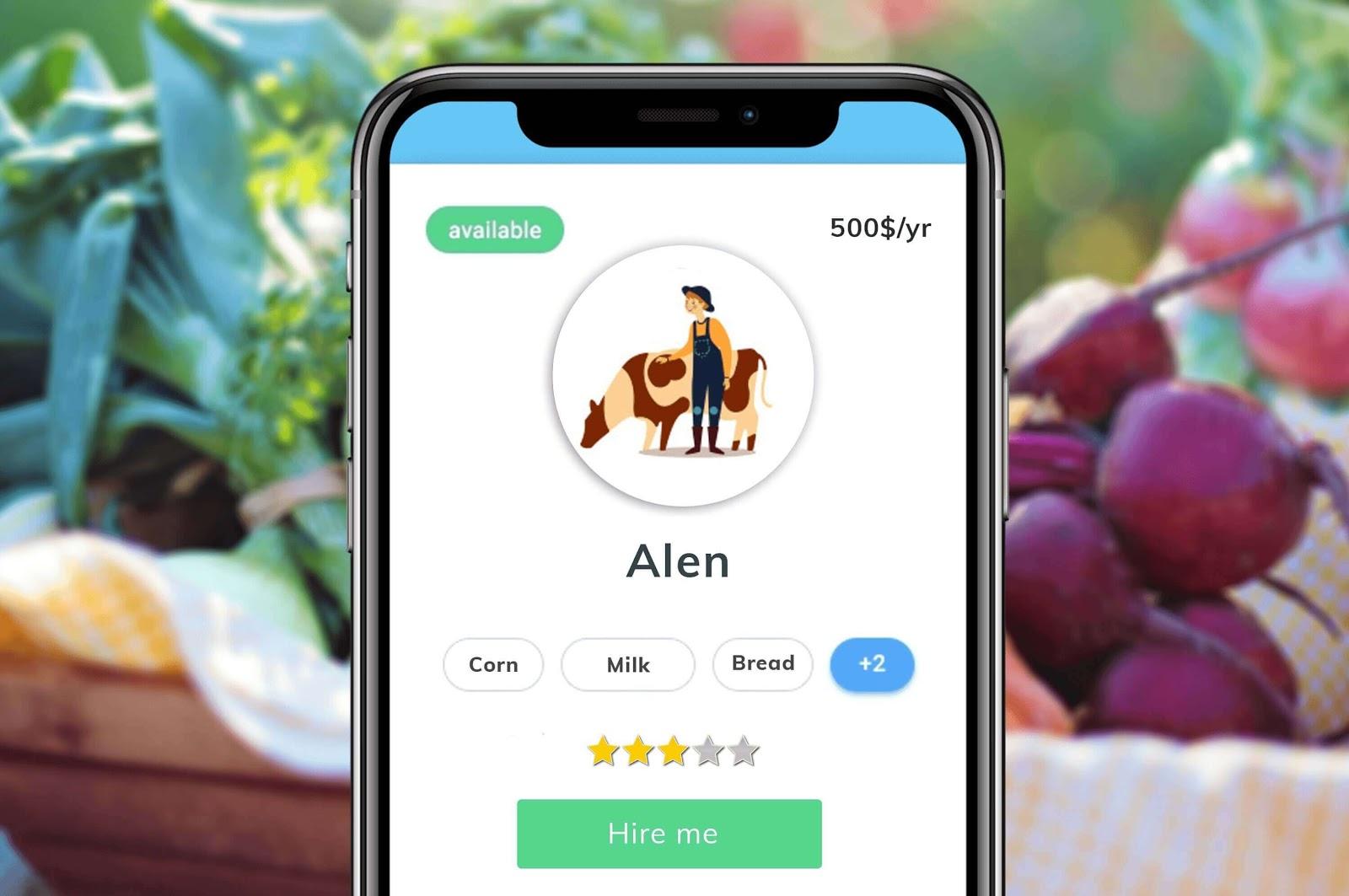 Using organic products and food items have come to the biggest trend of our time these days. We love to eat organic food and we prefer using organic stuff in case every daily need. But most of us living in the overpopulated metros and urban concrete jungles just don't have any idea about how to get this organic stuff. This is why often we succumb to those brands that sell cheap local variants in the name of organic stuff.
Why not allow people to get their organic stuff directly from the farms or farmers? Yes, this can highly be possible through a mobile app through which you can directly contact the farmer and as per your need can purchase products directly from their farms. When a group of users shows interest in organic cereal, the farmers can be contacted and they can be offered a price to produce the stuff in appropriate quantity for the user group.
Ticket Booking App
As of now, you are habituated to book your train or flight tickets through mobile apps. You may also give booked tickets online or through mobile apps for movies, theatres, and concerts. But what about having a ticket booking app that really caters to every different need and niche.
Just think, how delighted customers will feel if they can book all tickets ranging from the flight to movies to entertainment parks to museums to movies, concerts and gaming arenas. Yes, such a robust ticket booking app covering all the niches and categories were buying a ticket is necessary can really be popular and useful for the wider audience. To make further value addition to such an app you can also integrate one coupon or promotion service that can make lucrative offers on various ticket purchases from time to time.
An App for Measuring Carbon Print
If you are not living inside a cave in all these years, you must have known about the huge toll global warming or such environmental catastrophes that are undergoing now. The global consciousness on environmental dangers is ranging now. Every one of us is aware of the role we can play in making our environment better by just being conscious of the carbon footprint we create through our day to day activities and lifestyle. A mobile app for evaluating our own carbon emission or footprint can really push this consciousness further.
You can just build a highly sophisticated mobile app based on Augmented Reality (AR) and Machine Learning (ML) that can accurately measure and assess the carbon emissions we create in our life. Each activity of your day to day life will be evaluated by the mobile app and based on the database it will provide an honest evaluation of the carbon footprint that the said action can cause.
Conclusion
Obviously, there can be several unique app ideas that we could not cover in this short elucidation. You may have some great ideas that can instantly go viral and has the potential to fetch you millions overnight. But ideas are just ideas and they don't mean anything as long as you put them into practice and shape those ideas into a really robust and useful mobile app.