You may still remain glued to the television screen watching live sports matches, but such craze over live television programs has already been over. Thanks to the live streaming mobile apps, your large-screen handheld device can now be converted to movie theatres. The best thing about such apps is that you can enjoy live shows without being forced to consume commercial content. Moreover, there are all sorts of live-streaming apps across all industry niches and categories.
But wait, if you think live streaming apps are credible entertainment alternatives, you are not aware that there are plenty of such apps for serious business tasks and a variety of niche commercial uses. From watching a live culinary class to live medical operations to live streaming of share market transactions, there are serious streaming apps for all niches.
Yes, live streaming apps have helped transform the game apps as well. If as a game mobile app development company India wants to get trained on playing complex and challenging strategy games like Clash of Clans, Game of Thrones, or PUBG, the game playing sessions can also be offered as live streaming videos for the audience. There is no wonder in the fact that live-streaming mobile apps have evolved with a round of applause and promise for gaming apps.
Why Live Streaming Feature is Important for Your Game App?
Game apps have been particular beneficiaries of live streaming apps. With the increasing popularity of live-streaming apps, the game app business has gotten a solid boost in terms of audience engagement, audience reach, acquisition, and marketing conversion. Let us have a look at the key advantages of live streaming for mobile game apps.
Live streaming of gaming sessions for popular strategy game apps can help popularizing these apps to a wider audience. Live streaming can deliver a hands-on and passive experience of a particular mobile game app.
Live streaming add to the branding initiative of a big-budget mobile game app. It helps a mobile game app to create buzz through passive game videos.
Live streaming helps game apps to capitalize on a variety of marketing channels popular for video contents such as YouTube, Facebook, etc.
Live streaming clearly can set expectations about your game app and can help you market the game better with a pre-launch video marketing.
Lastly, live streaming provides developers another way to monetize game content by marketing the game videos across multiple channels.
Different Types of Live streaming apps
Live streaming apps have also evolved over the years. While creating a live streaming app you have to know about the key categories and the two types of live-streaming apps that are present in the market. Let's explain them briefly below.
Live Broadcasting Apps: When a program whether it is a sports match or a concert or a political rally is broadcasted live through an app, it is called live broadcasting app.
Video Streaming Apps: Some videos are stored within the app and are made accessible for the viewers whenever it becomes convenient for the viewer.
Key Considerations for Building A Live Streaming App for Your Game App
Live streaming for the game apps have some particularities that you as a developer needs to be aware of. Here are the key considerations.
Live streaming should deliver the quintessential gaming experience that gamers love about the app. The video streaming game-playing should cover all the key thrilling aspects of the game.
The streaming app must make the game accessible to a wider audience beyond the frequented groups of game addicts.
A streaming video of game-playing must also conform to the basic rules of making an interesting video as passive game watchers are likely to behave differently than game players.
Live streaming game app videos should be short, focused on key game features and overall game experience. It should encourage gamers to start playing.
The live streaming videos should support all types of video formats to help running them seamlessly across all platforms.
The developers should also ensure providing optimum security to avoid videos being pirated or plagiarized.
The developers of live streaming game videos should also choose the appropriate OS platforms to start with their projects. In case, the project seems to be too complex involving a multitude of challenges, starting with an MVP (Minimum Viable Product) version is advisable.
Live Streaming App Features
Now, that you have known about the key considerations and challenges for building live streaming video apps, we are going to explain the key features for such apps. Let's break them into two broad categories, namely, must-have features and advanced features.
Must-Have Features of Live Streaming Apps
The live streaming game apps must have the following features: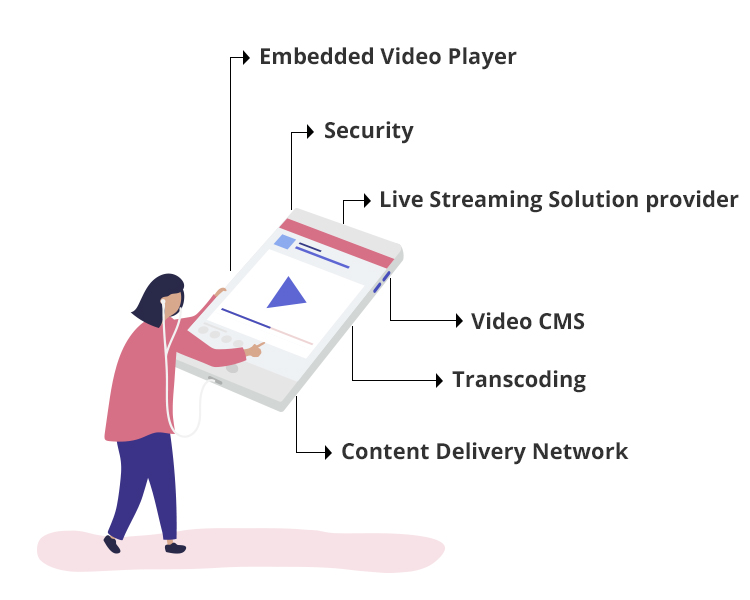 Just like the Content Management System (CMS) of regular websites and apps, the video streaming apps should have video CMS to allow streaming video on the go. A video CMS will allow you to upload, manage and deliver live content for your target audience in a frictionless manner.
Because of allowing a variety of video formats, you need to use a transcoding feature. This feature will allow encoding and decoding video contents for delivering the best qualitative video output.
Content Delivery Network or CDN helps easing the pressure from a server and deliver live content to a wider audience seamlessly. Having CDN is a must for delivering high-quality to the audience of any geographic location.
To help users watch the live video contents right from the streaming app in a convenient manner, you need to have an embedded video player. The video player should be capable of live streaming HD quality video on a variety of bandwidth and resolutions.
The live streaming contents should be encrypted to protect them from plagiarism and any type of disruptions.
Live Streaming Solution Providers
Apart from all the above-mentioned features, a live streaming video app can also make use of some trusted live streaming solution providers like Vplayed that can be customized to user needs with features and functionalities.
Now that we have a comprehensive idea about the basic and elementary features of live-streaming apps, let us have a look at the advanced features of live-streaming apps.
Advance Features Of Live Streaming App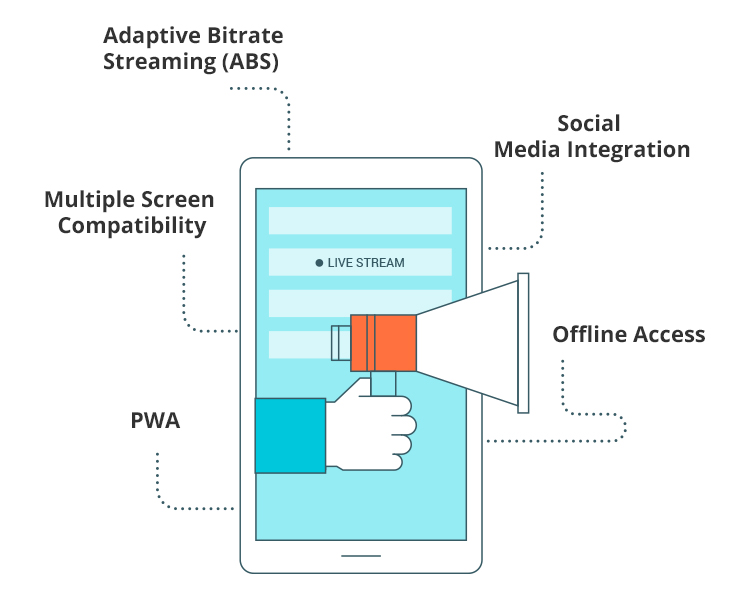 Adaptive Bitrate Streaming (ABS)
ABS is a key feature in modern live-streaming apps because it plays a great role in ensuring optimum video quality on a variety of network bandwidths and devices.
Social media integration will help any live streaming app to reach a wider audience and boost engagement across multiple platforms.
Multiple Screen Compatibility
With the third-party tools like Vplayed making live streaming content available on all platforms became easier than ever before. The HTML5 player of such tools allows playing live streaming videos on web browsers as well as Android and iOS platforms.
Offline access to video contents will help to watch the video on the go when a network connection is not available. This will also help to share the video with multiple users and devices without an internet connection.
You can also build a progressive web application (PWA) with live streaming to web users experience streaming video over the browser.
Different Industries That Benefit From the Live Streaming App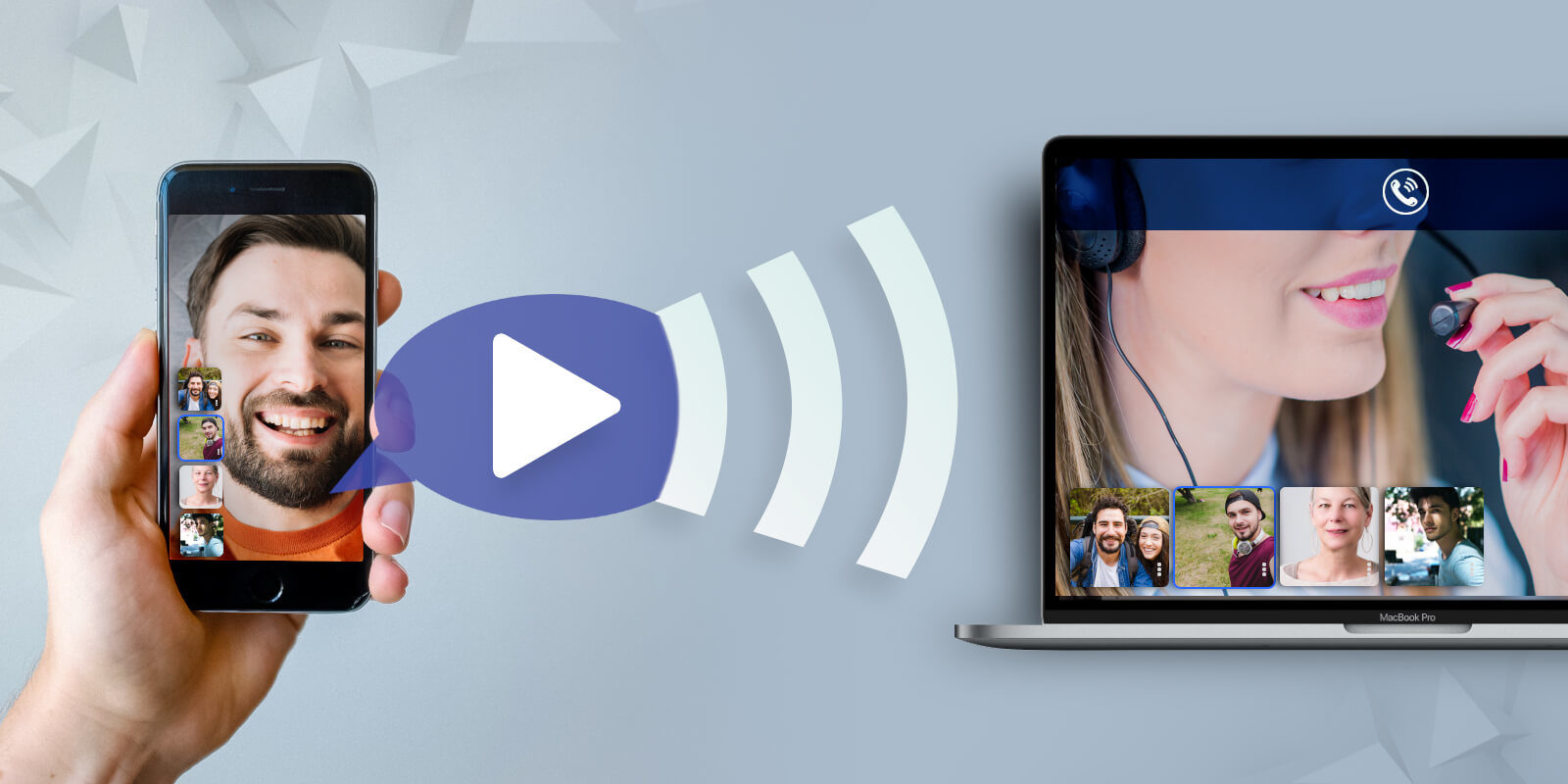 Businesses across the niches are building their live video streaming apps to give their audience a live test if their product development and brand history. Such videos also help these brands to build an association with their audience. Live streaming apps also help some industry niches to boost perfection, give fuel to research initiatives and development of expertise.
Let us briefly explain how live streaming apps work for different industry niches.
In retail industry the live streaming apps serve a variety of purposes including remote education of employees and associates, internal communication and remote meetings, motivating the channel partners and distributors, building customer relationships and boosting the loyalty programs and live streaming videos for boosting social media engagement.
Through live video streaming the property builders and marketers can give their audience an authentic feel of the property they are going to buy or book. Live streaming videos for real estate players can also help to resolve insurance issues concerning bank loans, taxation, etc. Since visual components play a great role in modern marketing, real estate players make use of live streaming to take advantage of visual content.
In logistics, the live streaming video can actually help to track the asset location and security to a great extent. By streaming a live video on the handling of the goods and the luggage, the authenticity and the credibility of the carrier can be improved to a great extent. This will also help transporters tracking any on-road issue with trucks that can be addressed in real-time.https://promo.com/blog/video-marketing-101
In the Healthcare sector the live streaming videos can deliver an array of advantages. From providing remote and real-time patient support to delivering analysis and reports to training doctors and caregivers with real-time videos of surgery and treatment process, live streaming apps can benefit the healthcare solutions in more ways than one.
As modern technologies are increasingly being used in the banking and financial sector, live streaming in the Financial Tech (FinTech) industry can further add edge. From introducing new financial products to using live videos for loyalty to tracking security issues in branches and outlets, live streaming can be effective for the industry in numerous ways.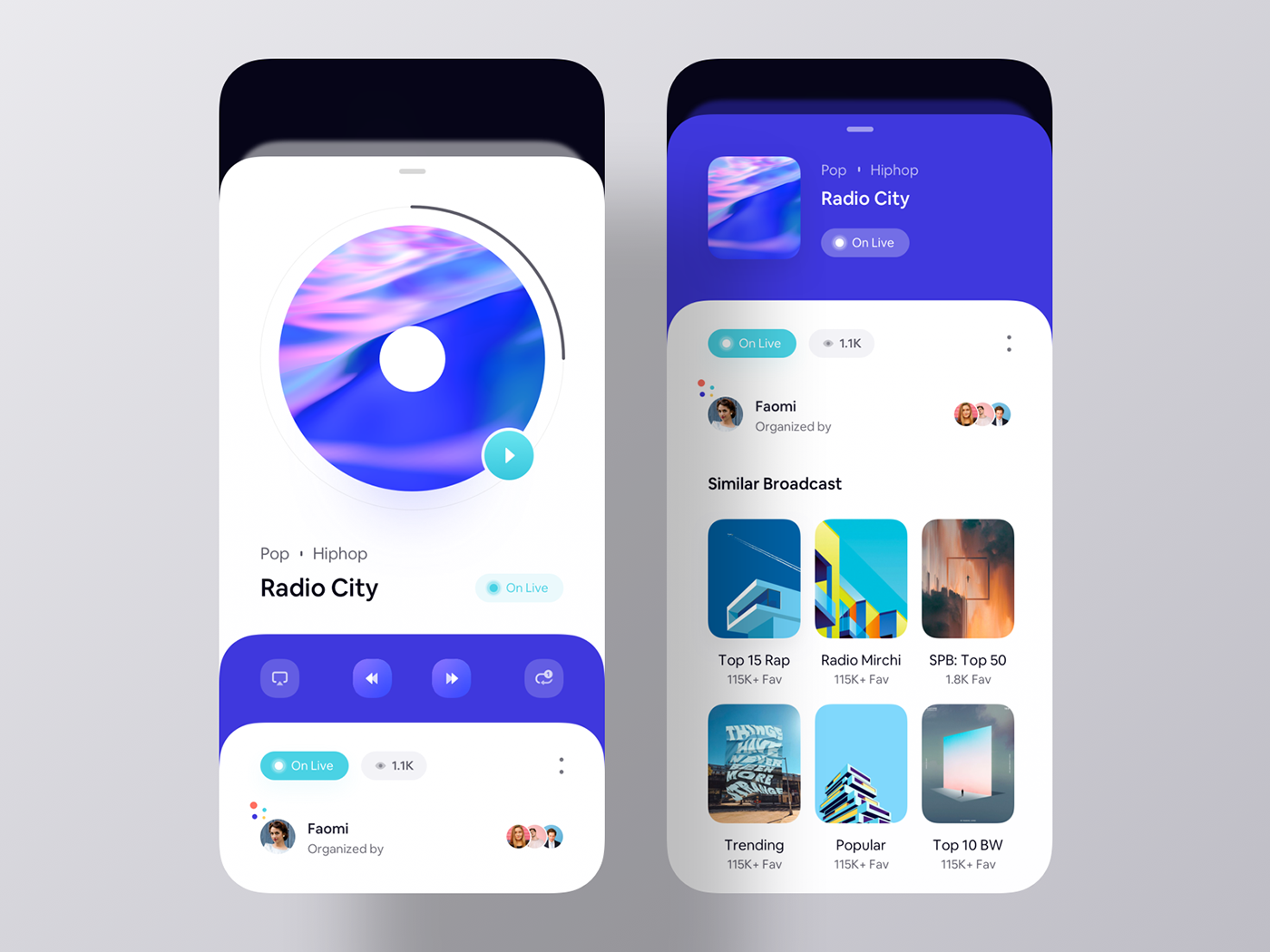 As people are increasingly turning from TVs to mobile apps of TV channels, media, news, and entertainment shows are getting more viewers through their live streaming mobile apps and they are fast catching up with the TV audience engagement.
Live class broadcasting and streaming training and classroom videos are now becoming important resources for online educational contents. Moreover, this also goes well with the increasing popularity of the visual content leveraged through education apps.
Technology Stack For Live Streaming App
Now that we have a clear idea about the development, popularity and effective role of live-streaming apps, we need to look at the required technology stack for building such apps.
Here we briefly mention the required technologies for building live-streaming apps.
Programming languages and frameworks: C++ (GO), HTML5/CSS3, Java, JavaScript frameworks such as Node.js, React, RxJS, Restify, EmberJS, AngularJS, BackboneJS, Python, Ruby on Rails.
Data management: MySQL, Oracle, PostgreSQL, Atlas-DB, Cassandra
Cloud platforms: Amazon EC2/S3
Analytics: Hadoop, Spark, Hive, Google Analytics, MixPanel, Mode, Parquet, Pig, Presto.
CDN: Cloudflare, Amazon CloudFront, Fastly, Open Connect.
Streaming protocols: Apple HTTP Live Streaming, Microsoft Smooth Streaming, Adobe HTTP Dynamic Streaming, M2TS, MPEG-DASH, RTMP.
Media formats: H.264
Media containers: FLV, MP4
Media processing platform: JW Live, Livestream, Muvi, Vimeo PRO, Ustream, Brightcove, Contus Vplay, DaCast, Flash Media Server, Wowza Media Systems
Geolocation: Google Maps, MapKit/Core Location (iOS)
Messaging: Twilio, Firebase, PubNub
The Development Team For Live Streaming App Development
As for having an expertise-driven development team for live streaming app development projects, you need to focus on hiring the developers having expertise on the above technology stack and some experience with some live streaming app projects. Like in any app development project, here too the Project Manager is capable to manage and look after the whole project and designate the specific roles for the development team members.
If you want to build a cross-platform app, you need to hire Android app developers and iOS app developers along with a few experienced UI and UX designers. The developers and UI/UI designers together will build the live streaming app under the direct supervision of the project manager.
Conclusion
Live streaming mobile apps finally came with all the promises to make content consumption better without any delay or latency. This can really have a big impact on making gaming apps popular. With live streaming videos of game apps, audiences can actually evaluate the gaming experience before downloading the games.