CMS or Content Management System is as popular as the web and it has played the most elementary role in making the modern web experience possible. Thanks to the ready to use CMS solution a website or blog can be created without much effort and technical expertise. Over time, even these popular CMS solutions like WordPress and Drupal brought in helpful plugins to integrate eCommerce functionalities through plugins. A business blog or website built on WordPress now can use a Woocommerce plugin to integrate eCommerce features for its target audience.
On the other side, we have dedicated eCommerce platforms like Magento and Shopify that are basically created for building the eCommerce web-stores. These eCommerce platforms come with all the crucial features and design elements that typically a web-store needs. Popular CMS solutions like WordPress and its eCommerce extension Woocommerce became popular among businesses for easy eCommerce-specific feature integration. A leading WooCommerce Development Company India can turn your existing WordPress website into a sophisticated online store. But, dedicated eCommerce platforms became popular for enterprise websites and larger online stores.
To make a choice between the two, you need to consider a few crucial aspects. Here we are going to explain them one by one.
Contents vs Sales: Which Way to Go?
First of all, you must know the basic value proposition of the Content Management System (CMS) and the eCommerce platform. Content management system (CMS) is meant for delivering different types of contents in a presentable manner with befitting design and layout. WordPress, Drupal, and Joomla are great examples of user-optimized Content Management Systems. Basically, they are not created to make sales but with additional plugin sales functionality can be created to meet eCommerce needs.
In contrast to CMS solutions, eCommerce platforms are created basically for online sales and shopping experience. Naturally, they come well equipped with all the sales-oriented features such as product catalogs, shopping carts, payment gateways, inventory and shipping management, promotional tools and widgets and several others. They work basically as out-of-the box e-retail tool. Magento, SAP Commerce Cloud and Shopify are prominent examples of dedicated eCommerce platforms.
There is a small third category that basically helps CMS platforms to integrate eCommerce features. For example, if you have a WordPress website you can add Woocommerce plugin and incorporate e-retail features. These plugins or add-ons created for providing eCommerce tools to existing CMS based websites are relatively easier to adopt for the existing websites. On the other hand, just because they are not as robust and rich as the dedicated eCommerce platforms they are less likely to fit to the needs of large online stores and eCommerce businesses. Naturally, the choice entirely depends on your business.
Flexibility is A Major Draw for Any eCommerce CMS
For websites with solid content marketing focus, venturing into direct online sales requires some amount of flexibility. For example, if you have a travel blog you can think of starting to sell your travel guidebooks. But unlike rigorous eCommerce stores, you need only a few sales feature. On the other hand, you cannot compromise on your main strength, travel blogs. For such websites, adding an eCommerce plugin with the existing CMS solution can just be enough.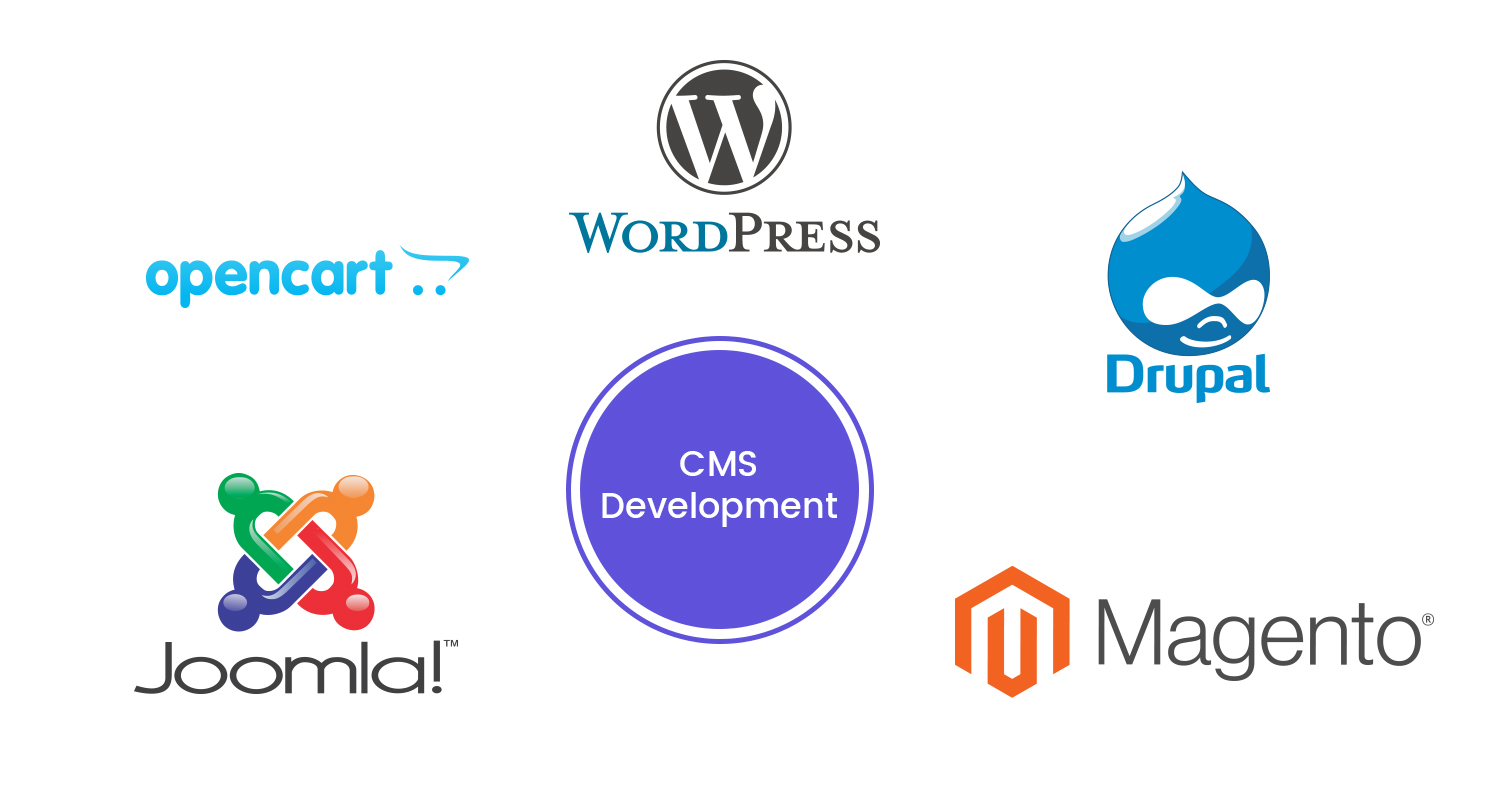 Secondly, the CMS solution for modern websites should focus on the visual and interactive elements instead of publishing plain texts. The blogs must accompany images, sliders and moving images, visually appealing infographics, embedded video contents and visual optimization with different font type and size. A sophisticated design for the contents is key to the successful use of CMS.
Must-have Features of eCommerce CMS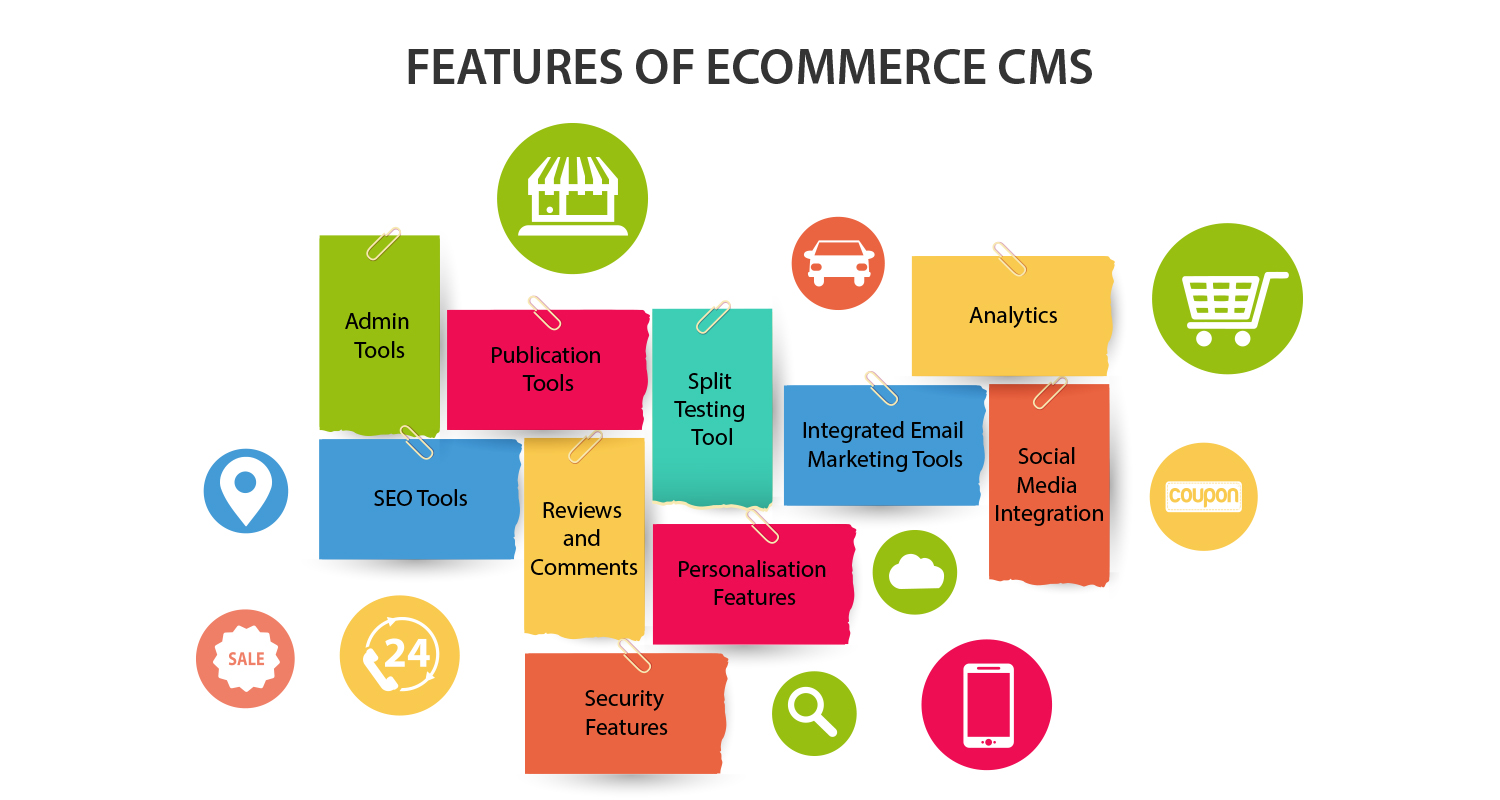 Besides the regular content management capabilities, eCommerce CMS hold have the following features and abilities.
An eCommerce CMS must have certain admin tools that helps creating and delivering contents easy and transparent. The key admin features include different role management interfaces for web admins, content editors and content writers, email alerts for any change, plugin support, etc.
These tools mainly comprise a content editor (WYSIWYG) equipped with different content templates, a versioning system, generators of workflow for publication scheduling, and content tagging.
SEO tools of a CMS solution helps making your content grab better search engine results. From adding alt tags to images to helping you perfecting the meta description to creating more SEO-friendly URLs, SEO tools play the most crucial role for optimising contents for the search engine.
As vast majority of users connect to the web through social media or get influenced by social media to buy things online, integrated eCommerce CMS tools are very important for a CMS solution.
For web users personalisation is of seminal importance now. These features basically help creating bond between the user and the website. Some of the key features and tools for personalisation include language of communication based on user location, personalised recommendations of products based on user behaviour, etc.
Integrated Email Marketing Tools
With an integrated email marketing tool you can easily create content batches to send to your subscribers.
A vast majority of shoppers are now influenced by customer reviews. So make sure that the CMS platform has tools to publish reviews and comments.
It is extremely important for the CMS solution to allow split testing or A/B testing to evaluate two or more options and to see what content version of design choice works better.
The CMS solution should have the inbuilt Google Analytics or any other acclaimed analytics tools to reveal data-driven insights about the eCommerce customers and users.
Finally, an eCommerce website must have quality security features as they need to deal with mission-critical customer and business data including banking and finance information and a lot of personal data.
Using A Scalable eCommerce CMS
Lastly, you obviously look forward to growth for your eCommerce business. Naturally, the CMS solution you are working with must be well-equipped to contain this growth without any performance shortfall. As the customer footfall and queries increase over time, your website and eCommerce features should be able to meet user needs with the same ease. This is why you need to embrace a CMS solution coupled up with an eCommerce plugin that remains scalable for increased traffic.
Dedicated eCommerce platforms are more scalable to meet increased demands. But they are expensive and they suit the business needs of large eCommerce stores. To hire Magento developers and fulfil all requirements, you need to put solid investments. On the other hand, if you choose a robust CMS platform coupled up with a powerful eCommerce plugin, you can have a comprehensive solution for all your needs.
Conclusion
There is no straightforward answer for a better choice among the two options, respectively dedicated eCommerce platform and eCommerce CMS. The later can be an ideal choice if you can keep the above-mentioned considerations in mind. But the eCommerce platforms are always great if you need robust and sophisticated online store with all out of the box features.